Our #1 Choice
Jasper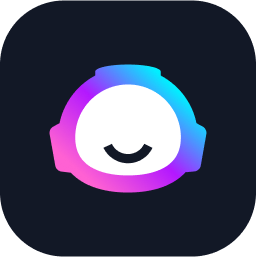 Fast, well-written content with many templates for different use cases.
Try Jasper
Good Templates
Copy.ai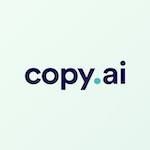 Copy AI has many templates for all types of content, both personal and professional.
Try Copy.ai
Best Paraphraser
Quillbot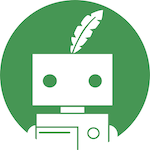 Quillbot is used by writers to proofread, edit, and improve their writing.
Try Qillbot
Writing your own content is special because you can add a personal touch to it and structure your writing however you want in order to generate high-quality content. You get to explore your creative boundaries and demonstrate a greater and more detailed understanding of the topic that you will cover.
But while traditional writing has its own beauty and flair, it also comes with a few downsides.
One is the need to invest a lot of time and effort to create high-quality content.
You need to do a ton of research and brainstorming to come up with unique ideas and think of ways to integrate them into your write-ups.
This tedious process can burn you out in the long run.
To lend you a helping hand in your content writing tasks, AI writers were created that can produce great, authentic content in a few clicks. With such tools at your disposal, you'll be able to create more engaging blog articles and social media posts with less effort.
This guide will talk about the best AI writers and walk you through everything you need to know to get the most out of these software tools.
What is an AI Writer?
There are multiple content writing tools online. An AI writer is an application that utilizes artificial intelligence to produce content based on your specific requirements. It differs from traditional writing tools in various ways. Traditional writing tools supplement your content creation process by checking for grammar, providing easier navigation features, or suggesting ways to make your write-up more SEO-friendly. On the other hand, an AI assistant can cater to all these needs, and more.
An AI writer tool is capable of scanning the internet for your niche and generating high-quality content for blog posts, social media captions, landing pages, marketing copies, and more. It takes care of all the requirements needed to make your content stand out.
What to Look for in an AI Writing Tool
There are a variety of AI writers online, each designed to focus on different aspects of content generation. It can be challenging to narrow down an AI writing assistant for your personal use case, so here are some factors that you should consider before selecting an AI writing tool.
The reason why they are made
Each AI writing app has a unique feature in addition to being able to generate content automatically. AI writers focus on different types of writing. For example, there are AI writing tools that focus specifically on academic writing, such as paraphrasing papers, checking for plagiarism, and citations. At the same time, you will also find software that will help you write optimized and compelling product descriptions and easily scale on search engines.
Technology and Algorithm
The technology and algorithm used in AI writing software significantly affect the output you will receive. Generally, these applications integrate artificial intelligence with Machine Learning to analyze a substantial amount of data and use a neural network model called GPT-3 to generate realistic and human-like text. The AI technology follows writing patterns and enhances performance over time.
Supported Languages
A major factor you should consider before committing to an AI writing tool is the number of languages it supports. While most AI writers primarily focus on English, some also come with multiple languages. So check for supported languages on an AI writer that will fit your requirements.
Available Templates
A good AI writer comes with templates that you can select from in order to quickly create the blog post outline you need. Having a wide range of templates to choose from makes the task easier for you to generate AI content in a few clicks.
Pricing
The pricing of AI writers varies depending on the service they provide, so you'll definitely be able to find one that fits your budget. Most software programs have a free trial that you can try before purchasing their paid packages.
Other Features (Plagiarism Checker, SEO Tool, Customer Support)
Apart from the fundamental key features, some AI writers come with a wide array of additional features that enhance user experience. Functions like a plagiarism checker, SEO tools, and 24/7 customer support can greatly help.
5 Best AI Writers
Now that you know what to look for in an AI writing tool, let's dive into the top five best AI writers.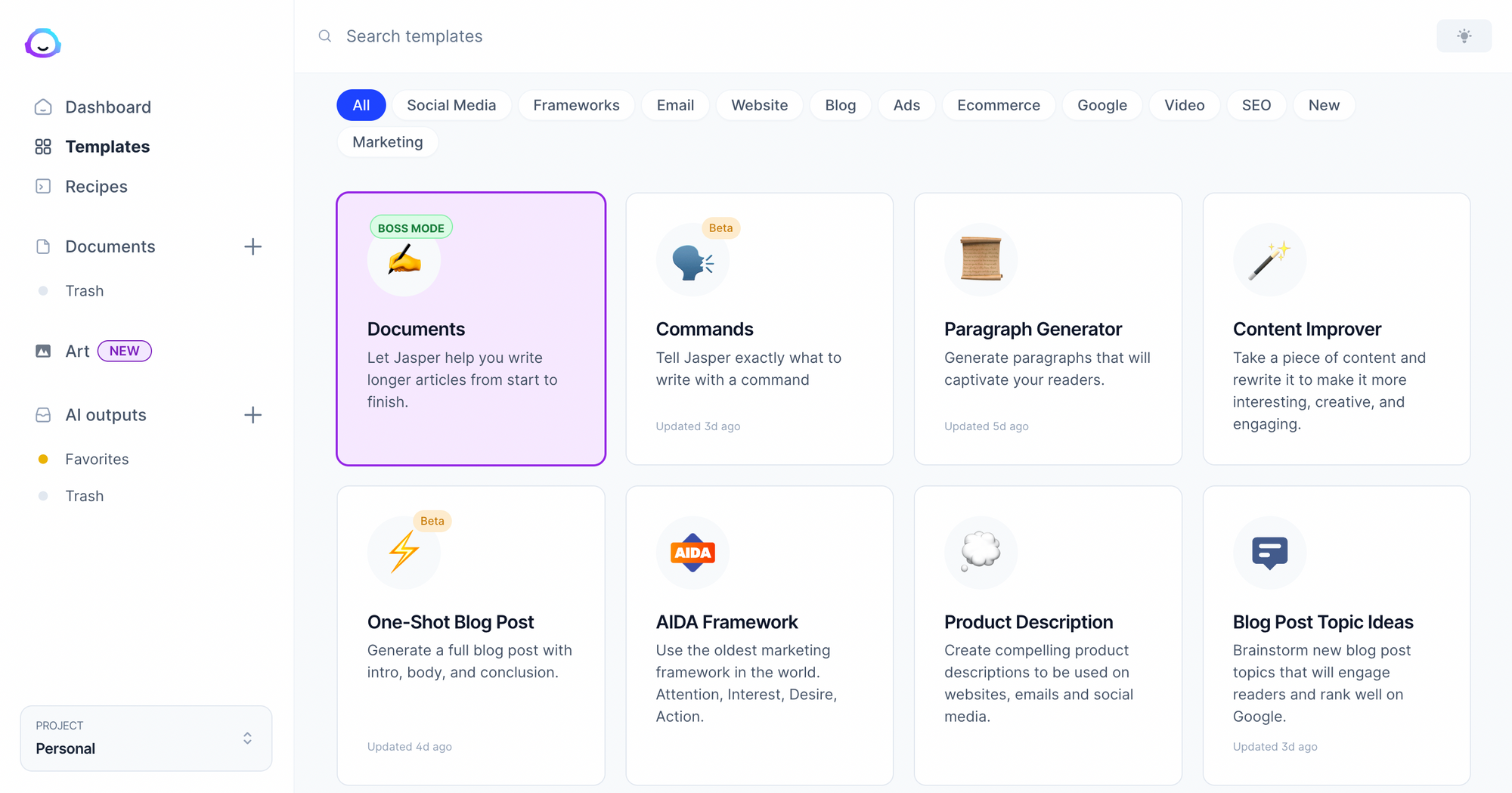 Jasper AI is a one-stop solution for effortless content writing. It is one of the best content-generating tools because it uses machine learning and GPT-3 to create original and realistic posts that are often indistinguishable from human ones.
To make the content more optimized for search engines, the developers of the Jasper AI software consulted with the best SEO experts and direct response marketers. Techniques were integrated into the algorithm to ensure you get content that catches attention and converts prospects into customers. Multiple plans are available and the Jasper Boss mode plan claims to enable you to write blog posts five times faster.
With the help of features like the Jasper Command and Blog Post Intro Paragraph, you can simply start typing, hit generate and the app will finish your sentence or paragraph. The paragraph generator can create multiple different texts from a single prompt, allowing you to pick the one you like the most.
Overall, if you want a powerful AI writing assistant that constantly evolves and produces content for the web, you will be satisfied with how efficiently Jasper AI works. Jasper AI reviews and ratings are a testament to the quality of this app.
Price:
Free plan up to 10,000 words
Around $40 per month for the Starter pack with a cap of 35,000 words
Around $82 per month for the Boss Mode with 100,000 word cap
Custom Business plans also available based on your requirements
Features:
Jasper AI offers speed writing
Integrates with Surfer SEO
Supports 25+ languages
Comes with a long-form document editor.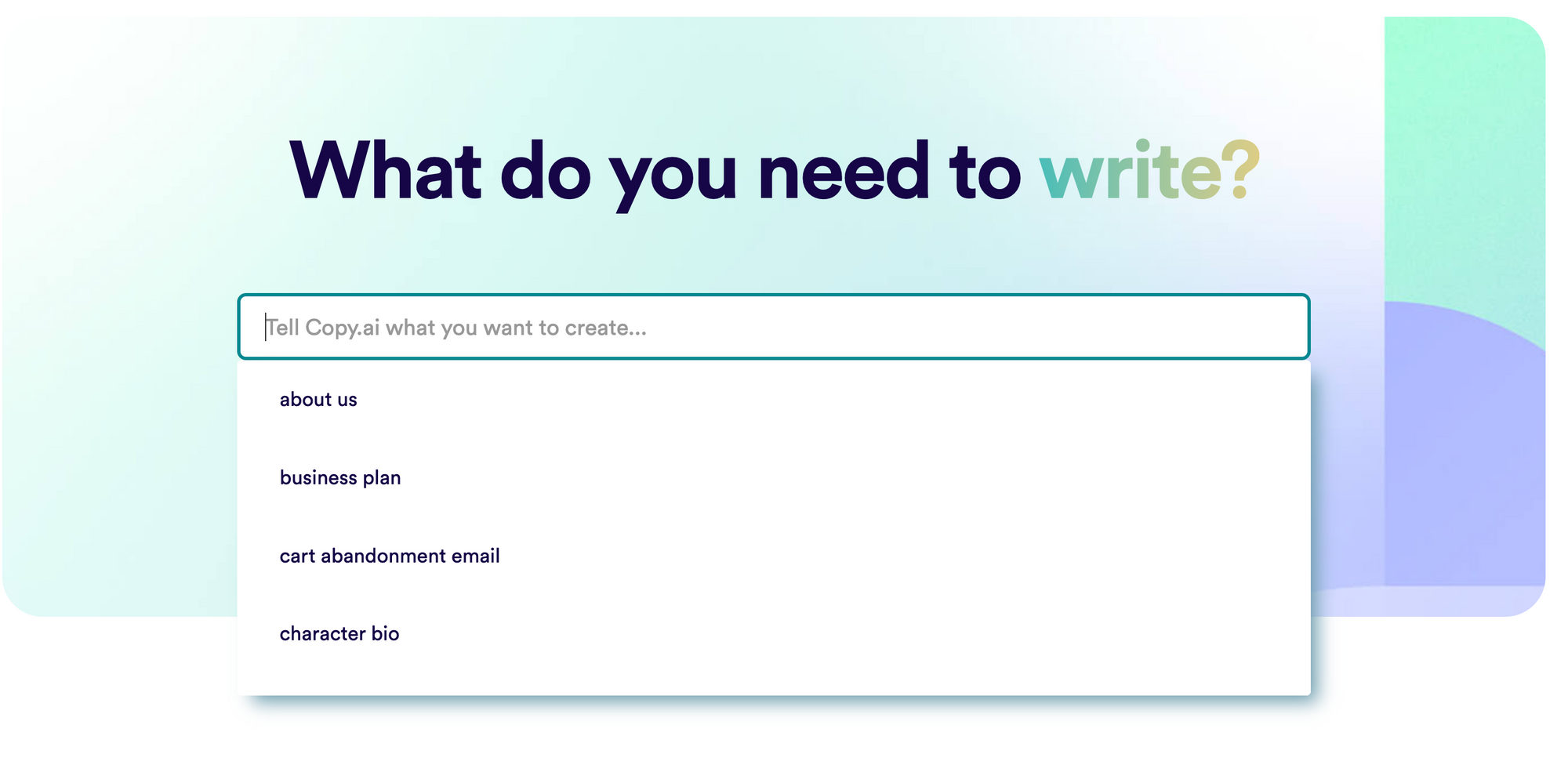 Copy AI is an online AI writer designed to help you get out of your writer's block by providing the most creative blog post topic ideas. The software can curate your texts to convert them into full blogs with a structured outline on the web.
With Copy AI, you will be able to write blog articles the best product descriptions seamlessly. It even scans your write-ups for any errors and provides suggestions on how to improve them.
Start by selecting a template, typing in your product's name, giving some describing words for further context, and then wait for Copy AI to do its magic. The quality and precision of the drafts will leave you in awe. So, if you're looking to improve your copywriting game, get Copy AI today!
Price:
Free version available with a limit of 2,000 words per month
$49 per month for the Pro plan.
Features:
100+ templates available
25+ languages
Long-form document editor
Easy-to-use interface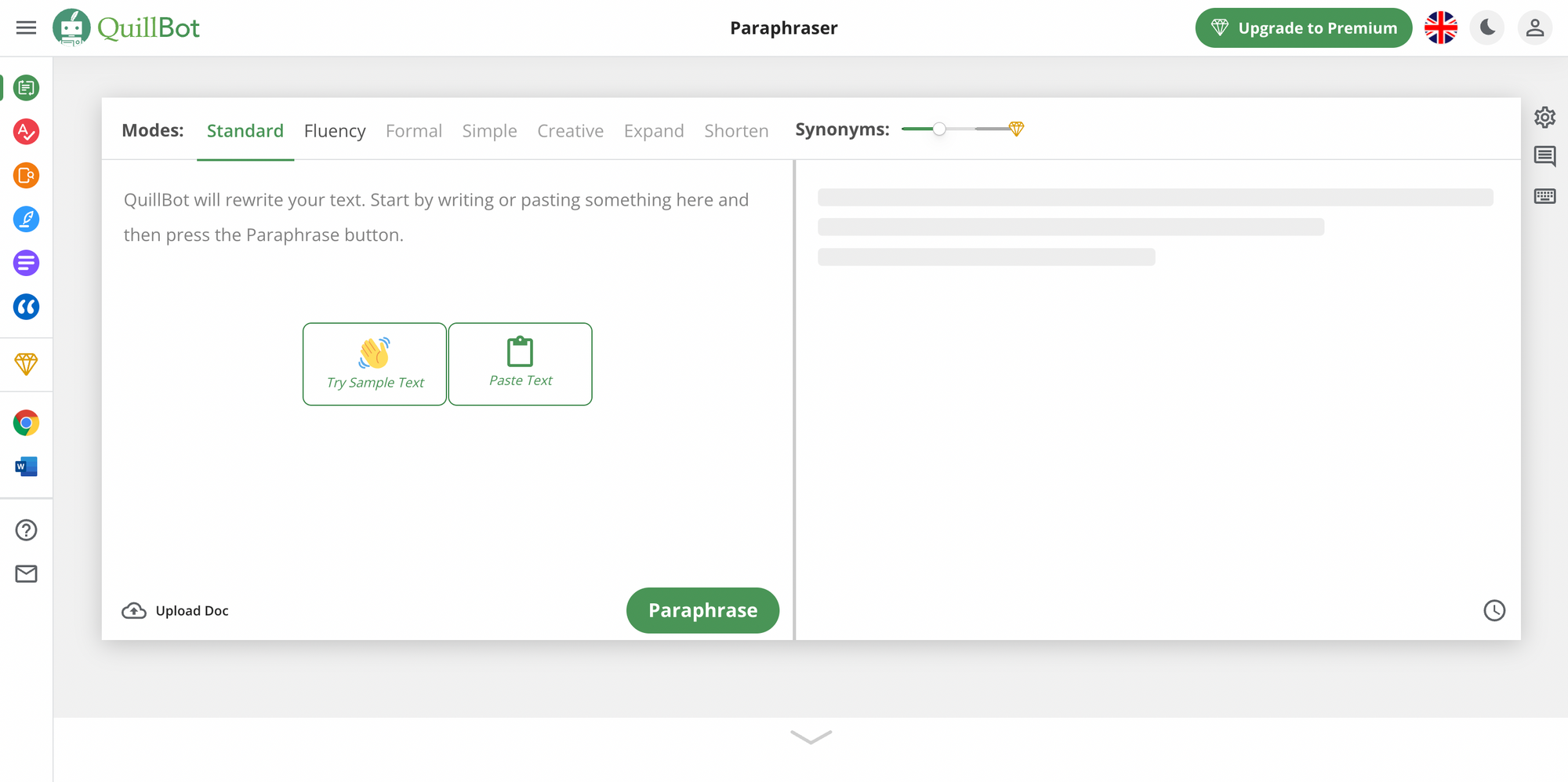 If you're looking for something that can take your academic writing skills to the next level, try Quillbot. The state-of-the-art algorithm used in this software is excellent for paraphrasing content. It does a fantastic job of checking errors on large blog articles or documents. Just add the Quillbot extension to your Google Chrome browser and Microsoft Word app, then copy and paste your work into Quillbot, and go through all the detected errors and suggestions.
Quillbot's free plan already offers a plethora of features like a grammar checker, plagiarism checker, and citation generator. Plus, you can utilize the co-writer feature to collaborate on articles with other writers. The premium plan comes with even better benefits. It processes and paraphrases large bodies of texts in a flash and improves the meaning of the text by using more appropriate synonyms.
So if you like the free trial, then you should definitely consider upgrading to the premium version.
Price:
Free version available
$9.95 for the monthly subscription
$6.66 per month for the semi-yearly subscription
$4.17 per month for the yearly subscription
Features:
Summarizer to cut out the fluff
Efficient plagiarism checker
Browser and Microsoft word extensions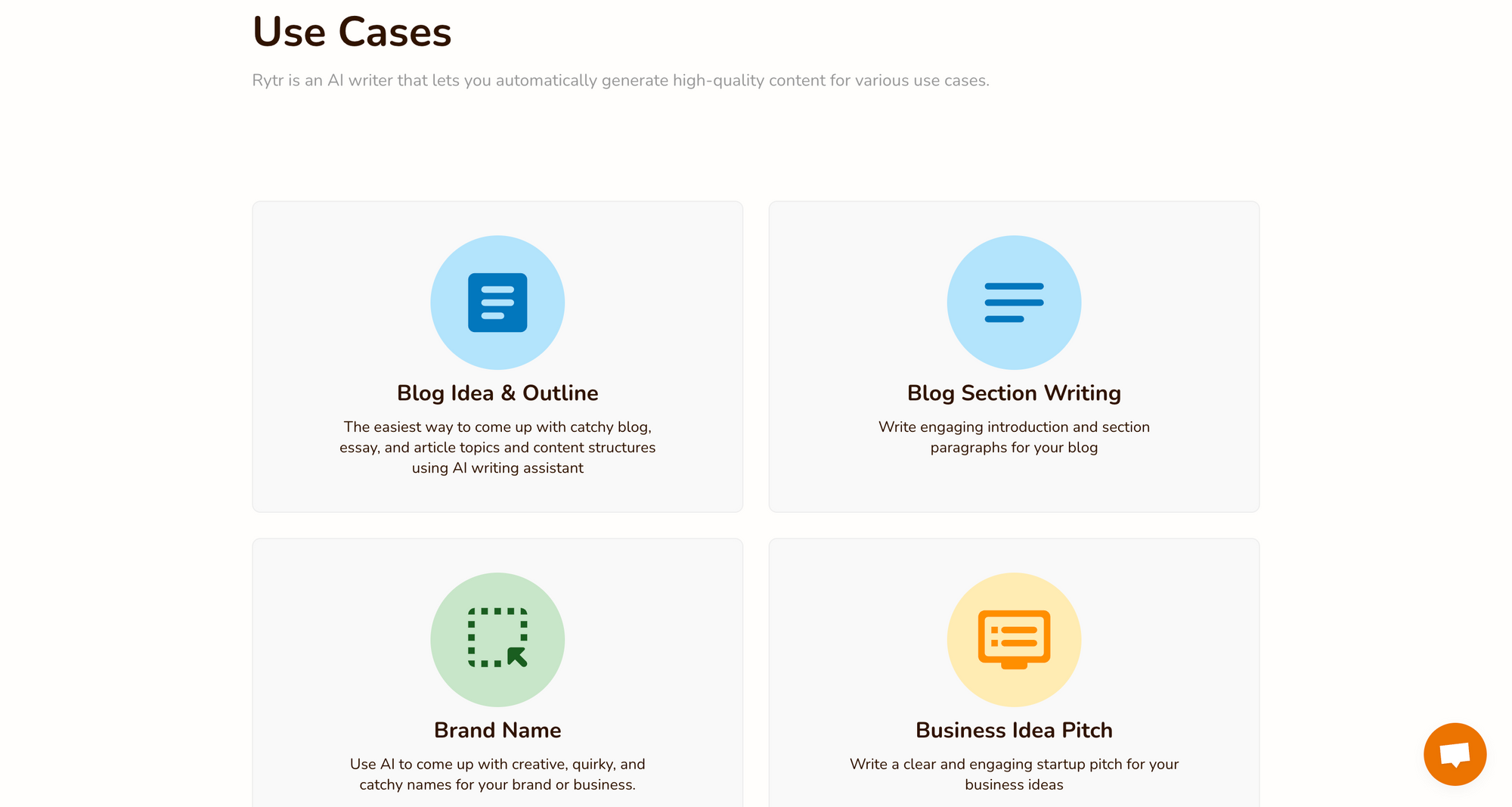 Rytr is all about speed, efficiency, and accuracy. It provides great value while saving you a lot of time. Rytr's user interface is easy to use and navigate through, which makes it a great choice for beginners. Moreover, it offers an SEO analyzer to find relevant keywords and generate killer content.
To get the best output, all you have to do is select a use case, add some input text to provide context, and Rytr will produce a written sample in seconds. There are 40+ use cases and templates to choose from on Rtyr, including 30+ language options and 20+ tones of voice that can help personalize and add variety to your content. All these features help you in creating a blog post outline and start working on it immediately.
To make the written samples more realistic, Rytr uses scientific copywriting formulas like AIDA and PAS, so you do not have to worry about proofreading the content multiple times.
Price:
Free plan available with a character limit of 10,000
$9 per month for the Saver plan with a character limit of 100,000
$29 per month for the Unlimited Plan with no character restrictions
Features:
Includes a grammar checker
Generates content by scanning through a large library of 2,000 ideas
Has a built-in plagiarism checker
Plugins for apps like Shopify and WordPress
Platform to connect and learn from other Rytr users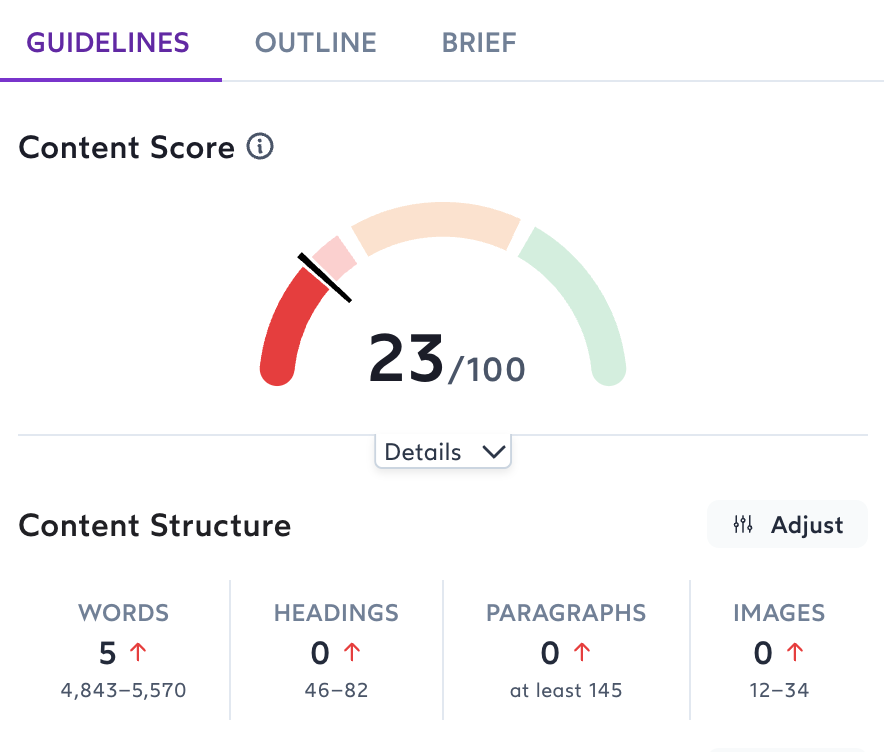 Want the best SEO-focused AI writer in the market? Our top recommendation is Surfer. This content intelligence tool uses AI and machine learning to crawl the web and generate content optimized for SEO. It integrates with Jasper to help you create content that is optimized for ranking.
Surfer's tools like audit and content planners are the best for ranking search engines and can help skyrocket your website's organic traffic. You'll be sent new weekly suggestions and strategies on how to improve and scale your previously published content. Moreover, you can use the built-in keyword research tool to look for the best rankable keywords.
But the best part about Surfer is that it's extremely friendly toward beginners. Moreover, newbies can access the Surfer Academy to join live training sessions and learn the best content writing and scaling strategies on search engines.
Price:
Free version available
$49 per month for the Basic package
$99 per month for the Pro package
$199 per month for the Business package
Features:
Offers a writing masterclass
Comes with a content planner
Offers a dedicated content editor
Easy to integrate with other apps
Frequently Asked Questions on AI Writing Tools
How do you write articles using AI?
To write articles using AI, you simply have to:
Launch an AI copywriting tool.
Select a template.
Provide some words for context about your topic.
Click start.
The app will scan the web for data and generate high-quality content within a few seconds.
What is a GPT-3 article writer?
GPT-3 (Generative Pretrained Transformer 3) is an AI model designed to imitate human language or natural language processing (NLP), making it one of the most reliable article-writing tools. This model is integrated into AI writing tools to make AI-generated content sound more realistic and less robotic. GPT-3 software programs generate blog posts and always ensure plagiarism free content.
Is using a paraphrasing tool illegal?
Plagiarism is illegal and unethical, but using a paraphrasing tool is not. To get plagiarism-free content, use a paraphrasing tool like Quillbot.
How long does it take to generate content from AI?
You can create blog posts and articles from AI in just a few seconds because of the efficient technology and algorithm used by AI writers. These tools also provide new content ideas to help you improve your content writing skills.
To Conclude
Content writing is a form of art where you're able to express your thoughts about a certain topic. However, you might face writer's block if you keep doing it regularly. To overcome writer's block, you can use an AI copywriting assistant and streamline the writing process. Different types of AI writers are available, each catering to a different type of content.
If you're looking for something to help streamline your content writing workflow, we hope our guide on the top 5 best AI writers helped you choose the perfect one for yourself.
Comments