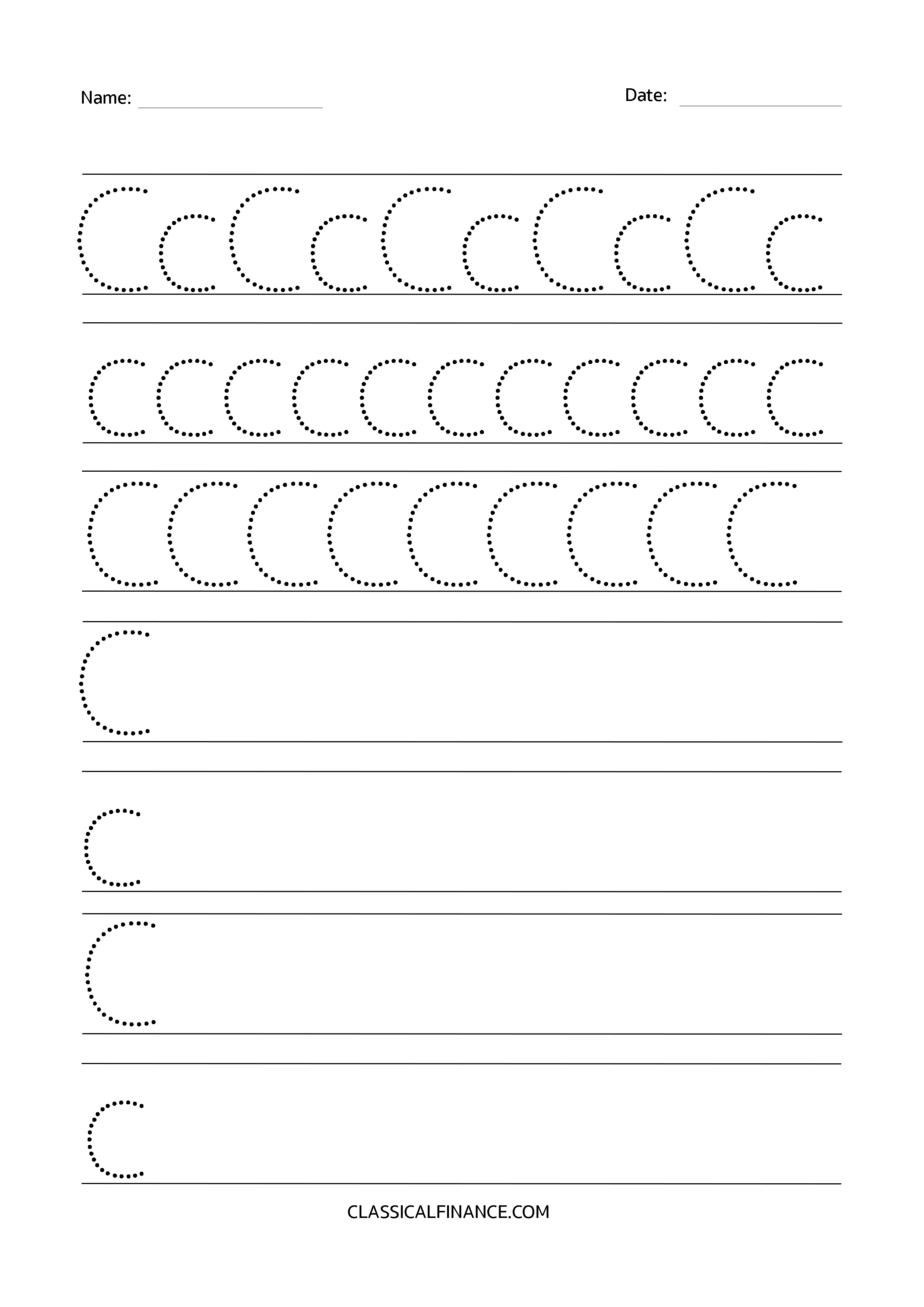 Preschoolers can gradually build their skills by working through a series of tracing and writing exercises included in each of the letter c worksheets.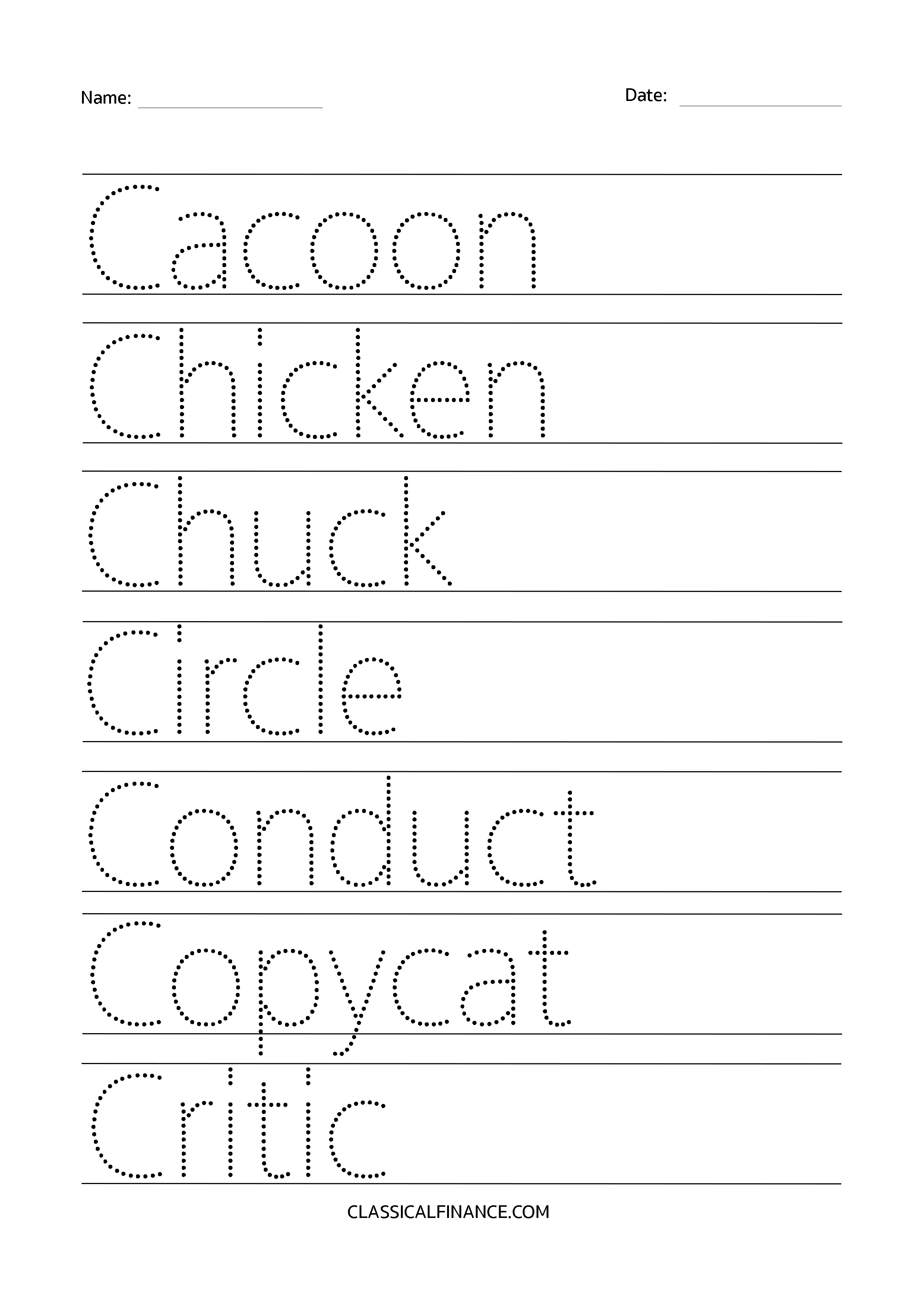 Simply print off the worksheet and let your child trace along the dotted lines. These letter c worksheets will help guide students through the process of learning to write the letter c through a variety of tracing and writing exercises on each worksheet. With our free worksheet, kids will quickly learn the art of proper letter formation, practice letter recognition, differentiate the uppercase from lowercase letter c, and be able to confidently practice writing the letter c on their own.
Additionally, this worksheet collection includes worksheets with varying levels of complexity and techniques for gaining knowledge of the letter C hence expanding kids' understanding of the alphabet.
Kids can gradually improve their skills by beginning with simple shapes and lines and progressing until they can confidently achieve all the letter c activities. With practice, students will be able to write the letter c quickly and easily and even move on to write words that include the letter c. Our printable worksheets gives kids a fun and easy way to practice their writing skills.
How to begin writing the letter c.
Learning to write letters, like any other skill, requires extra practice and patience. Trying to trace the dotted lines that make up the letters of the alphabet is a good place to start. Your children will benefit from this as they begin to identify and trace the letter c and to feel how the letters should be formed.
For young children, learning to write letters can be a fun and rewarding experience. This can be more fun in cases where crayons and colored pencils are used due to kids' love for coloring in.
This can help them improve their handwriting and fine motor skills and can only be accomplished if you first teach your students how to properly hold a pencil and other writing materials before going ahead to focus on letter identification.
The next step is to assist the children in determining which direction to write the letter c in. Letters are typically written left to right and top to bottom. Additionally, it is also important to remember to give the kids plenty of chances to practice writing the letter c.
You can begin by tracing lines or curves. As they progress, the kids can trace the letter using the printable worksheet provided on this website and then write it on their own.
Difference between c and C.
Learning the difference between the upper case letter C and lower case letter c is essential whether the kids are in kindergarten, early writers, or preschoolers. Our printable letter c worksheets are intended to assist students with letter recognition and spelling of simple words such as cat.
They are part of our alphabet worksheets collection, which will teach your child the distinction between c and C.
Finally, teaching your children how to properly space their letters is an important aspect of writing letter c. This can be difficult, but it is critical to ensure that each letter receives the appropriate amount of space.
Your children can begin to practice writing words and sentences once they have mastered the fundamentals of letter c formation and spacing. This is where things can really get interesting. Teachers should also encourage the use of handwriting worksheets to ensure that the kids develop good handwriting.
To be imaginative and try out new a word and a phrase, remember to try to inspire your child. They will be able to express themselves in new and exciting ways as they gain confidence in their writing abilities.
If you would like us to create more worksheets, reach out to us on our contact page and we'll see what we can do. Each worksheet has been carefully crafted with accuracy in mind. If you find any errors please let us know so we can make the necessary corrections. Worksheets are free for personal use only and may not be sold or redistributed without our written permission.
Alphabet Worksheets
We have worksheets for every letter, so you can choose whichever one your child needs to work on. These worksheets are a great way to help your child master their letter formation and improve their handwriting.
A, B, C, D, E, F, G, H, I, J, K, L, M, N, O, P, Q, R, S, T, U, V, W, X, Y, Z