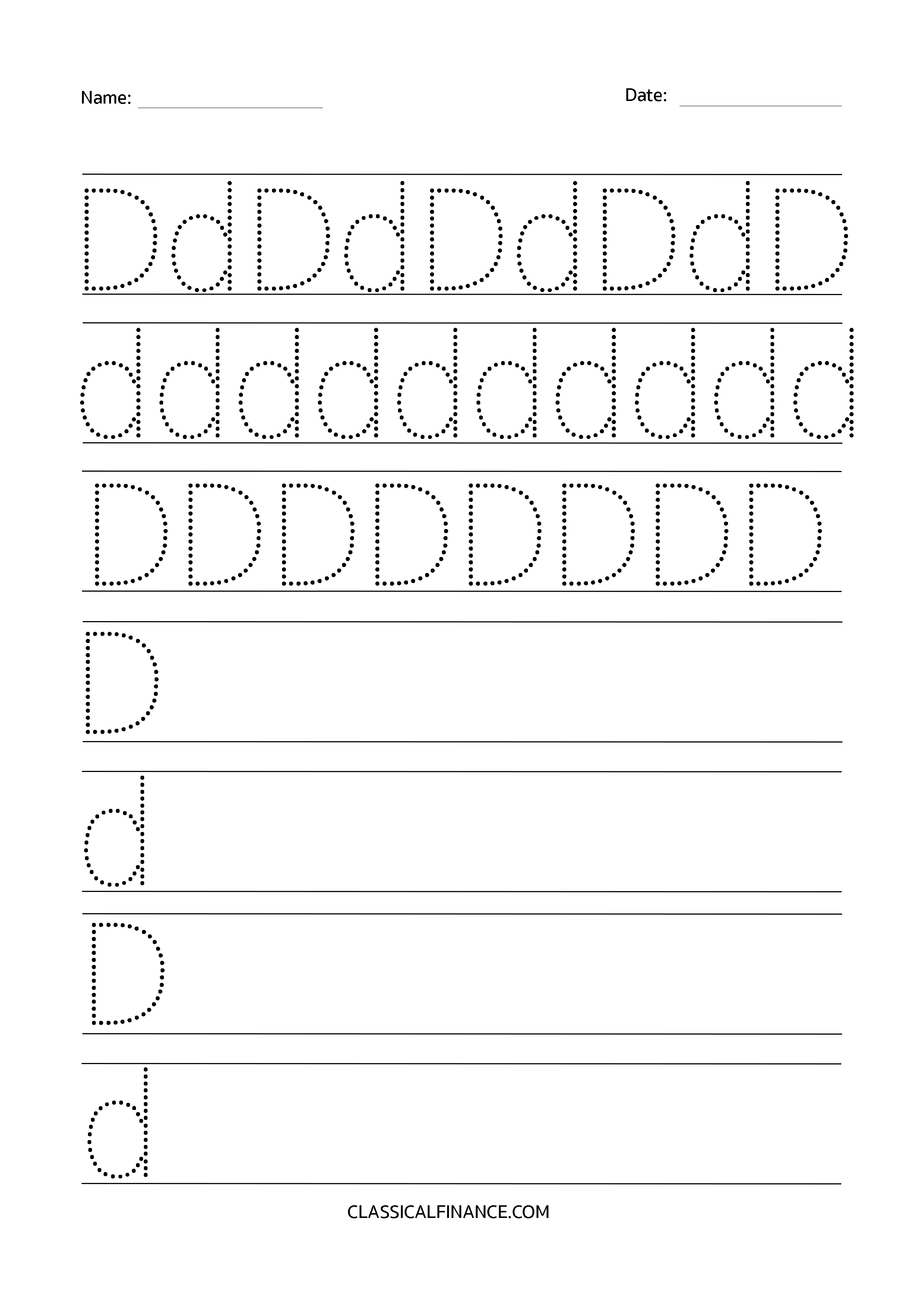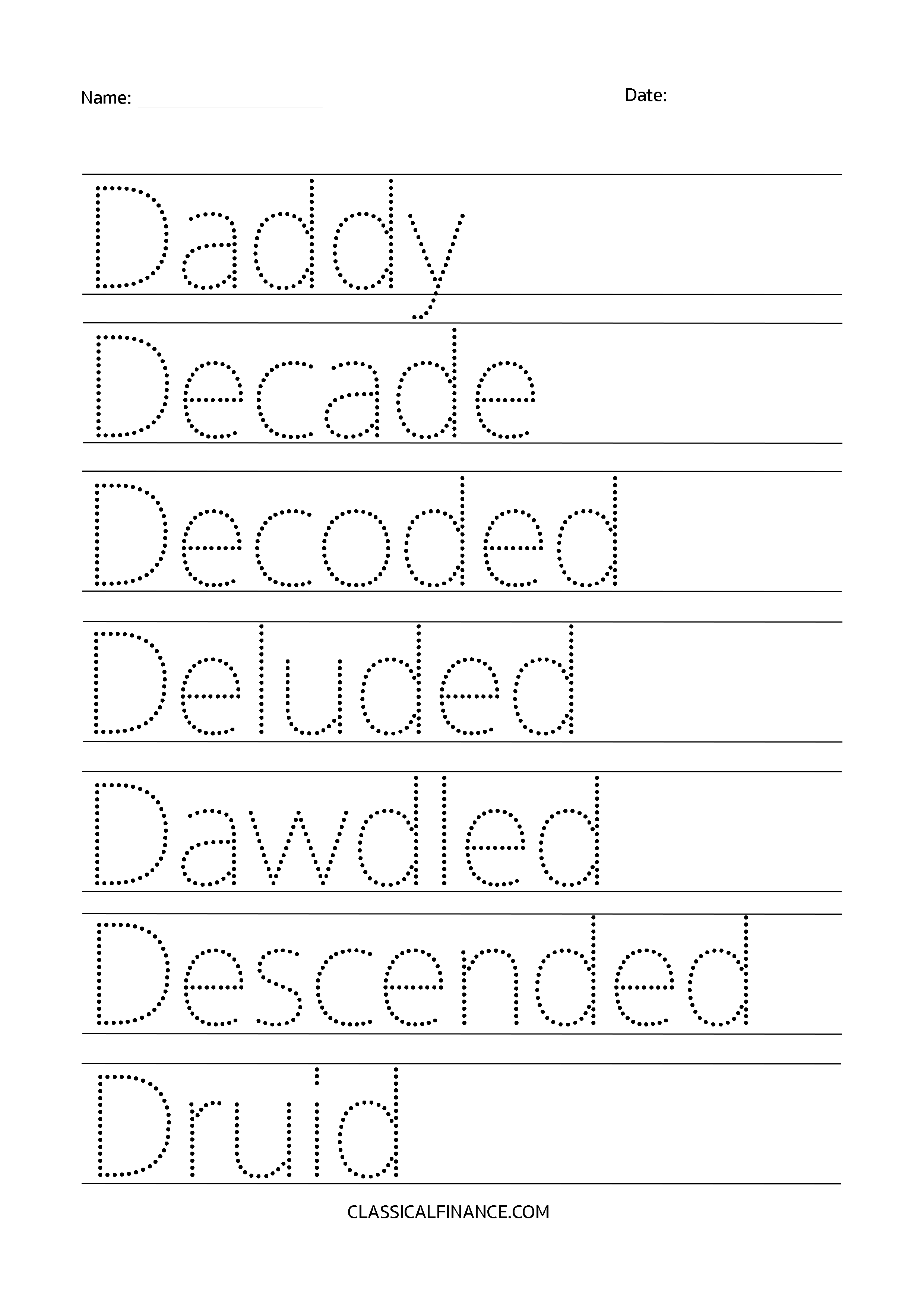 Begin by showing your child how to properly grip a pencil by demonstrating to the children how to hold the pencil with their thumb and first two fingers.
How to begin writing the letter D.
Learn how to write the letter D by tracing it on the free letter D worksheets that are provided above. After which, attempt to write the letter D freehand. Our free printable worksheets provide will help students develop using this method.
Uppercase and lowercase d are included on dotted lines on each sheet for getting started and to help students to practice writing the letter D. Each worksheet includes space at the top for the student's name and the date, making it simple to keep track of sheet ownership and timelines for the kids.
For most kindergarten children, learning to write the letter D for the first time can be a fun and rewarding experience. To make the process more engaging, crayons or coloring pencils should be used. This can help them improve their handwriting and enable them to develop fine motor skills.
When the students are confidently tracing, they can begin to practice writing by themselves. It is essential to ask your students to take their time while trying to accurately form the letter D. The most important factor is repetition; the more your child writes a letter D, the more likely it is that they will remember it.
The next step includes ensuring that your kids in kindergarten understand letter identification and letter recognition. This is a key feature in understanding other educational activities such as writing complete words and phrases. Our second worksheet contains words with a lot of d's for example daddy, this will help with writing the letter d next to other letters.
Difference between d and D.
Understanding the distinction between uppercase and lowercase letters D is absolutely essential for preschool kids. The printable activities letter D worksheets are intended to help students exercise letter recognition and spell simple words like a dog. They are part of our alphabet worksheets collection and therefore will help educate your kids on the disparity between the letters d and D.
Also crucial to learning how to write the letter D is teaching your kids how to space their letters correctly. This can be challenging, but it is essential to make sure that each letter receives sufficient space. When your kids have perfected the foundations of letter D creation and spacing, they can begin writing words and sentences.
Remember to be patient and have fun as a tutor. Learning to write letters can be difficult, but it should also be fun for you and your students. Also, remember to try to inspire your kids when being imaginative and trying out new words and phrases. As they gain confidence in their writing abilities, they will be capable of expressing themselves in new ways.
If you would like us to create more worksheets, reach out to us on our contact page and we'll see what we can do. Each worksheet has been carefully crafted with accuracy in mind. If you find any errors please let us know so we can make the necessary corrections. Worksheets are free for personal use only and may not be sold or redistributed without our written permission.
Alphabet Worksheets
We have worksheets for every letter, so you can choose whichever one your child needs to work on. These worksheets are a great way to help your child master their letter formation and improve their handwriting.
A, B, C, D, E, F, G, H, I, J, K, L, M, N, O, P, Q, R, S, T, U, V, W, X, Y, Z