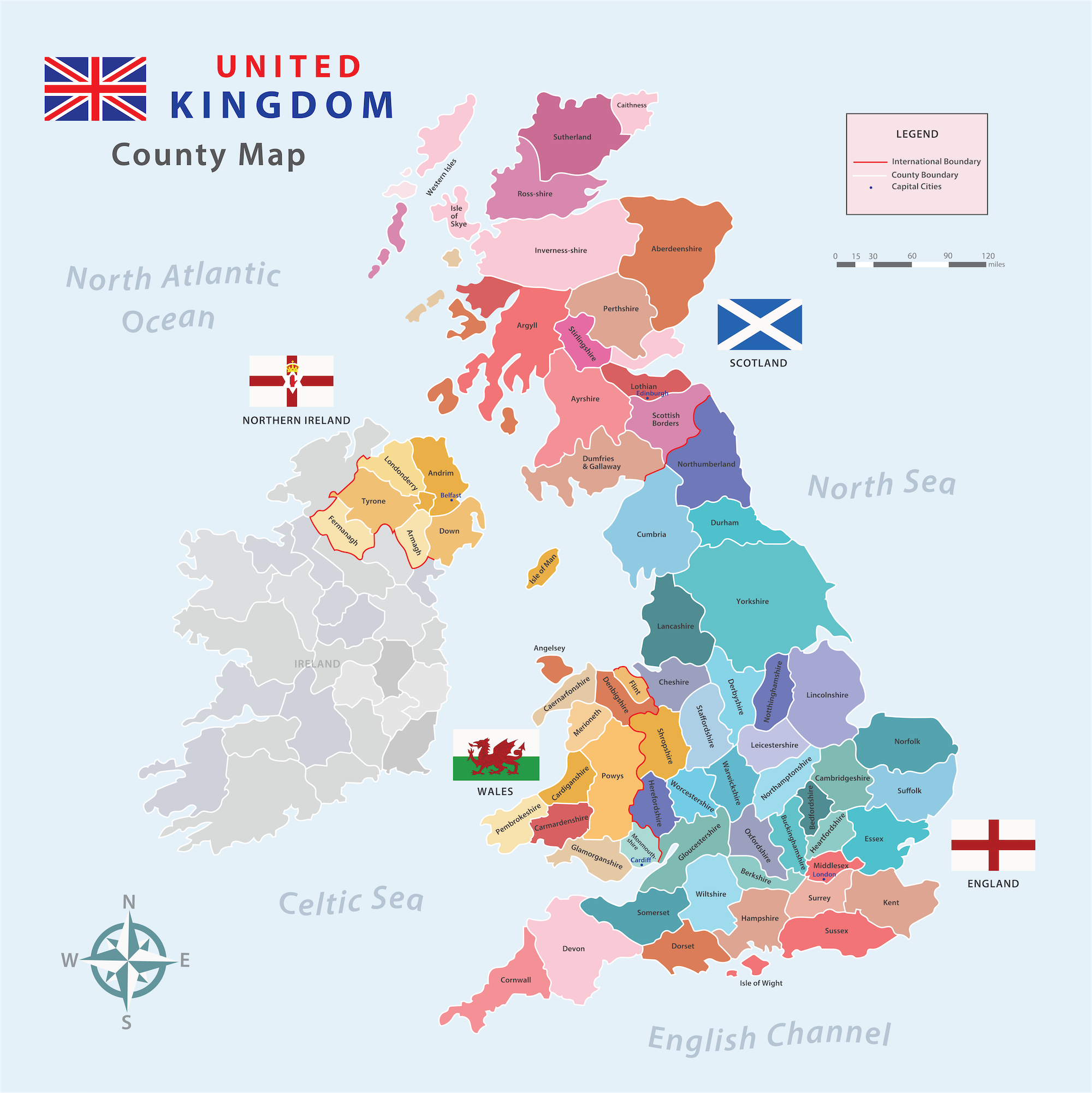 Counties Of England
England is made up of 48 counties, Bedfordshire, Berkshire, Bristol, Buckinghamshire, Cambridgeshire, Cheshire, City of London, Cornwall, Cumbria, Derbyshire, Devon, Dorset, Durham, East Riding of Yorkshire, East Sussex, Essex, Gloucestershire, Greater London, Greater Manchester, Hampshire, Herefordshire, Hertfordshire, Isle of Wight, Kent, Lancashire, Leicestershire, Lincolnshire, Merseyside, Norfolk, North Yorkshire, Northamptonshire, Northumberland, Nottinghamshire, Oxfordshire, Rutland, Shropshire, Somerset, South Yorkshire, Staffordshire, Suffolk, Surrey, Tyne and Wear, Warwickshire, West Midlands, West Sussex, West Yorkshire, Wiltshire and Worcestershire.
It gets more complex however, with more than 82 metropolitan and non-metropolitan counties. Within these 82 counties, there are 283 districts including 247 non-metropolitan districts and 26 metropolitan ones. The largest county in England is Yorkshire which covers more than 14,500 square kilometres while Greater London is the largest by population, with around 9,000,000 residents.
Welsh Counties
Wales has 8 ceremonial counties, Gwent, South Glamorgan, Mid Glamorgan, West, Glamorgan, Dyfed, Powys, Gwynedd, Clwyd. More recently, Wales has been divided into 22 principalities from an administrative standpoint, Blaenau Gwent, Bridgend, Caerphilly, Cardiff, Carmarthenshire, Ceredigion, Conwy, Denbighshire, Flintshire, Gwynedd, Isle of Anglesey, Merthyr Tydfil, Monmouthshire, Neath Port Talbot, Newport, Pembrokeshire, Powys, Rhondda Cynon Taf, Swansea, Torfaen, Vale of Glamorgan and Wrexham.
Shires Of Scotland
Scotland is made up of 33 counties including, CaithnessSutherland, Ross and Cromarty, Inverness, Nairnshire, Moray, Banffshire, Aberdeenshire, Kincardineshire, Angus, Perthshire, Argyll, Bute, Ayrshire, Renfrewshire, Dunbartonshire, Stirlingshire, Clackmannanshire, Kinross-shire, Fife, East Lothian, Midlothian, West Lothian, Lanarkshire, Peeblesshire, Selkirkshire, Berwickshire, Roxburghshire, Dumfriesshire, Kirkcudbrightshire, Wigtownshire, Shetland and Orkney.
Northern Ireland Counties
Northern Ireland is comprised of 6 counties, Antrim, Armagh, Down, Fermanagh, Londonderry and Tyrone.
FAQ
What Is A County?
A county is a unit of administration responsible for delivering government services to an area.  It is a type of local government in many nations. The services delivered by the county government may include public safety, public health, property assessment and taxation and infrastructure maintenance. They are often divided into smaller units called districts or boroughs.
Counties are administered by county councils in England and Wales, county boards in Scotland, and by district or borough councils in Northern Ireland. They vary widely in size and population. The smallest counties may have only a few thousand residents, while the largest counties may have millions of residents.
Is London A County?
No, London is not a county. It is a city and a region. There are 32 London boroughs plus the City of London Corporation, which together make up Greater London. Electoral wards are used to elect councillors to the London borough councils.