Hotels4Teams is the brainchild of Tom Berkman, Founder and President of The THS Company. While THS found its niche in handling the housing for large amateur sports tournaments, their services are actually grounded in the b2b realm.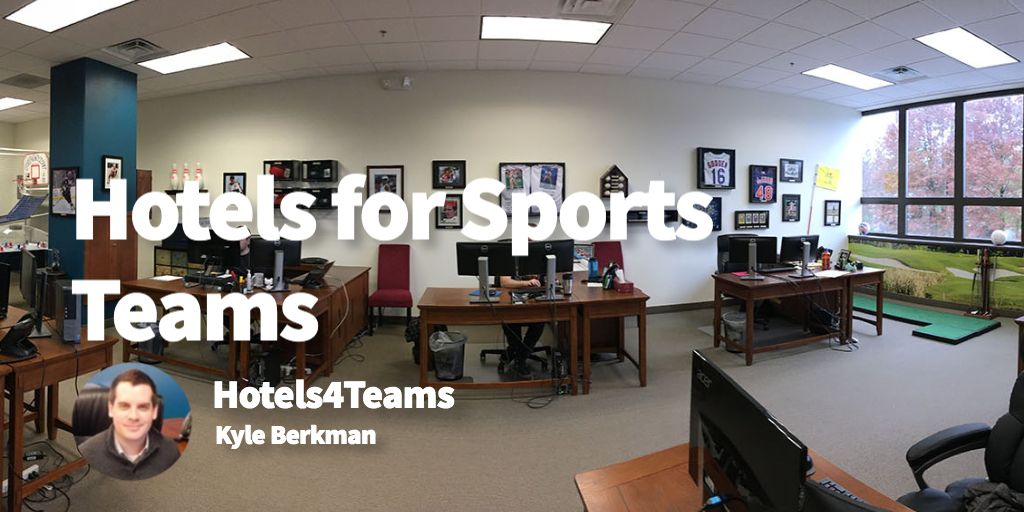 Hotels4Teams was created to be the inverse of THS and capture a piece of the 600-billion-dollar sports travel industry. While we cater to sports teams and athletes, anyone can find and book a hotel room using our site, and most of the time they're going to get a better deal than on any other site.
Was it a lightbulb moment or a gradual process?
It was less of a lightbulb moment and more of a logistical breakthrough. While THS manually sources hotel rooms from individual hotel properties for their partners' events, that just wasn't a possibility when selling rooms nationally. Therefore, we needed to partner with a company that could provide hotel inventory to us on demand. After weighing our options, we ultimately decided that HotelPlanner would be the best fit based on their API integration and extensive back-end options.
How do you target sports teams?
At launch, we suspected that utilizing PPC advertising for high 'booking intent' keywords would be the fastest and most effective way to get in front of teams. Unfortunately, however, we underestimated the monstrous buying power of major booking sites. We discovered that it was a bidding war that we simply couldn't compete in. Without the same brand recognition as some of the big players, we could never get the same value out of a click as they could. We sometimes came close to breaking even on our PPC campaigns after a ton of research and work, but knew that strategy would eventually bleed us dry without a more sustainable source of traffic with a positive ROI.
It was around this point that we noticed our organic search traffic, while significantly lower, had really promising metrics. The bounce rate was 4x lower, the session time was 10x higher, and the conversion rate was 3x higher. Based on that information, we decided to redirect our PPC funding towards improving the structure and content of our landing pages; producing meaningful guides for teams, athletes, and parents; and researching long-tail keywords for sports properties, landmarks, and other locations that our competitors were flat out ignoring. Fortunately, this proved to be a good move. When we launched in early 2017, we were barely getting 100 visitors and 10 bookings a day. Less than three years later, we've had more than 2 million visitors to our site and over 100,000 bookings.
How did you fund the idea initially?
Since Hotels4Teams was technically just a website and a few employees, the startup costs were pretty minimal and raising funds ultimately proved unnecessary. This put less pressure on us to find immediate and unnatural growth, and instead encouraged experimentation. While we didn't have a lot of money, we had a lot of time to test our ideas. When we'd come across a successful idea, we'd double our resources and efforts in that area. Similarly, when our revenue would allow it, we would slowly add to our team to fit whatever needs our experiments exposed. This may not be as glamorous as getting infused with millions of dollars in funding and having 50 employees right out of the gate, but I think it plays a huge role in growing a profitable and sustainable business.
Where did you meet your cofounder?
You could say I've known our founder my whole life, as he's my dad. I was offered a digital marketing position with the company in 2015, shortly before Hotels4Teams began development, and was Hotels4Teams' only employee for its first six months. Since that launch in early 2017, my role rapidly evolved until I realized I was actually running the company. It's a little less lonely these days as there's now six of us that make up our team of writers and marketers.
Any tips for finding first employees?
Unless you're in Silicon Valley, you're unlikely to find the perfect candidate that checks all your boxes. My only tip is to hire nice people who are sharp and have a desire to learn and adapt. You can't teach nice and sharp, and your goals will likely change multiple times. By building a staff that can pivot with you, you can avoid a lot of unnecessary turnover.
Did you run any companies prior?
I had no experience running a company prior to Hotels4Teams. What I did have was experience with managing small teams and developing websites for startups. Simply applying or avoiding what I had seen succeed or fail with my clients' efforts proved to be more valuable that I could have anticipated.
What were your family and friends first thoughts on your company?
I think they thought we were crazy for trying to compete against companies with billion-dollar budgets. When some of them eventually used our site to book a room, I think they were pleasantly surprised to see that they could book the same room, in half the time, at a lower rate, and weren't bombarded with emails afterwards.
What motivates you when things go wrong? What is the end goal?
Data motivates me to get through most challenges. Being able to understand, analyze, and make decisions based on data might be the most important factor in building a business. When analyzing an effort, data can lead you to a solution or verify that your efforts are better spent elsewhere. There's nothing wrong with failing, but failing quickly and moving on can often teach you more than immediate success, while keeping losses minimal.
With an industry this large, it's hard to visualize an end goal when the potential is limitless. We would love to be the go-to booking site for all things sports, but for now I think it's safe to say we'd like to double our traffic and bookings yearly, indefinitely.
Do you have any advice for someone just starting out?
Always be prepared to pivot on an idea. You may find out your target demographic has no interest in your product or service. You may find out you're funneling customers in at the wrong time in the buying cycle. You may find out that you're charging way too much. In any case, be prepared to fail, but fail quickly and learn as much as you can from those failures.
What has driven the most sales? Insta/facebook/pinterest/email/etc..?
It's no real surprise that our biggest source of sales is organic traffic. User and search intent are really powerful things. Simply getting in front of the customer isn't good enough these days; you have to find the right moment in the buying cycle to make an impact. To me, organic search is one of the best ways to do that. It can, however, be a long road that I think most startups shy away from, and why PPC tends to look much more attractive in the short term.
What is stopping you being 3x the size you are now?
Time. We continually invest in our site's content and resources so we can grow organically and reliably. I wouldn't know what to do with 10 million dollars if you gave it to me. I feel much more comfortable and confident improving and innovating from a grounded and sustainable perspective, where successful efforts are rewarded with more resources and higher budgets, and not the other way around.
How do you protect yourself from competition?
The interesting thing about growing a hotel booking site through content and organic search is that while it's easy to see some of our techniques and methods, the truly meaningful ones are quite ambiguous and are constantly changing. With that said, our most valuable asset is our content, which our well-known competitors are unlikely to plagiarize. Stolen content will generally be isolated to non-competitors, who utilize low-quality sites built from scraped and spun content. In that sense, our attention is best spent on techniques to deter bots from stealing our content and wasting our server resources.
What apps could your business not run without?
CloudFlare is the holy grail if you're a small business with an enterprise level site. They've allowed us to cheaply scale up our site to be able handle ever increasing traffic, while simultaneously protecting us from a slew of online threats and attacks. SEMrush is wonderful for getting a broad look at our keyword and backlink profile. SEO Powersuite RankTracker gives me exact and precise keyword SERP tracking. Monday.com is a super simple staff and project management tool with tons of customization. Google Sheets and Excel are unavoidable when dealing with any kind of data, and can be your best friend or a nightmare depending on how proficient with them you are.
Would you ever sell?
Sure, everything is for sale for the right price, but hopefully not too soon as I really enjoy growing Hotels4Teams.
| Company Name: | Hotels4Teams |
| --- | --- |
| Founders: | Tom Berkman, Kyle Berkman |
Comments