Linda Larson Schlitz has been a counselor for 30 years and was the Co-Founder of a non-profit organization that was designed to help homeless veterans and others with substance abuse and mental illnesses.
The four bedroom adult family care home in Wausau Wisconsin was duplicated and eventually had a 46 bed Education and Rehabilitation Program that generated over $300,000 in one year.
Was it a lightbulb moment or gradual moment to start Faucet of Hope?
Faucet of HOPE was born out of my journey as a founder and CEO of a non profit organization we called Randlin Adult Family Care Homes Inc. that provided housing and an education and training program for homeless veterans, ex-offenders and others with substance abuse issues and mental illnesses. We started with one 4 bedroom home and grew to 46 beds and five businesses that brought in over $300,000 in one year alone, being operated by the students in the program and other community members.
How did you get your first three customers?
Our first "customers" were our residents that were referred and funded by the county's inpatient substance abuse treatment center in our community. When we realized that our residents couldn't find jobs and were bored, we developed an education and training program and our first three customers in our first business were community members seeking help mowing the lawn in 2009.
How did you validate the idea?
Within the first couple of weeks of starting the organization all of our beds were filled with residents who were coming out of treatment and would have otherwise been homeless. That has continued now for the last 18 years. We validated the idea of developing an entrepreneurial training program when the community got 100% behind the organization by donating to the company for our services, donating and buying from our thrift stores, hiring our small engine repair experts and frequenting the Hot Diggity Dog food stand.
Did you have any experience/expertise in the area?
My husband had worked with the handicapped for many years, first in a facility and later in group homes. I have always been about helping people discover their God given talent and helping them get paid to do it. I am also a problem solver and with my experience as the Director of K-12 Guidance and Counseling and School to Work Transition and then 15 years as the Career Counselor, I understood curriculum development and assessment. I had also started another non-profit years prior that helped those facing unplanned pregnancies and dealing with post abortion and adoption options grief. Our greatest asset, however, was that we were both recovering alcoholics/drug addicts ourselves so we understood their pain. As a counselor, I knew that they had much more potential than what they were living and we wanted to be a "faucet of HOPE to them."
Have you raised any money? How much?
Initially we received $1200 per person per month to provide 24 hour supervision and room and board . We also began fundraising and by the end of our first year we had generated over $30,000. In 2010 we generated over $300.000 through the Reintegration and Assistance Education and Training Program in one year. In 2014 my husband and I retired from the non-profit and we continue to operate the initial home we started and I am preparing to launch the Gallery of HOPE creative arts online store to give marginalized people and undiscovered artists the opportunity to sell their goods and services online.
What regulatory approvals did you have to go through?
In Wisconsin we needed to become licensed as an Adult Family Care Home. It was a pretty easy process and the state was incredibly helpful to work with us as time went on to be creative in how we managed this home. The rules are generally that only 4 residents could live in the home but since we were also using live in care providers instead of round the clock staffing they allowed us to expand that. It was a great option because we were able to provide additional help to the community by taking in others who had become homeless that had enough sobriety time that we could use them as care providers for the residents that were brand new in recovery.
Who is your target demographic?
We have also served those who were less fortunate. Homeless veterans and others who were chemically dependent, mentally ill, ex-offenders, unemployed were our greatest passion. We sought to serve those most marginalized in the community because they had nowhere else to go and had burned most of their bridges including their families.
What is the funniest/most strange customer request you've had?
We had a resident who was neither an alcoholic or a drug addict but he had suffered a heart attack and couldn't work so he lost his apartment. The challenge was that he had two dogs that were part newfoundland and weighed 150 pounds each. He had been living in his car with them for almost a year. We were unable to find a way to accommodate him but we eventually let him park his car in our yard and offered him a place to at least eat and shower etc. Eventually, after one of his dogs passed away we were able to offer him a room and he became one of our main advocates on our videos and promotions for the services we provided.
How did you fund the idea initially?
A friend loaned us $20,000 to buy the first house and the county substance abuse recovery center gave us $1,200 for resident room and board. It wasn't too long after we opened that the county quit funding the residents and we had to look at other alternatives. In realizing that there were many residents who could not move forward because they needed purpose and hope for the future, we looked for things for them to do. It started with lawn mowing, then we opened a thrift store, then a warehouse of discount items, then a hot dog stand, a small engine repair business and the Gallery of HOPE creative arts store.
Where did you meet your co-founder/founding team?
Besides my husband and my daughter our 4th co-founding member was the veterans representative from the job center. We eventually added many other board members from the community that had some interest in working with this population. One of them was a public defender who has since become a judge.
Any tips for finding first employees?
Most of our success came from our voluntary internship education and training program and subsidized workers from state and federal programs. We found them in jails, homeless shelters, schools and the unemployment office. Some of the best most qualified employees are those who are ready for change and have been misunderstood their entire lives and they just need HOPE. My definition is Help Opportunity Praise and Encouragement and when you give people that, they will be your biggest assets. We also used the Work Opportunity Tax Credit, a US Federal tax break for employers for hiring individuals from a wide variety of marginalized job seekers.
Did you run any companies prior?
I did have a small nonprofit that I started but we had no employees. I was also the Director of Guidance and Counseling in school districts as well as the regional director of Career Counseling Services for the State of Wisconsin Department of Workforce Development.
What motivated you to start your own business?
God gives us passion to do what He created us to do. We just need to listen to the direction He is trying to lead us. Passion is the main reason anyone should start a business. Both my husband and I are passionate about helping others who have substance abuse problems, mental illness and have come to the end of their self inflicted rope. I am a repurposer of everything as well as the potential of all the people I meet. There is no such thing as can't or not being good enough when God is leading and giving the direction and support to accomplish His will.
What were your family and friend's first thoughts on your company?
It really started with my husband helping out a friend start a group home. Within six months we realized this may be a good long term solution for him to use his talents because punching a clock on a normal job wasn't working. Besides having had over 500 kidney stones and battling with crohn's disease and migraines he has not been able to maintain a "normal" job because most employers aren't all that accommodating. It seemed like a perfect fit to meet a lot of needs at once. My daughter even agreed to be the live-in staff to cover the night time hours. My passion grew as I saw the transformation of these residents and the need for more services in the community.
What motivates you when things go wrong? What is the end goal?
I believe that there is a lesson and a blessing in everything, so even when things go wrong it just makes me rearrange my thinking. I am motivated to never give up because I know God has a plan for me and that is to have as large of an impact on the world as possible. After years of positive growth and huge impact the thrift stores faced major competition from the consignment shops. Many other changes in the dynamics of the organization as well as my husband's failing health, forced tough decisions to downsize and turn the non-profit over to the board of directors. My husband and I sold the first house to an investor who was willing to let our residents reside there and he hired us to continue to manage it which we do to this day. In addition I have launched Faucet Ministries LLC (DBA Faucet of HOPE) to provide affordable coaching and counseling as well as giving people opportunities to work with and for me to develop skills, earn income and share their expertise with the world.
Do you have any advice for someone just starting out?
Build a solid foundation before you launch into something new. Being a visionary it is difficult to be patient and make sure everything is in order. You see something that you can see will be awesome for you and your family and your customers but if you move too quickly without building a firm foundation it can backfire.
What has driven the most sales?
Things have changed a great deal since we started the non-profit where newspaper and television were key. Now, email and Facebook are the primary income generating tools for the Faucet of HOPE but I am hoping writing articles for online blogs etc will be worth the time investment. I also am a contractor for several organizations that hire experts to do counseling and writing.
What is stopping you being 3x the size you are now?
Timing and priorities. I am building the foundation for my online coaching and consulting services that will empower more people to follow their dreams. This will in turn fill the Gallery of HOPE online Store to provide a venue for undiscovered artists, authors, musicians, crafters and service providers a place to showcase their God given talents. I have to do this right.
How do you protect yourself from competition?
I don't view people who do similar things as competitors. I see them as people like me who are following their path and they will be serving the people God leads to them and I will be working with the ones He leads to me. I believe we are all in this together and if I can help another business move forward it is to my advantage to do so which is what I do on my Speak to Me God Podcast.
Do you have any trademarks?
I am the author of Ditzy Blonde Faucet-It's a God Thing my memoir about overcoming substance abuse and ADHD and Speak to Me God I'm Listening-365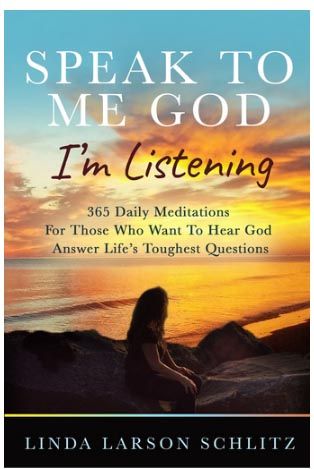 Daily Meditations for Those Who Want to Hear God Answer Life's Toughest Questions which is a 12 Step meditation book with Bible verses and my conversation with God about the topic for the day and what I heard Him say to me.
What are the top 3-5 apps your business could not run without? Why are they essential?
Canva- Incredible program to make any kind of graphic you can imagine. Templates for all the social media platforms and anything else you need to do with your business.
Get Response- A completely integrated email building program complete with a university training to teach you everything you need to know to build your business
Acuity Scheduling - A very cost effective powerful scheduling program that looks great and has all the bells and whistles, auto responders, questionnaires and they even put it on your website for you!.
They are cheap, user friendly and necessary tools I need to keep in touch easily with my customers.
What are your favourite books?
Faster Than Normal by Peter Shankman
Day Job to Dream Job by Kary Oberbrunner
The Bible by God :)
What are your favourite podcasts
This is Earl Nightingale-on Spotify
New Day Wisconsin- Pastor Aaron Winowiski
What are the next products you're working on?
I am offering new courses all the time to help people discover their purpose in life and how to deal with things like this pandemic and still come out doing what you love and getting paid for it. I am also working to launch Our Gallery of HOPE website that will give opportunity for thousands of marginalized individuals and other undiscovered creatives a chance to let their work shine.
Are there any releases you can tell us about?
My 2nd book was just released a few months that did make the top 10 best seller list for new authors in the 12 step category, and I am launching my new online self paced course - Finding Peace, Purpose and Pandemic HOPE that will help people work through the emotions of this challenging time and look to the future.
Where do you see the company in 5 years?
I would like to have my books be on the best seller list and have at least 250 new artists selling their products and services on My Our Gallery of HOPE website and making tons of money to field.
What is current revenue?
First quarter of this year was $40,000 from counseling/coaching.
Comments