| State | Florida |
| --- | --- |
| Timezone | Eastern |
| Is Area Code 305 Toll Free? | No |
Area code 305 is a southeastern Florida area code that covers all of Miami and some of the Florida Keys. The coverage area spans from Hialeah to Miami Gardens and over to Miami Beach, Kendall, and Homestead. It currently has one the overlay 786 due to high regional demand. The overlay helps create additional lines for new residents in this popular area.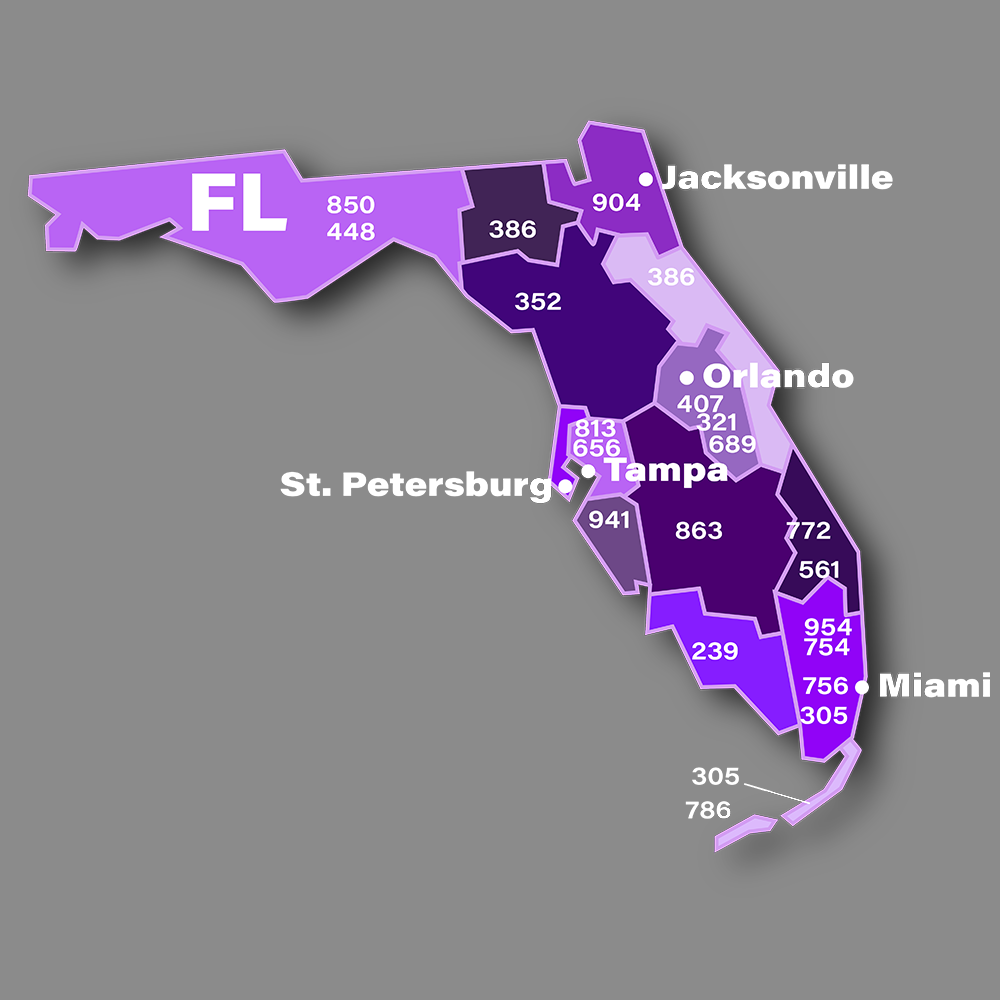 Cities that Use the 305 Area Code
Many areas and cities fall under the 305 area code including, Big Pine Key, Homestead, Hialeah, Islamorada, Key Colony Beach, Key West, Coral Gables, Leisure City, Key Biscayne, Key Largo, Long Key, Marathon Shores, Marathon, Miami, Coral Terrace, Golden Glades, Cutler Ridge, North Miami Beach, Miami Beach, Norland, Richmond Heights, Opa Locka, Tavernier, Summerland Key.
305 Area Code Origin
The 305 area code was one of the first area codes created in the North American Numbering Plan back in the January, 1940 by the Bell System and AT&T telephone companies. Initially, the 305 area code served the entire state of Florida. In the 1950s, the state separated into sub-sections and added additional area codes. People began flocking to south Florida and pagers and cell phones began to grow in popularity in the late 1990s and early 2000s. This influx of numbers nearly exhausted the 305 area code.
305 Area Code Today
Now the 305 area code is found solely in Miami-Dade County in southwest Florida and sporadically throughout the Florida Keys. It site entirely within the eastern time zone. It used to cover areas like Broward county but due to population increases, splits occur to giver regions their own area code and overlays are introduced to increase capacity. Over the years, it has become such a coveted area code, embodying the vibrant Miami culture and lifestyle. It's a prominent part of pop culture and is used in a variety of song lyrics. The City Of Miami sits a long way from the state capital, Tallahassee and other major cities including Orlando, Jacksonville and Tampa.
There may be additional splits, the Florida Public Service Comission (PSC) may propose additional overlays and splits within the state should any particular code become close to exhaustion. New customers in the area are often given a 786 number as the 305 area code comes close to capacity.
Dialing a 305 number is simple. However, it does require the country code +1 when dialing from outside the country followed by a 10-digit number. It then starts with the three digit area code, followed by the central office code, followed by the subscriber number.
Brief History of Area Codes
Bell System invited 3-digit area codes as a way of updating the previous system, which included four and five-digit phone numbers. Prior to the area codes, people had to connect with a live operator if they wanted to reach someone in another county or state. Phone numbers were not even actual numbers. Instead, they were alphanumeric addresses, named after phone exchanges that covered particular geographic areas.
305 Phone Scams
The 305 area code is one of the places scammers use caller ID spoofing to make it look as if the IRS is calling. The IRS impersonators are calling and saying you owe them money. They'll threaten legal action and even arrest. It's important to know the IRS will not contact you by phone about debt or money owed. You'll receive correspondence through the mail, even then it is always best to check with the government to make sure the correspondence is legitimate.
Comments