| State | Arizona |
| --- | --- |
| Timezone | Mountain (mostly) |
| Is Area Code 928 Toll Free? | No |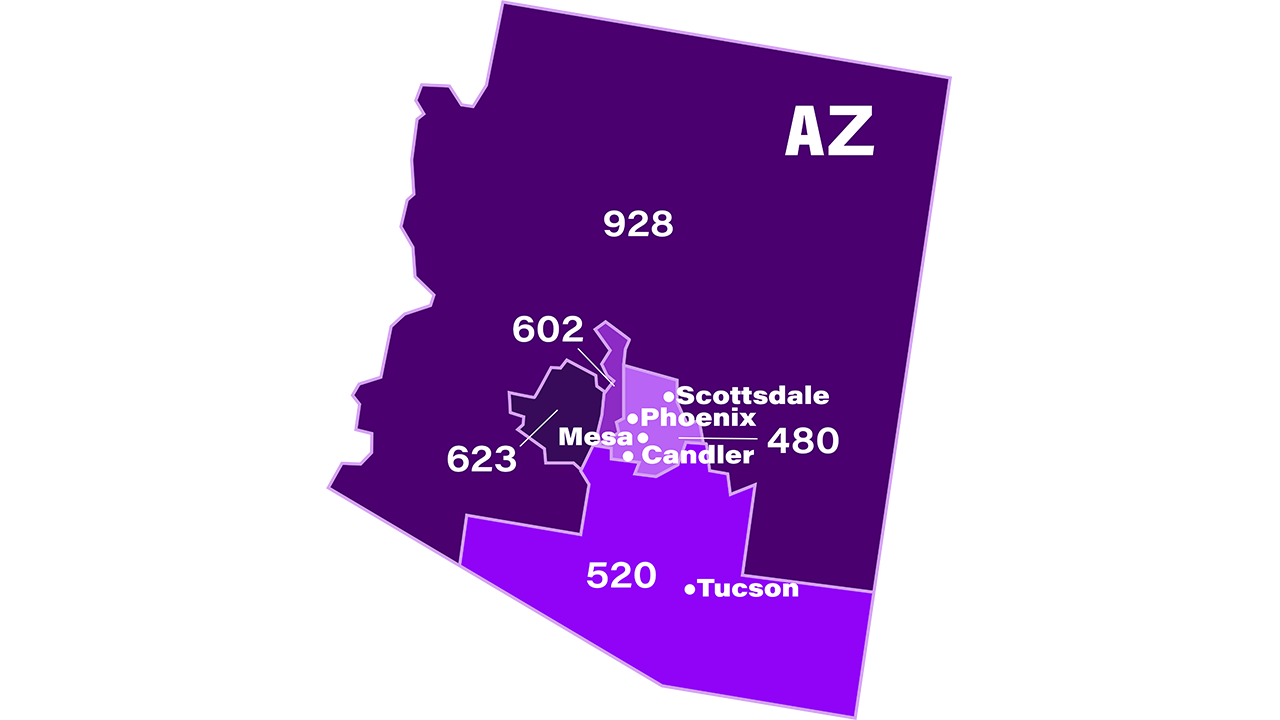 Where Is Area Code 928?
Area code 928 covers much of northern Arizona, including the counties of, Navajo, Lake Havasu City, Somerton, Chino Valley, Safford, Coconino, Apache, Winslow, Somerton, Gila, Yavapai, Cottonwood, Kingman, Payson, Prescott Valley, Peach Springs, Sedona, Yuma, Graham, La Paz, Cameron, Gray Mountain, Prescott and Flagstaff.
Notably, Phoenix including Scottsdale and Tucson, both major cities in Arizona are not covered by area code 928. The covered area starts at the state's northern border. It includes Fredonia, Page, Kayenta, Round Rock, and other northern cities. The area continues south to Phoenix, and includes cities like Cameron, Flagstaff, and Holbrook. It is a popular area due to attractions such as Humphrey's Peak and the proximity to the Grand Canyon National Park.
The 928 area also includes some cities on the western and eastern edges of the state. Covered cities in those regions include Quartzsite, Wenden, Springerville, and St. Johns. Cities in south-central and southeastern Arizona are not covered by the 928 area code.
When dialing a 928 number from another country, an 11-digit number is needed. After the country code (+1) comes the area code or Numbering Plan Area (NPA) code, central office code, and 4 digit subscriber number.
As of 16th July 10 digit dialing has been introduced for local calls and long-distance calls within area code 928. The Federal Communications Commission (FCC) mandated that the dialing change was made to enable the 988 number to function as a mental health crisis lifeline. A grace period was given to allow phone users the opportunity to update, fax machines, tablets, speed dialers and other devices to the new procedure.
Origin of Area Code 928
928 was the third are code established for the state of Arizona. In October 1947, area code 602 was created to cover the entire state. When growing demand for local phone numbers exceeded the capacity of one area code, the state was split between area code 602 and newly created area code 520. That first split took place in March 1995. Most of the 928 area code operates within Mountain Standard time zone.
Area code 928 was established in June 2001 when growing demand for local telephone numbers in central and northern Arizona once again exceeded the current area code capacity. 928 was formed as a split of the covered area for area code 520.
Today, all three area codes are still in service for the state of Arizona. The breakdown of current coverage is as follows:
Area Code 602 – Most of the city of Phoenix
Area Code 520 – Most of southeastern Arizona
Area Code 928 – Northern Arizona plus some of southeastern and western Arizona
The majority of Arizona residents have 928 telephone numbers. The exceptions are residents living in cities like Tucson, Casa Grande, and the larger part of Phoenix.
Area Code 928 Phone Scams
Robocalls and first responder phone scams are among the most common scams encountered by phone numbers with the 928 area code. There are also an unusually high volume of robocalls received by 928 phone numbers.
Arizona is also one of the top states for the most robocalls received. Data collected by the Federal Trade Commission has shown that it's common for the 928 thousands of robocalls each day.
Consumers with 928 phone numbers also report a high number of dead air or hang-up phone calls from unknown phone numbers.
Comments