Hire local help, find work, or both. Flexr is an on-demand local services platform created by co-founders Dylan Pellegrene and Brad Berbari. Whether you need someone to clean your house, fix your car, or even cut your toe-nails (yes even that) you can get it done on Flexr. Post any custom job at any price you'd like to pay, and local pre-screened providers will send you offers to complete it! Flexible jobs, flexible pricing, it's that simple!
Dylan and Brad are two roommates who were both laid off by their employer due to the recent COVID-19 Pandemic. Before the crisis they had been building Flexr as a side project to be a platform where people could find work near them. When the unemployment crisis hit and over 25 million people were unemployed, they decided they had to speed things up and get Flexr launched to help people find work.
Was it a lightbulb moment or gradual moment to start Flexr?
Flexr was a lightbulb moment for Brad and I that came while we were building a different platform named "ShipIT". A few months after moving to Arizona from Ohio, I had asked my family to ship my golf clubs to me. To my surprise the process ended up being so ridiculously complicated, I couldn't believe what it took to get these golf clubs to me. I shared the poor shipping experience with Brad. Since both of us had run E-Commerce companies in the past, we quickly agreed that this problem should have been solved now.
We could see there was a way for the shipping process to be so much easier. Why was shipping items so time consuming and complicated and why was there no easy alternative? Brad and I had always known that we would someday start a company together, so I convinced him that this could be our chance and we should shoot our shot now. We began designing an on-demand shipping platform named "ShipIT." After a few months of working on ShipIT, we realized that residential shipping wasn't as big of a market as we previously thought it was.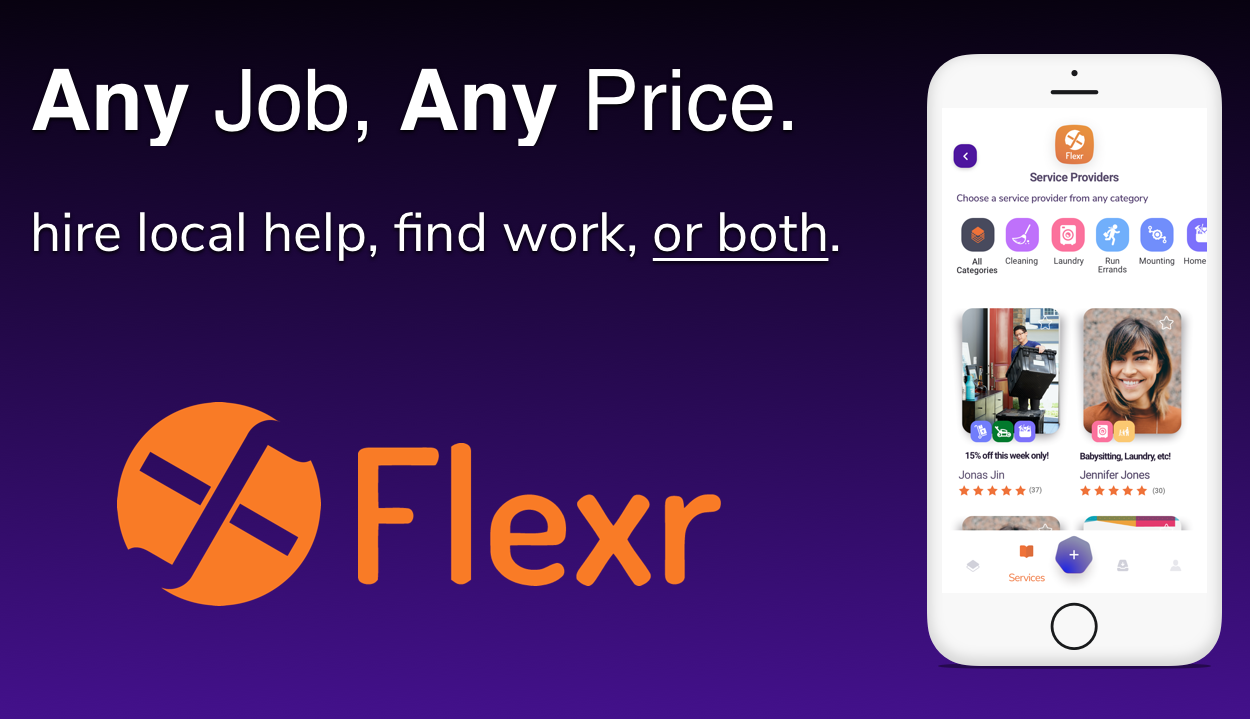 Then a lightbulb moment struck. It wasn't that the world was missing a platform for on-demand shipping, it was that the world was missing a platform for ALL on-demand services.A platform where you could post any custom job, at any price you want, and local providers could send you offers to complete it. A true free-market platform for local services.

Whether it was shipping packages, getting your lawn mowed, having someone fix your car, or even something random like hiring someone to cut your toe-nails for you… Why was there not an easy to use platform where I could post ANY job at ANY price?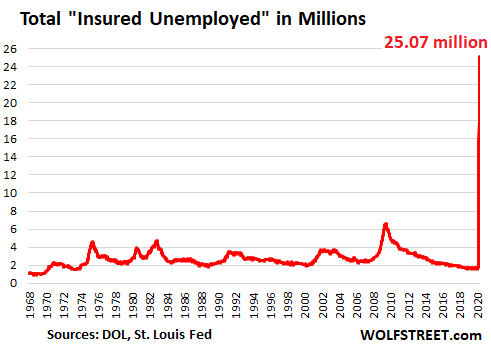 On top of that, we wanted to create a platform that we could use ourselves. A platform that allows you to find work near you, pick up jobs when you want, and work for yourself. "Everybody has something to offer" is a phrase we commonly use over here at Flexr. When the COVID-19 pandemic hit and Brad and I were both laid off, we had another light bulb moment. Flexr really is a platform that can help people find work during this massive unemployment crisis!
How did you validate the idea?
The first thing we did to validate our idea was create a prototype of Flexr that people could play with in their own hands. Having learned user interface design over the years to mock up different app ideas I had, it really came in handy here. I sketched out the initial screens and then hired a great designer to help me put the finishing touches on. After finishing our demo, we would share Flexr with investors and different friends and family and watch them use it. If they naturally understood the process and were able to navigate how to do things on the app, we knew we were on the right track.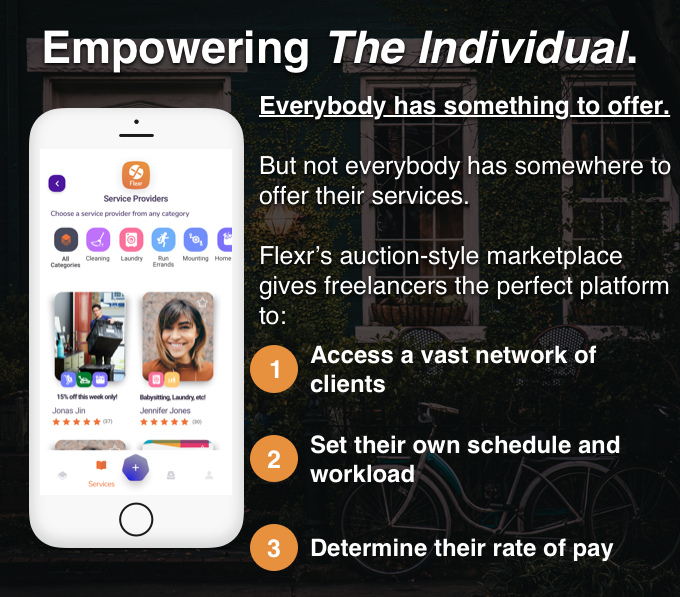 Next we validated the potential for Flexr by looking at what similar platforms already existed. There were other platforms out there for local services, but none of them offered the simple free-market philosophy that Flexr did. Whether it was sketchy offline transactions, fixed pricing, limited service options, or just a difficult user experience… We quickly realized the market was there, users just needed a free-market platform that was more flexible but still easy to use and safe. Finally the unemployment crisis was its own validation which has led to our Kickstarter Campaign. Seeing that people had no choice but to rely on government assistance in the form of stimulus checks and unemployment benefits was truly eye opening. Why was there not a platform people could go to find work? We had to bring Flexr to life ASAP. The Kickstarter crowdfund itself has been very validating for us. Seeing the excitement people have for an empowering platform like Flexr to exist has been nothing short of motivating for us.
Did you have any experience/expertise in the area?
Brad and I have been working jobs on gig apps, hiring freelance help, and using other on-demand services for years. During my years as a Marketing Director for different companies, I became very comfortable and reliant on hiring freelance help to do different services. Any task that someone can do better and faster than me, I am always down to outsource. This allows me to focus my time on the things I want to do and the tasks I'm good at. Soon after we started building Flexr, I left my job as a Marketing Director and Brad left his job as a Mortgage Banker. We decided we were going to make our living completing jobs on different gig apps so we could better understand the ecosystem first-hand. It also would allow us the time and freedom we needed to continue building Flexr. Uber, Amazon Flex, DeliverThat, you name it... we've done it.
Have you raised any money? How much?
When the COVID-19 pandemic happened, investors we had been meeting with and pitching Flexr to quickly changed their tone from excited to cautious. "Let's talk more when this all passes over" was a common phrase we were beginning to hear. We decided to take matters into our own hands and go directly to the people.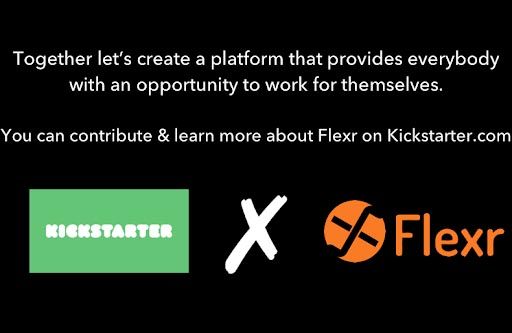 We launched our Kickstarter crowdfund to raise the funding we needed to finish the software development of Flexr. This ended up being one of the best things that has happened to us. Putting our project out into the world for friends, family, and others to see has created a lot of excitement. People were intrigued about the idea of freedom that an app like Flexr could offer people. A platform that would empower them to easily find work near them or easily hire someone to do the tasks that they have been putting off. Our Kickstarter Campaign has allowed us to get our first 50+ customers signed up and excited about our launch.
Who is your target demographic?
The truth is our target demographic is anyone who would like to outsource local tasks they've been putting off. That being said we understand that it is the millennial generation who seems to feel the most comfortable using on-demand apps and outsourcing jobs through them. This generation grew up with the consumer internet and it is completely ingrained in their lives. On the flip side, we have another demographic we target which is people that are looking to find work near them and work for themselves. People that do not want to rely on an employer to find them customers and want the freedom to work whatever hours they'd like. Our platform was made with freelance service providers in mind, although we do allow businesses on the platform as well.
How did you fund the idea initially?
We have self funded this venture entirely ourselves so far. Now that we have stretched the limits of bootstrapping our company ourselves, we have turned to the people. Our current Kickstarter Campaign we are running is to help us finish our software development costs.
Where did you meet your co-founder/founding team?
Brad and I grew up together in Canton, Ohio, the home of the Pro-Football Hall of Fame. We've known each other our whole lives and have always appreciated each other's knowledge and ambition.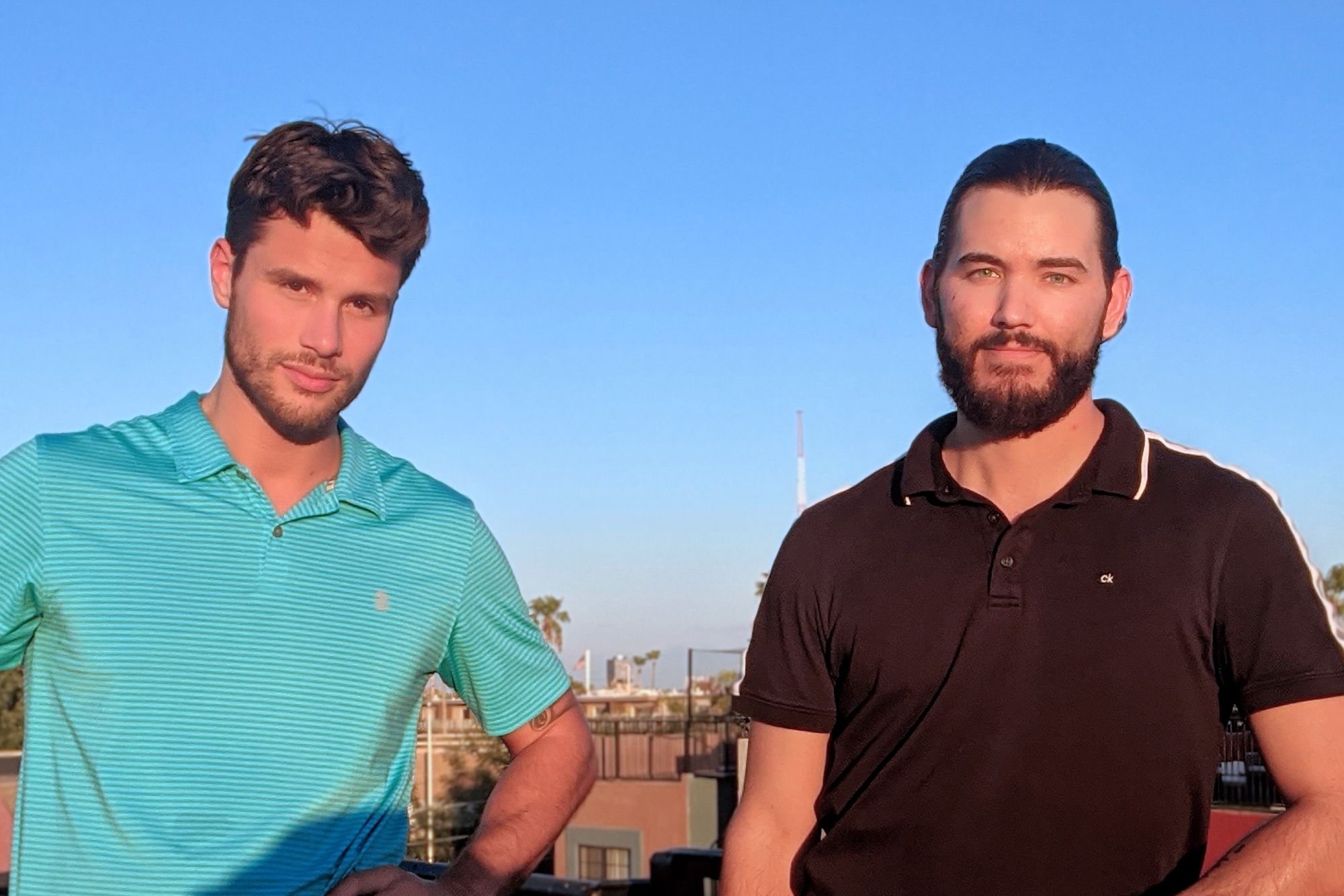 We both have always had a feeling that we would someday start a company together when the time was right.
Any tips for finding first employees?
One of our buddies John convinced us both to move out to Phoenix, AZ in 2018. The three of us have been living together ever since. I feel very fortunate to be able to work with someone who knows me as well as I know them. This comes in handy when your company is going through stressful and difficult times because you know how to work well with each other and keep each other motivated.
Did you run any companies prior?
We both have had companies that we have started in the past. I started "The Gold Mind" which was an e-commerce custom jewelry startup before selling my share to one of my partners. I also have a digital media agency where I do digital work for clients called "Tony Media". Brad had run his own successful e-commerce company called "Tokables" during his college years at Ohio State. He also is very involved in the cryptocurrency community and leads an active and well-known consulting group in the space called "The Crypto Fam".
What motivated you to start your own business?
We've always been very entrepreneurial-minded and we're always looking for problems that exist and how we can solve them. When you have a mindset like that, you'll notice that you have no shortage of ideas to go after, it's a matter of which one inspires you to keep building even during the hard times.
What motivates you when things go wrong? What is the end goal?
When things aren't going as we planned or things get stressful, we've been able to do a good job of stepping back and dealing with the situation at hand. No matter what your goals are in life, you are going to encounter many problems along your journey. It's important that you find something to work on that truly means something to you. When you love it, you'll keep going even when times get hard. Brad and I know how impactful and empowering Flexr will be to the people. We are providing a platform that we want ourselves. A platform that gives people the freedom to work for themselves and also outsource tasks they don't want to do, so they have more time and energy to do the things they want in life!
Do you have any advice for someone just starting out?
I've always heard "make your job your passion" or similar themes like that. It wasn't until we started building Flexr where that all finally clicked for me. We don't care what it takes to bring this platform to people, nothing can stop us because our passion to build this for people runs so deep.
What has driven the most sales?
As far as marketing and growing our company, we've found a lot of success reaching out to targeted journalists and influencers. Contacting people who have written stories similar to yours can be a great way to get some niche publicity!
How do you protect yourself from competition?
Am patents and things of legal nature, I believe the best way we can protect ourselves from competition is to continue to do what we've been doing, keep being unique. We have built a platform that is much different than anything else that exists and our blueprint to scaling Flexr, is in itself a protective "moat" for us.
Do you have any trademarks/IP/patents?
As long as we continue to be original with our designs and user experience, it will be hard for a company to copy us. The confidence we have in our plans to scale while keeping things as simple as possible for users I believe will carry us where we need to go.
What are the top 3-5 apps your business could not run without?Why are they essential?
The G-Suite is by far number one most effective group of tools for us and always has been. Whether it's the Google Drive, Docs, Sheets, Gmail, or any other tools, I'm not sure we could live without them at this point. Our company really lives on the Google Cloud.
Sketch is a tool that we use quite often. Sketch allows us to create new screens and edit existing screens of our app. We can quickly come up with an idea, sketch a mock up, and add it to our prototype for rapid testing.
Upwork is another tool that we've used for years. It's interesting how much freelance help we've found ourselves hiring while building a company from the ground up. As a freelance services company ourselves, it only makes sense. We love the idea of being asset light and being able to do things swiftly.
What are your favourite books?
One of my personal favorite books is "Principles" by Ray Dalio. I firmly believe in his perspective that the same things happen over and over again in life. If you can create a set of principles for dealing with the situations you encounter in life, you will be much better equipped to handle the conflicts that you'll face.
What are your favourite podcasts?
Brad and I often find ourselves listening to a lot of the tech and finance podcasts. Anthony Pompliano aka "Pomp" has a podcast called "Lunch Money" that we listen to almost daily. He covers a range of topics in the tech and finance space. Like many others we often find ourselves listening to Joe Rogan's podcast as he has such an interesting array of guests every week.
What are the next products you're working on? Are there any releases you can tell us about?
One of the features we are working on right now is a simple scheduling tool for our providers. We know if we can perfect our scheduling tools, we can make life much easier for Flexr's service providers.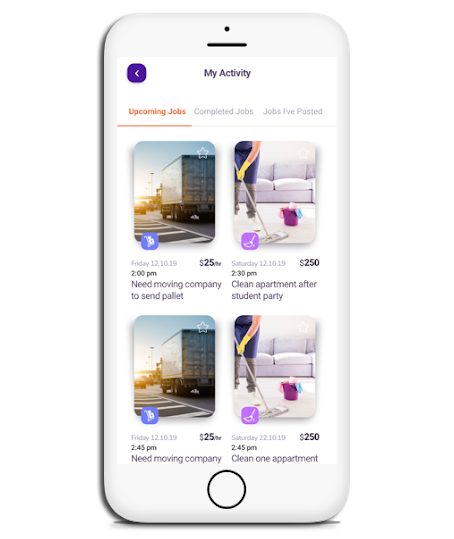 Our goal is for them to be able to pick up jobs and not have to worry about setting reminders or anything of that nature. Flexr will send you alerts about your upcoming jobs to keep you aware, all the way up until your jobs due date.
What is current revenue? If you don't mind sharing
With the on-demand services market looking to reach over $400 billion this year and growing at a rate of 49% a year, we expect our niche in the local services sector to grow at a similar rate. The better equipped our providers are to handle tasks, will allow us to serve many more clients on Flexr.
Where do you see the company in 5 years?
In 5 years I see Flexr being the premier marketplace for getting local tasks & services done in the USA. I believe we will have made something so easy to use that everyone both old and young will be able to use Flexr. People will have a way to outsource tasks they've been putting off and be able to spend more time with their loved ones and doing things they enjoy.
| Company Name: | Flexr |
| --- | --- |
| Founder: | Dylan Pellegrene |
Comments