There were three things that pushed us down the entrepreneurial path.
Experiencing burnout
In early 2017, I had well and truly burnt myself out. It was only the start of the year, but I had subscribed to the "hustle hard" mentality and taken on far more than I could chew. I was trying to generate a side income from a blog I had created in 2015 as well as manage marketing campaigns for my parent's business outside of work hours.
After a nasty case of stress-induced gastritis (aka the wake up call I needed), I took some time off from work and used that time to reflect and consider the life I was living. I wasn't happy in my job and I had put all this pressure on myself to turn what had started as a passion project into a source of income. I was anxious. I was stressed. I was so far from feeling any sense of fulfillment and I knew deep down it was time to make some lifestyle changes. I started tuning in to my body and making a conscious effort to slow down—something that was so foreign to me. As corny as it sounds, this was the beginning of my personal wellness journey.
I couldn't find my version of the perfect planner
I've always loved paper diaries, but I couldn't find a planner that would help me stay grounded and organised with my wellbeing in mind. I needed a daily reminder to slow down and check in with myself because putting myself first didn't come naturally to me. Everything was so focused on productivity and making every moment as productive as possible, but after burning out, I needed to flip the focus.
We saw this as an opportunity to not only create the perfect planner for me, but to create a wellness-focused planner that would help others who experience the exact same struggle—who lack the tools they need to prioritise their wellbeing—who need that daily reminder to slow down—who care about becoming the best, most vibrant version of themselves.
It was actually Tom, my partner in life and business, who proposed the idea to me and said we should do this. He's the Co Founder of Saint Belford. When he proposed the idea, it was an immediate HELL YES and before we knew it, we were brainstorming features we wanted to incorporate into what is now called Curation.
Neither of our jobs were fulfilling us
We felt like we were at a crossroads in our careers. We weren't fulfilled or happy and we felt at the age of 25/26, with no mortgage or major commitments, we had nothing much to lose. If it didn't pan out, it would still be an exciting adventure and we would learn a lot from the experience. That's the mentality we went in with. A whole lot of naive optimism!
We used our personal networks to generate sales in the initial period. Our first few customers were friends and family who were eager to support us. We posted on our Facebook feeds and Facebook groups and family and friends helped us spread the word through their networks. We leveraged all the free channels of marketing we had access to at the time.
Who is your target demographic?
Our customers are predominantly women in their 20s-30s like Alex who have either experienced some level of burnout or they recognise the need to slow down and recharge amid the chaos of modern society. These women are searching for more than a diary or planner. They are searching for something to keep them grounded, to help them prioritise their wellbeing and create space for the things that light them up because the idea of putting themselves first is not something that comes naturally.
How did you fund the idea initially?
We used our personal savings to fund this idea. Tom and I had already been together for nearly 3 years when he popped the question—not the traditional question...
Being business partners as well as life partners was somewhat challenging in the first year, especially when we didn't see eye to eye on certain topics, but we've since learned to treat those heated discussions as healthy debates. Having two different perspectives often helps us make better decisions for our customers too.
Curation was designed for me, so I use it every day. Tom uses a combination of paper and digital tools to plan his week.
What motivated you to start your own business?
My parents were serial entrepreneurs, so I saw the good, the bad and the ugly. I saw the ups and downs, the late nights and the negative impact it had on my parents' wellbeing. I distinctly remember saying on more than one occasion that I would never run my own business because it just wasn't worth the stress. All I wanted was the security of a monthly salary.
It's funny how things change!
Tom and I never discussed the idea of running a business together, so his proposal was a big surprise to me, but we were both just motivated to change SOMETHING in our lives and it just so happened that change meant starting a business.
Ultimately, we wanted to do something that made us want to jump out of bed every morning. We wanted Mondays to be exciting again.
I think initially everyone thought it was just a casual side project—no one realised just how invested we were in this idea until we launched our second edition and the business was able to support both of us.
What motivates you when things go wrong? What is the end goal?
When things go wrong, we like to reframe it and really search for the lesson. We see it as a learning curve and we use it as an opportunity to step up as a business. The end goal in these scenarios is to learn and evolve.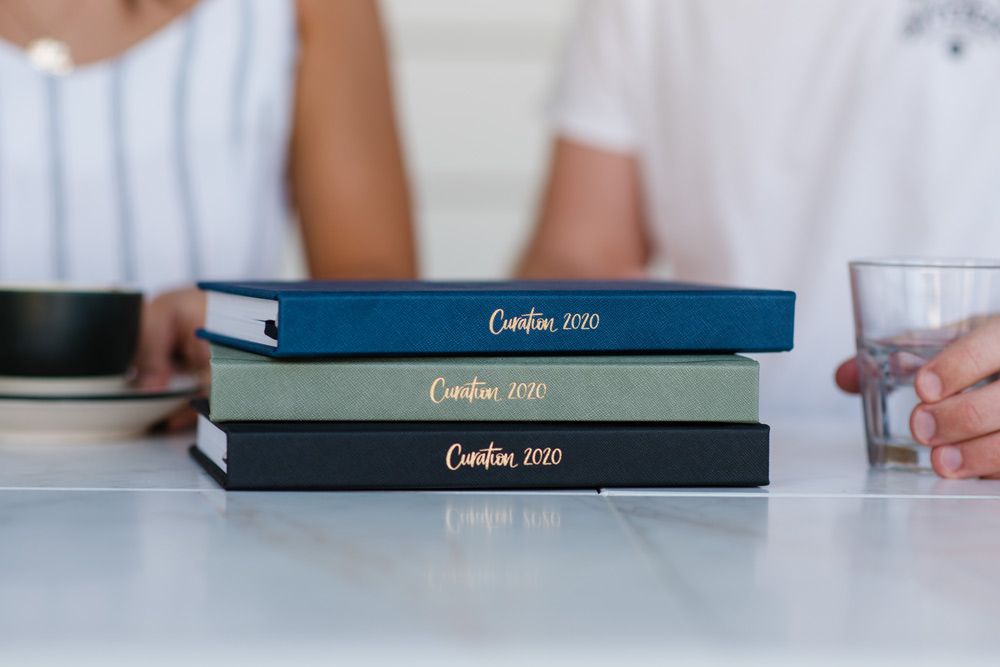 For example, in our first year, we had a significant percentage of defects. Although the diaries were still usable, the cosmetic blemishes on the front cover meant we couldn't sell them, so we decided to donate them to Fitted For Work and Wear For Success—two non profit organisations providing professional clothing and support to people who need help securing employment.
In our second year, we had a typo in our planners and by the time we spotted it, all 3000 copies had already been printed, so we decided to publically own our mistake on Instagram, instead of waiting for our customers to bring it to our attention. It was an opportunity to show customers that we were human and they really respected us for it.
How do you protect yourself from competition?
We go above and beyond when it comes to customer service and support. We also create free resources and ebooks for our customers throughout the year, based on the feedback and suggestions we receive. We're really committed to helping our customers get the most out of Curation.
What apps could your business not run without?
Sumo: collecting emails is a breeze with Sumo. The pop-ups are incredibly easy to design and customer support is amazing. Email is one of our main sources of revenue, so Sumo plays a huge role in helping us build a healthy email list.
Klaviyo: we just recently switched from MailChimp to Klaviyo and it has allowed us to step up our email marketing game. The built-in flows and email automation possibilities are truly next level.
Ready to ship: This is the software we use to automate most parts of the shipping process. It is a HUGE time-saver.
Where do you see the company in 5 years?
In 5 years, I anticipate that Curation and the other products we create between now and then will be stocked by major retailers around the world.
I'm looking forward to creating more products and resources that empower others to prioritise their wellbeing. I guess what I'm really looking forward to is having a positive impact on people's lives and being a small part of their wellness journey.
This year, we knuckled down and created a free eBook that simplifies the process of building habits that stick (something we all struggle with), and it has been so well received that I'm extra excited to work on the next resource for our community.
Creating products and resources is what lights me up—it's what truly excites me. I love sharing and simplifying what I know, so I'm looking forward to doing more of that, in whatever shape or form feels right. As our business grows, I'm also excited to contribute even more to the nonprofits we support—Beyond Blue and R U OK?—and continue championing their message.
| Company Name: | Saint Belford |
| --- | --- |
| Founder: | Alex Stanford + Tom Stanford |
Comments