We live in a time of incredible prosperity and wealth for many people, which sometimes makes it easy to forget that hunger is a massive problem in this country. In fact, 37 million Americans struggle with hunger — an absolutely frightening statistic. To help combat this issue, co-founders Bryan Janeczko, CEO, and Kuda Biza, CMO, created Nunbelievable, a nonreligious cookie company that donates a portion of its proceeds to soup kitchens, food banks and other organizations working to help those less fortunate.
The company officially launched in October 2019 with distribution via our own website and Amazon and is experiencing double-digit growth. We are projecting $5M in sales this 2020. For every 12-pack box of cookies sold,Nunbelievable makes a donation of two meals to a partner soup kitchen. In just the first few months, we have already sold enough cookies to donate close to 20,000 meals. To date, we have already provided up to 250,000 meals. Looking to the future, we hope to increase our impact, with a goal of 1 million donated meals by 2022.
Where did the idea for Nunbelievable come from?
We were inspired by a group of nuns who run food kitchens across the country, working tirelessly to feed the hungry. We thought they were a perfect example for a mission-based business, so we came up with the idea of selling cookies as a way to help raise money for the folks on the front lines to help end hunger in a delicious way. It's important for us that we are giving directly to organizations who are doing good every day and really making a difference in the lives of people who are struggling. We want our customers to feel good about indulging. One of our mottos is "Finally, a cookie that makes cheat day not feel like a sin."
What makes your cookies stand out from your competition?
From the beginning we knew that we wanted our 3-ounce soft-baked cookies to be made using the finest all natural ingredients, so we collaborated with a culinary "cookie" expert to come up with four delicious recipes. After extensive testing, we went with the popular varieties of chocolate chip, oatmeal raisin and peanut butter for the first three, then we worked hard to make a really delicious gluten-free option. It's a double-chocolate cookie and at our taste-testings many of the people couldn't tell that it was the gluten-free cookie, that's how incredible it is.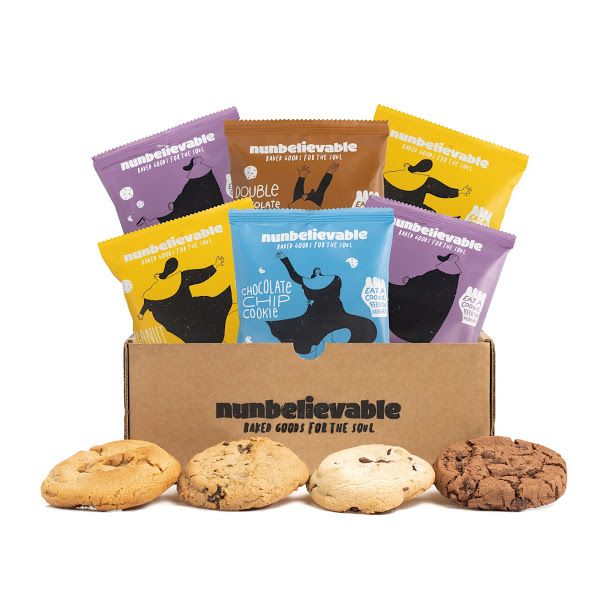 On top of that, obviously, is our mission to do good and give back. Another one of our mantras is "premium ingredients, heavenly taste, positive impact" and we believe that really sets us apart in the marketplace.
What is your background?
Bryan was raised in Wisconsin and has been a serial entrepreneur in the food sector for years. In 2004, he co-founded NuKitchen, the pioneering New York based meal delivery service that was the first company of its kind. Today high-end prepared meal delivery is a multi-billion dollar industry, but Bryan was well ahead of the trend, on the cutting edge before this became such a popular option for professionally people without enough time to prepare fresh, healthy and appealing meals. After raising venture funding to expand the business, Bryan sold NuKitchen to Nutrisystem in a multimillion-dollar transaction. Since then, Bryan has invested in, co-founded or advised a number of consumer brands and startups across the country, including Savor Health, Crock-Pot® Cuisine, Myco Technology, Gro, and Sparks & Honey. Working with Loeb.NYC, a leading venture studio, Bryan originally developed the idea for Nunbelievable business model, which is being backed by Loeb, Bonin Ventures, and IdeaLab.
Kuda grew up in Harare, Zimbabwe, and developed an entrepreneurial spirit at a young age. At the age of 9, he started a window cleaning business in an effort to earn money for ice cream. He moved to the United States to attend college, where he created his first company, a socially conscious clothing line, AFR Clothing. He used some of the profits to help fund the education of more than 100 children in Africa. This gave him a taste of how his businesses could make an impact beyond the balance sheet. After college he worked for Jarden Consumer Solutions (acquired by Newell Brands) as part of the Fortune 500 company's innovation team. There he focused on creating disruptive business opportunities in a variety of sectors across the globe. Kuda and his wife, Ruth, also founded another socially conscious brand, #ThisIsMyEra, an online retailer that donates stationary kits to children in need for each planner sold.
How did you guys first meet?
We met in 2012 when Bryan was hired to consult on the development of a new business with Kuda at Jarden Consumer Solutions, a frozen meal delivery solution called Crock-Pot® Cuisine. What I immediately saw was a smart, determined and driven professional," Bryan says of Kuda. "He had this curiosity to dig in and really learn the landscape of this industry. No decision was taken lightly. He was just so thoughtful and deliberate about every choice and suggestion. And that's something that often gets lost in the chaotic early days of a start-up."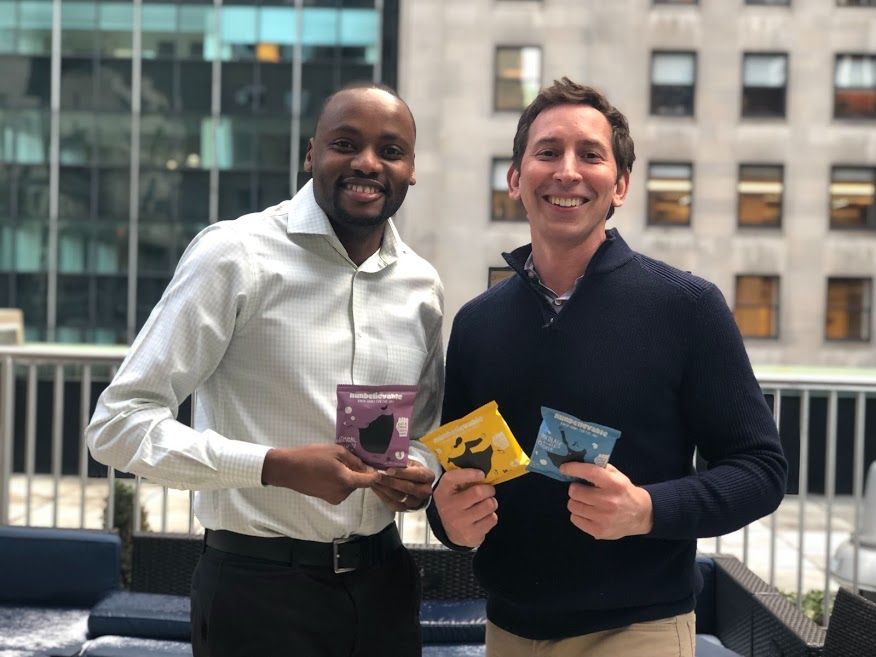 As for Kuda, he was impressed right away with Bryan's positive attitude and willingness to think beyond the structured—and sometimes constricting—rules of corporate America. "He didn't suffer from 'analysis-paralysis,'" Kuda says of Bryan's ability to keep moving towards his goals. "Bryan's attitude really enabled me to become an outside thinker within this system."
When the opportunity to create Nunbelievable came along we knew that it was the perfect intersection of our interests. Kuda knew about social-impact ventures and Bryan had an extensive background in the consumer space.
Has anything surprised you about the reaction from your customers?
While at an event sampling Nunbelievable cookies last year, a customer came over to our booth with an unexpected request. He had fallen in love with our mission to end hunger and wanted to make a big impact. He asked if we would have the ability to fulfill an order of 100 boxes of cookies per month for two years for his corporate gifting needs. Keep in mind that we hadn't even officially launched yet, so this really caught us off guard. But it confirmed for us that we were on the right track: Our cookies were delicious, our mission was inspiring, and we'd managed to get that message across right away. And yes, we were happily able to fulfill that order!
What's next for you? How do you plan to grow your business?
We've been really encouraged by early results and we're using that as a springboard to expanding in the coming months. Next up for us is a line of keto cookies, based on the low-carb, high-fat diet plans that are hugely popular these days. We're developing a cookie that we think is really going to stand out for consumers both in terms of taste and fitting their dietary needs. And, of course, it's one more way we can help raise money to help those dealing with hunger every day.
What apps and tools do you use?
Shopify is very important for our business, so that's something we monitor constantly. Shopify powers our e-commerce capability on our website, so we are always in the app monitoring orders and analyzing traffic trends.
Slack is another indispensable tool for us. It allows us to stay in touch with our team and keeps our email inboxes from overflowing. And it enables us to have quick "conversations" to collaborate.
What podcasts do you listen to?
Kuda is a fan of Business Wars, which takes a deep dive into iconic brand battles in corporate America, including Coke vs. Pepsi, Nintendo vs. Sony, and Hershey vs. Mars. So far, Kuda's favorite episode chronicled the clash between Boeing vs. Airbus.
Bryan is partial to Ambition Today, which goes behind the scenes with some of the most successful startup founders in a wide range of industries.
What advice would you give to someone just starting out?
Kuda likes to take a famous mantra from Mark Twain and put his own spin on it. The two most important days in your life are the day you are born and the day you find out why—but a third important day is every day that you act on that why. Founding a business is challenging and there are endless distractions, but it's critical not to lose sight of why your mission is important to you. Make sure you have clear insight on your priorities every day and that you're chipping away at them.
"Use your passion to fuel your purpose!" Bryan subscribes to the idea of following both your passion and your purpose—and making sure you understand the difference. Passion gets you going and inspires you to take on your mission. Purpose is what keeps you going and helps you understand why your goal is important.
| Company Name: | Nunbelievable |
| --- | --- |
| Founder: | Bryan Janeczko and Kuda Biza |
Comments