You walk into a room and all of a sudden you have jumped back in time. You are remembering a moment and a place so vivid, you can almost taste it. It is the power of scent and it is strong. Our ability to smell is the most powerful trigger of memory. The neural connection between our memories and fragrance are formed from our olfactory bulb, processing and translating the language of scent all from a sniff. The most evocative of all five senses, our sense of smell, has transportive properties that take us back to a moment in time. It can conjure feelings buried from memories long lost like the scent of freshly cut grass to our childhood or a nostalgically sweet pumpkin pie from Thanksgiving dinner. So if you could harness the power of scent to take you anywhere, anytime, where would you go? Why not a vacation?
That is what Claire Ellis, Founder of Malibu Apothecary, is doing through her vacation-inspired clean candle company. Each coastal candle is crafted with inspiration from her travels from Cayman to Corsica, taking the notes and names of these places to capture the essence of exotic locales through fragrance. With clean ingredients like natural coconut and soy wax to essential oil-infused fragrances, this mission-driven company creates cleaner candles for a cleaner Earth by donating a percentage of their sales to coastal conservation.
Was it a lightbulb moment or gradual moment to start MALIBU APOTHECARY?
Definitely gradual. I had spent years crafting candles for myself and as gifts before I thought to start a company. My hobby for candle making started out of my desire to create luxury candles that were actually affordable. One day I decided I was sick of paying $80 to burn a Jo Malone candle and thought to make my own. One oven later, I realized it wasn't as easy as it looked. Fortunately, I am very frugal so I kept at it and was able to successfully create a few batches without burning my apartment down. After working to craft a product that emulated these luxury brands, I discovered that is exactly what I shouldn't do. Why? Because these huge candle companies were using toxic ingredients, including wax made from petroleum byproducts. Why? Because candle companies aren't required to disclose their ingredients and it is the most economical way to manufacture candles. The onus then lies on the customer to do research for themselves. The idea to form a business started out of my mission to create candles that were crafted cleaner and gave back for an even cleaner Earth.
Most candle brands today use Paraffin wax that comes from the oil refinement process as a black sludge at the bottom of oil barrels. Even asphalt is extracted in the refining process, before paraffin. This toxic black sludge then undergoes further refinement and is whitened using bleaching agents that are 10x stronger than our household bleach. This process creates toxic dioxins, known to be carcinogenic. After I realized that myself and others like me were paying enormous amounts of money to essentially slowly poison ourselves, I knew there had to be a better way. I started crafting candles using coconut and soy wax and this idea to create cleaner candles ultimately led me to found the mission-driven candle company I have today.
How did you get your first three customers?
The first customer I had was the CFO at the tech startup I was working at prior to becoming full-time. At the start, I didn't have a manufacturer or even an idea of what the main products would look like. The candles I sold him were made from cocktail glasses I got at Home Goods and he asked if I could gift wrap them for his wife.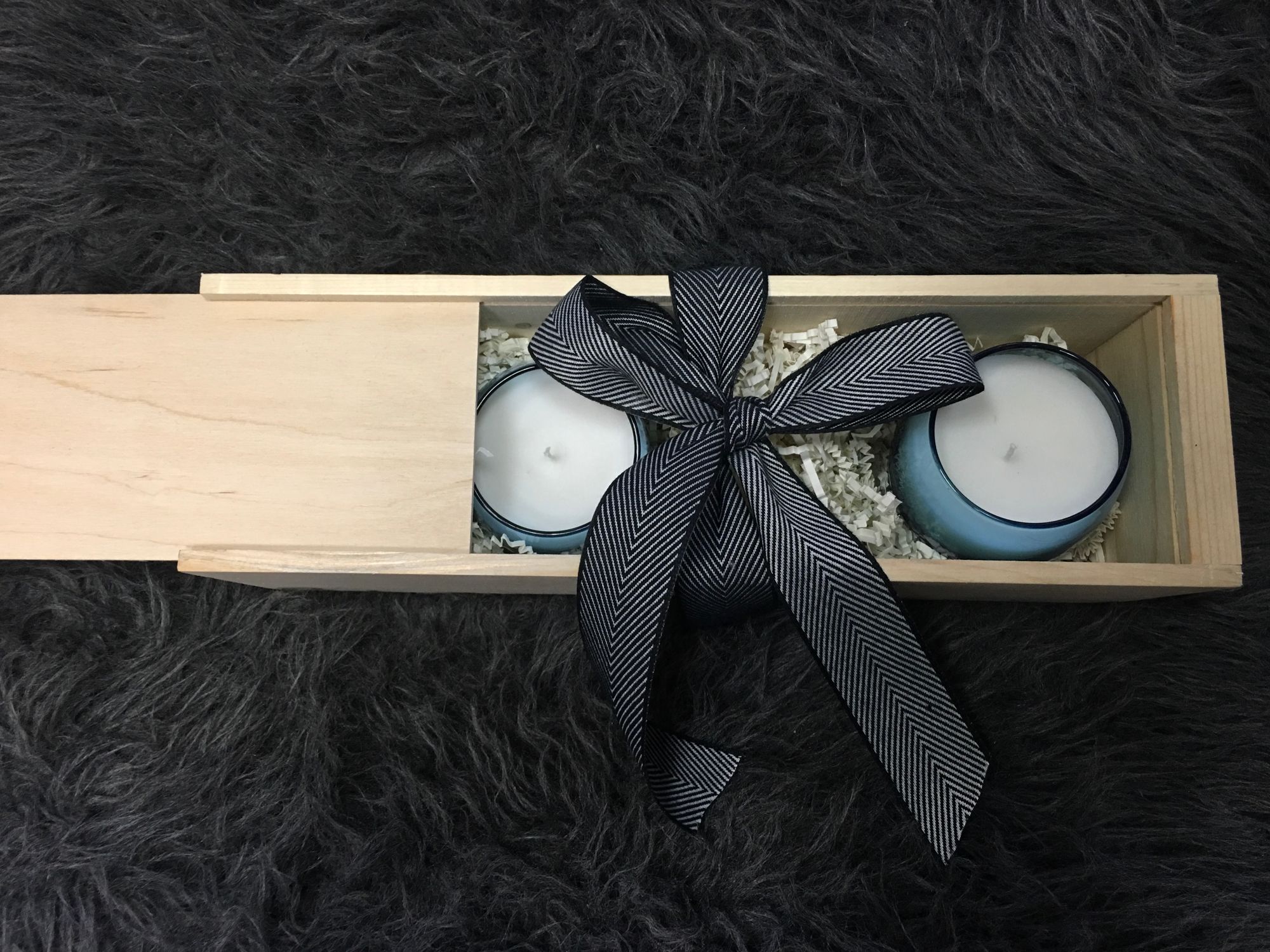 I used a wine crate holder with crinkle paper I repurposed from my desk and added a bow. Uninterestingly enough, My second customer was my mother. Not thinking I would ever start my own company, I minored in Entrepreneurship in college at the Cox School of Business at Southern Methodist University. I remembered they advised us to pitch our idea as early as we can to as many people as we could in our initial startup phase.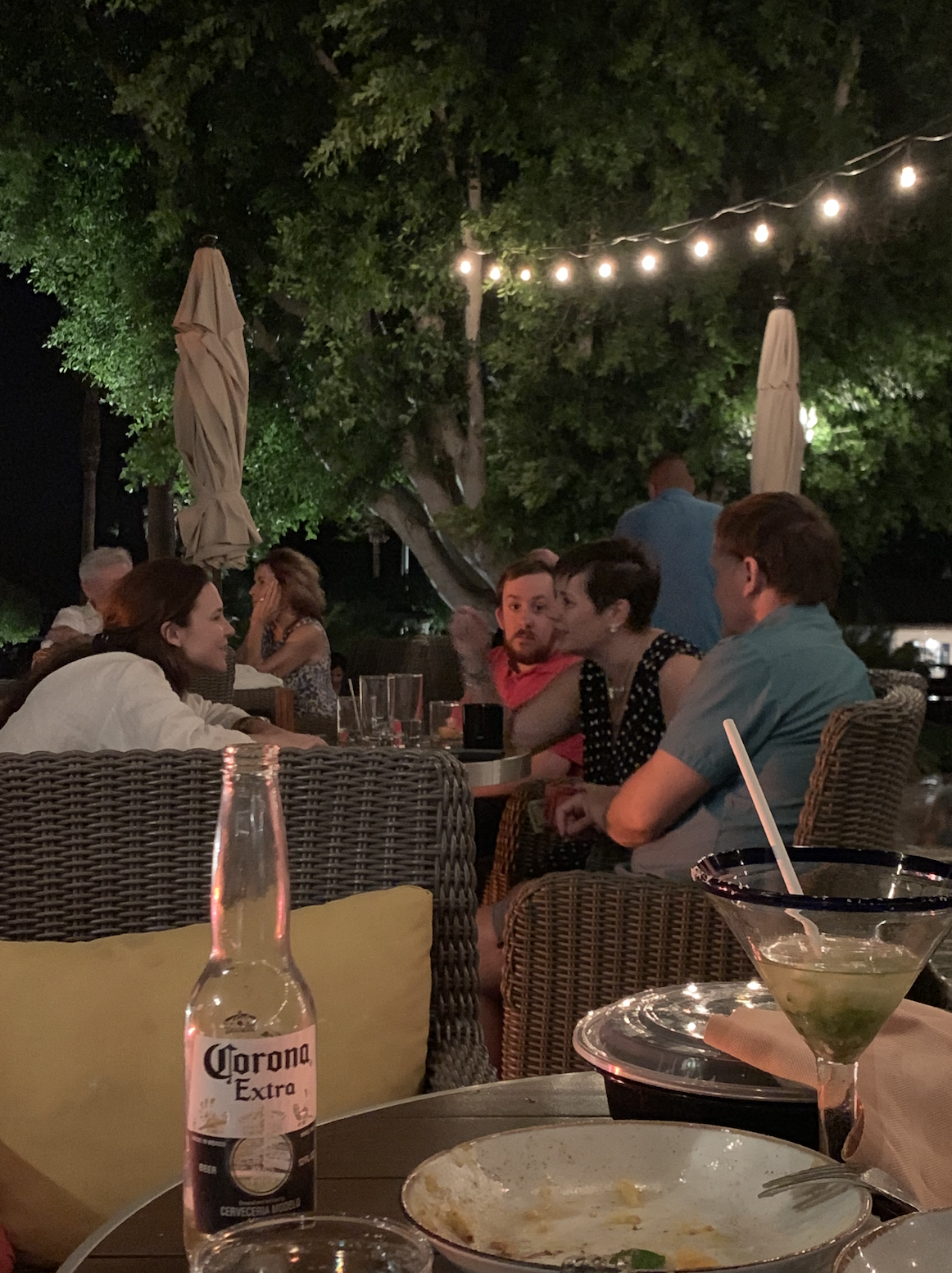 My third customer I got while on a weekend trip to Palm Springs. It was a couple of Corona beers deep and I decided to go up to the family next to me at dinner and pitch my concept. Pictured below are the cocktails and the chaos that ensued. Needless to say, they bought two.
How did you validate the idea?
Very early on, I never anticipated quitting my job or dedicating most of my time to my company. Therefore, I knew if I wanted it to be profitable or successful, I would need someone to essentially distribute and market my products for me. Initially, this meant getting into retail stores. Using tools like Placer.ai as my guide to measure foot traffic in an area, I would walk up and down the high-traffic streets of Los Angeles knocking on doors and pitching my products to retailers. I'm not an actress, but I presume this is what auditioning feels like. Luckily, I kindled lots of really great friendships and mentorships from shop owners who respected this guerilla type sales tactic.
Have you raised any money? How much?
No. It was a tough decision though. Early on, I considered taking on investment and actually met with a few investors. I thought it was the only way I would be able to make the leap into full-time entrepreneurship as I needed capital other than savings from my then salary. Fortunately, I have been cash flow positive for the majority of the lifetime of the business and I was able to land some big enough partnerships that afforded me to take the risk. Little did I expect that only days after signing my resignation letter, much of the expected earnings I had would fall through due to the black swan event we know as COVID-19.
Did you have any experience/expertise in the area?
I didn't have any experience in consumer products or running a company. In the early stages, I really felt my lack of experience show as I only had Google to direct me on basic questions like what is a line sheet or how to write a consignment note. My background was in marketing and partnerships for media and tech companies. There are still so many aspects of the retail world that I feel I have questions on. Where I did have experience was in forming relationships, selling my product, and crafting, and evangelizing our brand story. This was and still is something I felt confident in and a big reason why we have formed really great partnerships and client success stories with companies such as Sony Pictures, Hilton, the Cayman Islands Department of Tourism, Kimpton and more in such a small time.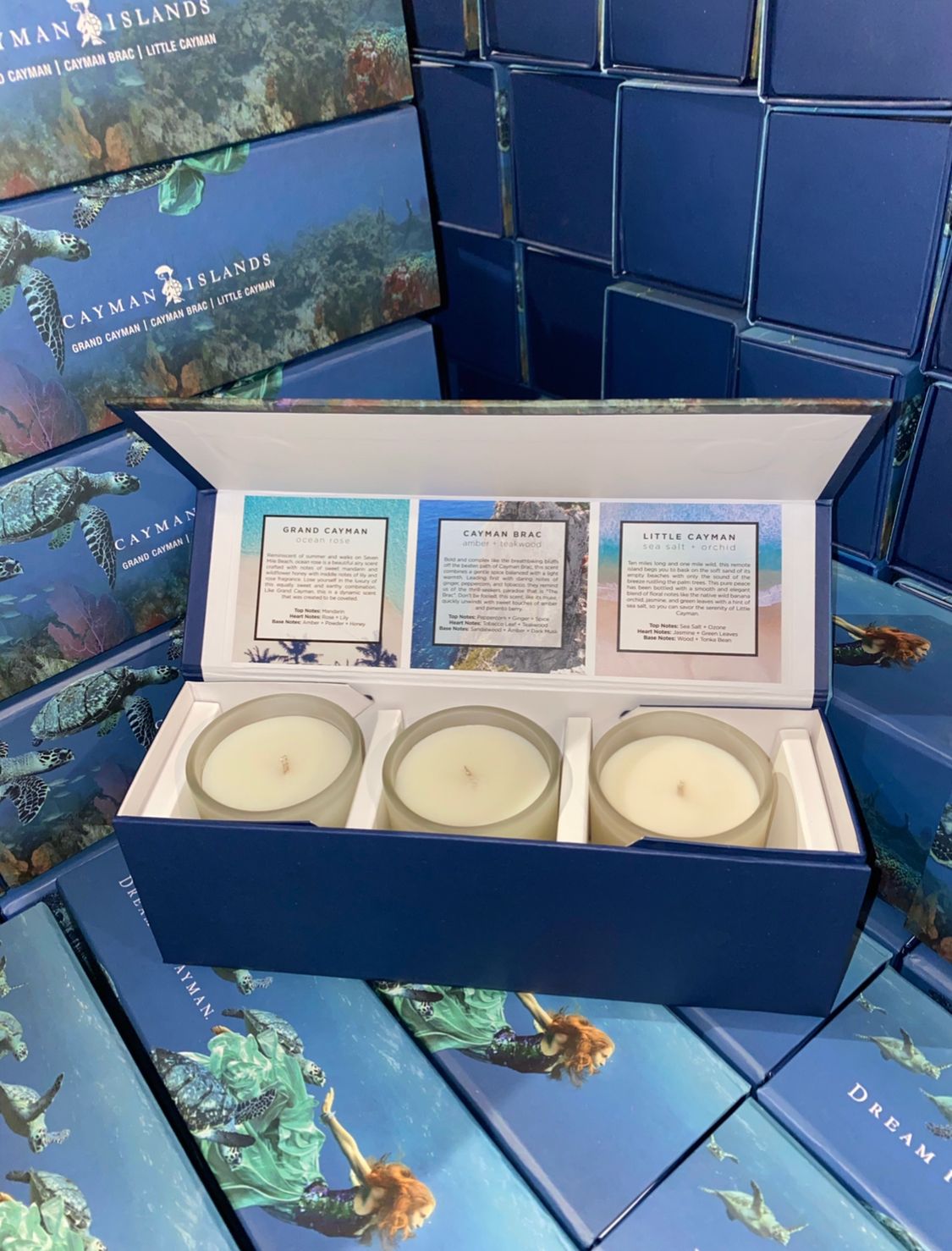 My data-driven marketing background also has helped immensely now that we are doing the majority of our business from what was B2B now to B2C and direct-to-consumer with Shopify. I would say I spend 50% of my time analyzing data and garnering insights from Google Analytics as to who are customers are, what are their needs, and solving their problems.
Who is your target demographic?
This is one of the most important questions to me. I am constantly obsessing over who are customers are, where they hang out on and offline, and how do we reach them. While candles are a pretty broad appealing product, there are definitely cohorts that convert the highest. These are females 25-34, top 31%-40% income bracket, interested in wellness, and live in major cities. If I were to give you an audience persona, I would say that she is 28, she lives in LA in an apartment. She is obsessed with self-care and ritualistic about her routines. She buys brands that have a heart and aligns with her values of wellness and clean living. She knows how to turn her basic one-bedroom into a paradise and although she is obsessed with home decor, she can't fit a whole lot of furniture into her apartment. A candle is a small affordable luxury that effortlessly transforms her space into her sanctuary. With our vacation-inspired fragrances, she is able to take a much-needed break from her busy day to relax and reset.
What is the funniest/most strange customer request you've had?
If it would be safe to eat one of our candles. I also get a surprising amount of people who use our wax as body lotion as it is creamy and fragrant.
How did you fund the idea initially?
Bootstrapping. I had some savings but I was able to dedicate a percentage of my income each month to grow the business. I was also fortunate in that I could make the product myself and didn't have exorbitant start-up costs to hire a manufacturer with huge MOQs before really even validating a POC.
Any tips for finding first employees?
Before and outside of my previous "day job", I had immense wanderlust. All of my free time was spent travelling. I spent 6 months abroad in Nice, France and graduated school early so I had 6 weeks to go explore Asia alone. I always knew my passion was for travel but I didn't know how or if I would connect that to a career. When I started pouring candles as a hobby, started to capture the spirit of the places and the people I had traveled through fragrance. This was a wonderful way to tie in my hobby for candle making, passion for travel, with a mission I felt really strongly for which was preserving and protecting our oceans and beaches. We do this by creating vacation-inspired cleaner candles for a cleaner Earth, that give back to coastal conservation. Each candle takes the names and notes of places I have traveled to express the essence of these exotic locales through the transportive nature of fragrance.
What motivated you to start your own business?
I received a tremendous level of support from family and friends. It shocks me still to this day because it is not like candles are the most novel or sexiest of ideas. I wasn't aiming to solve world peace or creating the next big SaaS platform. My expectation for any company with such a low barrier to entry would be that the element of time would correlate to one's level of interest in your venture. Though looking back, it is actually incredible just how many people cared and took interest in what I was doing. Despite my confidence in what I knew would be a product of my own blood, sweat, and tears, I know that if the people who surrounded me didn't have as big of imagination or faith in me, I would not have ever landed where I am today.
What motivates you when things go wrong? What is the end goal?
The opportunity to learn. I am so grateful for the blank slate I have every day to create, imagine, and learn new things. If you lack challenge or opportunities to fail, you risk becoming stagnant. True for our personal development as well as our professional, I believe stagnation is the enemy to evolution. For me, the freedom to fail breeds creativity and long-term success. I knew it was time to leave my "regular" job when I felt a lack of independence and ability to allow things to go wrong. When wanting to know when to say goodbye, you have to ask yourself if this experience fundamentally is one that pushes you or pulls you back.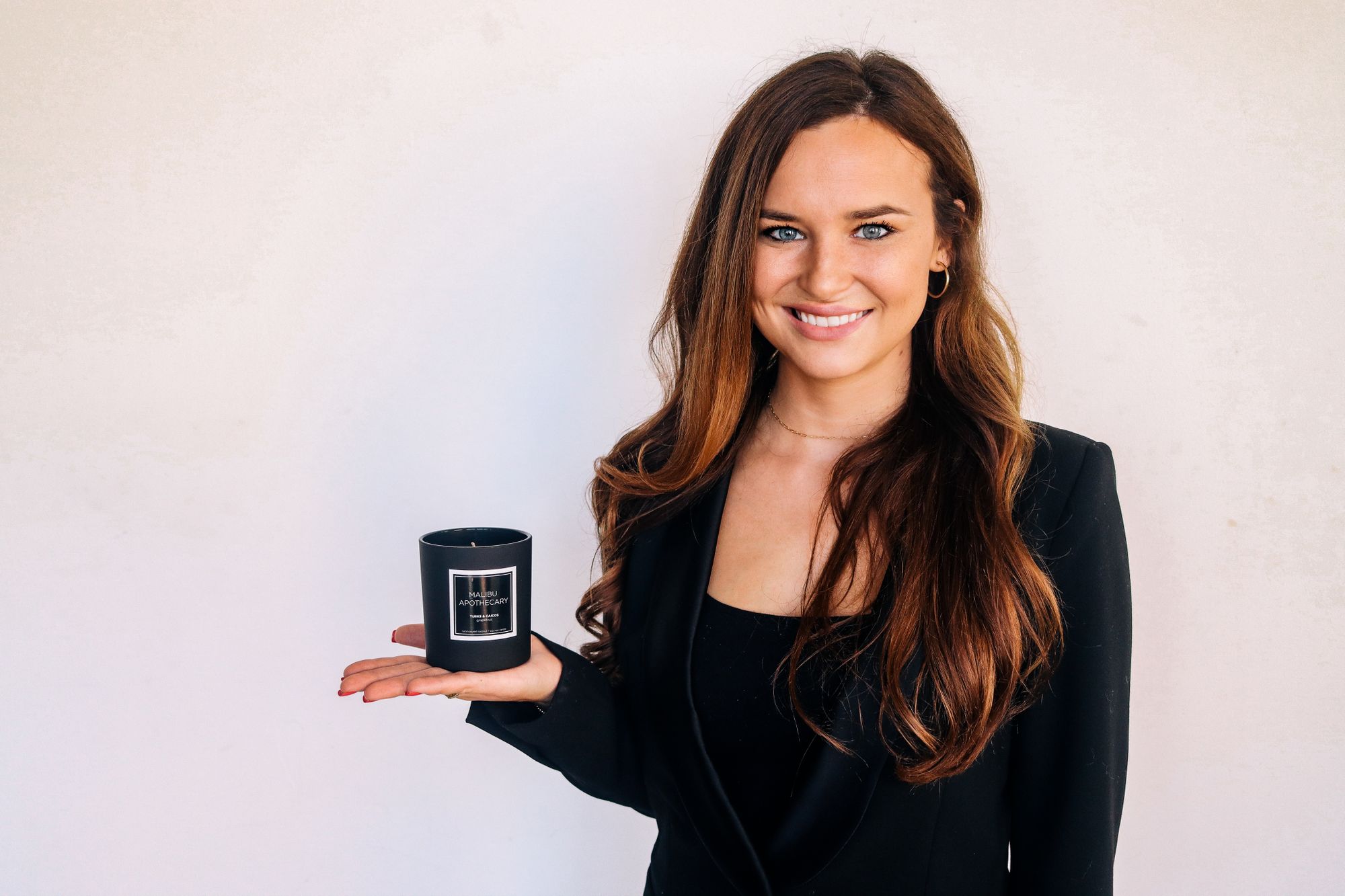 Now, being off on my own, I am excited and empowered by the risk of failure. Despite the business' unforeseen long term success or failure, I have gained so much knowledge on how to start and scale a business, especially having to pivot amidst an unprecedented economic shutdown with some of the largest decreases in consumer spending in our modern history. The ability to learn and grow motivates me.
Do you have any advice for someone just starting out?
From Robin Roberts, "the secret to getting ahead is getting started."
Find 3 mentors. We live in a time where we have never been more connected and accessible. Reach out to the 3 people who could make the biggest impact to your success. Ask them for nothing else except their time to talk about themselves. I assure you if you do this, you will get a lot more back and you will also find your biggest and best marketers.
What has driven the most sales?
Instagram has driven the most sales for our business but interestingly enough, we get more traffic from Pinterest. We are very active on Instagram and connect with new people every day who follow our story and brand. With time, I have started to use my voice more as a founder and show more behind the scenes. People love getting to see how the meat is made! That being said, we are starting to really pay attention to Pinterest and push ads as research shows higher intent to purchase products with Pinterest users as well as a Pew Research study showing the majority of Pinterest users earn more than $75,000 USD a year. Even though you don't get the same customer loyalty from sharing personal touches and connecting one-on-one with visitors, it is a great medium to find customers that are more likely to convert.
How do you protect yourself from competition?
Creativity. You have to become a leader and not a follower. You can copy someone's work but you can't copy their creativity. One of my favorite quotes is from my brilliant PR consultant, Lexie Smith with THEPRBAR, "Some say imitation is a form of flattery. I say cool, call my lawyer." I am definitely not afraid to burn some money on a lawyer to protect my hard work.
Do you have any trademarks/IP/patents?
Yes, we have trademarked our name and logo and have more trademark plans in the future.
What are the top 3-5 apps your business could not run without?
UberSuggest
Photoshop
Impresso
Google Analytics
ShipStation
What are your favourite books?
How to Win Friends and Influence People by Dale Carnegie is one of the most practical and time tested books out there. If you want to know how to become the best marketer and salesman, you need to read this book. It reinforces the basic tenets of leadership, arms you with the ability to be persuasive, and reminds you of the importance of being genuine and considerate. A must for any entrepreneur.
What are the next products you're working on?
Currently, we are in the product development phase for a holiday box. We are very excited to launch this as it is our first seasonal themed collection. We also have created a custom Cayman Collection in partnership with the Cayman Islands Department of Tourism. We crafted these to capture the Cayman Islands now while many of us are at home and can't travel, you can now bring home a piece of Cayman.
Are there any releases you can tell us about?
We are coming out with a new clear vessel with blue labeling in collaboration with the Cayman Collective. It is funny because when I started I shied away from the classic clear vessels because I wanted to stand apart but there is something so elegant about it. I guess we are going back to the basics.
Where do you see the company in 5 years?
We have expanded our omnichannel presence to really serve better all of our different customer types whether it is corporate partners, retailers, events, and everyday customers. I would like to see us in a few major retailers but our website would be a big hub for us as we would have earned really great brand and name recognition.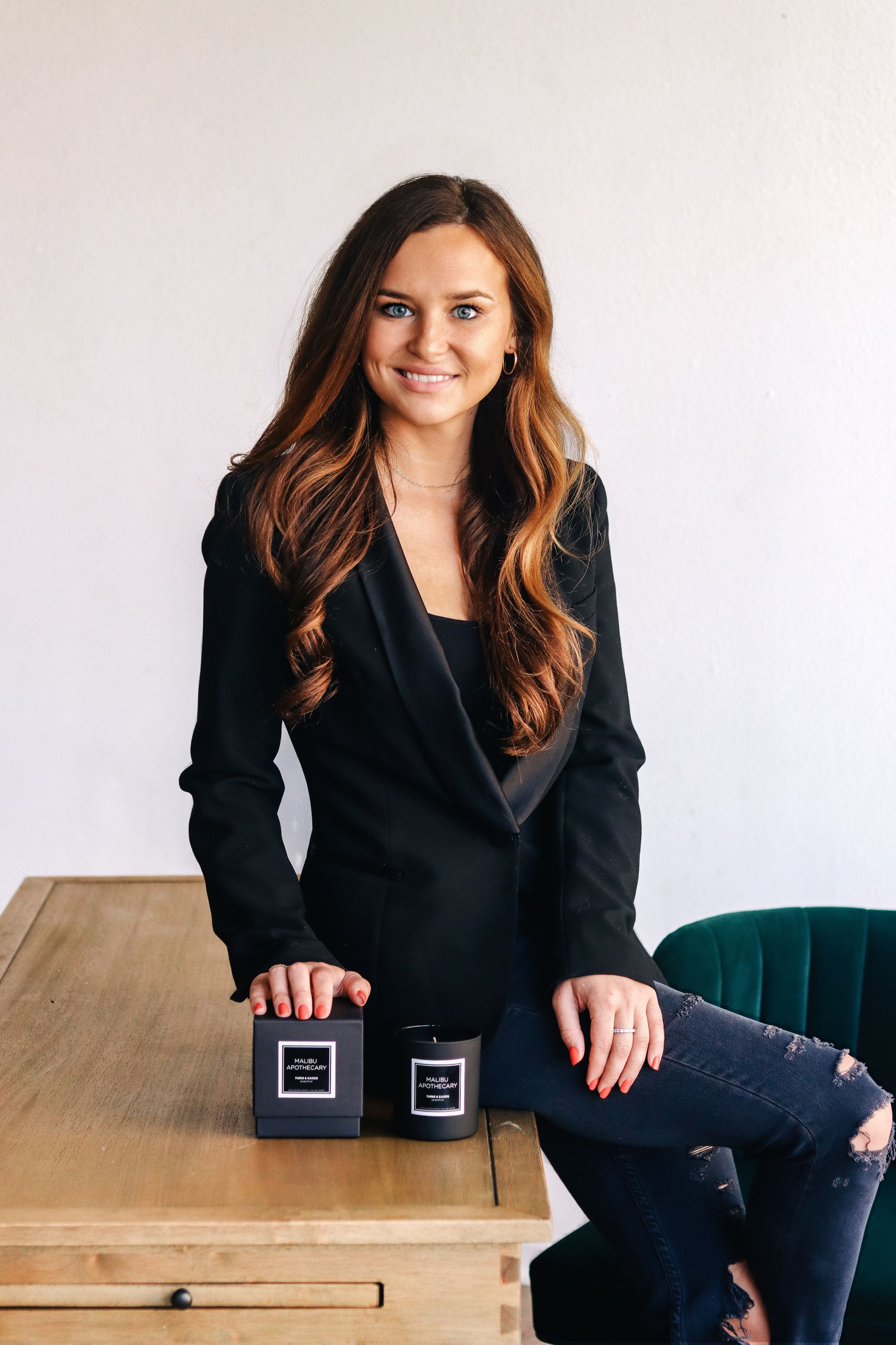 We would have great corporate partnerships in the luxury travel industry and you would see Malibu Apothecary collaboration candles in the gift shops of five-star hotels and gifted for their events. I would love to be even more ingrained in the travel industry with significant footholds with many of the major boards of tourism.
Would you ever sell?
To the right buyer with the right vision.
| Company Name: | MALIBU APOTHECARY |
| --- | --- |
| Founder: | Claire Ellis |
Comments