The idea originated from the struggles of my co-founder, Jenn, when she was looking for a modern version of the cheongsam, a traditional Chinese wedding dress. She wanted to wear a cheongsam dress for her wedding tea ceremony to honor her parents and heritage but finding a modern design that fit her aesthetics turned out to be even harder than searching for her Western wedding dress.
Her options at the time were limited to sketchy online sites or impatient grannies in Chinatown so she ended up having one custom-made at a local tailor that she was lucky enough to find. I was her Maid of Honor and we both felt that Asian-American brides shouldn't have to be stuck with low quality options or scouring Yelp to find the one tailor who can make a quality cheongsam.
The two of us met and became best friends during our freshman year at Yale and we both worked in tech before leaving our jobs to pursue East Meets Dress full-time. We always knew we could be good business partners after having successfully traveled abroad together and couch-surfed on random strangers' couches while having lived to tell the tale.
East Meets Dress is the first modern fashion company to bring Asian-American representation and inclusion to the traditional wedding industry by combining contemporary cultural designs, quality craftsmanship, and a dedicated customer experience.
What is the most interesting customer request you've had?
When we first started, our target demographic was Asian-American brides in the U.S. but as we continued to build our company, we didn't realize how our customer base would expand and now we've been getting inquiries not just from brides in the U.S. but from around the world (Canada, Australia, and Europe), those who are marrying into Chinese culture, as well as high school students looking to wear a cheongsam to prom to rock their heritage.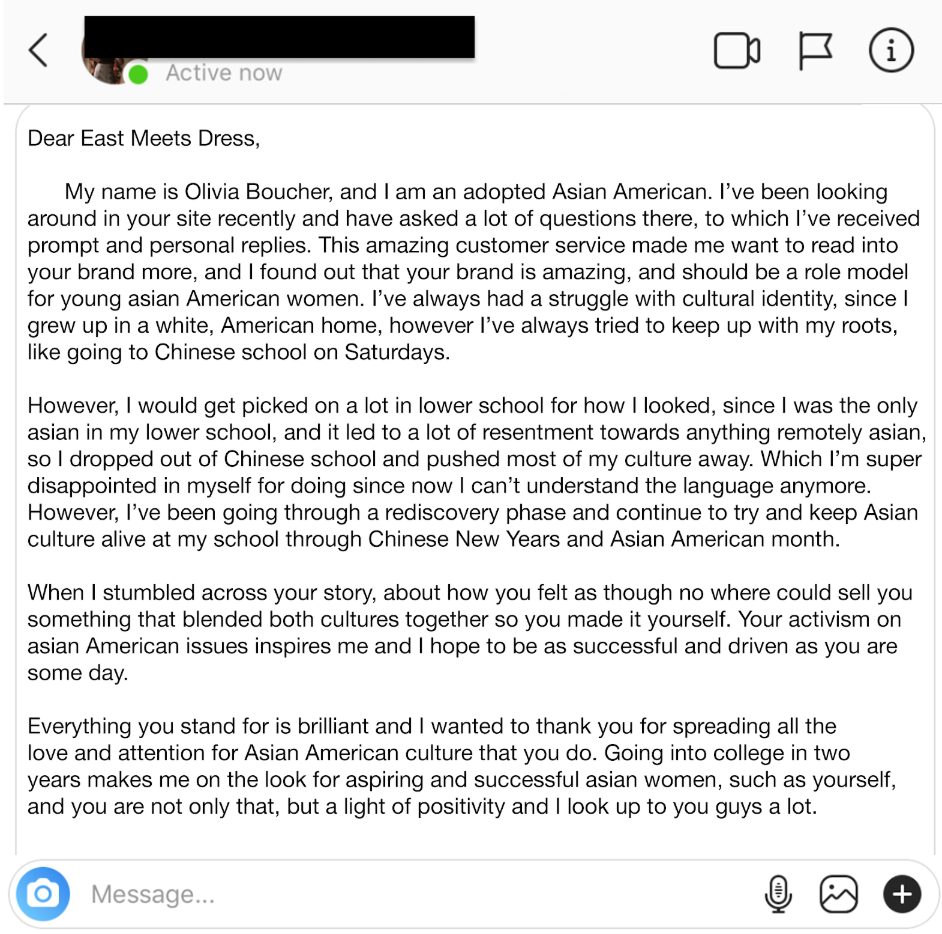 One of the most heartwarming interactions we've had with a customer was actually with an adopted high school student who found our site and wanted to wear one of our dresses to her formal as a way of reconnecting with and celebrating her heritage. Below was her message to us and it really made our day!
Another interesting customer request we had was working with a bride's older sister who wanted to surprise her with one of our dresses. The bride had already seen her dream dress on our site and had reached out about purchasing it. Her sister reached out separately to us to ask that we decline her purchase because she was going to surprise her sister with our dress. So we went along with it and told the bride that unfortunately, we no longer made that design and she was devastated. Luckily, a few weeks later, she got her surprise gift and was super excited for her dress.
How did you fund the idea initially?
Neither of us had any prior experience in fashion or entrepreneurship and we've been entirely bootstrapped from Day 1. We knew we wanted to bootstrap the company for a couple of reasons, namely, we wanted more control, flexibility, and ownership of what we were building. We also weren't even exactly sure how many other Asian-American brides out there were also struggling with this problem and where we would find them since this was a pretty niche market. So we decided to just start small and test out our idea quickly.
We spent a Friday night creating a free landing page via Unbounce and running a $50 FB ad to see if anyone within our target demographic would be interested. Over a weekend, we got 40+ interested subscribers and we started personally reaching out to every email we received and asking if they would want to hop on a call or answer a few questions to better understand what they were looking for.
From this, we felt confident enough to put up a simple Shopify website the next weekend with just one initial design on our site. After a month (which felt like forever), we got our first customer and this would become the first dress that we would ever make. It was both exciting yet terrifying–we were definitely not 100% confident that everything would go according to plan and our customer's wedding was also in less than a month so there was no room for mistakes. Thankfully, her dress came out great, was delivered in time and fit her well. This was our first big success and celebration and nothing quite compares to the joy of bringing our first customer's dream dress to life and having her love it.
For us, the transition from a simple idea and one dress design to making it a reality came one baby step at a time. We never felt 100% ready to fully dive right in but we just believed in starting small and helping just one customer at a time. That's always been our philosophy and since then, through a lot of hard work, hustle, and trial and error we've been able to help hundreds of brides all across the world and hit a 6-figure annual recurring revenue within a year.
In the beginning, my co-founder and I were super scrappy and did everything. We were our own models, photographers, mailmen, accountant, etc. We've maintained the same scappiness and hustle, but we've also been able to hire some part-time team members to help and they've been amazing and a huge part of our small and nimble team. We were lucky enough to find them through a community Slack channel that's made for Asian-Americans and we've met a lot of great people there including other founders like us.
What motivated you to start your own business?
Neither of us had any prior experience in building a business or running a company. Most of my professional experience was in education and nonprofits before I joined an early stage tech startup that was later acquired. My cofounder, Jenn, had worked at Google before joining a few startups as well. In fact, entrepreneurship was never really in either of our vocabulary growing up. As first generation Asian-Americans, our parents always valued stability and prestige when it came to career choices so when we told them that we were quitting our jobs to start our own company, it definitely raised a lot of skepticism and doubt in the beginning. But we were committed and felt strongly about wanting to create a brand that reflected elements of the two cultures that we grew up with and had to straddle between.
What motivates you when things go wrong?
Running our own business has been both a marathon and a sprint and some days you feel like you're sprinting a marathon. As first time entrepreneurs, we've certainly learned a few things such as the need to spend money to earn money and that your time is just as valuable as money. When we first started, we were hesitant to invest money into ads especially since we were bootstrapped. But ads are a great way to drive traffic to your site especially when you haven't built out your organic growth and SEO yet. We also made the mistake of only launching with one design thinking that we had created the perfect modern cheongsam that every bride would want and that our sales would just blow up from there. It wasn't until we started talking to all of our leads and realized that many were still looking for more traditional designs but just wanted a more modern customer experience and better quality (which is where we stood out) that we expanded our collection to include a lot more traditional designs.
In terms of things that have worked really well for us, Etsy was a channel that we tapped into later on, but has brought us a ton of interest and customers. Our product has a much longer sales cycle since brides start browsing for wedding dresses and planning their wedding a year or two in advance so we do a lot of personalized email follow-ups and retargeting. One thing that has helped us connect with customers and get their emails really quickly is our online chat tool called Chatra which allows anyone browsing our site to chat with us and get a response ASAP. We're also an e-commerce store so we don't have a physical storefront, but we've had a lot of success with our sample dress kit, which allows them to get any two sample dresses shipped to them to see in person.
Starting and running a business is very hard and definitely not glamorous. Some days you'll put a ton of hours into something and have it flop completely or not know if it even made any impact. But persistence and consistency are key and it might not be a beautiful upward trajectory of growth, but hard work does ultimately pay off. We also have a wall of customer quotes that help inspire and motivate us whenever we're feeling down or going through a tough time.
Our favorite is our "Wheel of Wins" that we spin every time we complete a customers' dress. It's filled with workout exercises that also help us replace our gym membership.
How do you protect yourselves against competition?
We stick with our mission and values and focus on what we can control, which is creating beautiful, high quality products and providing an amazing customer experience regardless if we have one customer or a million. That's always been our north star and we believe if we continue to deliver on those values, the competition doesn't matter.
What apps could your business not run without?
We use a lot of different tools to help manage our customer pipeline, suppliers, inventory, and backend logistics. Our favorite include Coda.io (which is like Google docs on steroids), Zapier (which connects all these different apps together to eliminate redundant tasks), and lastly Shopify is just amazing for any non-technical founder looking to launch a site or e-commerce store overnight.
What are you working on next?
We want East Meets Dress to be a long-term sustainable business that supports our lifestyle. We're launching a new dress collection for the upcoming new year and plan on continuing to expand our product line to include more accessories, men's outfits, mother-of-the-bride/groom and bridesmaids dresses. We're also interested in exploring other avenues and ways that we can help elevate Asian American lifestyle and culture.
| Company Name: | East Meets Dress |
| --- | --- |
| Founder: | Vivian Chan + Jennifer Qiao |
Comments