Kelly Nishimoto, a TV personality launched Cute Booty Lounge in 2004 after a need for loungewear pants that fit her curves but that were still polished enough to wear out & about! Her signature is luscious modal fabrics, ruched back seams, scrunchy booty pockets, large eyelets, & over sized satin bows! With a full range of over a dozen styles, Cute Booty Lounge come in classic and seasonal color options and is unrivaled as the most comfortable and sexy all-purpose lounge pant there is.
Was it a lightbulb moment or gradual process of Cute Booty Lounge?
I created my 1st pair of Cute Booty Lounge pants back in 2003 when I realized that other designer brands did not fit my curves properly! I ended up putting them in a drawer because I thought they were too sexy. A year later, I had scheduled a training session at the gym with a girlfriend of mine & had nothing clean to wear, so I pulled those pants out of the drawer and wore them in hopes no one would think negatively of me. Well, they were such a hit that I couldn't even get a workout in! I was stopped every 5 minutes. EVERY girl wanted to know where I got them and how they could get their hands on a pair.
How did you get your first three customers?
I had the foresight to hire a full-time salesperson. She had come from medical sales, but she loved fashion and knew all of the good brands and boutiques. We got our sample set together and got a Booth at MAGIC & COTERIE Trade Shows! That's where our first sales came from. I believe we wrote $500k in sales during our first season.
How did you validate the idea?
I initially had a full runway collection. The idea of Cute Booty was validated when the common item in every purchase order included Cute Booty Pants!
Did you have any experience/expertise in the area?
I was self-taught, so my experience came from trial and error, and perhaps having a booty! I had one, and it was important for me to look good without it being offensive.
Have you raised any money? How much?
I haven't tried to "raise" money, I did have a partner in the beginning who helped. Once Cute Booty was a stand-alone company, I solely owned the company using the money I made from bartending to help pay the overhead until I started profiting.
Who is your target demographic?
Our target demographic is women from 25-50 who care about their appearance, love fashion, & wear leggings.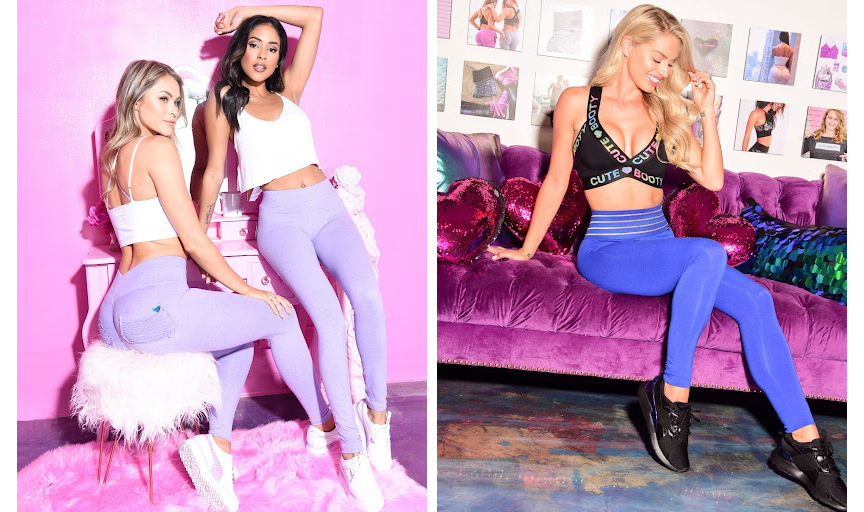 That's broad, right? That's why there is so much room for growth and success in this business!
What is the funniest/most strange customer request you've had?
I once had a male customer ask if I could make him a pair of custom leggings with a pocket in the front crotch.  It was a very respectful & nice NO!
How did you fund the idea initially?
I had an investor in the beginning. Once he pulled out, I was self-funded from my job as a bartender,  as well as our sales! I put ALL of the profits back into the business to keep up the growth!
Where did you meet your cofounder/founding team?
I met my first investor at a fancy Hollywood party. He ended up marrying a model and moving on to other ventures. My head designer was a friend of my sisters! 18 years ago, she helped me hand cut restaurant uniforms on my living room floor. She ended up having her own company for a while and then joined Cute Booty in 2015. I then met my sewing lady at a trim's store. She ended up working with me for 10 years before she passed away. My sister's husband has also been working behind the scenes on SEO since 2008. My current team is fairly new, but one of them is my main squeeze.
What motivated you to start your own business?
I've always wanted to own my own business. Honestly, the thought of rules and people telling me what to do makes me cringe.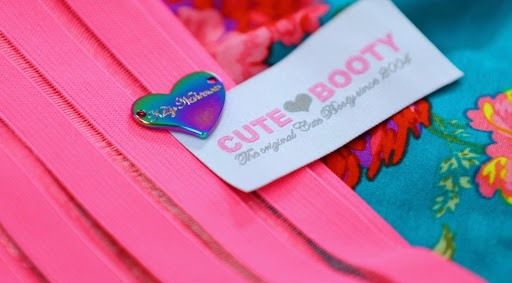 I'm super picky and I have clear ideas on how I want things to look.
What were your family and friends first thoughts on your company?
Everyone who knows me knows that I am a determined person who marches to the beat of her own drum, so they were always super supportive. As for their thoughts? I've actually never asked them!
What motivates you when things go wrong? What is the end goal?
My reputation motivates me. I can't stand it when others think negatively of me. Fear is a huge motivator, and the fear of failure and letting others down. Money and success!  Sounds pompous, right? But to me, money and success equal early retirement so I can relax, enjoy my family, and enjoy life. I worked so hard for all of these years!
Do you have any advice for someone just starting out?
"GIVE UP! Don't do it! It's too hard" – and the people who laugh at me and ignore that advice? Well, those are the ones who will succeed. That's the key. Don't let people get into your ear. People with good intentions can still be harmful, and people with bad intentions can be detrimental.
What has driven the most sales?
Instagram for sure! But, now they have so many rules with their algorithms, that the business is shifting and is coming from multiple platforms.
What is stopping you being 3x the size you are now?
Cashflow and a larger team. We are currently adding what we need but in order to grow, but you have to go wide and deep at the same time and EXPLODE!
How do you protect yourself from competition?
I don't necessarily believe I have competition. No one has the aesthetics that Cute Booty Lounge does. Yes, there are MANY leggings and loungewear companies, but they aren't doing what we are doing.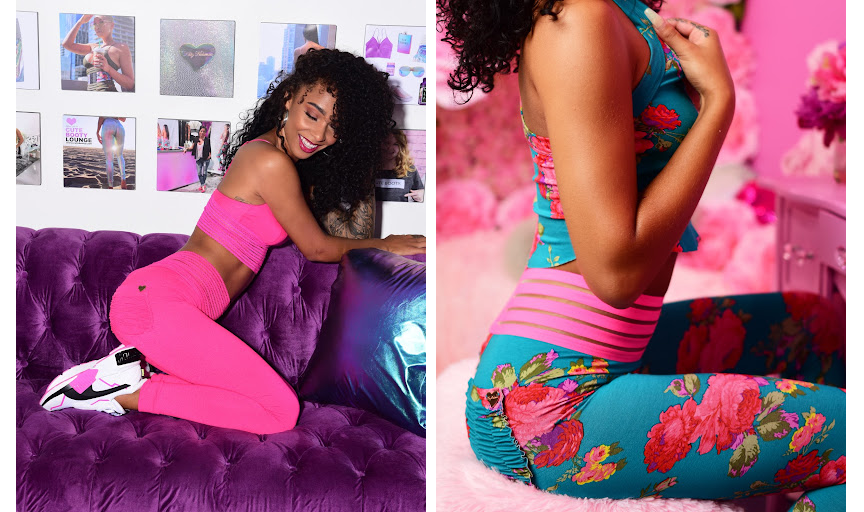 What I do have to protect myself from is knock-offs. From previous employees and influencers to former vendors and random people you've never met, some people out there just LOVE to take people's original ideas and claim them as their own. Then shrug their shoulders, like "What, Did I do something wrong?"
Do you have any trademarks/IP/patents?
Yes! I have 4 Trademarks! My name, my logo, my Cute Booty Pocket, & on Cute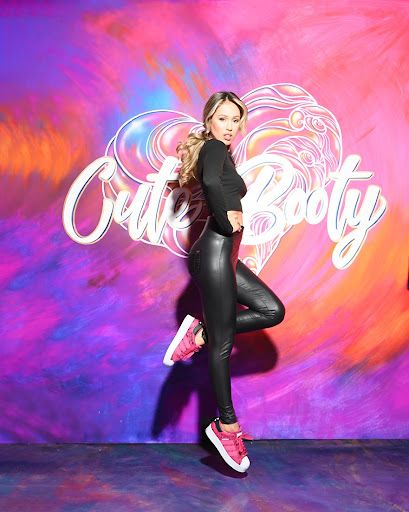 Booty Spirits! ! I have plans to one day distribute Cute Booty Tequila.
What are the top 3-5 apps your business could not run without? Why are they essential?
Trello, Momento, Word Swag, Time Tree. They keep me organized and professional with little energy.
What are your favourite books?
Don't tell anyone – Harry Potter!
What are your favourite podcasts
"The Only One in the Room" & "Something Wasn't Right"
What are the next products you're working on?
We are working on sleepwear & more loungewear. Since the onset of COVID, our comfortable clothes have been a customer favorite.
Are there any releases you can tell us about?
Yes! "Nude-y Booty" sets that are for ALL skin tones which we so excited about. We are also launching our second collaboration with Angela Simmons soon. So stay up to date with us on social media! We love socializing with our fans and followers!
Where do you see the company in 5 years?
I see Cute Booty being an internationally recognizable brand and doing 20M + in annual revenue. Taking over the world, one booty at a time :)
What is current revenue? If you don't mind sharing
We expect to do 3.2 Million this year
Would you ever sell?
YES! I'm always open to offers if anyone is ever interested. I love working hard, I always have, but when the time is right, I want to carve out some selfish time to enjoy my family and explore the world.
| Company Name: | Cute Booty Lounge |
| --- | --- |
| Founder: | Kelly Nishimoto |
Comments