Amal Radhakrishnan is a co-founder & CEO of a Boston-based tech startup tackling the economic and environmental problems linked to parking. Their mission is to economically empower people with technology to monetize their parking spaces while providing a cheaper and smarter alternative for people looking for homes for their car.
They offer a consumer-facing platform for individual homeowners/renters to host their parking spaces and drivers to book parking.
Was it a lightbulb moment or gradual moment to start Parkaze?
I have had bad parking experiences in the past before deciding to start Parkaze. Me and my friend travelled to NYC from Boston a year back. So we had an airbnb booked, and once we reached NYC we spent a little over 30 mins looking for parking near the Brooklyn Bridge. We settled for street parking, obviously private garages were too expensive. Even worse, we didn't take the car out of the parking spot for the next 4 days of our stay because we were worried that we would lose our spot. When we got back to my apartment in Boston and parked at my designated spot, I realized that close to 50% of the apartment parking lot was empty at that point in time. Some of the tenants might have gone for office, or travelling just like we did - who knows?. That's when I realized that there is a huge opportunity yet to be unlocked if we can bring all of these people together.
How did you get your first three customers?
We found our first three customers by distributing flyers near Boston university. We used to walk by the university as well as residential areas around the university and slip the flyers through the front door. We validated the idea by creating a landing page, and running a few Google ads tests. The response we received from our flyer distribution was also very overwhelming and validating.
Have you raised any money? How much?
We have been primarily bootstrapped until now. We have raised $60,000 by winning various competitions and university grant programs, the majority of them coming through Boston University.
Who is your target demographic?
We provide a consumer-facing platform for drivers in cities to book parking spaces and individual homeowners to host via our website and mobile apps. We also provide B2B functionalities for property management companies, churches, universities, and hotels to efficiently manage their existing parking inventory as well as open up their parking spaces to the general public.
Where did you meet your co-founder/founding team?
I met my co-founders during my graduate studies at Boston University and we started Parkaze during a hackathon.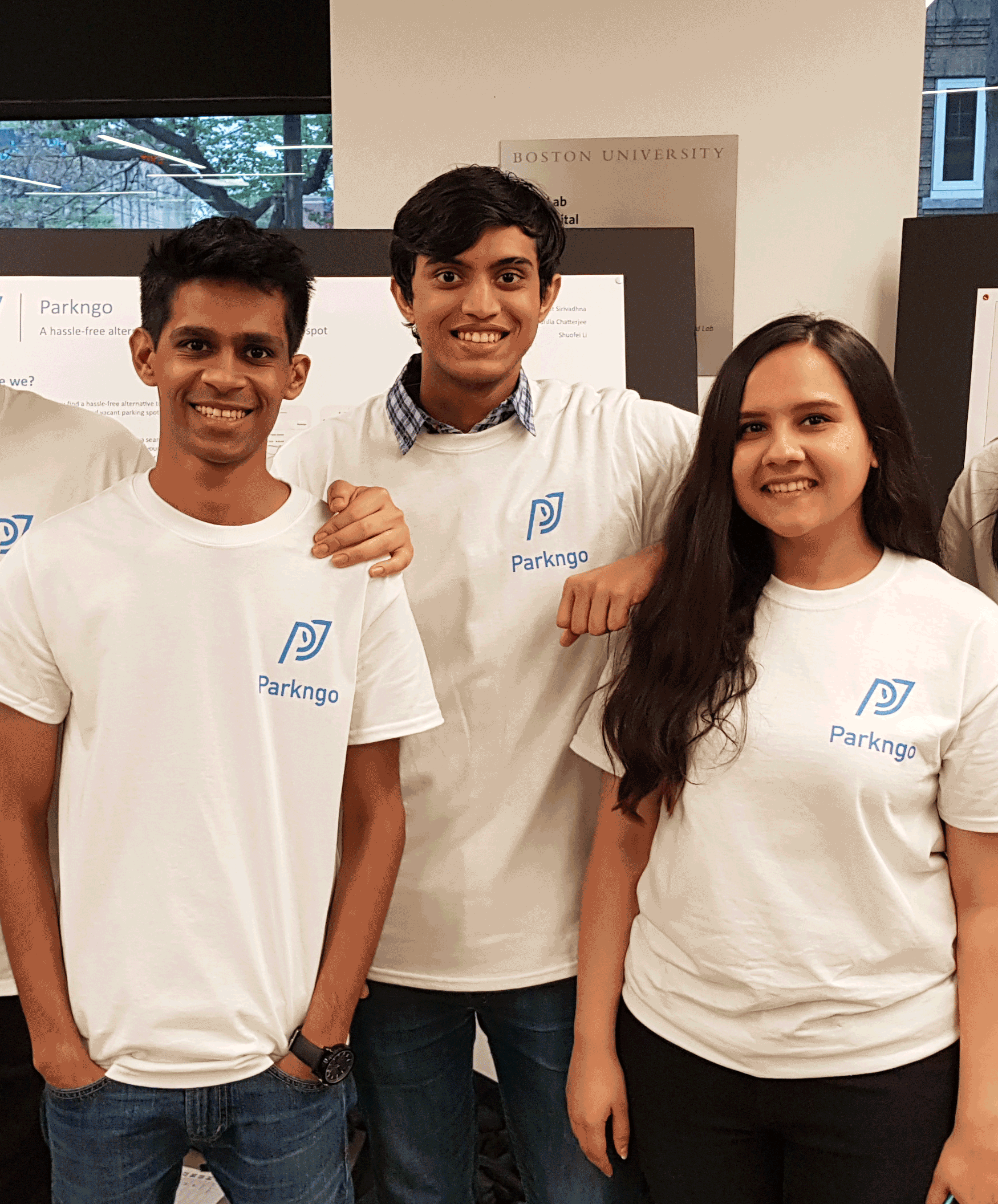 Interestingly, the story I mentioned earlier happened one month before that hackathon.
What motivates you when things go wrong? What is the end goal?
The WHY is what keeps me motivated. Because I believe there's a huge economic opportunity to be created for communities around the world and this can genuinely help us in our efforts to build sustainable smarter cities. Imagine a world where we are utilizing 30% of our city real-estate efficiently. Where we don't need any more new parking lots. Where we can provide smarter parking services to our end consumers, city governments, and other businesses.
Do you have any advice for someone just starting out?
My advice would be to believe in your idea and ask yourselves WHY you are doing this. The WHY is always more important than WHAT you are building and HOW you are building it. I can't emphasize how important it is to clearly define the why, the what, and the how. For Parkaze the WHY is to be able to live freely and to create new economic opportunities for communities by driving sustainable smarter cities. The WHAT is to make the end-to-end parking experience hassle-free, affordable, and sustainable by building the best parking management platform ever. The HOW is through our website, apps, our unique supply side partners, our marketing strategy and so on.
What has driven the most sales?
Instagram and Facebook helped us drive the most sales. Over the past few months we have built a community of realtors and property managers on Instagram. This turned into more potential partnerships and word-of-mouth marketing. We also extensively make use of Facebook Marketplace to expand the reach of our listings.
How do you protect yourself from competition?
On the demand side we compete with existing apps like SpotHero and Parkwhiz. On the supply side, there are few startups in the west coast that focus on the non traditional parking real-estate in residential areas, churches, and universities. No company has yet managed to dominate the supply side. The competition keeps us constantly motivated to move fast as well as indicates a strong product market fit.

Currently we protect ourselves with our proprietary apps and by building strong local partnerships. We believe that the bigger we get, the more defensible we become, and our focus has always been on capturing the supply.
What are the top 3-5 apps your business could not run without? Why are they essential?
The top 5 apps would be Google Cloud Platform and its connected ecosystem of apps, HubSpot, Slack, Zoom, and Stripe. Google Cloud Platform basically hosts a wide range of our business components from being the home for our website, to running GSuite. HubSpot has been our central CRM from the beginning, helping us save valuable time on marketing and customer success. Slack and Zoom are for efficient communication within the team. We use Stripe for integrated payments.
What are your favourite books? What are your favourite podcasts?
My top three favourite entrepreneurial books are;
The Hard Thing About Hard Things by Ben Horowitz
Zero to One by Peter Thiel
The Originals by Adam Grant
And I recommend the podcasts;
WorkLife by Adam Grant
Masters of Scale by Reid Hoffman
What are the next products you're working on? Are there any releases you can tell us about?
We just launched our host referral program. We are giving $10 for each listing generated through your referral. Checkout this link to learn more about that.
Where do you see the company in 5 years?
Currently we manage over 250 parking spots in 40 locations in the greater boston area. We anticipate a rise in the preference for private transport in the post COVID-19 commute, primarily due to health and safety concerns. With all this in mind, we are looking to raise a round soon to help us take our web and mobile platforms to more users across the US east-coast cities and beyond. In the next 5 years, we want to expand our presence through all major US cities.
| Company Name: | Parkaze |
| --- | --- |
| Founder: | Amal Radhakrishnan |
Comments