At Microsoft, I looked at where I spent most of my time. It was in meetings (more than 20 hrs per week) and I had to say the same information again and again. I hated repeating myself and sending those painfully long follow up emails after every meeting. Naturally this was something I wanted to change. What if there was a way to have someone other than me take notes. Could an AI assistant help me remember everything even 6 months after a meeting? That was the lightbulb moment that led to Fireflies. It was an idea in the back of my head for a long time but when I left Microsoft it was actually to attend business school at Cambridge. I decided last minute to pursue this idea with my co-founder and turned down the opportunity to go to Cambridge in the UK.
Before we even wrote a line of code, we spoke to over 80 people within our network to validate the problem. Everyone we talked to clearly had a need. It seemed like a no brainer; however, the hard part was seeing if it was technologically possible. Our first 3 customers came from our network and they were willing to pay for the product before it was even ready. So we created a waitlist and let people on to the platform gradually after we built out our MVP. Tire hits the road moment is when they were telling us "take my money, I want to pay for this… just get me early access."
Did you have any experience/expertise in the area?
Sam, my co-founder and CTO, worked on Deep Learning at MIT. I was working on NLP and Customer Voice initiatives at Microsoft. We were always fascinated by the process of extracting meaning from conversations. This is one of the hardest things to do because language and text is completely unstructured unlike numbers.
We've announced a $5million round in October 2019. We've had some great angels participate as well like Chief Product Officer from Slack, VP from Skype, Former Execs from Salesforce, Dropbox, Amazon, Facebook, Twitter, and CEO of Segment
Who is your target demographic?
Any professional having meetings at work. We have integrations to dozens of web-conferencing platforms like Zoom, Google Meet, Skype, MSFT Teams, Uberconference, GotoMeeting , Etc.
People tell us that they send Fireflies to meetings that they are not able to attend to transcribe everything and take notes. This was really neat to see people use it so creatively.
Fireflies is in meetings with tens of thousands of people each week. Our users spend more than a million plus minutes on our platform each month.
How did you fund the idea initially?
We were bootstrapped for the longest time. We won a hackathon at MIT that gave us a couple thousand dollars to just test the waters. We then got some small angel checks. When my roommate from college heard what we were doing, he wrote a $25k check on the spot. I'm grateful for our early angles who helped us kick things off.
Sam moved to San Francisco with $200 in his pocket. The first 2 years were tough living off ramen, soylent, and dominos pizza. We subletted a small place in SF and just kept grinding. My peers were also wondering why I left such a well paying job as a product manager at Microsoft to do this. I was one of the youngest product managers at Microsoft and absolutely loved my time there, but the entrepreneurial calling just really pulled me into it.
Me and my cofounders have worked several projects while in college. We won several coding competitions and Hackathons.
In terms of hiring your first employees, hire slowly. You need to use your peer network and background checks are a must. You can ask them to work part time first.
Did you run any companies prior?
When you are a PM you are like the CEO of your own product line. There is a very tangible experience from that. I also worked with a startup in college that ended up getting acquired by a big healthcare company. First year of college, I started a project that ended up getting several thousand users.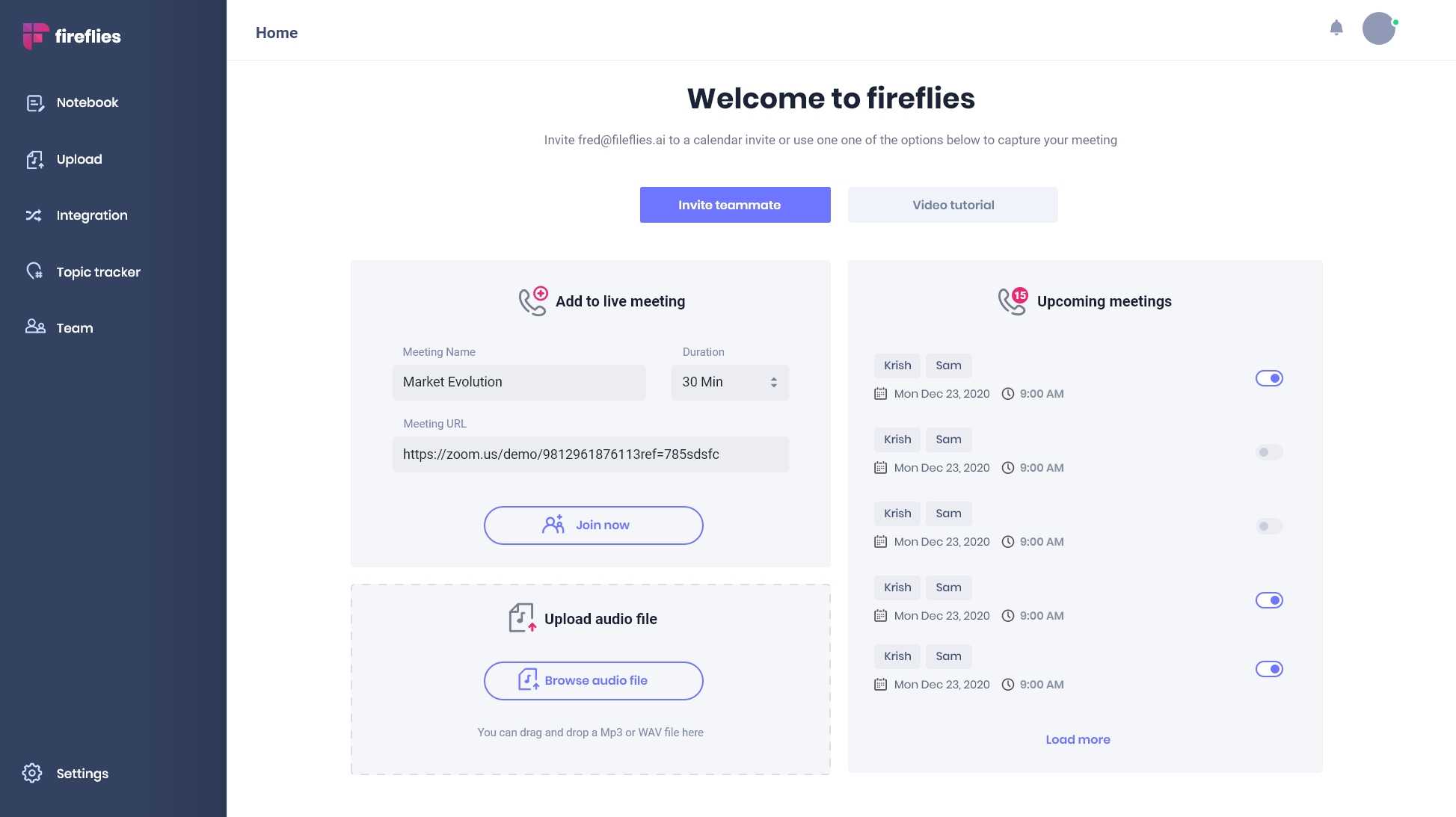 I started my own business because I wanted to bring something to the market that is iterating really quickly and moving at a fast pace. This and the chance to build a team of very talented people. Our team has former CTOs and great engineers across the globe. We also wanted to change the culture by building a global company from day one. We have employees in 5 companies and 9 locations. Running a fully distributed company takes effort but it also helps you scale quickly.
What were your family and friends first thoughts on Fireflies.ai?
Startups come with attention but you also need to be able to deliver. A lot of people play the game of startup for 1-2 years, but very few people can really push forward and build something substantial. That was the big question and I think in the last 2 years we were able to push through that ceiling
What motivates you when things go wrong? What is the end goal?
As you scale you have to focus on execution. Being a perfectionist, I'm trying to make everything 100% but you have to be ok realizing not all fires will be put out immediately and that it's a part of the process of growing. It's incredible walking into a peer's company and seeing Fireflies being used across all the meeting rooms or a stranger approaching you at a conference or meetup telling you that they've used Fireflies. This makes me excited about what would happen if Fireflies was helping power every meeting across the globe.
For those who are just starting out, make something people will miss if you took it away from them.
What has driven the most sales?
Our product is naturally viral. When one person uses it in a meeting their teammates and colleagues see it and sign up. Word of mouth is really important for us.
We just need to keep up with demand and scale the platform to handle more volume so we could be 3x the size we are right now.
What are the top 3-5 apps that Fireflies could not run without?
Slack
Zapier
Segment
Fireflies powers our globally distributed team
We need these to automate workflows and run a globally distributed team.
| Company Name: | Fireflies.ai |
| --- | --- |
| Founder: | Krish Ramineni |
Comments