MLE is a sustainable and chic accessory line founded by Emily Antonian Li Mandri. It integrates old-world techniques with modern and contemporary designs. Their pieces are mostly made-to-order ranging from jewelry, hair pieces and other fun accessories with bold details.
Was it a lightbulb moment or gradual process of MLE?
Starting MLE  was definitely a gradual process and the result of a career of over 15 years in tangential industries. I previously had started a women's clothing company right out of college as a solution to support myself during a tough job market and recession.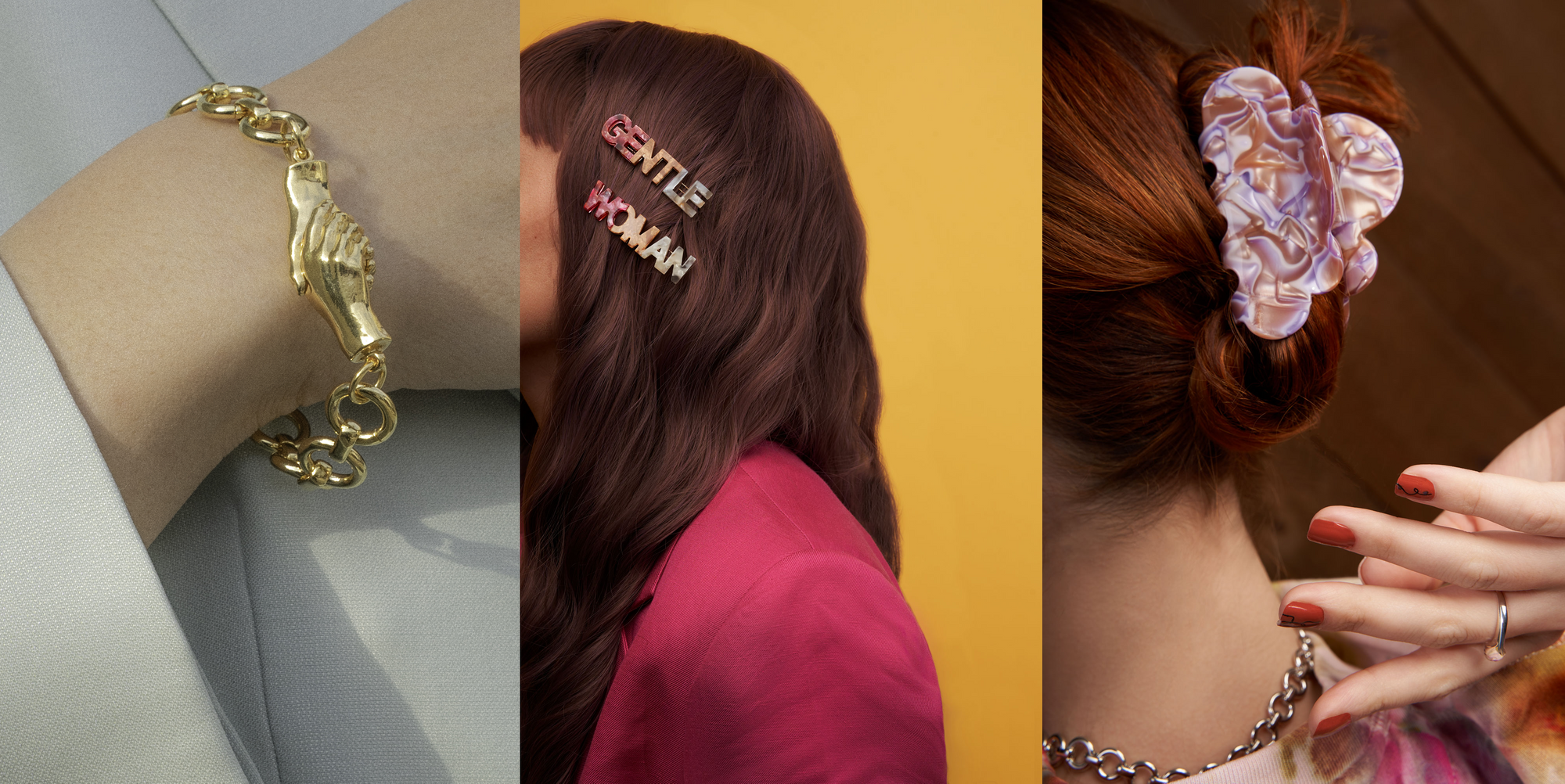 I had always been creative and artistic, but at the time I didn't have any previous experience in the fashion industry. It was a lot of learning as I was going which I found to be quite challenging, sometimes frustrating, but mostly exciting. Two years into the business, I received my first wholesale order with Urban Outfitters, and everything changed.  
How did you validate the idea?
As the business grew I started to become aware of areas of the typical fashion business that concerned me- production waste, cash flow to manufacture large wholesale orders, selling clothing meant needing to stock different sizes which inherently ballooned inventory, and of course fit (the number one reason for clothing returns). But I didn't have a solution for any of this at the time.  I then decided to take a step back from the clothing company to get more firsthand experience to better inform my business.
Did you have any experience/expertise in the area?
I worked as a print designer at a well-known women's fashion company while getting my MBA part-time from NYU Stern. Once in grad school, I was exposed to the world of digital marketing, and I was hooked. Upon receiving my MBA, I worked as a Strategist at multiple digital agencies, creating recommendations for companies of all sizes and industries to optimize their websites and marketing, and of course to grow their business. It was very exciting to see the ideas I had being implemented, and the strategies working for these businesses. From there I moved in-house to work as head of marketing and head of ecommerce for a few different fashion brands in New York. Again, it was validating to see the ideas I had being implemented and working, and this gave me the confidence to consider trying to launch another brand to try again.
And so, in 2018 I decided to launch MLE as an eponymous accessories brand. The idea of accessories instead of clothing was to avoid having to deal with fit issues or excess inventory for different size runs, which tend to be the  inherent qualities of a clothing business. I liked designing accessories to be more timeless, and avoiding the pressures of needing to launch a whole new collection every season, where immediately the previous collection no longer felt relevant. I also was very interested in reducing production waste where possible, only producing to order and sourcing deadstock or recycled materials for production.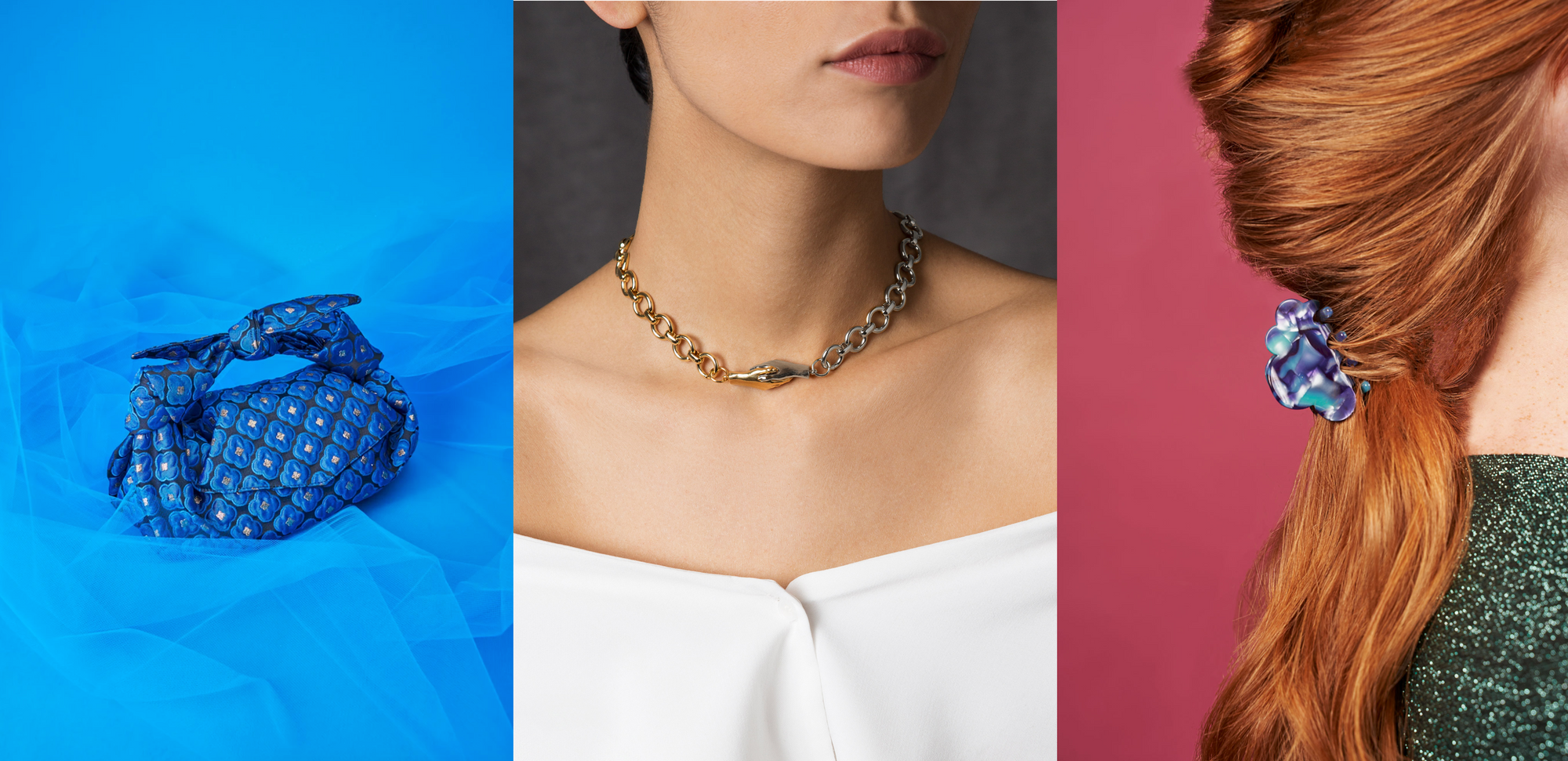 We launched with handbags and jewelry, and hair accessories quickly followed. What I love about accessories is that they seamlessly translate into a lifestyle brand. It's a lot of fun because I have so many creative ideas. We are now also working on pet accessories, stationary, and also have a few collaborations in the works!
Who is your target demographic?
MLE is all about accessories for the modern gentlewoman. Women wear our pieces to feel elegant, bold, and make a statement, but also our pieces serve as a way for them to pamper themselves.
What is the funniest/most strange customer request you've had?
We get a lot of customer requests to include hand-written notes where the customer is celebrating themselves, like "From me to me <3", or "You've got this!".
How did you fund the idea initially?
My first three customers were from my immediate circle and mostly through word of mouth. The company is entirely self-funded. I had saved up over the years from working full-time, and was able to budget accordingly to launch the brand how I envisioned. Luckily, my previous experiences with my first company taught me how to be scrappy and wear many hats. This helped me cut costs where needed.
Where did you meet your cofounder/founding team?
I run the company with my husband, who previously worked in social media at a well-known fashion brand. We create all our campaign and marketing content together. I actually originally met him when I had my first clothing company. I was selling t-shirts at an event, and he and his best friend were also selling t-shirts. He walked by my booth, we traded shirts, and the rest is history!
Any tips for finding first employees?
In terms of hiring employees, we've tried a bunch of different platforms-Craigslist, Indeed, LinkedIn, and posting on college career sites. We offer for-credit internships for students to work with us, and if we find we're a good fit for each other,  these opportunities tend to translate into a paid-position.
Did you run any companies prior?
Besides my first clothing company, I also had developed an app called Feedshop which allowed brands to make their Instagram feeds shoppable. This was before Instagram had that functionality built into the app. I actually developed it for a retail client I was working with, and then I opened it up as a SAAS platform. I was so amazed the first day I launched it, another brand signed up! It ended up being used by many big brands such as Calvin Klein, The Metropolitan Museum of Art, Jason Wu, and Under Armour.
What motivated you to start your own business?
I've always liked the idea of having my own business to give me more control over my destiny and flexibility for my lifestyle. I also enjoyed being able to work from different places and travel, and setting my own schedule.
What motivates you when things go wrong? What is the end goal?
Running a business, it's inevitable things will "go wrong". It's important to keep the big picture in mind, and to think about how to make the situation work in your favor.
What has driven the most sales?
The majority of our sales have come from Instagram. Some of our pieces have gone viral from Instagram campaigns we have created for @madebymle.
What is stopping you being 3x the size you are now?
I have so many ideas for other kinds of pieces I'd like to launch and how I'd like to further grow our business. I'm limited by the fact there are only so many hours in the day, and the size of the team I currently work with, which is mostly part-time freelancers. The pandemic also has played an interesting role, as our year 2 of business was definitely impacted by COVID causing production delays.
We also have been doing our order fulfillment ourselves, which up to now has been taking up a lot of our time. We looked into using a third-party fulfillment service, but the companies I met with basically wanted our products shrink wrapped with barcodes. It just didn't feel right. I'm looking for a more elevated customer unboxing experience, with tissue paper and handwritten notes for returning customers and VIPs. For now we are still doing our own fulfillment but have a dedicated team and space to manage our orders and customer service. I'm very excited to now be able to focus more on growing the business with this team in place.
How do you protect yourself from competition?
In terms of competition, we just constantly innovate. You need to be cranking out new ideas so they can't keep up! And I try to remember Oscar Wilde's quote- "Imitation is the sincerest form of flattery that mediocrity can pay to greatness." :)
What are the top 3-5 apps your business could not run without? Why are they essential?
Our top app are Shopify, Instagram, Google Drive, Trello, Canva. I'm in all these apps on a daily basis to manage my business and marketing efforts.
What are the next products you're working on?
Collaborations for us have been very exciting, and a great way to reach new customers.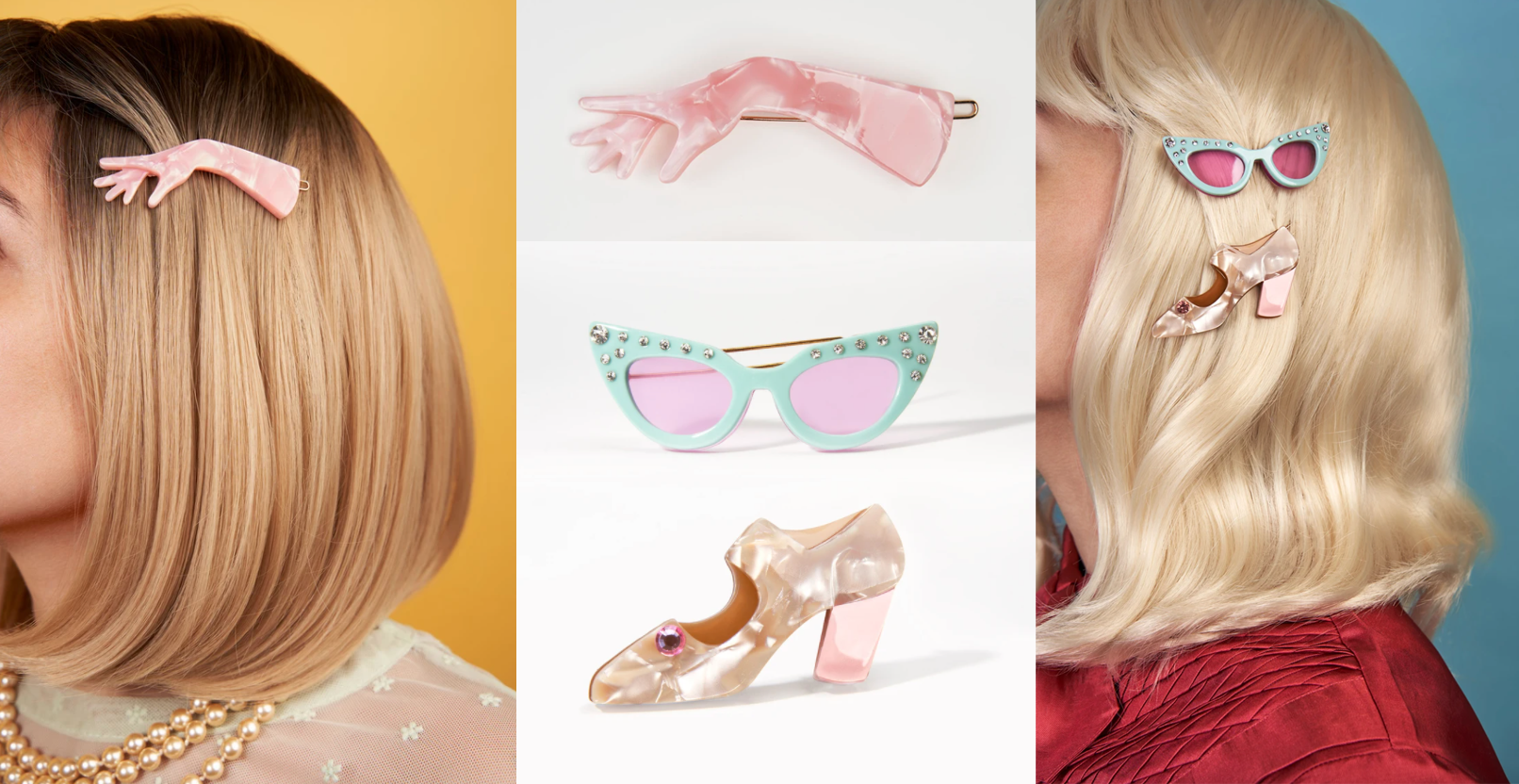 We recently launched a hair clip collaboration with Amy Roiland of @afashionnerd, which was so fun to work on and really got us to tap into the whimsical side of MLE. We are also about to launch a collaboration with the artist Amber Vittoria.
Are there any releases you can tell us about?
We are also working out building out our pet accessories.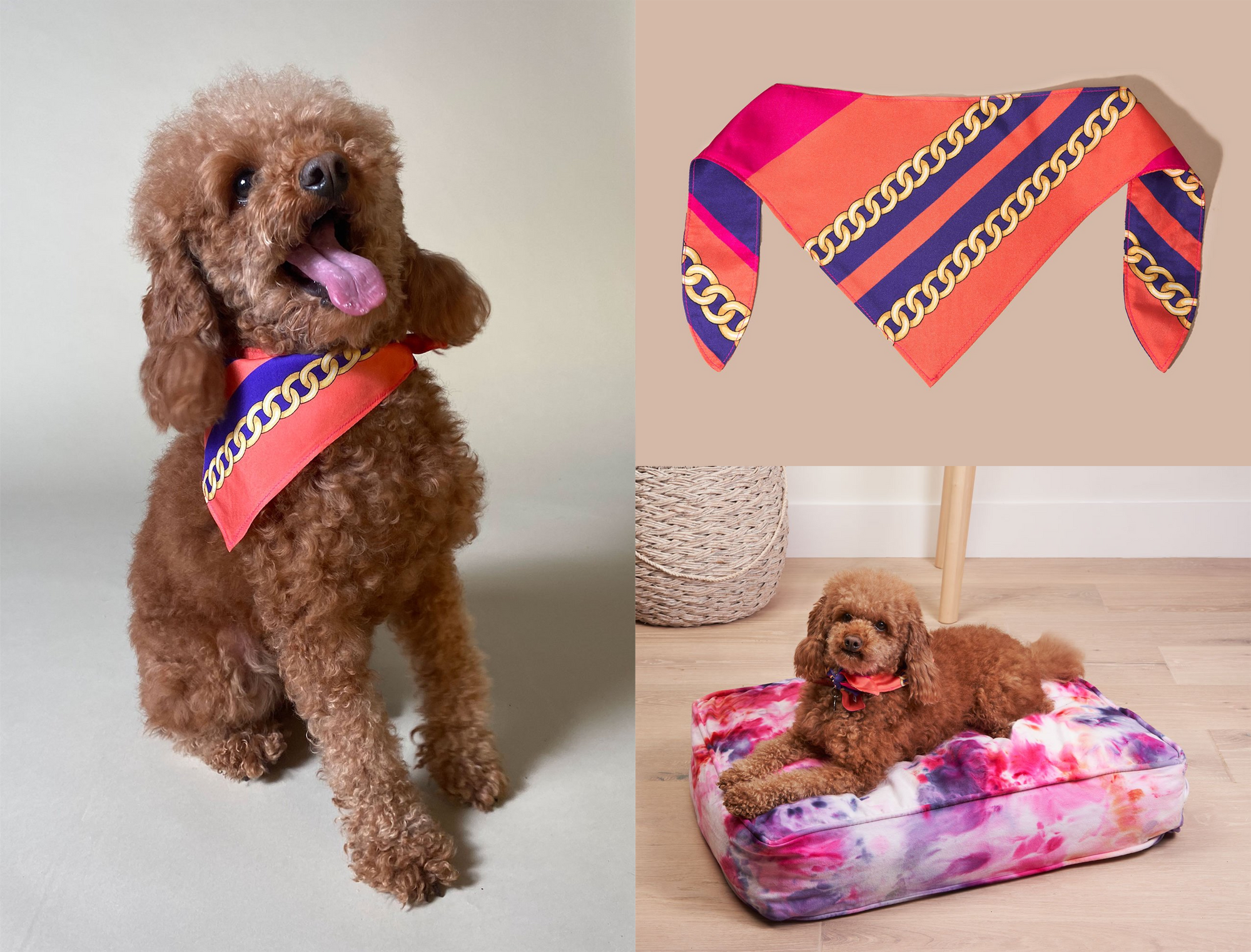 I have 2 rescue poodles who serve as my muses for the collection and model the pieces.
Where do you see the company in 5 years?
In 5 years, I'd like to really build out the handbag line and focus more on high-end custom products.  I've been collecting materials for over 15 years for these pieces, and can't wait to have the time available and teams in place to help me make these ideas a reality!
| Company Name: | MLE |
| --- | --- |
| Founder: | Emily Antonian Li Mandri |
Comments