ScrubzBody Skin Care Products started in 2006. Roberta and her late sister Michelle joined together in starting this skincare business. Over the years they grew from one kitchen to a storefront/production space at 245 Main St.. in Farmingdale, NY and became a highlighted business on the Season One finale of Sell it Like Serhant on Bravo TV.
Was it a lightbulb moment or gradual process?
ScrubzBody Sugar Scrub was literally an answer to my own skin problem. It was peeling, flaky, dry and if I scratched it too hard it started bleeding. That is what finally brought me to a skin care shop. I went in for a moisturizer but left with a salt scrub. I tried it and loved it at first. That was until I rubbed some on my arm and it got on my elbow. Ouch! It had gotten into the scratch I had and really made my elbow hurt and my eyes tear. I realized then and there that salt was not the greatest scrub material for your body. I searched out about 20 different scrubs that had sugar or ground adzuki beans, or apricot shells. Sugar scrubs were the best, but most were too greasy. I decided to create my own and so I hit the kitchen. I played with various oils I had on hand and used the many jars I had purchased as a jumping off point.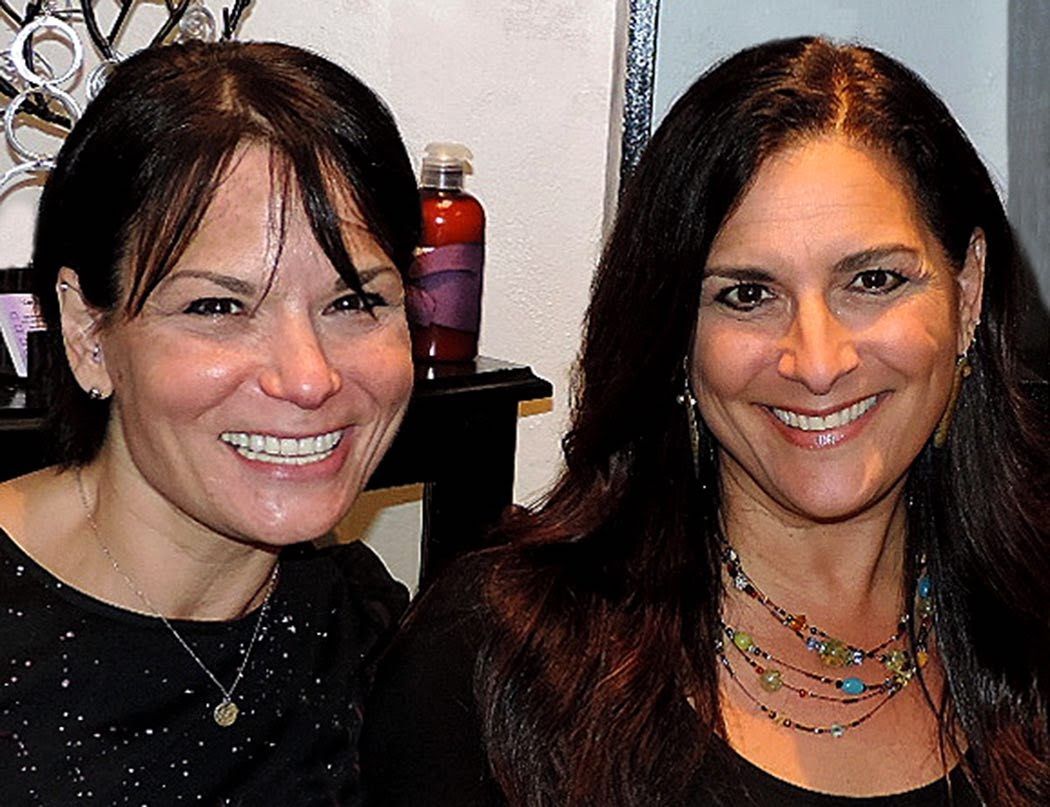 My late sister, Michelle, helped me test a few batches, and when I had created at least the 6th version, Michelle called me and exclaimed, "you can't keep this for yourself, you have to sell it!" I wasn't so sure, but she was looking for something to do now that her kids were older and she said she would help. We ordered some empty jars, went shopping for raw materials and started the company on a wing, a prayer and a dime.
How did you get your first three customers?
We started giving some away as gifts and selling to friends. We had a chance to sell at a craft fair and sold out. When someone asked if I had a website so she could ship some to her daughter, I knew we had just started a real business. I used my previous knowledge of basic website building to set up a crude e-commerce site. I created labels and brochures. We were off!

Over the years our label and our look evolved as we streamlined everything we did.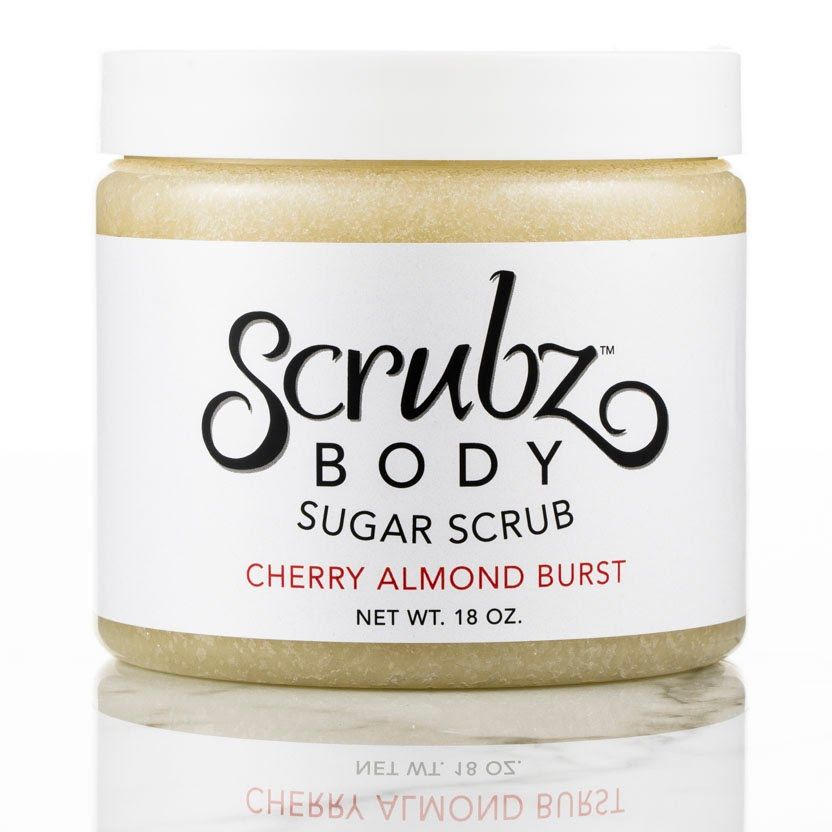 Did you have any experience/expertise in the area?
I had done plenty of research for myself, but when I knew we would be selling the scrub publicly, I dove in deeper. I was thrilled to discover that my original recipe was chock full of all the good oils which contain the exact essential fatty acids that skin thrives on. I tweaked a little, but overall, my original scrub was the one we were bringing to market.
What regulatory approvals did you have to go through?
As a cosmetic product and company, I did not need specific FDA approval, but I did closely follow Marie Gale's book on good manufacturing processes and created a lab that followed all the guidelines.
Who is your target demographic?
Although we have many kids, men, teens and young adults as customers, my target market is really women from 40-65. This is the age group that starts to notice more of the changes that skin goes through as it ages. This is the age group that does more to care for those changes. This is the age group that has a little more income to spend on things that pamper, not just clean.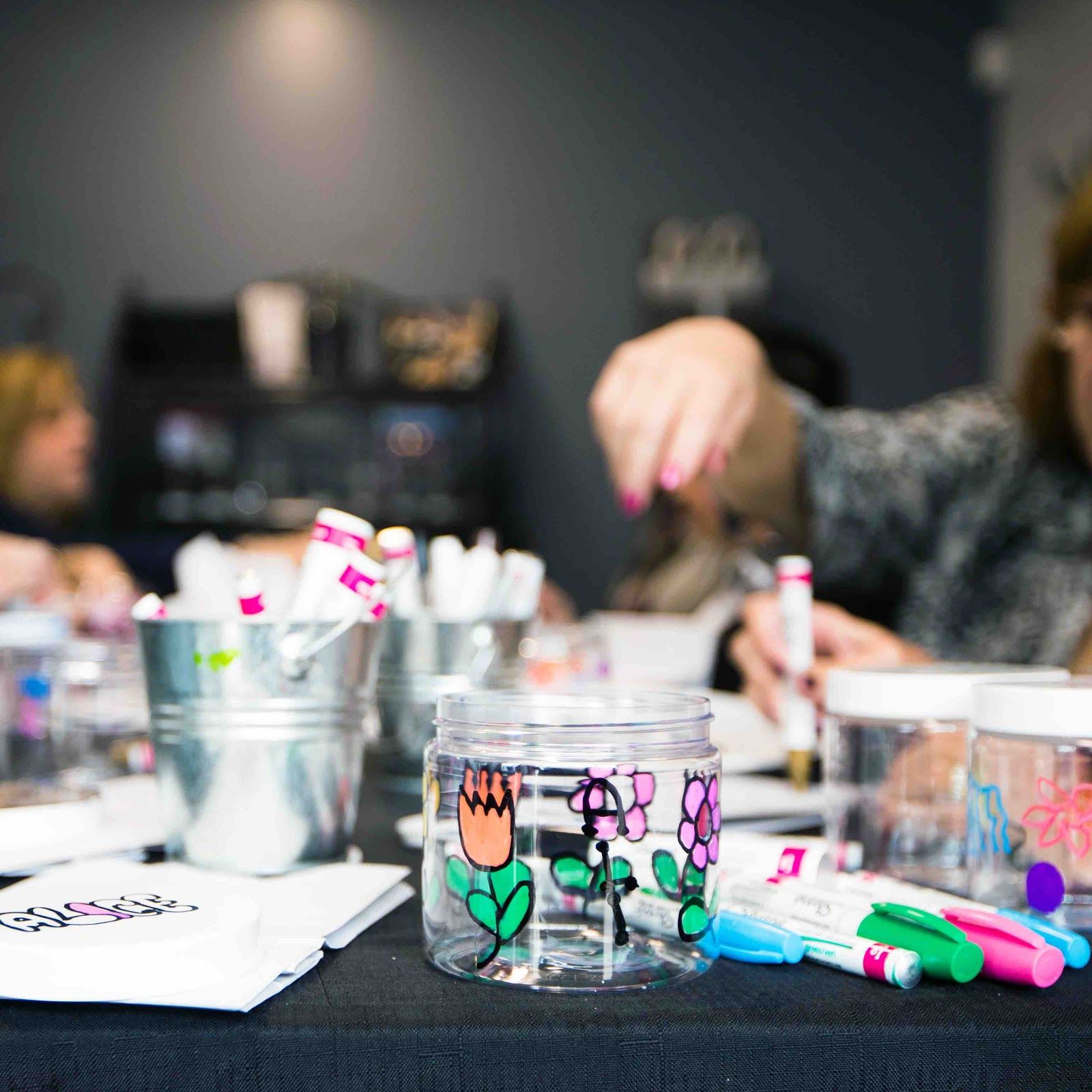 We host "Make your own Scrubz" parties where customers can create their own signature scent of our scrub. The conversations, laughter and smells that radiate throughout the store are amazing. Some of those conversations can even turn to "fights" as friends and siblings agree to disagree on a favorite scent.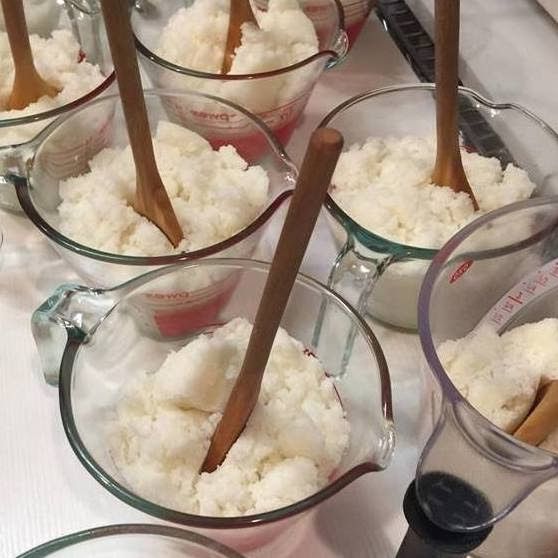 There is a reason we have 21 scents in stock on any given day. We customize scents regularly as well so our customers truly have a personal scent.
What is the funniest/most strange customer request you've had?
I can't say enough good things about our customers and clients. I am so grateful that many not only become friends, but bring their own friends and families to us. We love having the type of business where word of mouth is the #1 way we acquire new customers. We treat each customer as if they were our best customer, because they are.
How did you fund the idea initially?
I started my business while I was still freelance designing, as well as selling for commission. I was able to self-fund the first few months, and as I grew I dove into my personal savings. I also used a 0% fee credit card for large purchases. There are many good reasons to keep your credit rating high, and that is one of the biggest ones. I juggled at least 3 of those cards the first few years as we were ramping up.
Where did you meet your cofounder/founding team?
My late sister, Michelle, became my partner as we started growing. My best childhood friend, Wendy would help us out when we needed an extra hand or went to a trade show. My parents would fill jars for large orders. My CPA husband was doing my books. It was truly a family affair. I hired part time employees to help us manufacture our products and have had Diana for almost 4 years working when she is not in school.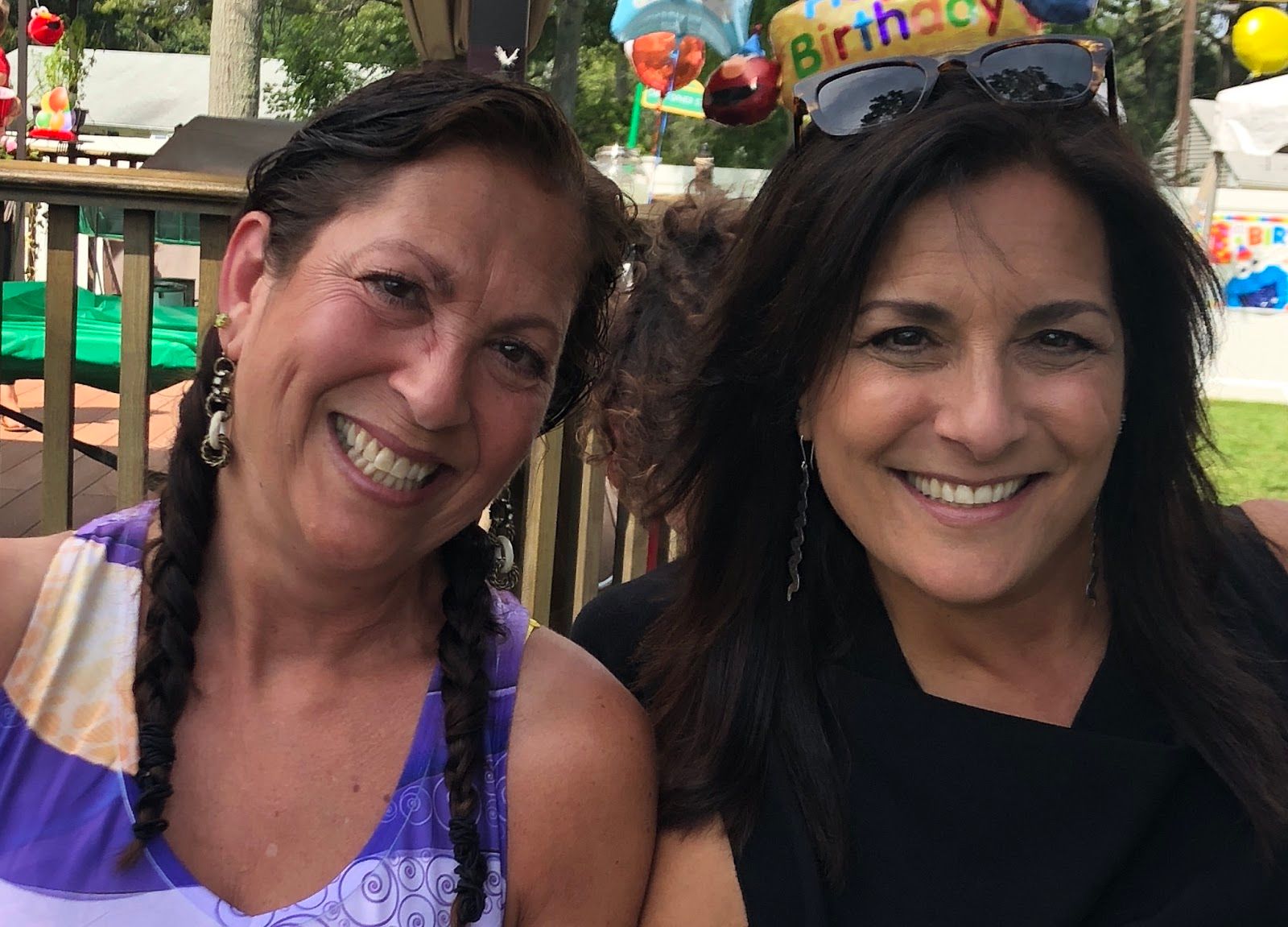 When Michelle passed, Wendy rescued me and came on board full time as my Production Manager. We are slowly adding more product making help.
Any tips for finding first employees?
Our administrative staff does not need to be increased, but for production help, I believe the best way is to go to our customers. People who are already invested in the product. Many have even recommended their HS or college kids to us.
What motivated you to start your own business?
I was a mom to 3, a  freelance graphic designer, a telecom sales person and a marketing director for a start-up adult education firm. All 3 and the motherhood-juggling act, paved the way for me to start ScrubzBody Skin Care.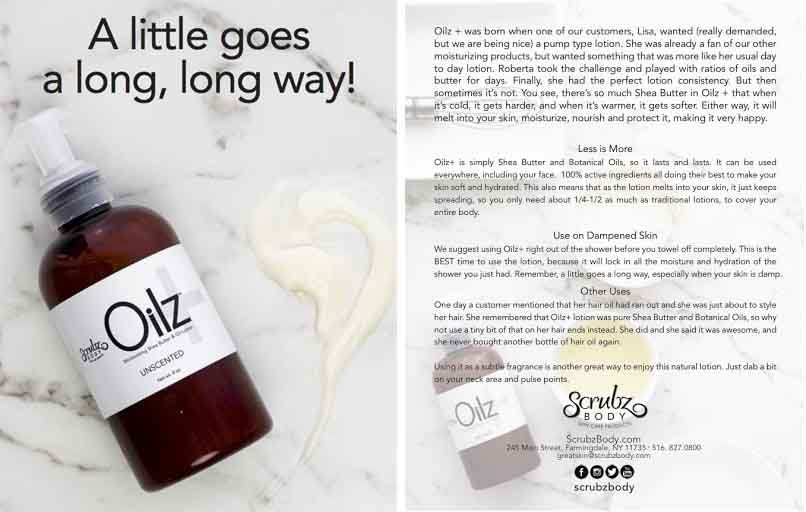 I do all my own design work on brochures and marketing literature, like postcards to accompany online orders.
What motivated you to start your own business?
I knew how to set up my phone systems and negotiate for better rates. I learned basic website skills and used the marketing knowledge I had gained in that failed start-up to propel better decisions with Scrubz. It basically took all I loved about people and business and wrapped it around a product that makes me proud and humbled at the same time.
What were your family and friends first thoughts on your company?
My own skin issues propelled the product, but my late sister, Michelle, really pushed me to sell it. My family didn't love all the boxes around the house, or the late hours I spent in the garage production studio we had created, but they were overall supportive and amazing and helped out whenever they could.
What motivates you when things go wrong? What is the end goal?
My business still makes me happy. All these years later, I still love helping people and I get to do it with something that makes them feel good. Having a great product line is super important, however,  I think building customer relationships is the key to creating a business that will have people coming back time and again. And not only when things are good, but when things are tough, like this COVID-19 pandemic has shown us all, as well.
Do you have any advice for someone just starting out?
Having a direct connection via my emails and my store is what has built my business the most. I started collecting email addresses when we first started out, and have never stopped. Facebook and Instagram are fine for sharing all sorts of product or store things, but a direct connection is better. When a customer trusts us with their email address, I make sure to not only protect it, but deliver really good content.
What has driven the most sales?
As we have grown, we have shifted our model from wholesale (like Whole Foods) and online retail, to store and online retail with no wholesale at all,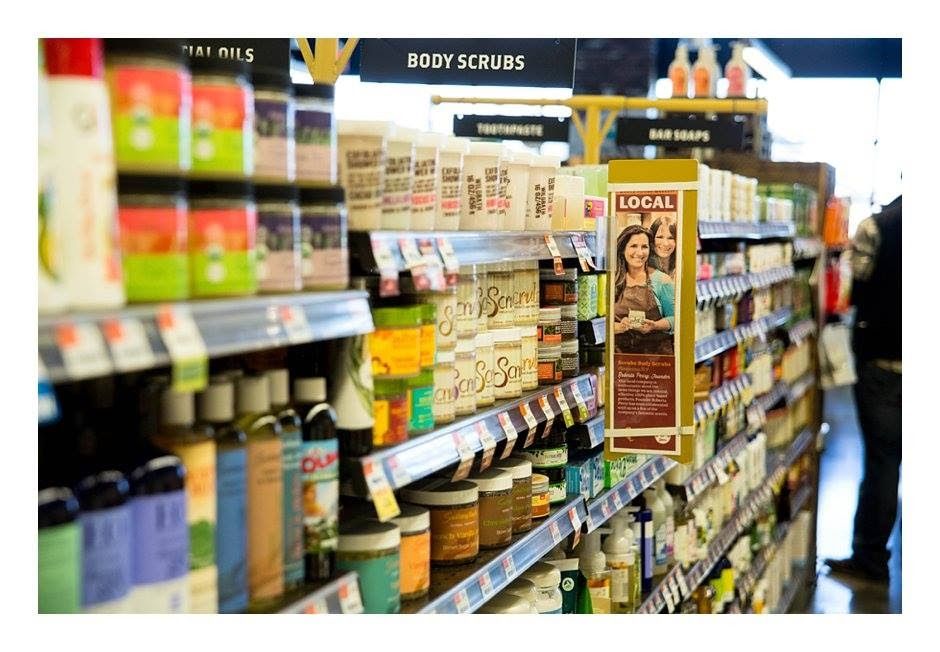 to a little bit of wholesale (like small boutiques) and now Private Label where we sell by the gallon and clients put their own label on the jars.
What is stopping you being 3x the size you are now?
We have changed around so many times it is possible our growth was held back. We even opened a satellite store for 6 months, which was a total disaster.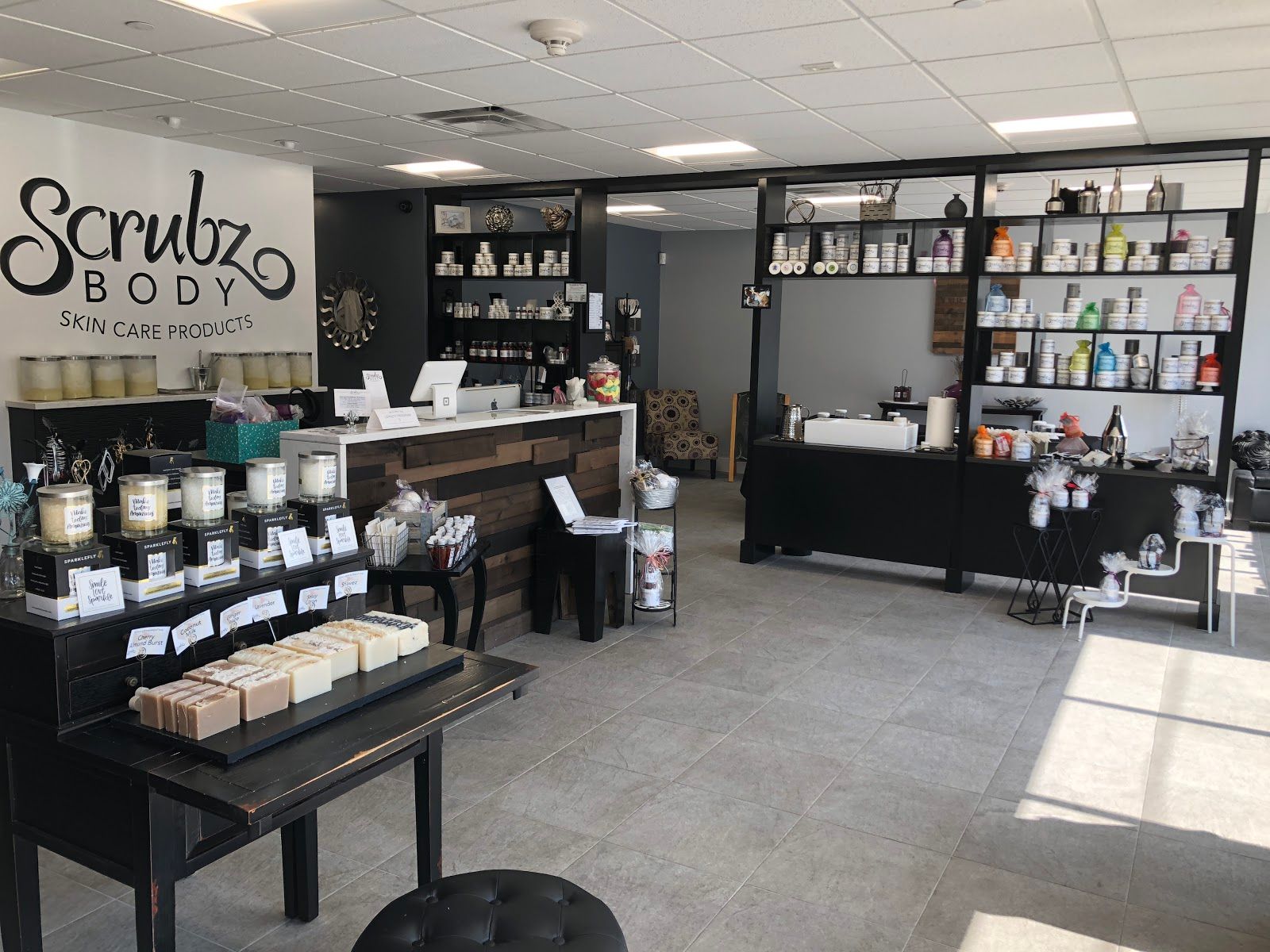 Now we are seeing a steady growth due to the new Private Label portion. I am never too old to learn something new, nor too stubborn to change what is not working, so I'm excited for what the next year or so will bring.
How do you protect yourself from competition? Do you have any trademarks/IP/patents?
I became a corporation immediately in 2006 as well as filed for a  ™ on my products as soon as I was shipping interstate. I now own the ® registered trademark for both my name, Scrubz and my Swirl Logo.
I highly recommend Andrea Evans as an attorney. I used another attorney at first and it was not his specialty. I had to work harder and spend more money because of it afterwards. My advice is to always do it right the first time with the right specialist.
What are the top 3-5 apps your business could not run without? Why are they essential?
My most favorite apps are Adobe Illustrator, Adobe Photoshop and Adobe Acrobat. I could not design anything without them and I am lucky my earlier careers gave me the skills. I adore Dropbox for the ease of shifting between store, phone and home computer. I keep all my files and photos on there and so whenever I need something I can either download and attach or copy the link. So easy and so life-changing, business wise. I switched to Klaviyo for my email campaigns, etc. about 6 months ago and it was one of the best decisions I have made. LOVE it! I have not been to the bank in years, so my mobile banking app with TD Bank ranks pretty high.
What are your favourite books and podcasts?
I loved The Go-Giver by Bob Burg and John David Mann. So simple, but such a powerful message. Peter Shankman's The Zombie Loyalist is a great bunch of examples of doing the right thing by your customers. I read and listen to:  Marie Forleo, Ash Ambirge, Seth Godin and Paul Jarvis all the time and the Indie Business Network is a regular podcast in my ears.
What are the next products you're working on?
My next year or so will hopefully be much of the same that we are doing now, but with continued business, more production staff and more chances to help other people grow their own businesses. That is another reason I love selling Private Label, I get to mentor new business owners.
What is current revenue? If you don't mind sharing
When we moved to our present, larger location in Farmingdale, NY we grew in 2 years from a 10-12K a month business to over 16K and growing. It sharpened and increased our retail business, our party business and gave us a chance to now grow our Private Label business, as well.
Would you ever sell?
I would rather pass my business on to someone vs selling it, however, I plan on being involved as long as I can.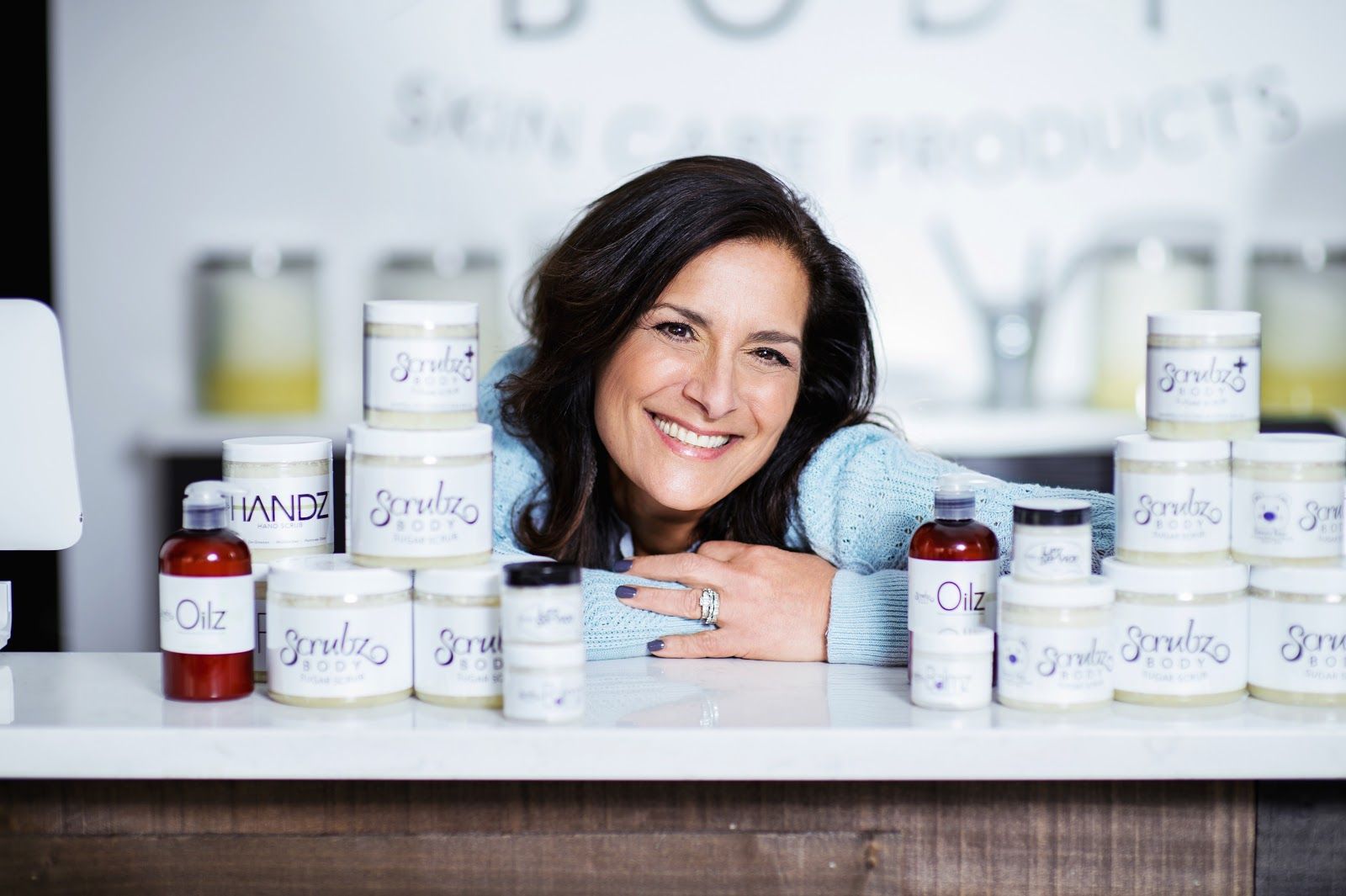 I  will just have to take lots of vacations in between!
Comments