We began Baggage Nanny with the idea of simply offering it as an auxiliary service to our Airbnb guests. I brought my father out of retirement, we bought a used van, and started offering the service in our check in instructions. We got busy very quickly as word got out to other vacation rental management companies in town. We had 40 orders by the third week of opening.
I realized quickly that this was a bigger problem than we had initially set out to address, once we learned that storage lockers inside U.S. airports were banned by the TSA after the horrible attacks of 9/11. We approached the San Diego International Airport to inquire into permits we would need to operate- some kind of curbside permit I assumed- so we could pick up our customer bags. I'm a rule follower! The airport explained that as a government agency, there's a process to doing business with them called an RFP process. But we were thrown a lifeline - an opportunity to apply to their inaugural Innovation Lab, a chance for new businesses to try their business model, live in the airport.
We applied, got in, were one of five companies to graduate from the program, and the only company to both generate revenue during the testing period and also to be offered a contract with the airport! The Lab was so important for us because it opened up this huge world and opportunity. We developed our process to fit the TSA and airport security guidelines, using the testing period to pivot away from curbside operations to staffed kiosks inside each terminal baggage claim. We also had the opportunity to do customer surveys on the ground to help with our price point, but more importantly we found that 73% of those we surveyed stated that dealing with their baggage was the most stressful part of their travel. We had something here.
Was it a gradual decision or lightbulb moment to start Baggage Nanny?
The lightbulb moment for Baggage Nanny came organically from a real problem we were experiencing with my first start up Clean as a Whistle Cleaning Company. I started Whistle back in 2015 as a cleaning company specializing in turn-over cleaning of Airbnbs; after getting to know the owners we cleaned for, I began my second company Browning Ventures, a property management company for the Airbnbs we cleaned. I managed 15 properties for my clients, handling all of their customer bookings, being on call when they had guests for any issues they had, and overseeing the house needs. The biggest request we had from our guests was a huge problem: they would fly in early and need a place to store their bags, because they couldn't check in until 4, or after checking out at 11 they would need a place to leave their bags before their evening flights.
As a host, you want to say yes to whatever the guests need, because you want a good review. But when you have same day turnovers, it was such a hassle for the cleaning crew to work around the luggage, plus it was a liability for us to have the bags in our care, and lastly a pain for the guests because they would have to come back for the bags once ready to depart. It never failed that they would come in sandy from the beach and want to use the bathroom, change clothes, and then we'd have to tidy up again.
Who is your target demographic?
Our target demographic is really any traveler who needs a place to store their bags, but really to narrow it down, its millenials who have come to expect ease of use, on demand services, and love that they book us on their phones. Travelers with young families are also a target for us, travel is especially stressful when you're lugging kids, strollers, car seats, and bags! We've also been surprised by how many long layover customers we have, we're so happy to give people the chance to explore our great city while they have a few hours to kill.
We charge $20 per bag, per day, and that includes pickup, storage and delivery. Each bag is sealed with a tamper evident seal, photographed, and labeled with customer information. Our storage facility is temperature controlled and has a double level of security for access. Each of our staff is submitted to both TSA and FBI background checks as well, so travelers can rest assured that their items are in safe keep. We've also never missed a delivery or pickup, we tend to over communicate with each customer so they feel like our new best friends by the end of their service. We've had many repeat customers, many use us on their arrival and departure, the feedback we most hear is "why aren't you in every airport?!"
What is the funniest/most strange customer request you've had?
We've had a few funny requests from customers, and since one of our mission statements is to come from a place of yes, we've tried to accommodate them! My favorite requests have come from customers traveling with their dogs, we've been asked a few times if we could keep an eye on their furry friends in addition to their bags. I'm always happy to play with a pup, but unfortunately we can't "store" them!
How did you fund the idea initially?
I ran straight to the cliff and jumped off- I sold my house and used the proceeds to fund Baggage Nanny. I have bootstrapped the company from the beginning and we just recently opened our first seed round to investors. I had really no idea what I was doing so I quickly sought out mentors in the startup world that I could connect with. I took those mentors and created our advisory board, and I'm so lucky to have these amazing women in my corner. Flossie Hall, Silvia Mah, Barbara Bickham, Melisa Ceilkel and Shannon O'Brien are all power houses that I'm lucky to have helping guide me along this journey.
How did you find your first employees?
Finding employees is always a daunting task, especially in the startup world when you have a lean budget. I myself have had a few gig economy jobs in the past so I have strong feelings about the debate between independent contractors vs. hourly employees. We have had two missions while hiring: to offer any job openings to disenfranchised workers first, and to be on the right side of history by having hourly employees rather than independent contractors. I've had great luck using job boards like Indeed, but it's all about asking the right questions while interviewing and encouraging/developing healthy workplace practices.
Did you run any companies prior?
Baggage Nanny is my first startup company. I started Clean as a Whistle back in 2015 as a cleaning company specializing in turn over cleaning of Airbnbs; after getting to know the owners we cleaned for, I began my second company Browning Ventures, a property management company for the Airbnbs we cleaned. I managed 15 properties for my clients, handling all of their customer bookings, being on call when they had guests for any issues they had, and overseeing the house needs.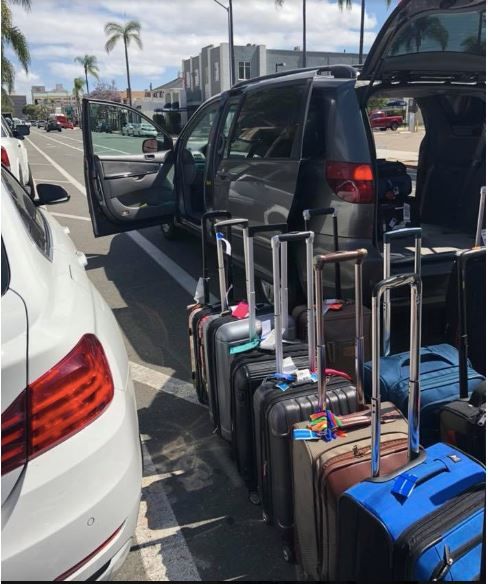 I'm actually a college dropout, I studied Political Science with a minor in Philosophy. When I was about to turn 30, I realized that in order to run political campaigns as I wished, I would need about 10 more years of college to get my PhD. I decided to take the chance and start my own company, be my own boss, and see what happened, with the support of my amazing boyfriend and family. I am a third generation entrepreneur. I grew up after school in my Nana's hair salon in her home, while my grandfather owned his own construction company. My father is a serial entrepreneur, in everything from real estate to small business development. I know that's why I wasn't afraid to at least try because we're a family of risk takers and hustlers. My dad has been such a champion for Baggage Nanny, he and my boyfriend were our first drivers and he's a proud dad. When I won Business Woman of the Year in 2019, he cried at the ceremony as if I was winning an Oscar!
What motivates you when things go wrong? What is the end goal?
Being an entrepreneur is a life of ups and downs. The highs are so high and the lows are so low. It can be isolating and lonely, you miss out on vacations and family events because you've got to cover when an employee calls out, it's a sacrifice for yourself as much as for your friends and families. I am a strong advocate for therapy- I go see my therapist every other week- and I would be lost without it. I go and dump out all my worries and problems and then carry on! I also believe that one must be friendly to have friends, so I force myself to get out and attend networking events for startups.
Do you have any advice for someone just starting out?
When first starting out it's especially important to immerse yourself in the local startup world and meet your contemporaries and those who have done it before you. They will have access to all things business that you'll need. It's actually part of my exit strategy to start a nonprofit that helps other women develop their business ideas by bringing them and all the people who have helped me to the table. I literally just fake it until I make it and relied on google to figure out terms I didn't know.
What has driven the most sales?
We've used social media as really our only means of advertising- a necessity when trying to operate on a small budget. We love IG and FB to engage with our customers and we encourage reviews on Facebook and Google. Twitter has been great for connecting with other founders and investors. Facebook and Google have definitely been the best for driving revenue. We've stored over 3000 bags and helped hundreds of travelers, we're maintaining over 200+ reviews on various platforms and they're all 5 star!
What is stopping you being 3x the size you are now?
We are in our expansion phase, we have 14 airports who are interested in bringing Baggage Nanny to their cities. We have spent a lot of time researching cities who have three criteria: heavy Airbnb saturation, high passenger count airports, and destination attractions for travelers. Luckily those city airports are excited to have us! What's stopping us from expanding today is capital, it's a labor heavy operation and that takes money. This is why we've opened our first seed round for investors, so we can expand first across the U.S. and then into the European market.
How do you protect yourself from competition?
There are a few companies who are competitors, but we're the only company approved to offer this service inside U.S. airports. Many companies are focused on storage lockers, like BagBNB, or third party partnerships with coffee shops, like Stasher. We slipped into the airport industry and then firmly closed the door behind us and also offered the on-demand pickup and delivery service that customers love!
What are the top 3-5 apps your business could not run without?
The whole google suite is so important for us. We use google because their apps are awesome and so easy to use. We also spend a lot of time on our Google My Business page, SEO and ADS, Google is our best friend. We also found great HR help with Bambee, they handle our HR needs at a really reasonable price for startups. I also love Smartline from Godaddy, it's a great separate phone line that connects on your phone so I know that calls coming in on that line are customers. Lastly, Audible. I listen to books on negotiation and business a lot, most I listen to several times, to absorb as much as possible.
What are your favourite books and podcasts?
Books: Venture Deals by Brad Feld and Jason Mendelson- basically my Bible for all things venture, Never Split the Difference- by Chris Voss- AMAZING negotiation training, and Angel Investing- David Rose- great asset.
Podcasts: The Pitch, I'm obsessed with, The Airport Experience- so motivating (I'll be on as a guest soon), This American Life- NPR, and My Favorite Murder- I'm a murderino at heart and love all things true crime.
What are the next products you're working on?
We are working on adding bag wrapping to our services, super excited about that! We're developing an addition to our existing kiosk to make them wrapping machines and I can't wait to see the prototype shortly. We are actively negotiating with additional airports for expansion, plus airlines, rideshare companies and major hotel chains. I would love to connect with the Airbnb team, that feels like home for me and I know we'd be a huge addition for their guests.
Where do you see the company in 5 years?
I see Baggage Nanny changing the way people travel within the next five years. Traveling baggage free while helping airlines track bags and prevent lost luggage with our tech is something I'm passionate about and the direction we're heading. The use of drones for delivery is very exciting to me as well, something we're keeping an eye on.
What is your current revenue? If you don't mind sharing.
Our current traction is great, we've been operating our kiosks in SAN DIEGO since August 2019, and we've seen 15% average revenue growth month over month. In December, we were up 30% over November and in January an additional 10% over that. As we grow our revenue and bring in capital, we can do real marketing campaigns which will be a boom for us.
Would you ever sell?
I started out wanting to solve a real problem and make travel easier. It is my little baby that is now learning to walk so of course I want to watch it grow, but I think it's wise to always have your exit strategy in the forefront, ours has always been acquisition. I will take Baggage Nanny as far as I can and as large as I can, and make her as beautiful as possible, until the right company comes along to take her to the next level. I have a lot of ideas that I want to try, I'm excited to someday be on the investor side of things and able to foster other people's baby ideas into big ones. I also would love to be an advocate for female founders, we're an underserved and underfunded segment and widely an untapped one, it's about time the Fortune 500 company list finally has a female founder on it.
| Company Name: | Baggage Nanny |
| --- | --- |
| Founder: | Crystal Browning |
Comments