Since launching in 2017, Lyndie has turned Bleusalt into one of the most successful and trend-setting fashion brands. Bleusalt has quickly become a wardrobe stable for many celebrities, including Cindy Crawford, Patrick Dempsey, Kris Jenner and has graced the pages of the world's top fashion magazines (Vogue, Women's Wear Daily, In Style, Elle, Marie Claire, Harper's Bazaar).
As a midlife entrepreneur, Lyndie is inspiring women all over the world. Lyndie started Bleusalt after her two decade marriage to her musician husband Kenny G ended. She is truly a testament that success can come at any age.
Was it a lightbulb moment or gradual moment to start Bleusalt ?
It was a gradual moment starting Bleusalt. It began when I was working on another company with a partner that did not work out. I had a few sweatshirts made with the name of the company on it and people kept asking for the sweatshirt and said it was their favorite. I decided to look into the fabric it was made from. That particular sweatshirt was made from MODAL, and very bad quality and bad for the environment and made in China. I decided to look and see if there was a better quality version of what I was feeling which led me to a place called Lenzing in NYC. Tencel/Lenzing make the softest fibers on earth in the most sustainable way and then I started to get really excited about the fabric.
How did you get your first three customers?
My first 3 customers were my close friends. As soon as they heard I was making the same feel of the sweatshirt in a small capsule collection they wanted it.
How did you validate the idea?
I have a strong instinct and didn't really look for validation but people did actually get pretty obsessed with the capsule collection so I knew it was good.
Did you have any experience/expertise in the area?
I actually had zero experience in this. However, I did feel like I had a specific style people have been interested in. I am very simple and almost minimal in the way I dress.
Have you raised any money? How much?
Bleusalt is self funded. I had just sold a home and took the profits to start Bleusalt.
What regulatory approvals did you have to go through?
We went through rigorous testing with the QVC people when we once considered trying the product on QVC (and then thought to not) however, their testing is very very thorough and I was very happy with our passing grade. It made me feel confident. Being a knit product with natural fibers there is always a little shed and it concerned me but after working hard to make sure it was acceptable as well as the most natural product it could be, I felt we had something special. You can always add more polyester to anything to make it hold up. However, we tried to have the most minimal binder in the natural fibers as we could and we continue to always explore the best ways we can improve although we feel our product is nearly perfect as it is today.
Who is your target demographic?
We really are inclusive in so many ways. Bleusalt is for every human and we are looking to expand to even larger size inclusivity. We currently go from xxxs-xxxl. The reason for Bleusalt is that we really want to democratize luxury in that we want everyone who wants to to be able to aspire to dress with quality and luxury which is why our price point is quite aspirational for everyone and our quality is exceptional.

The brands that inspire me are Loro Piana, Hermes, Brunello Cuccineli, Bamford and Gabriella Hearst. Bleusalt is a luxurious version of wearing a fine cashmere outfit that might cost thousands from the brands I mentioned. Since starting Bleusalt, I have not purchased a single piece of cashmere.
What is the funniest/most strange customer request you've had?
Well it actually came from the actor Patrick Dempsey. He asked me for a meeting and showed up with a garment bag filled with items that he wears regularly. He asked if I could make it all in Bleusalt and that transpired into The Patrick Dempsey Collection. We kept a few pieces that remain in the line today. The Blazer and Trousers and Polo shirt. He said he wanted to be able to travel and head straight to a meeting and not have to change his clothes!
How did you fund the idea initially? Where did you meet your co-founder/founding team?
Bleusalt is self funded. I do not have a co-founding team. I actually started with a partner who was a manufacturer and let's just say I learned very quickly from an advisor in the industry that there are 2 types of people in this business. Short term thinkers and long term thinkers. He advised me I had a scrappy one. A very short term thinker that was ripping me off blind and to get out fast. I headed the advice and separated immediately from her after one month.
Any tips for finding first employees?
Our first employee was hired by that short term thinking partner and the person hired was like minded and did not last the first 6 months. Besides my manufacturer, shipping and fulfillment and my website manager I was in need of marketing. I got extremely fortunate with my CMO who was working for himself at the time and was looking to try out another area. I was introduced to him by my website manager.
Did you run any companies prior?
I raised 2 amazing sons and had a husband in the music industry for 28 years. We had a big life and I was in charge as my husband was a very busy touring musician and a minus 2 handicap golfer. I had a lot to juggle. So I would say along with his career and raising my family and orchestrating our life that it was like running a company in itself. But, no I did not run any companies prior.
What motivated you to start your own business?
I have always been extremely creative and I had put that creativity into my previous life and my children and home and husband's career and found myself completely empty with nothing but creativity and time on my hands.
What were your family and friends first thoughts on your company?
They thought it was a very organic authentic expression of who I am.
What motivates you when things go wrong? What is the end goal?
Growth and being the best I can be in every situation. Not always succeeding but always trying.
Do you have any advice for someone just starting out?
Follow your heart and your instincts and most importantly, follow your passions and do what you love and everything else will follow. Even if you do not know exactly what you will do, just do what you are moved and motivated to do each and every day.
What has driven the most sales?
Definitely out of that list would be instagram and facebook ads and following that word of mouth.
What is stopping you being 3x the size you are now?
Not one thing and we will be doing that this year.
How do you protect yourself from competition?
I don't feel competitive with what we are doing. I feel it is so unique that if anyone were to want to try I would not feel it would ever be the same. I truly believe there is enough for everyone and a place for everyone. I am very competitive in making sure we are the best in each area so sometimes I get inspired by what someone is doing and feel we can do better in that area but mostly I just focus on Bleusalt and making that the very very best it can be in every way.
What are the top 3-5 apps your business could not run without?
Shopify, Facebook, Instagram. This is how we get the word out as we are a full DTC business model.
What are your favourite books and podcasts?
My favorite book is The Motivation Manifesto. My favorite Podcasts are A Dose of Leadership, Gabby Reece's podcast and Glambition are a few I have listened to. I also LOVE Masterclass and think the Howard Schultz one is amazing.
What are the next products you're working on?
Well, this is kind of a top secret thing but I can tell you it is not clothing but goes with clothing and it's made from an amazing fabric that is revolutionary and different from what we use now.
Are there any releases you can tell us about?
We are a seasonless line of basics so we continue to produce the most perfect pieces we feel fit into your wardrobe.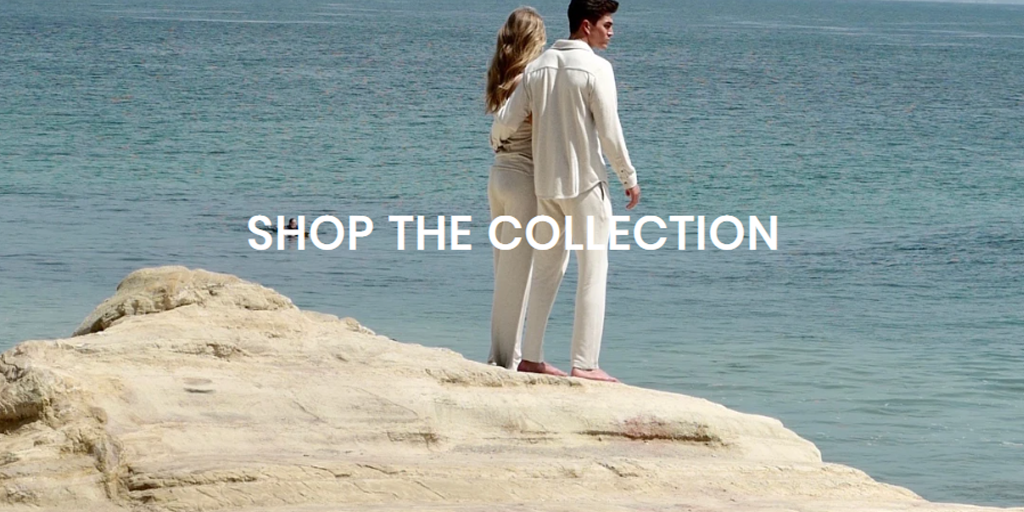 Versatility is extremely important in that it is luxurious and of the highest quality and that it can take you anywhere you want to go, elevating your look and how you feel.
Where do you see the company in 5 years?
I see Bleusalt being a household name in 5 years or much sooner.
What is current revenue? Would you ever sell?
I have never given any number thus far to anyone. However, I can tell you that we will do 6x the revenue from year 1. We are 2 ½ years in and climbing. We want to make sure we are extremely profitable and that is our focus.
| Company Name: | Bleusalt |
| --- | --- |
| Founder: | Lyndie Benson |
Comments