About a year ago, I started my own company Sküma with a couple of my engineering friends. Our company's goal is to disrupt the bottled water industry by recreating mineral water with the exact same composition as world famous brands like Evian or Volvic out of tap water.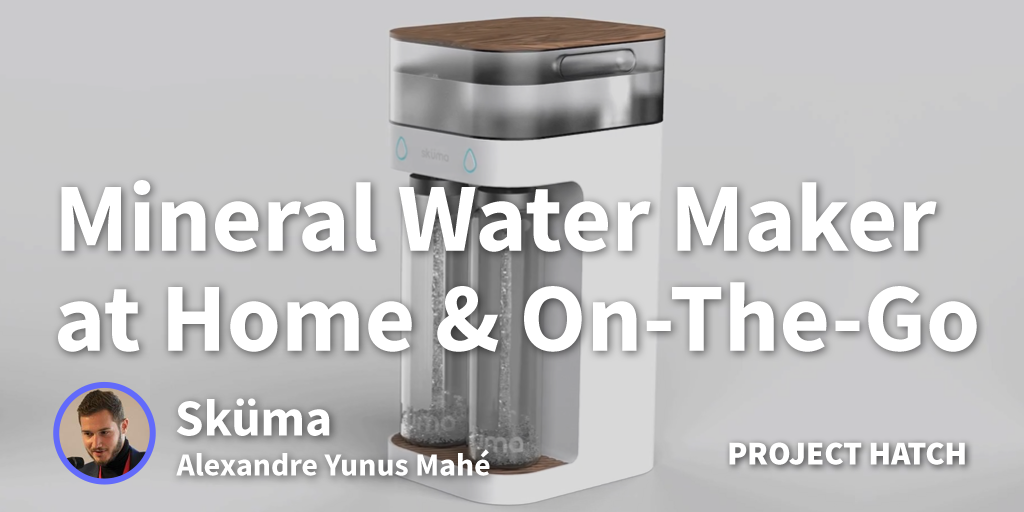 In less than a year we went from an idea to a company closing its pre-seed round of funding at a valuation of over half a million pounds.
Was it a lightbulb moment or gradual moment to start Sküma?
Due to my parent's profession, I was fortunate enough to have grown up in a multitude of countries in different continents around the world. I believe this opportunity enhanced my view of the world and highlighted how differences in cultural norms influence daily lives. Water consumption is one of those aspects that vary greatly from country to country. Some countries like China drink boiled tap water, others like in the middle east consume exclusively bottled water. The goal behind Sküma is to promote the use of tap water by offering a device that recreates the purity and quality of bottled water no matter where the device is used.
How did you validate the idea? Have you raised any money? How much?
To validate the idea we first were lucky enough to have been selected as part of the Design Council's 2019 cohort here in London. This opportunity granted us £15,000 to help us further develop, what was at the time just an idea.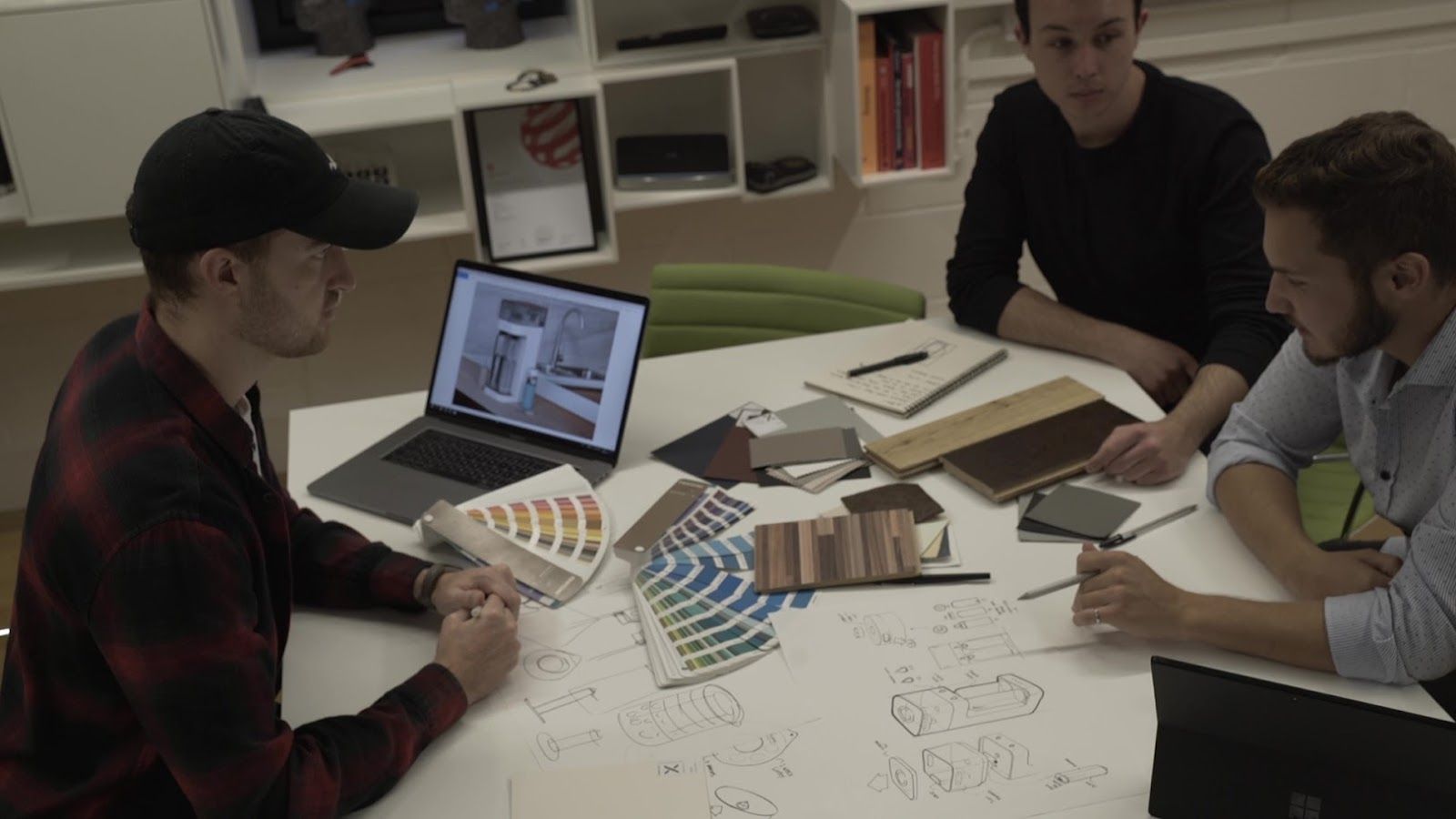 A couple of weeks after that, we also managed to secure a grant from the Canadian Ministry of Technology and Innovation of $20,000 CAD to develop our intellectual property.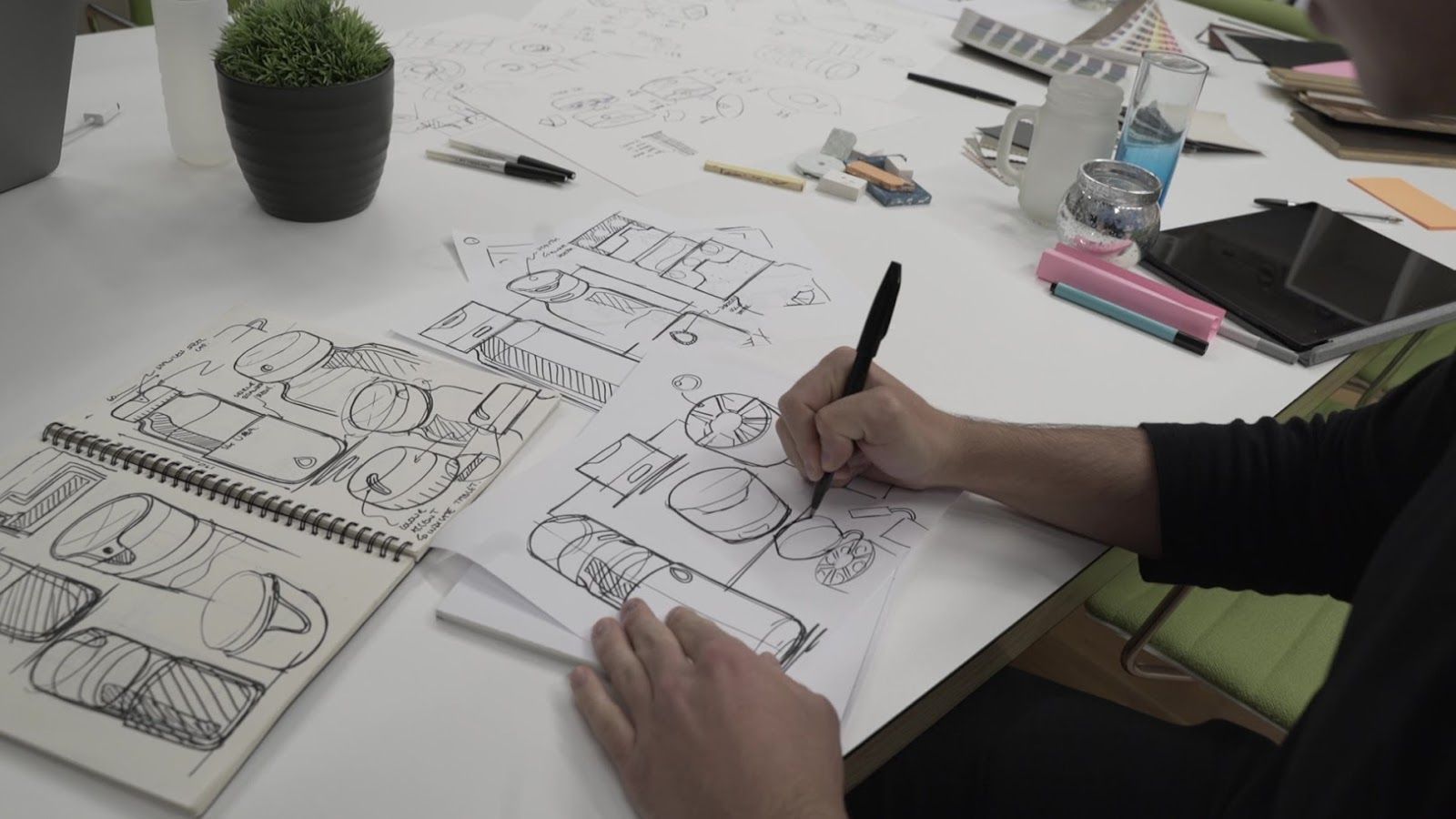 With that, we started working with internationally recognized, London-based, product development agency Alloy which allowed us to prove that our idea could actually be transformed into a fully functional product.
Who is your target demographic?
Sküma is first launching in the United Kingdom, where we are based. During the development of the device, we spent countless hours understanding what the customer really wanted from water purification devices. More importantly we wanted to really understand something. In a country like the UK where tap water is of very high quality, why are so many people drinking bottled water. This consumption habit is not only very prevalent but is also growing steadily at a rate of about 10% per year. We focus on individuals who regularly buy bottled water and are looking for a more environmentally friendly alternative without compromising on the quality of the water.
How did you fund the idea initially?
The breakdown has been provided in second question but it is important to mention that as many people know, starting a company is not a straightforward process. Back in 2016, while completing my undergraduate degree in Montreal, Canada a couple of engineering friends and I incorporated our first company Omex Solutions Inc. The purpose of this company was to develop a device that transforms tap water into contact lens solution. Our target market were contact lens users looking to save money on their monthly purchase of contact lens solutions. However, after having successfully built the device, we ran into huge hurdles with the certification process (FDA and Health Canada), which subsequently led us to abandoning the idea. A couple years later, Sküma was born and is still running successfully at this stage. In a way, the knowledge received from our first company, allowed to raise money with Sküma.
Any tips for finding first employees?
The current landscape seems pretty volatile. I would tend to recommend looking for sub-contractors or freelancers rather than looking into offering permanent positions in your company. This might not be best for potential prospects entering the job market, but it is the most sound strategy for a business to survive.
What motivated you to start your own business?
As mentioned previously, living in a multitude of countries gave me experiences that I might not have had if I had stayed in one location, and I would like to believe, made me more open-minded to exploring ideas. It also sparked a curiosity about some activities that people often take for granted, like the simple act of drinking water. Then as a young adult, studying Engineering made me very aware of how small improvements in systems can have a massive impact on society. I became fascinated by how water is becoming a strategic resource, when it is all around us and should be available to all. We've seen evidence of this recently with the droughts experienced in South Africa. I felt that it had to be possible to use my knowledge of hardware to create new ways to deliver clean drinking water.
What were your family and friends first thoughts on your company?
I was also lucky enough to always have had the support of my friends and family when pursuing any of my ideas. One thing is for sure, starting a company would have been much harder if I didn't have external support.
What motivates you when things go wrong? What is the end goal?
A word of advice my father once told me:
"No one will complete a task you need as well as you will"
At the start of my entrepreneurial journey, I tended to delegate jobs to agencies or subcontractors, in the belief that it was better to pay a 'professional' to do the job rather than doing it myself. But I found that I was often dissatisfied with the result, and that meant that I had to do it again which was just very time consuming. I soon learned that the best way to feel satisfied is to do the job myself the first time!
Do you have any advice for someone just starting out?
This might sound a little cheesy but if you actually want to have success in anything, personal effort and work must be sacrificed. This advice is applicable when things are going well in the business as well as when things are starting to go south.
How do you protect yourself from competition? Do you have any trademarks/IP/patents?
We were fortunate enough to have received financial help from the Canadian government to develop our intellectual property. This allowed us to develop a deep knowledge on what our competitors were doing and the areas we could improve our own product to ultimately make it more appealing for customers.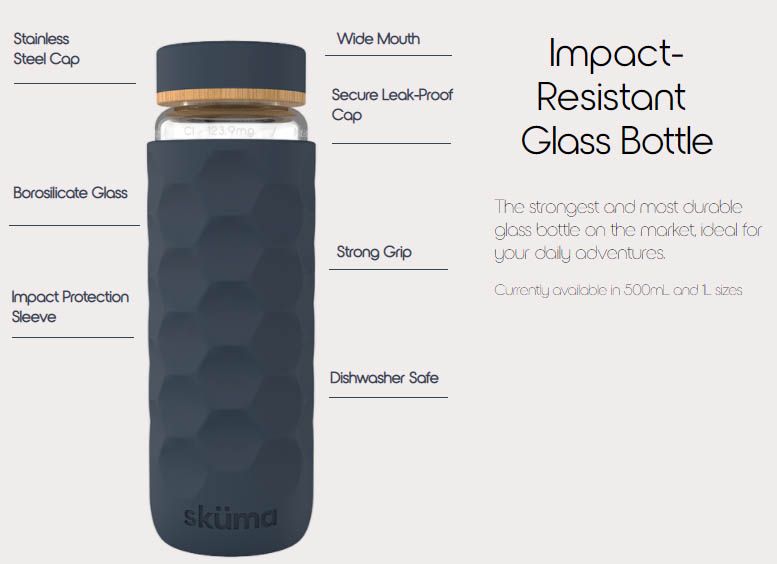 The general consensus pushes you to believe that a patent is here to protect your "invention" but to be completely honest, obtaining a patent will only most likely only increase the confidence of investors looking into your company.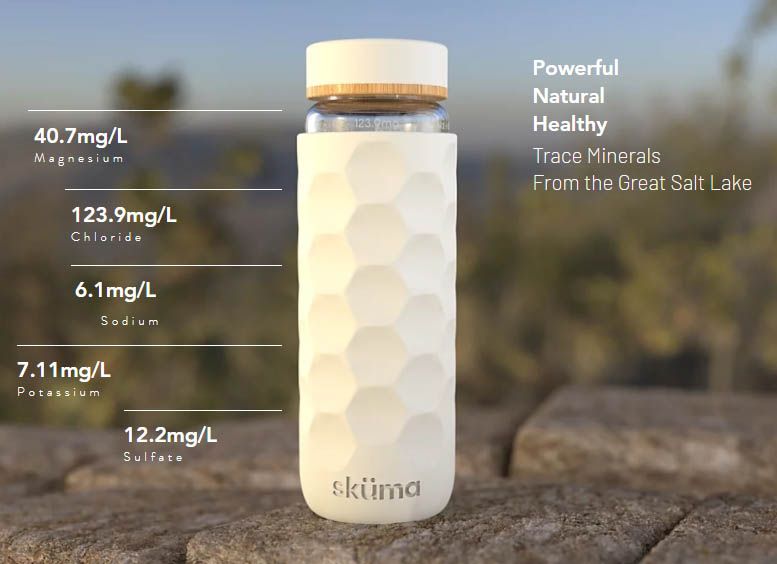 Very few companies actually have the resources required to pursue litigation. It is very important to find the right balance between protecting your technology and developing your product.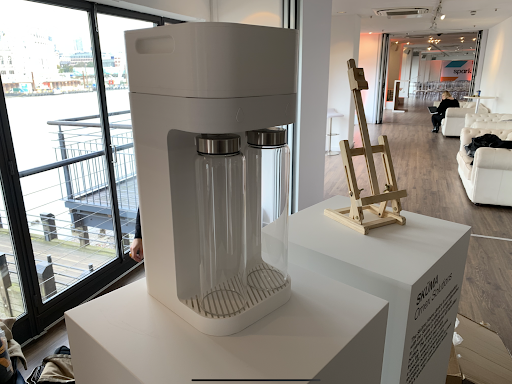 In our case, we have spent about $25,000 USD in obtaining our provisional patent application as well as our international patent under the form of a PCT patent application.
What are the top 3-5 apps your business could not run without? Why are they essential?
Depending on the type of business you are looking to get running, the tools required are very different. In our case, being a consumer electronics startup, a couple of tools are essential. Modelling software such as Solidworks or OnShape allow virtually any shape, instrument or component to be modelled in 3D. These 3D files can then be sent for 3D printing or CNC machining to validate or invalidate design elements. Having a clear brand identity and message that resonates with customers is just as important in my opinion as the product itself. Canva is one of the best tools out there that allows you to create any graphic, logo or animation. The best part of this software is that it is totally free to use! Finally, paying for lawyers as a startup is really expensive and more often than not, the budget does not allow contracting lawyers to draft every single contract. In the vast majority of early stage startups, we ended up drafting our own agreements. As expected, internally written agreements are difficult to enforce given the potential for numerous mistakes when drafting. Seedlegal greatly helped us generate the appropriate paperwork from shareholders agreements, to advisory board agreements. I could not recommend them enough!
What are your favourite podcasts?
Good question. Like many people nowadays, I have fallen in love with the magical world of podcasts and for the past 5 years I have been listening on a daily basis to the Joe Rogan Experience podcast on YouTube. Each episode is about 3 hours long and it always fascinates me just how much knowledge can be shared from these casual conversations. For people who are new to this, I often recommend watching the very inspirational episode #1291 with C.T Fletcher. In this episode, topics such as the importance of self discipline and the power of commitment at work and in your personal life are discussed. I think the same can be applied to entrepreneurship. If you have commitment and self-discipline, no task is too hard and no idea is too wild to explore. Just stick to it!
What are the next products you're working on?
Sküma is currently still under development but our release date is expected to be December 2020. You can keep updated with our latest developments by following the link attached here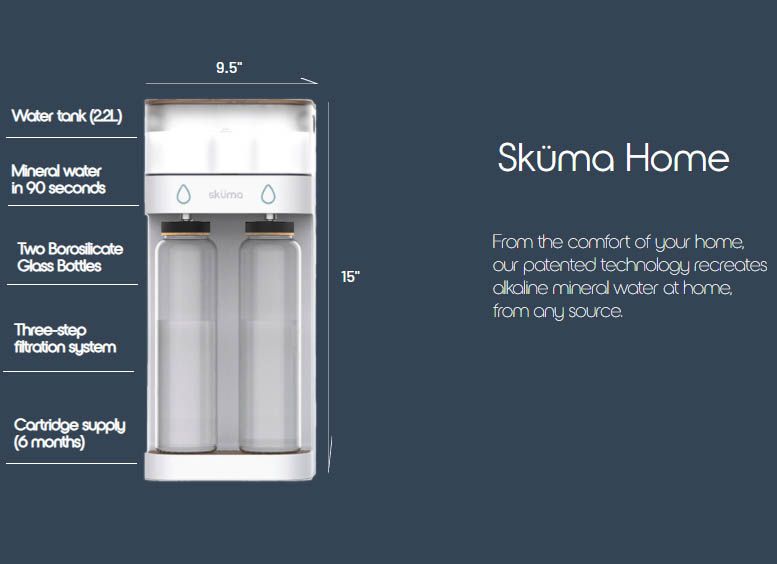 For 2021, our goal is to fully serve the british market and look into expanding into other European countries where bottled water is widely used such as Germany and Poland.
Are there any releases you can tell us about?
Our ultimate goal does not stop at only mineralizing water. Creating mineral water by adding minerals to purified tap water is great, but what if we could add the vitamins you need as well?
Where do you see the company in 5 years?
Our vision is an interactive platform that takes data from applications like Fitbit and UberEats and uses it to estimate your mineral and vitamin requirements. Then the Sküma device will add the exact levels of vitamins and minerals directly into your water. This device will require us to adapt our technology accordingly which is why we want to enter the market with a simpler product.
| Company Name: | Sküma |
| --- | --- |
| Founders: | Alexandre Yunus Mahé |
Comments