At just 19 years old, Claire Coder founded Aunt Flow in 2016. When she unexpectedly got her period at an event in public without any necessary supplies on hand, she had her lightbulb moment and started Aunt Flow. Claire dropped out of University the day after she came up with the idea for Aunt Flow and has been dedicated to Period Positivity and providing freely-accessible menstrual products ever since!
Since its start, Aunt Flow has provided a sustainable solution for pads and tampons as the industry leader for menstrual products and has changed legislation in 5 states on period tax.
Was it a lightbulb moment or gradual moment to start Aunt Flow?
After I got my period at a public event without any supplies that I needed on hand, I knew this was an issue bigger than myself. Toilet paper is offered for free, so why aren't pads and tampons? If I was struggling with this issue, I knew there were menstruators everywhere dealing with the same thing and therefore, I identified the need for freely-accessible menstrual products in public bathrooms.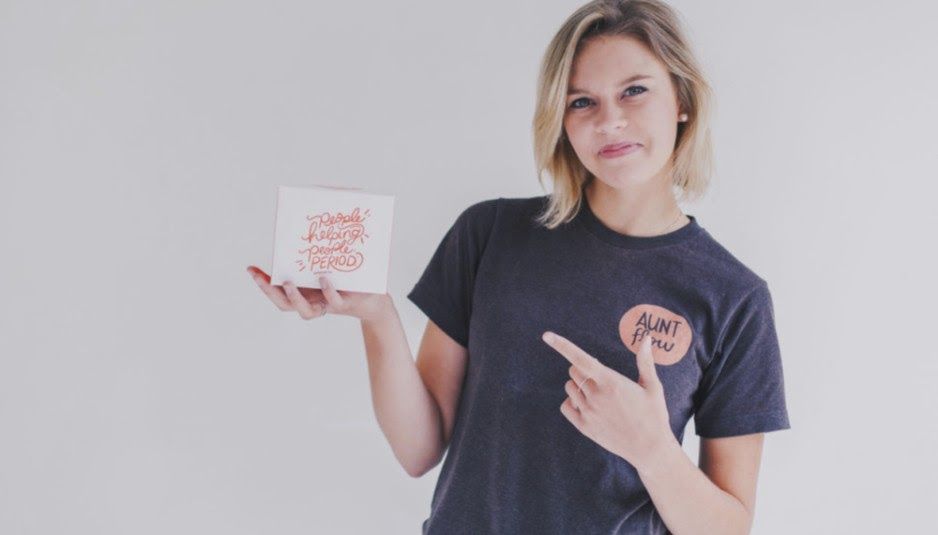 I subsequently began my mission to ensure EVERYONE has access to quality menstrual products and started Aunt Flow in 2016 at age 19.
How did you validate the idea?
All of my business ideas have always been validated by helping people in need. That's exactly why I decided to pivot my business in the wake of the pandemic and curate our sister company Work Flow to manufacture PPE and provide essential products to EVERYONE.
How did you get your first three customers?
My first few customers were friends that I had begged to buy my products. It was me relentlessly repeating myself to convince everyone that Aunt Flow mattered and that they needed our products in their lives and respective businesses and companies.
Did you have any experience/expertise in the area?
I also knew that I wanted to make these menstrual products all-natural and 100% organic cotton. Reducing the stigma around periods is also about knowing what is in your products. We took the action to source 100% organic cotton and create biodegradable packaging to ensure we are changing the world, one cycle at a time. To make these natural menstrual products a reality, I did some crazy research on FDA Regulations, Class 2 Medical Devices, facility operations, and science. I talked to experts in all of these areas to further educate myself through the process since I didn't have a ton of experience with regulations and operations prior to starting Aunt Flow.
Who is your target demographic?
When I first started Aunt Flow, our typical targeted customers were 18-35 years old, typically female. Now, with the launch of Work Flow and beginning to have our products stocked in more and more business bathrooms each day, our target audience has been continually expanding and evolving.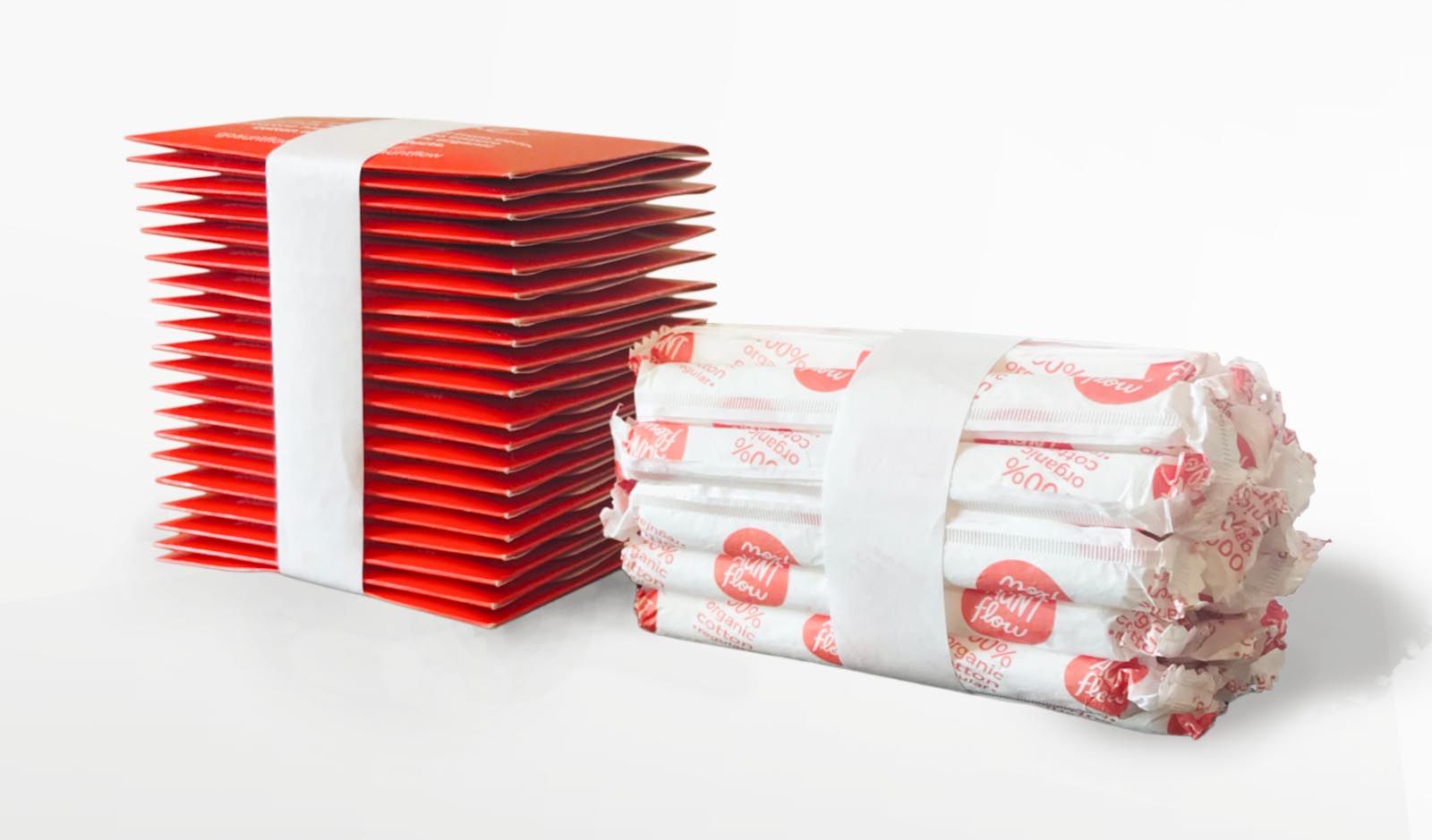 By knowing the audience for my product, I can successfully talk about periods with humor. Menstruation is a natural fact of life for those that get a period, and I feel as though it's important to remember that and remind people that talking about periods does not have to be serious (like, ever!).
What is the funniest/most strange customer request you've had?
We get a lot of people that ask, "if you're making menstrual products, then what are you doing to help men?". These strange questions always baffle me. Our products are for menstruators, and we love what we do and continue to help people in need.
How did you fund the idea initially?
At the onset, I was able to raise $25,000 in order to fund my MVP and began to sell tampons and pads direct to consumers. This set me up for three months of $20,000 recurring revenue, yet my "good luck" quickly came to a halt after that. I'll forever be grateful for that funding, but the nearly $50k that I saved after dropping out of college really helped me fund my idea for Aunt Flow and gave me the bandwidth to not pay for myself for the first two years of starting the company.
Where did you meet your co-founder/founding team?
I met my first company team member Anne on a sales call, actually. She was trying to sell me something over the phone, and she was phenomenal. After that call, I knew she was just what I had been looking for to start my Aunt Flow team!
Did you run any companies prior? What motivated you to start your own business?
The belief that one must have a college degree to be successful was instilled in me by my parents and everyone around me since I was a child. Yet, school wasn't necessarily my strong suit, but I knew that I was pretty damn good at selling things. So, at 16, I started my first business, a button company! My incredible grandma gifted me with the button maker that I used to start this business venture, and little did I know that this small but mighty machine would change my life. By my senior year of high school, I became the top-seller on Etsy. At the end of the day, the button company truly ignited a flame inside me and helped me discover my passion for building companies from the ground up.
What were your family and friends first thoughts on your company?
When I first left university to start Aunt Flow at 19, my parents were not thrilled to say the least. The first year after dropping out, I felt I had no one. I had yet to immerse myself in the greater startup community in Columbus, my parents were not supportive, and I was a wandering 18-year-old with no degree and little direction. I hadn't been in college long enough to develop close friendships, but my friends that I have grown up with could not have been more supportive of my vision.
What motivates you when things go wrong? What is the end goal?
When people say that they got their period in a public place unexpectedly and our freely-accessible product saved the day, that's when I feel the most motivated in what I do. Precisely, that's exactly why I do what I do. It's all about making a difference.
Do you have any advice for someone just starting out?
I often hear a lot of people talking about how they "want to do something" or that they "want to change the world." Most of the time, we are our own worst enemy, so it's important to avoid standing in your own way. If you want to do something and make a difference, just do it already! It's really all about execution.
What has driven the most sales?
What's driven the most sales for us are customer referrals. It lets us know we're doing a good job when our loyal customers recommend us to other companies or businesses. Overall, it's an awesome feeling when that happens!
How do you protect yourself from competition?
By developing and evolving our brand to always stand out. We are always pushing the envelope in terms of what we can do to serve the greater good. For example, when schools and businesses were starting to close their doors, I said "we need to not look at what we do not have, but rather hyper-focus on the resources we do have." Our team quickly realized that as a registered FDA importer, we could leverage our supply chain and resources to be able to start manufacturing 3-ply surgical masks to support the front line and healthcare workers of America and then BOOM - Work Flow was born!
Do you have any trademarks/IP/patents?
We DO have trademarks! Our bright and fun Aunt Flow and Work Flow logos are both trademarked.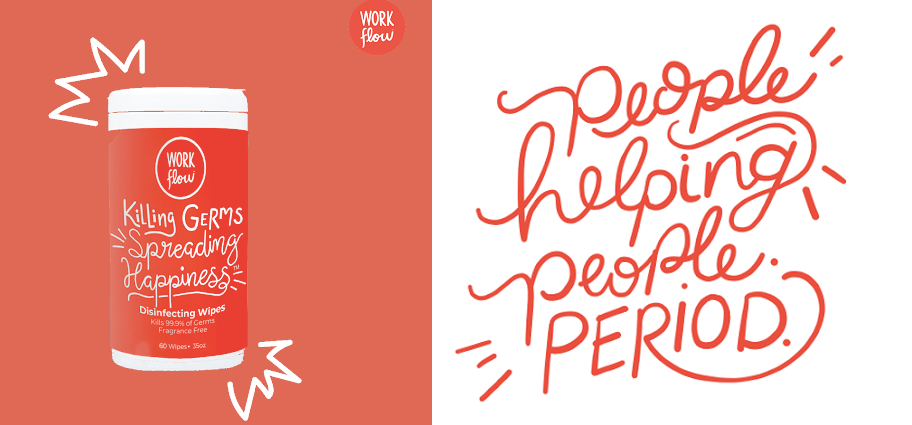 On our antibacterial and disinfectant Work Flow wipes, our motto "Killing Germs, Spreading Happiness" is also trademarked (it's too awesome to let it go up for grabs!).
What are the top 3-5 apps your business could not run without? Why are they essential?
How do I pare this down to just a few? There are a bunch of startup hacks that I had to learn on my own, but I wish I would have known them earlier.
Canva will be your graphic designer for the first year of business. (I still use Canva for any graphic design needs. I actually received a personal email from the company notifying me that I am one of their most active users #goals).
Mailshake is an email service that allows us to send hundreds of thousands of emails in a single sequence, so I think it's absolutely wonderful. We use it all the time for email campaigns.
Start using the Ebates Google Chrome plugin to gain personal cash back for all of your business purchases. There are so many awesome plugins like Honey to keep you SAVING. Can you tell that an important aspect of running a startup is bargaining?
What are your favourite podcasts?
Considering I am dyslexic, podcasts are my JAM. Some of my favorite podcasts include 99% Invisible and Robinhood Snacks.
What are the next products you're working on? Are there any releases you can tell us about?
Ramping to 2,000,000 masks per week, Work Flow is manufacturing a bunch of different products to provide important PPE to people in need. Work Flow's PPE includes FDA Approved 3PLY Masks, disinfectant and antibacterial wipes, hand sanitizer and reusable, washable masks. We have also just launched our Flowing Forward Kit to take on-the-go or for guests at your business, including our 3PLY mask, 10 antibacterial wipes, 4oz bottle of sanitizer, all in a reusable zipper bag!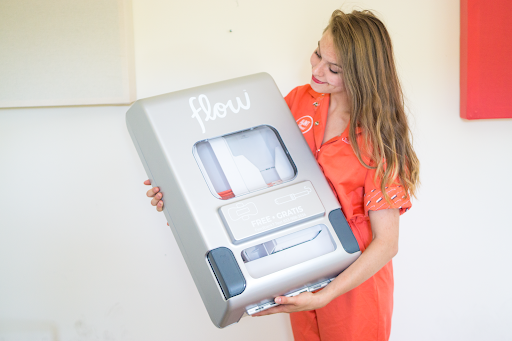 I'm also really excited to share the new ESTROGEN Aunt Flow dispenser, which holds our Aunt Flow 100% organic cotton pads and tampons. This dispenser holds 5x the amount of products and takes ½ the time to reload. Pretty rad, right?!
What is current revenue? If you don't mind sharing
We are truly grateful for our supportive Aunt Flow community that has been cheering on the company since day one and still today, at $11.3 million in revenue.
Where do you see the company in 5 years?
In 5 years, I see our company being in every bathroom across the country while ensuring that no one will ever have to worry about having access to menstrual products in public spaces. Until then, we are working hard to make that happen! #PeopleHelpingPeople.
| Company Name: | Aunt FLow |
| --- | --- |
| Founder: | Claire Coder |
Comments