The idea for Adventurist Backpack Co. first came about in early to mid-2017, as recent college grads. Since my wife/co-founder Matilda is from Sweden, we travel back and forth between Colorado and Sweden pretty frequently, making a good backpack essential. While being influenced by the minimalist design of Scandinavia and not being able to find an affordable backpack that was fashionable and high quality (most options costing upwards of $100-$200), we set out to design and create our own. For both Matilda and I, it was important to have a backpack that was able to make an outfit look better, not worse. We wanted something you could take from traveling, to hiking, to school, or work - a good looking versatile backpack for less than $100.
Additionally, we came upon the most integral part of our business plan on a backpacking trip around the world. While we were traveling throughout 2017, we witnessed and met with families that were struggling with hunger, which shed a light on a situation we realized we had heard a thousand times, but never actually witnessed. Anyone (including whole families) can end up in this kind of situation due to purely unlucky circumstances. Wanting to do what we could to help, we prepared meals each morning and filled up our backpacks, handing the meals out to anyone in need throughout the day. After returning home to the U.S. and knowing there are still so many families in need in our own communities and country, we knew we wanted to continue this mission to spread kindness and end hunger as an integral part of our business plan.

On these adventures that led us around the world and sparked our mission to give back, the amount of meals that we were able to fit into our backpacks was around 25 each. Today we continue providing 25 meals from each backpack.
Was it a lightbulb moment or gradual process?
It was more of a gradual process for sure. As we tested and used different backpacks prior to designing our own, we talked about the things we liked about certain backpacks, as well as drawbacks. That in combination with observing different backpack styles in Sweden - it seemed like every person that we saw in Sweden walking around with a backpack had one that was thoughtfully designed and cool looking in it's own way - were the 2 factors that happened over a couple of years that led to our own design preparations in early-mid 2017.
How did you get your first three customers?
We launched our website in September 2017, and we were fortunate enough to get our first orders/customers on our first day. Ahead of our "official" launch, we had started social media accounts for Adventurist on Instagram and Facebook. Focusing more on Instagram, we tried to take cool travel photos, or do shoots while we were out hiking, and used these photos as our first content. We wanted to create a community for adventure-lovers, and make an Instagram account that was fun to follow even if people didn't want to buy anything. We also didn't really have any money to spend on marketing, so we figured social media was really the only great free option to start off with and focus on.
Our first day, we had a few family/friends order backpacks, but also a few people that had (most-likely) found our brand via Instagram.
How did you validate the idea?
We didn't really have any proof-of-concept before starting Adventurist. We had of course shown our designs to family and friends, and tried to get their feedback as much as possible. But more than anything, we tried to trust our gut on most decisions regarding the business/backpacks, using our own experiences as inspiration, and hoped that other people had the same problems searching for a high quality/affordable backpack that we did.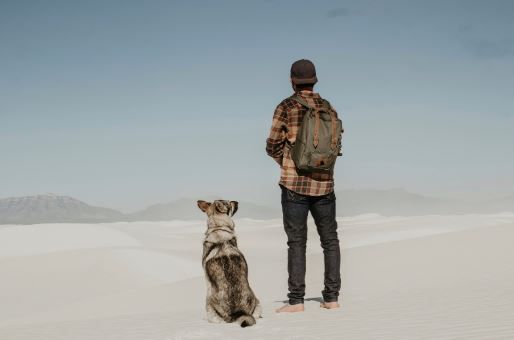 The idea started being validated little by little, from non-friends/family ordering backpacks on our launch day, to having a retailer take a chance on us by buying 100 backpacks from us in our second week after launch. This led to more confidence, and we learned what worked and what didn't - from there being further validated by getting great reviews on the Travel Channel, Forbes, ABC, etc, to getting our backpacks picked up by Urban Outfitters last summer and selling out multiple times with them since then.
Obviously the validations at the beginning were on a much smaller scale to what they are now 2 years into everything, but you have to be happy for any little wins, focus on small/reachable goals, and use that as motivation to keep pushing forward and growing.
Did you have any experience/expertise in the area?
Neither Matilda or I had any experience in product design, marketing, or business at all - though as recent college grads, we didn't really have expertise in anything to be honest. But, we did have the mindset that we could problem solve, and figure anything out that we needed to. With a little bit of naivete as well as being fortunate enough to be millennials with Google at our disposal, we figured a DIY approach would suit us well.
Starting Adventurist, Matilda and I took a $4000 investment from my parents (while using $3000 of our own money that we had saved), and that $7000 is what we used to start the company. Since then, we have not used any outside money.
What is the funniest/most strange customer request you've had?
We've actually gotten a good amount of people that have come up to us at events and ask us how many bottles of wine the backpacks can fit inside. We've been asked enough times strangely that we've now done the math and can confidently say our Classic backpack fits 3 large bottles of wine safely, or a 30-rack (if you're more of a beer fan).
How did you fund the idea initially?
We funded the whole start of Adventurist with $7000 total. This money was used mostly on the first order of backpacks from our manufacturer, customs, as well as trademarking our brand, and setting up our website. Since our first week in business we've been profitable - thanks to keeping things mostly DIY at the beginning, and trying to bootstrap as much as possible even to this day.
How did the partnership with Feeding America come about?
Since we had the idea to provide 25 meals for every backpack sold, we knew that we needed to find a reputable charity to work with. Trying to set up the logistics ourselves to provide meals to families across the country would have been extremely inefficient (as well as out of our area of expertise), so we figured that the best way to actually make a difference was to partner with an organization that already had everything in place in order to effectively get the meals into the right hands.
We looked through Charity Navigator, which is basically the "BBB", but for charities, and came across Feeding America, which received excellent reviews, and is also the largest hunger non-profit in the country. We sent an email to get everything started and it's been great to work with them since. Through Feeding America, we're able to buy leftover food from farmers across the country that otherwise wouldn't have been sold, helping to reduce food waste across the country, support local farmers, and distribute this excess food to families in need. Today, we're able to provide these meals through over 200 food banks across the country. We have provided over 125,000 meals to families in need, to date.
Where did you meet your co founder/founding team?
I met Matilda (my wife/co-founder), shortly after graduating college, while she was out living in Colorado and working as an au-pair. We got married 5 months later, and the rest is history.
Adventurist Backpack Co. is both Matilda and my first company. We started back when we were 22 and 25, respectively.
What motivated you to start your own business?
I've always been the sort of person who has wanted to have my own thing. When I was a kid, I wanted to have my own music shop, then in college I was 90% of the way to opening a bar (before I got cold feet and backed out), and after graduating and working a few different short-term jobs, the only thing I could think about was coming up with different ideas for projects I could start. After meeting Matilda and beginning to travel continuously, we figured we should design our own backpacks (combining our passions of travel and fashion) and give it a real go. We were fresh out of college and thought it was the perfect time to start something - if we failed, we still would have time to find something else to do.
Our families have both been extremely supportive since the beginning. Aside from my parents helping us start the company with the $4000 business loan, both of our families have always been there to listen to our ideas, or lend a helping hand. When we would tell people our plan for starting Adventurist, we were fortunate enough to have families that encouraged us.
What motivates you when things go wrong? What is the end goal?
Things going wrong can definitely be anxiety inducing, and can lead to that empty-pit in the stomach feeling, and honestly a bit of hopelessness. This of course is based on the severity of the thing that's gone wrong - for little things, you can just brush them aside and ignore them if they're not going to negatively impact anything at a future time. For bigger problems, it's important to take some time to just think about what went wrong and why to give you a better perspective for what the next steps should be. Usually, problems are less serious than they appear to be right off the bat, and there is a simple solution - even if one that's not fun to do. At this point, you just have to do the necessary action, and remember all the good things that have happened in the past as motivation to keep going.
Do you have any advice for someone just starting out?
Just get started now. Doubt, and the feeling of not knowing what to do are the biggest setbacks to get something going. There will never be a perfect time for throwing your life into the chaos of starting a business, so if it's something you want to do, might as well do it now.
Additionally, learning things along the way is the name of the game (and google is your new best friend). You can ask people questions all day long for their advice and help, but at the end of the day it's you who's going to have to do things, and figure out what works and what doesn't. Since every business is different in it's own way - there usually aren't one-size-fits-all answers to problems. If you're already getting started, that's awesome - you're already halfway there! You got this. And congratulations on becoming a professional problem-solver!
What has driven the most sales?
Email newsletters and regular posting/interaction on Instagram have definitely been the biggest drivers of sales from the choices listed above. Being fortunate to get press in publications such as Woman's Day, Men's Journal, Outside, Forbes, Bustle, etc. has definitely helped us gain new customers and drive sales as well. Currently, we have sold over 5,000 backpacks since our launch 2.5 years ago.
What is stopping you being 3x the size you are now?
At the moment, I think both lack of experience, in combination with being a relatively new company are the biggest roadblocks to being 3x bigger than we are now. We hope that learning/experimenting over the next few years, along with just being around for a longer period of time will help us reach that growth.
Which sales channel is better for you, online or retail?
Because of the higher margins, and ease of controlling the sales process - from order placement to the backpack arriving to the customer - we preferonline salesas we have more say in how things are done. Retail is great for exposure, and having the ability for your customers to touch and feel your product is also a plus, so it definitely has its benefits despite the lower margins.
How do you protect yourself from competition?
I think we try to keep our focus away from the competition as much as possible. Obviously, you have to be cognizant of what other brands are doing, what product trends there are, etc. but I think the best way of protecting yourself from competition is to create a unique brand, story, and product, that can't be replicated by another brand without them having to start from scratch.
What are the top 3-5 apps that Adventurist Backpack could not run without?
The most important thing by far that we use for Adventurist is Shopify. Without Shopify, a lot of things would be much more complicated for us, including payment processing, SEO, analytics, inventory, shipping, and much more.
Other than Shopify, we recommend using Wheelio as a great email capture app with a proven track record, as well as GSuite to link email accounts and organize all communication between different parts of the business.
What are the next products you're working on?
At the moment we're working on a travel duffel bag that works as a carry on for flights, and also transforms into a backpack when needed. It will be our largest backpack to date, and our best for longer backpacking trips. We also have designs in the works for a small shoulder bag that works like a small purse, or passport holder while traveling.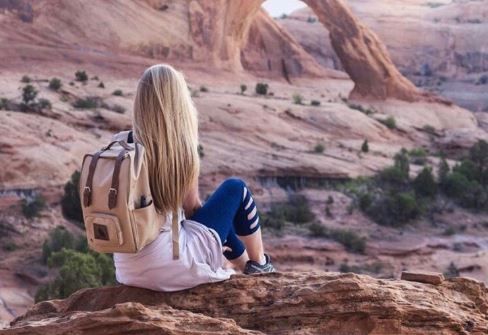 We hope to have our news designs completed and hitting our website by summer 2020.
In 5 years, we hope to be the leading travel lifestyle backpack brand. Our goal is to be a household name that is carried by all fitting major retailers, as well as most of the universities across the country.
We hope to also be one of the larger donors to the Feeding America network, with the goal of providing over 1 million meals during the next 5 years. We aspire to make a big impact on ending hunger in our country, as well as cutting back on food waste.
Would you ever sell?
This is definitely a tough one, because of course Adventurist is our baby and we have a vision of where we see it heading in the future and the goals we'd like to achieve. Of course, if the right circumstances ever arose, we'd stay open to all possibilities and anything that gives Adventurist the best chance to grow and thrive.
| Company Name: | Adventurist Backpack Co. |
| --- | --- |
| Founder: | Kelly Belknap |
Comments