Kicking It Sports started as a simple idea that I had after playing in a few adult sporting leagues. I grew up playing sports and being very active and social. Some of my fondest childhood memories come from playing at the park during games and after tournaments with my teammates. We would play come up with funny chants, secret handshakes, and inside jokes that our parents did not understand.
As I got older and throughout college, I began to realize that I was not as active as I used to be at a younger age. This happens to many of us throughout life. We grow up playing but due to more responsibilities, we begin to replace those fun times with working, studying, or adulting. So when I graduated college, I vowed to get back on the field to be more active and socialize with more people in my age group. Thus, I joined a local adult sports league.
While playing on various adult teams, I noticed that there were a few gaps in the experience that could be filled. I've always been the type of person who can see gaps in products, experiences, and processes and then figure out ways to close these gaps. There were three problems that began to show throughout the season. As I was playing, I noticed that many of my teammates would miss the games due to being sick, prior engagements, or traffic. In my eyes, it didn't make sense to spend $60 - $90 for a full season if you could only attend a fraction of the games.
Another problem was the lack of entertainment in between innings and for the spectators that came to watch the games. If you think of any professional sporting event, you can guarantee that they have a way to keep the players and spectators engaged through music, games, beverages, and other things. Lastly, I realized that there was a need for our team to ask friends who did not sign-up initially to come play with us to replace our missing teammates. This started to become a pattern, but I realized how much fun that the replacements were having too. In the end, they became part of the team. In order to solve these problems in addition to the lack of physical and social exercise that we participate in as adults, Kicking It Sports was born.
Kicking It Sports did not have an easy start and we are still learning as we grow our customer base. Our first 6 customers were 2 of my roommates, my cousin, and 3 of my college friends. We hardly had enough people to play a full game of kickball (now our biggest participated activity). We had to use the concept of 'ghost man' where a pretend runner is on base while the person who was previously on base came to kick again. It is very funny when thinking back on that very first event.
I like to think of the first event as our MVP (Minimal Viable Product). We were able to keep costs low and get feedback from our first 6 customers to make updates to our next events. Feedback and continuous improvement is the basis of growing a business. In order to see if people in the Atlanta area would be interested in coming to our events, we began to offer our events for free and have people sign up via eventbrite. By leveraging our social media accounts and network, we had 84 out of 100 slots filled by the 2nd tracked event. It was a great start and we began to get excited for the future of the business.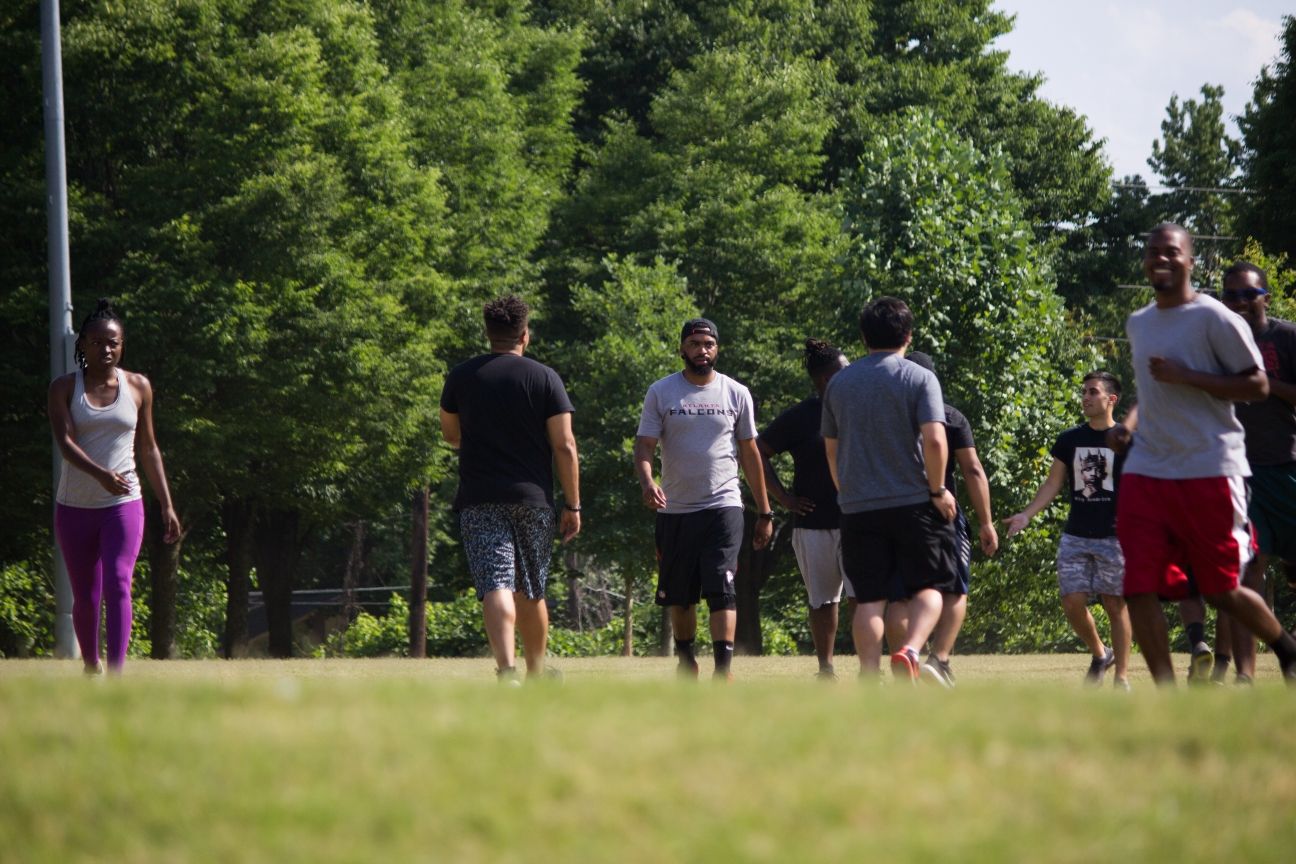 I always enjoyed bringing people together and having a great time with friends so I've been hosting events on a smaller scale since my college days. In college, I was the Treasurer and Events Coordinator of the Zeta Nu chapter of Phi Beta Sigma Fraternity, Incorporated. There were some events that were a smash hit while others were complete failures. I remember there was one event where there were only 3 members of the chapter and 4 of their friends who showed up. We didn't even have enough money to pay the DJ. Those were definitely some funny times. I learned from these mistakes and realized that just because one event flops, does not mean that other events will have the same result. The key to business and life is to never give up and keep trying until you reach your desired destination.
Kicking It Sports is 100% bootstrapped. We have been funded through community donations, my savings, and the money from ticket sales. I've thought about how it may look to try to raise money, but I think we are a few years away from that. Right now we are focusing on providing a fun and safe experience for our players to help them tap into those childhood memories that I spoke about earlier in the interview.
Who is your target demograpic?
Our target demographic is individuals from the age of 21 - 35. For most of our events, our players have been about 75% male and 25% female. They usually played sports while growing up and enjoy spending time with friends. Many of our players have been new to the Atlanta area and are looking for new people to form relationships with. In some cases, the kids of our players would come out and they would also enjoy themselves. We pride ourselves on being an atmosphere where anyone can come and have a great time. I believe seeing the kids play in their care-free way helps inspire the older people to have even more fun. We all enjoy laughing at each other's mishaps. One of these days we will come out with a compilation video of bloopers that happen on the field.
Did you run any companies prior to Kicking it Sports?
Kicking It Sports is the first company that I started. It has been an interesting ride. Like many founders have said in the past, running a business is a difficult thing to do. However, it has many rewards and it truly fulfills my want of expressing myself in a creative way. I believe that Business can be viewed as an Art and a Science. It is a Science because there is a problem that needs to be solved through asking questions, researching, experimentation/testing, data analysis, and finally drawing up conclusions.
This is this is is the basis of the Scientific Method that we learned while in grade school. It is an Art because there is not ONE SINGLE WAY of doing it. Business can be done in thousands of ways and it can be as creative as anyone wants it to be. It is truly a magnificent thing. I started my own business in hopes of creating something great that would eventually impact the world. My goal is to provide memorable and fun experiences for customers in any way possible. I also love the freedom that it offers that is not always available in a corporate job.
As a business owner, I have true autonomy to work on anything that I believe would help grow the business. When I first told my friends that I was starting a business, they looked at me like I was crazy. Luckily, that hasn't stopped them from attending the events and supporting me by posting our events on their various social media platforms. They have been on the journey with me every step of the way. I am constantly asking them for feedback on previous events in hopes of improving the experience.
What keeps you motivated when things go wrong?
I believe that I have a high tolerance for things going wrong. I truly believe that staying calm through times of adversity is key to making the right decisions to get out of the bad decision. In business, there is going to always be obstacles on the path to the desired destination. The key thing to understand is that no matter what happens, you must keep moving forward. There will be days where you feel like nothing is working. There will be days where you feel like you should just give up. There will be days where you feel like everyone is against you. Like Tai Lopez says, this is the life, God, or the universe testing your grit. Every entrepreneur faces these hardships while pursuing their goals. All of the famous entrepreneurs that I have read about have experienced this phenomenon. Richard Branson, Sam Walton, Phil Knight, Michael Jordan, Daymond John, and even Steve Jobs. The only way to pass the test is to be resourceful, have grit, and to never give up.
The most success that we've experienced to increase our attendance rate is Word of Mouth and leveraging influencers on social media. We also use social media ads to bring more awareness to the brand through contests and giveaways. One strategy that I have used is that is related to Word of Mouth is to individually invite people within my network to attend our community events. I believe that personalization in the beginning stages of a business is the key to scaling. People love to be treated like an individual. Sometimes the most efficient way of communicating like emailing people or sending mass texts is not the best way of communicating.
I don't like to make excuses when thinking about what is stopping us from being 3x bigger than we are now. I could probably come up with dozens of things that have stood in our way, but there are key things that we must do for the business to grow. We must think bigger, work harder, leverage our resources better, improve on big and small things, learn, learn, and learn some more. The Entrepreneurial Journey is a long path that requires patience. We are down for the ride and hope to keep making every event better than the previous one.
What apps do you use regularly to help with your business?
There are many apps out in the world that are tailored for small businesses. The most important thing to remember when using tools and applications is to find the ones that are most suitable for you, your team, and your business. One of my favorite apps that I have been using is Upwork. Due to our small team and revenue restraints, we do not have the funds to hire full-time employees. As a result, we have leveraged contractors to handle some of the work. For example, we have a social media assistant that helps drive traffic to our social media pages.
In addition, we have a graphic and web designer to handle our flyers and website updates. Another app that we leverage is Mail Chimp. Mail Chimp is an email marketing tool that helps make it easy to create email marketing campaigns and keep our audience of more than 3000 involved with what is going on with our business. Instagram is one of our most used applications. We share stories, posts, reposts, run competitions, highlight rules, and engage with our audience using Instagram.
Many of our attendees and potential customers are also on Instagram so it is a great platform to use for keeping people engaged. We also run ads using the ad manager campaign. Google Drive is probably the application that we use the most. As a bootstrapped company, it is imperative that we find low-cost applications that help meet our needs. Google Drive is where we store most of our documentation, data, content and ideas.
We share our documents and strategies across the team for them to review. In addition, we allow a few key people who have ownership of the documents to make updates for everyone to review. Many of our content that is used across multiple platforms is stored in our Google Drive account. It is convenient, easy to use, and has great storage capacity. We love it; especially since we still have a small team.
What books inspire you?
My top 5 favorite books that I recommend that every entrepreneur read is Never Eat Alone by Keith Ferrazi, The E-Myth Revisited by Michael E. Gerber, The 4 Hour Work Week by Tim Ferriss, The Slight Edge by Jeff Olson, and Losing My Virginity by Richard Branson.
What's next for the company?
The next step in the business is to begin hosting corporate events for businesses who want to leverage the health/wellness and the relationship building aspects of Kicking It Sports. We realized that many businesses throughout the world could benefit from our services. There is an increase of businesses that understand the importance of giving their employees the opportunity to get outside of the office to have time and build relationships.
We are hoping to help businesses reach this goal by handling the end to end solution to their events. For example, a company I have worked for in the past has a Team Appreciation Week every year. Our goal is to have a day filled with games, activities, music, and fun for their employees. It would basically be like our community events.
In 5 years, I see the business having an International footprint hosting community and corporate events around the world. Our goal is to spread laughter, fun, and that nostalgic feeling that you get when playing your favorite childhood games. The activities may be different but the end goal will still be the same. We are extremely excited to see where our journey takes us.
Would we ever sell the business?
I think it may be too early to ask that question. I truly feel like we are just now getting started. Maybe in 10 - 20 years we will have created a system to host events that allow for them to run smoothly and at a high margin. In that moment we may begin to solicit ideas of selling the business. But as for right now, we are taking it one day at a time. Kicking It Sports is my first baby, and like any other caring and over-protective parent, I don't want to think of a time where it leaves the nest.
| Company Name: | Kicking It Sports |
| --- | --- |
| Founder: | Elandas Miller |
Comments