It has been an amazing experience building Paddle Logger over the past 6 years, quite the ride as well. I started the brand because very simply there was no product out there that addressed my pain point. I am a StandUp Paddleboarder and had been involved in the sport for coming up to 3 years at the time. As someone who had always been active, running/cycling etc. I wanted a way to track my journeys on the water.
As a student I didn't have the cash to buy a GPS watch like the regular paddlers were doing, I used my phone to track my runs and bike rides. For a while I made do with using land-based apps for my on water activities. The trouble is, they are designed for land-based sports, it may sound trivial but little things like small buttons are an absolute pain when you have cold wet hands on a touchscreen phone in a waterproof case! So rather than save for that GPS watch, I thought, I could do it myself - design a product (the first of its kind at the time) in one month, learn how to code and build it in the second. By the end of my summer break from university, I would have a business that would fund my final year. Easy right!!
In short: Problem, no-one is providing an acceptable solution, "let's make one" I said. "How hard can it be...?"
Anyone who is in the industry can probably guess what happened next, but safe to say that didn't happen. 6 months after that first idea, we put a very basic tracker for paddlesports up on to the App store and sold it for 79p. I had used my savings for the first set of development to this point, so any sales not only proved the concept and demand from the market, but also went straight back into developing the product further. The first 3-4 years were based on this model of only building what was necessary based on customer feedback.
The past 18-24 months however have been different. I partnered with the developer I worked with from the beginning and we formed a new company and have been able to successfully access grant funding from a number of sources. This has led to a successful transition to a subscription service with greater functionality and user base than I could have ever imagined originally. This slow growth has done amazing things though; we still own 100% of our business, initial investments and recent grant funding probably equate to less than £15-20k. We have an amazing global customer base of over 30,000 downloads who have been with us on the journey and had a meaningful input into creating a product for their community.
Who is your target demographic?
Our core users have always been SUPers, at the beg, borrow, bootstrap stage this was a reasonably straightforward community for me to access. Now however, there is probably a reasonable 50/50 split between SUPers and Kayakers - which is epic. We certainly pitch ourselves as a paddlesports brand. Paddlers all over the world use Paddle Logger to track their sessions, in all sorts of different craft. Ranging from Prone Paddlers all the way through to Dragon Boat Clubs, via SUP, Kayak, SurfSki, Outrigger Canoe etc.
The diversity is phenomenal, the same goes across ability levels and age ranges as well. I like to think this comes back to the one core truth that all paddlers understand, there is something inherently special about being on the water. As a brand we have started with the ethos that we wanted this product to be almost invisible. You can switch it on, start tracking, be connected for safety and mentally switch off. We want users to go out and concentrate on paddling, their time on the water and the emotions that come with - and we continue this with every function we design and add.
How did you fund the idea initially?
Initially Paddle Logger was self funded, trying to save money on buying a GPS watch. I had this idea, and floated it with a couple of other friends. Until eventually one asked me.. "Why not?, why shouldn't it be you?". Which can sound a very innocuous question. However, for someone who had probably always assumed that I would get a degree, work for someone else, stable job etc. It was quite refreshing.
So quickly I was put in touch with a friend who was a developer who offered me some advice and we got working on the MVP. Lewis is now a co-founder and director in the business. Initially we operated a paid up front model; however, we have now moved across to a subscription model, which has a Free trial tier, offering a basic service and a Pro tier at a Monthly and Annual Subscription. This initially was a move to allow us to build specific services that have a recurring cost for us, Paddler in Trouble, but actually has removed the first barrier to download for many users - cost.
What keeps you motivated?
Everything. Well everything that I know, definitely not everything there is to know! This has really been a learning on the job project for me - especially in the early stages. I have never run a company previously, I was a university student at the time wondering what direction my career may take me. So the early stages were very much trial and error and learning how to build a brand, which has held me in good stead for other work I have taken on alongside Paddle Logger in mentoring and teaching others the skills needed to run their own businesses.
What has been your most successful marketing effort so far?
Paddle Logger has really grown organically, with our users our best marketing tool, with little to no budget we have got to over 80 territories across the world. More recently we have put a focus on social media marketing and had varying results. As I have learned more, we have definitely had better success with targeted advertising. Though I think we will likely be changing tack soon towards e-mail.
Social networks have become very busy and competitive places, with a value proposition that has tight margins we need to be getting the most absolute bang for our buck. To be self critical and analyse where we have shortfalls, marketing is an area I feel is holding us back. We have a great product and always had relatively high conversion rates, and now after a little over a year of subscription, high retention rates. So 2020 for us, is all about getting in front of more people at the top of the funnel and continuing our growth.
How do you protect yourself from competition?
We are incredibly dynamic, we are able to be because we are a small company. We trust a very strong community of users whom we have developed a sense of community with over the years, building that trust and learning from them as to what the community wants/needs is powerful when it comes to making product decisions. I believe that developing these real relationships on a global scale is something that you can only do with time, this holds us in very good stead from a competition point of view.
What apps do you use on a daily basis to help with running the company?
As I have mentioned earlier Paddle Logger is just two of us and we also work remotely. So there are a number of digital tools we rely on to keep connected and up to date with work. Many we [I] have had a love hate relationship with. We used Trello for a long time; however, this has fallen out of favour. The same with Slack; however, more recently we have moved back towards it, as we have been able to bring people in for busy periods. As we both have many different hats on this has become vital for keeping on top of different tasks.
As a startup I have always wanted to make sure our Customer Service was the best it can be, as our user base has grown migrating to HelpScout has allowed us to retain personal rapid responses whilst the volume has increased. Which leads me onto Xero, I wear many hats in the business and Xero has been one of those tools which our accountants recommended, initially it was probably overkill for what we needed. We still only use a %age of what it is capable of but the reality is that we have grown into it and keeping track of expenses and reconciling the books in a relaxed manner over a coffee in the morning is a far cry from where we could be!
What are your favourite books and podcasts?
I have been listening to the Rich Roll Podcast for a while recently, a lot of the guests seem in one way or another to always provide a nugget of knowledge that can be applied to the way we operate Paddle Logger. Or indeed my life outside the business, which then has a net positive effect (i hope) back at work.
One book that we have gone through a few times in our development cycles is Badass: Making Users Awesome by Kathy Sierra. We have a very strong notion of what we want to give our users, but this book really got us to think about who we want our users to become and how we can provide value to enable that.
What is next for Paddle Logger?
Great question, we spent a lot of time last year working on the product and developing a stronger value proposition around making paddlers more responsible, keeping them connected and safer should they get into difficulty. So this year we are looking forward to a full season with some great features allowing us to focus on some of the sharing functions. Some of which we have just released, again this is about developing the top of our funnel by making it really easy for our best advocates (our users) to shout about their achievements using Paddle Logger. Monthly year on year has been well over 200% growth in the slow season, so we are looking forward to that to continue to rise as the season picks up.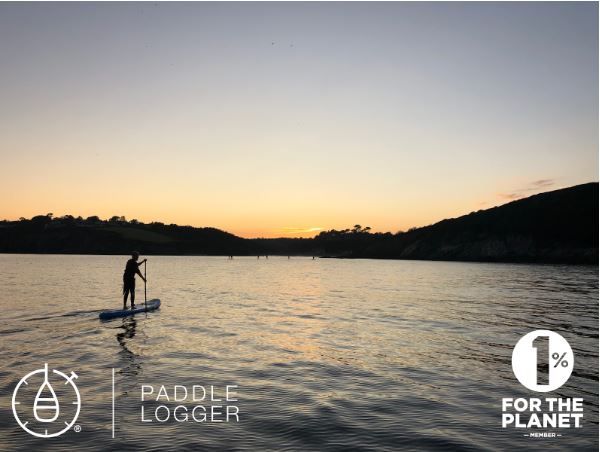 We are also really stoked to announce that as of the end of January 2020 we have partnered with 1% for the Planet, we have pledged for 1% of our sales to be donated to environmental nonprofits. This is big for us, as paddlers we live and play by the sea, as a business we deliver a service to others who get out and enjoy nature, it is all of our responsibility to ensure that we are able to continue to do so. So we are very proud to have made that commitment, especially as a small company!
A few people have asked me this over the years, I have gone through many phases of thinking about this. There was a point, relatively early on where my bullishness said I was going to ride this thing into the dirt as it failed. However that view has changed, we are in no rush to sell, the dream when I first started was to live off passive income and work from the beach a few months out of the year. Part of me still holds on to that hope, though I am more realistic now and with the kind of outlook that is ok if I can live and work remotely with flexibility whilst still running this awesome company, with friends, for an awesome community.
| Company Name: | Paddle Logger |
| --- | --- |
| Founder: | David Walker |
Comments