Gifting Made was a natural pivot from our previous business Gourmet Wedding Gifts, where we sold wedding gifts and favors. While working to grow Gourmet Wedding Gifts, we joined several local wedding industry organizations. Inevitably, when talking to business owners, they would always ask if we offer client gifts. After several requests, a light bulb went off and we began figuring out exactly how we wanted to move into the world of corporate gifting.
In general the pivot has solved a few key problems for us, mainly, the shift from B2C to B2B allows us to use our natural skills in business development to sell via relationship building instead of hitting our heads against the wall trying to win at ecommerce. We had a massive $13K fail with Facebook ads in our previous business (still stings) and could never quite figure out how to game the system to scale our ecommerce sales online.
By the numbers, the average order size we're dealing with has jumped from $300 to $6000, and that's for a relatively small gifting campaign. A gifting campaign with Gifting Made is 12 to 18 months long and includes 3 to 4 gifting touchpoints for each recipient. A recipient can be anyone a business wants to stay top of mind with, to increase loyalty, retention and referrals. This includes past and present clients, prospects, strategic partners, previously lost business and people to whom business owners want access to, like industry leaders.
We're able to achieve the above because we combine gifting with strategy in a way that results in massive, long term ROI. Our strategy is based on gifting the right people, at the right time, with gifts they can use and enjoy with family and friends for the next 10, 20, 30 years! Not only that, we also handle all the logistics and fulfillment which means the entire process is hands off for our clients.
Because relationship building is ongoing, repeat business is also a big part of the Gifting Made business model. This means we can spend much more time, energy and money building strong relationships with each new client.
Why did you change the concept of Gifting Made?
When we launched Gifting Made, it looked a lot different than it does today.
Initially we were doing what a lot of other gifting companies are doing, we were selling cute gift boxes with snacks, chocolate, candles, you know the kind. We quickly realized that if our goal was to help our clients create deeper, more meaningful relationships with the people they were gifting, what we were selling was a complete waste of their money.
Why? Let's say you send someone a box of chocolate and a notebook, for example, how long is that actually going to capture their attention? One day? It might get eaten, end up in a drawer somewhere or office snack pile, before it goes into the trash. A week later, 6 months later, your gift is gone, leaving behind zero long term impact.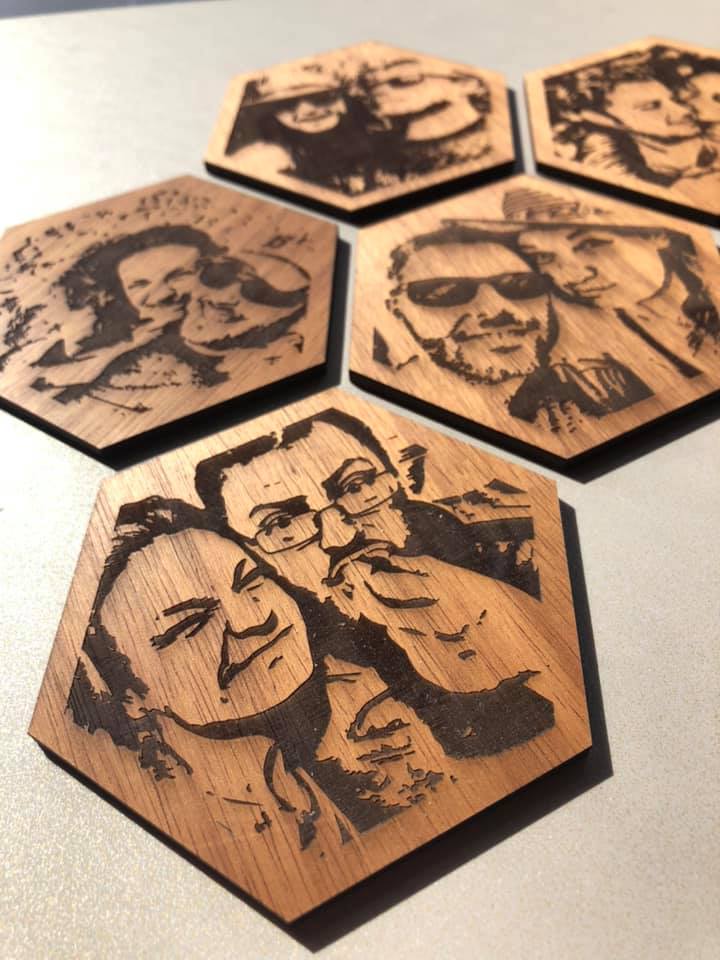 In the beginning, we also offered branded items, which again, in terms of high impact gifting, are completely misaligned. The worst gift you can give someone, is a gift with YOUR company logo on it. Nobody wants a gift with your logo on it. As gift recipients, this is obvious, we know we don't like to receive these types of gifts. However, somehow business owners convince themselves that branding gifts is a good idea. Even if it's an incredibly high quality gift, a logo cheapens it, makes it an advertisement, and it'll most likely end up in the trash or at Goodwill.
The more we learned about how powerful gifting can be, when done right, the more interesting and impactful the work became. We took down our entire online inventory, scratched the initial plan and shifted toward high impact, strategic gifting.
We want our clients to spend their marketing dollars on gifts that will give them a return and help grow their business. This is the type of gifting we can talk about for hours and that is incredibly impactful and fulfilling work.
How did you get your first three customers?
Our first clients came from in-person networking events with other business owners. Because relationship building is essential in almost any business, it's rare to talk to someone who hasn't struggled to show appreciation to their clients or partners. Most of the time, the feedback I get is that they don't have the creativity to figure out what to do, and even if they did, they don't have the time to do it. As a result, many businesses feel guilty for always having to throw something together last minute, they know they're falling short. They wish they had a better system and they know if they don't get help, it'll never get done.
Did you have any experience/expertise in the area?
We've spent a lot of time learning about business gifting, best practices, and crafting our strategic approach. It's an area of expertise we've developed as a result of starting the business. What we did have when we started was years of experience with vendor relationships and how to buy from suppliers. Most importantly, we knew we had the ability to figure out whatever else we needed.
Who is your target demographic?
We work primarily with B2B businesses with high value clients. Financially, our clients have to understand how powerful their own relationships can be if nurtured, and be willing to invest an average of $350-$550 per relationship, per year. RIght now our client base is very diverse, ranging from hotels, wedding photography studios and executive coaches to financial advisors, attorneys and agencies. We're working to narrow our focus and outbound efforts to better identify a couple of strong verticals.
What would surprise your clients the most?
The biggest reason why our gifting strategy works, is that most businesses are gifting the wrong way. The current standard for business gifting puts the bar so incredibly low, just a few tweaks makes a massive difference.
Most people assume as a gifting company, the holiday season is our busiest season. However, they would be surprised to know we recommend against gifting in December and never include holiday gifting in our campaigns. Christmas is the worst time of year to send business gifts. In fact, you might as well throw your marketing dollars in the trash and light them on fire, it's that bad.
When clients come to us for Christmas gifts we do our best to talk them out of it and explain why it's a terrible idea, and how we can help them do it better. Luckily, the best time of year to kick off a gifting campaign is right around the corner in Jan/Feb/March, so we're able to redirect their investment with a powerful gifting strategy and help them avoid wasting thousands of dollars.
How did you find the idea initially?
Our business is still fully bootstrapped with some influx of cash from our sale of Gourmet Wedding Gifts. The managing team is made up of myself, Evona and Mike, my partner in business and in life. That comes with its own set of challenges, but it's something we've been working on for the last 5 years as business partners.
We've found a lot of success with added support from websites like Upwork and word of mouth recommendations for outsourcing projects. The key for outsourcing is to be as detailed as possible with tasks, even recording yourself doing the task as a reference. We're also working with local colleges to be part of their internship program. A big warning for interns is to make sure you vet with vigor. Interns that aren't a good fit are a huge waste of time and resources for any company.
What were your family and friends first thoughts on your company?
I've known all my life that I've wanted to be an entrepreneur. When I was eight I sold candy bars door to door, at nine I tried to start a magazine, in middle school I sold Warheads candy at lunch, and upselling my lemonade stand customers with Now and Laters. In college, I saw a group of 3 entrepreneurs in action and suddenly everything in my world clicked - I knew I wanted to be a business owner. For the next 7 years I worked for and was surrounded by entrepreneurs. I managed one of the very first coworking spaces in Boston witnessing people of all ages living out their business ideas. Finally in 2012, I couldn't take it anymore - I wanted to travel the world and work for myself. I bought a one way ticket to Spain and made a list of anything and everything I thought someone would pay me for. I haven't looked back.
I can't remember my family ever being shocked by any of my decisions, probably because I've always marched to the beat of my own drum. My mom is waiting for the day I can buy her a beach house - she believes in me just as much as I do.
What motivates you when things go wrong? What is the end goal?
Being a business owner for 7 years now, I've learned that absolutely everything goes wrong, all the time - this is normal. You have to become really good at falling down and getting back up again. I've also learned that trying to make anything perfect before going live is a complete waste of time. Better to launch 50% of the way done and get feedback or to run small tests, than wait for it to be perfect. I wanted an entire year and 45K on my very first business making this mistake.
When you launch faster and with an MVP (minimum viable product) you're able to get feedback more quickly, figure out what doesn't work, and follow the breadcrumbs of what does. You're also able to experience the problems you never planned for. With every new idea, you're doing something for the very first time, it's hard to know what problems you'll encounter till you actually do it.
As I mentioned, in the last year Gifting Made has done a complete 180 from what it was when we first launched - I attribute that to the above. We got really good at launching less than perfect, to see if we were on the right track.
Do you have any advice for someone just starting out?
Your first idea is not it - it just isn't. Ask any business owner and they'll tell you what # idea they're on. This is just part of the entrepreneurial process. That doesn't mean you shouldn't go for it, because you have to start somewhere. Your first idea will put you on the path to making the mistakes you need to learn from to get on to your next. Don't get discouraged when you realize your first idea is not "it" - know that is very rarely is.
Which is why this next piece of advice is so important; the minute you quit, you fail. The only way to succeed is to not quit. Make the adjustments and pivots you need to along the way, just don't quit if you want to succeed.
What has driven the most sales?
For us, being in front of and talking to business owners is the best way to get new business. This includes local business communities like the University Club in San Diego and organizations such as BNI, both of which have been valuable. Linkedin will be our next big push, we know that's where our clients are hanging out.
What is stopping you being 3x the size you are now?
Right now, our team is still very small, so we're limited by the number of man hours we have to get everything done. We've focused a lot this year on getting our goals, milestones and tasks prioritized so that when we are working, we're moving the needle.
What are the top 3-5 apps that Gifting Made could not run without and why are they essential?
Hubspot, Quickbooks, Calendly, and Zoom are some of our essentials. Hubspot's deal flow and gmail integration make business development and sales really easy to track. Calendly and Zoom are key for scheduling calls with potential clients and presenting strategies visually. Quickbooks of course for invoicing and keeping our books organized.
What are your favourite books and podcasts?
Giftology by John Ruhlin ! John is the industry leader when it comes to strategic gifting and his book is like our bible. I love it when clients come to us referencing his book, it means they get it! John is incredible and has truly paved the way for high impact gifting.
"Never Eat Alone" by Keith Ferrazzi is also fantastic! A book I wish I had read a decade ago! Great recommendation by Meghan Ely from OFD Consulting.
I listen to "How I Built This" religiously. More than once listening to an episode has helped me work through a problem in real time. The best lessons have come from Katrina Lake, founder of Stitch FIx, on how to hack your business, and Bobby Trussell from Tempur-Pedic, on the power of persistence.
What are the next products you're working on?
The biggest problem I've found as a business owner is that I never have a shortage of new ideas. It's like a firehose - at least one new idea per day - a new business idea, product idea, marketing idea, it never stops. The issue then becomes slowing down and really focusing on doing ONE thing really really well, rather than doing many things anything less than.
There are lots of opportunities to expand beyond the type of gifting we're doing now. We can service different types of clients in many different ways, but we don't want to get distracted and we don't want to dilute ourselves. We'd rather focus on our core product and building our client list so that we can be the absolute BEST at what we're doing.
Where do you see the company in 5 years?
In 5 years I see our business having crossed the million dollar mark in revenue, we're currently under a quarter of a million. I see our team growing exponentially and having a really solid footing within the strategic business gifting industry. I also see the opportunity to build out tech to integrate with CRM systems as we work with larger sales teams.
Would you ever sell?
I'm not opposed to selling, you never know where life will take you or what opportunities will show up. I think having a closed mind to any business opportunity will only limit the types of opportunities that come your way - you'll be blind to them.
| Company Name: | Gifting Made |
| --- | --- |
| Founder: | Evona Niewiadomska |
Comments