It was definitely a lightbulb moment but came about after many conversations - if that's not a contradiction in terms. I was a stay at home dad here in New York and, because I was going slowly insane from a lack of adult conversation, I volunteered to do friendly visiting with the elderly and was paired with an amazing man called Ben (who is now 96 and who I still visit every Friday). From our first meeting, Ben's wife Pegi would sit with us and the three of us became fast friends. At the time my two kids (then aged 4 and 8) were very picky eaters and I would discuss this with Ben and Pegi, along with my need to find a new career once the kids were both at school. One night Pegi emailed me and said she had a business proposition. It was the basic idea behind Food Paint. I went to see her the next day and within 10 minutes we'd worked out the colors, the flavors and the packaging. I could see the huge potential behind the idea, and I ran with it. We were in business.
Neither of us had ANY experience in the food industry (before this I'd spent my entire career working in the fashion industry) . We had no idea we needed a food scientist, we didn't know what a co-packer was, we didn't even know where to look for any relevant information about forming a food company. What do you Google? "How to make food"? But I persevered. Since then, Pegi has taken a back seat in the running of Noshi but I still give her weekly reports on progress and she still has a decent chunk of equity in Noshi.
I started making small batches of different colored fruit puree in a Cuisinart in my kitchen (red strawberry, yellow peach, blueberry) and presenting them to the kids. And the kids LOVED them: Edible paint! And it's delicious! So I knew we were on to something.
We put a Kickstarter online but moms don't look at Kickstarter so that seemed to be going nowhere until… Shark Tank spotted it and emailed me, asking if we wanted to be on the show. We said yes, we did a conference call and they loved us. The head producer said she'd be in touch within a few weeks to confirm that we would be appearing on the next season. Amazing! Exciting! Crazy! And all within 3 months of Pegi's email. But… we didn't have a product. We had no packaging, no name, no food scientist and no formulated, store-ready product. The production team correctly identified this as an issue, and gently suggested we check back in when we had product in stores. Of course we did, and of course by then the producer had left the show. No deal! We were bummed but not discouraged. That Shark Tank was as interested as they were only galvanized me into forging ahead.
Have you raised any money? How much?
I raised approximately $100,000 from friends and family and used a large part of it to buy a tube filling machine, having established that no co-packers in the USA have tube fillers: It's VERY specialized machinery used for very specialized products.
Via a friend of my wife, I was introduced to the head of sales at Albertsons, a lovely guy called Larry Hansen, and he helped us get into approximately 75 Albertsons and Safeway stores in Texas and the Pacific Northwest. We put our machine in an organic incubator in New Jersey and filled our first PO's in July 2017. These were our first customers.
Who is your target demographic?
Our target customers are parents - it's that simple. We did a bunch of research when we started Noshi and discovered that if you give kids more responsibility in the preparation of their food, either in the kitchen or at the table, they're more likely to eat it. They relish the challenge, they want to make their parents proud by showing they can complete a task, they love that their parents are trusting them to do something well and they love to draw pictures. All of which is very important but really, Food Paint is just a healthy, fun condiment for kids. It shouldn't be looked at as being high concept or a big idea - it's just a healthier alternative to maple syrup or strawberry syrup that you can DRAW PICTURES WITH!! So our target customer is a health-conscious parent to kids aged between 3 and 10. There are approximately 10 million millennial moms in the USA and the number is increasing by 1 million every year. That's a big market!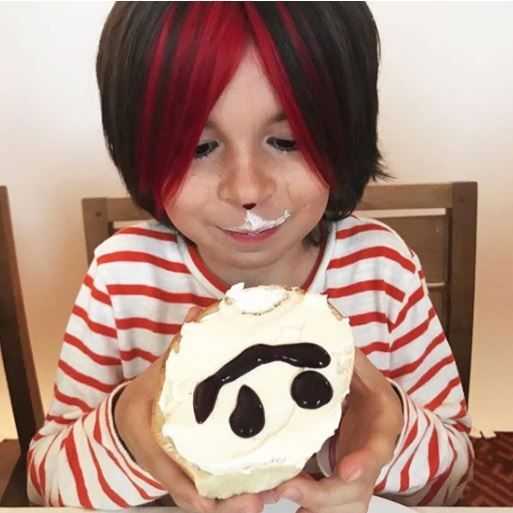 At the same time though, we've had quite a few people point out to us that Food Paint has a potential second customer base amongst adult couples, as an adult 'art' product. Hey - whatever gets you through the night, right?
How did you fund the idea initially?
It was initially self-funded and then we approached friends and family for pre-seed investment but we've got this far on a pretty small budget, all things considered. Initially there was a lot of stumbling around in the dark due to my lack of food industry experience, then a fair amount of stopping and starting as we met various people who we thought could help but who then turned out to be on, shall we say, a different wavelength. People who thought we should use juice concentrate instead of puree, who thought there should be a grape flavor and a chocolate flavor. Food Paint is simple, healthy and fun. It's just organic fruit puree. Don't overthink it.
It's scary building a new company, but also exciting. It's easy to get carried away when you meet someone who seems like they'd be a great addition: "OMG, with this person on board we can take on the world…". That might be true but you can take on the world slowly. Make sure this person is someone you can sit next to in a tiny office, potentially late into the night, and make sure they make you laugh. It needs to be fun, otherwise why bother?
Did you run any companies prior?
I spent my entire career before this working in the fashion industry as, variously, a magazine editor, a model agent, a producer, a photo agent and a photographer. I basically spent twenty years sitting on beaches with supermodels (I have a GREAT Naomi Campbell story…) but I can say, hand on heart, that the food industry is more stimulating, more exciting, more challenging and more rewarding.
Fashion was great fun in my twenties but there's more to life than standing around in a studio for an hour while a group of grown-ass adults spend 15 minutes debating whether the lipstick for the next shot should be bold or natural.
Being a stay at home parent focused my mind into wondering what I could do next. I had time (when various kids were napping) to think of next steps, and knew that I'd only ever been really happy when working for myself. My first project was a social network for LGBTQ teenagers called justleftthecloset.com, which quickly found its way on to Reddit and became a bit of a thing for a while. But I had no money and couldn't fund it, so I eventually had to shutter it. And then came Pegi, Noshi and Food Paint. I think my wife would have preferred me to get a proper job but she's been very patient - and that patience has paid off.
What motivates you when things go wrong? What is the end goal?
I believe in Noshi 100%. It's been a long, crazy ride, but I know how big Food Paint can become. I've always likened this job to climbing up a steep hill in a storm, at nighttime, in pouring rain with uprooted trees and boulders flying down the hill towards me out of the darkness, but I'm still standing and still moving forward and I will not be beaten. Building Noshi has turned me into the person I was always meant to be: Ultra resilient, calm in a crisis, methodical, patient and TOUGH.
One of the most satisfying parts of this has been proving so many people wrong. People who thought that some fluffy guy from the New York fashion industry wouldn't be able to hold his own with a bunch of guys wearing big boots and driving big trucks, working at a factory in Pennsylvania. It's been quite amazing to see how I've changed as a person. After this I feel I could do anything. I wouldn't, obviously, but it's made me believe in myself much more than taking pretty photos of beautiful women ever did.
Do you have any advice for someone just starting out?
If you're planning on starting out in the food industry, be prepared for a long, tough, demoralizing, exhausting, frustrating journey. You'll cry, you'll worry, you'll wake at night FREAKING OUT about what you've got yourself into, but you'll also experience amazing highs as well. It's a real buzz and can make you feel like the king of the world when things are going right, but it's not for the faint-hearted. I once said to our food scientist that it felt as if I had a knot in my stomach the size of a basketball and he turned to me and said "yeah, and it will be there until the day the check clears after you sell the company". I can live with that.
What has driven the most sales of Noshi?
I'm currently in late stage discussions with a couple of potential investors. With a proper marketing budget and a lean team of kick-ass staff with solid cpg experience, Noshi can get to where I always saw it: in every parent's shopping cart in America.
Getting into Walmart last year was a game-changer. Since that happened, sales have gone up and we've been given a nationwide sales channel and exposure. The USA is HUGE and the potential for a brand like this is enormous, but to get it in front of all the right customers is an almost impossible task unless you have a bottomless bank account or some big hitters on your side. Walmart is the biggest hitter.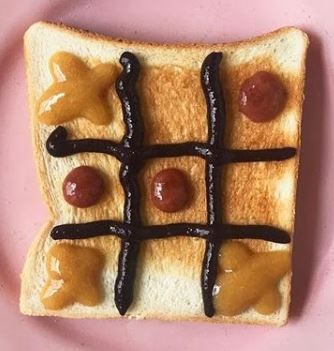 And the end game? To exit via acquisition. I love Noshi and genuinely think that Food Paint is a brilliant, unique product, but I'm not planning on leaving this company to my kids. I wouldn't presume that this is what they'd want to do with their lives. I want them to think - to know - that they can do anything they want.
How do you protect yourself from competition?
The first thing I did after Pegi and I thrashed out the basics of her idea was to trademark the names Noshi and Food Paint. Food Paint is not a patentable idea but it's a new idea and I think we've got the only name that makes sense for it. Beyond that, all I can do is move fast and hope to stay ahead of the competition for as long as possible - hopefully until the names Noshi and Food Paint become interchangeable. One of the mums at school has always insisted on calling the product Noshi instead of Food Paint and that initially bugged me until my wife, who works in marketing, pointed out that it was actually brilliant - Once the brand becomes the product in peoples' minds, you have another layer of protection: Even if competing products are launched, we want people to think "Noshi" when they see them.
What are the top 3-5 apps your business could not run without?
Walmart Retail Link is an amazing resource to have access to as a supplier. It's a mine of incredible data that you can utilize in so many ways to gather information re your sales and customers.
And Instagram has been so good - not only is Food Paint a visual product that lends itself to (in fact practically throws itself at) Instagram, but being able to run geo-targeted ad campaigns aimed specifically at our target audience is such a bonkers thing to be able to do. Social media is amazing.
What are your favourite books and podcasts?
Some books that I love and have driven me forward are:
It'sNot How Good You Are, It's How Good You Want to Be by Paul Arden
Whatever You Think, Think the Opposite by Paul Arden
A Book About Innocent: Our Story And Some Stuff We've Learned by Dan Germain, one of loveliest men in the world.He's been one of our advisors for the past year and I've learned so much from him. Dan , you are indeed… the man.
And podcasts? There's only one podcast - How I Built This with Guy Raz - and I was lucky enough to be featured on it last month (my segment starts at the hour mark).
What are your next steps?
We're working on a second set of veggie-flavored Food Paint aimed at younger kids (6 months to 3 years) that their parents would paint on food for them. Carrot, pea/mint and beet flavors
And after that we have two other product lines in R&D - both top secret but both with an emphasis on color: Our philosophy is to create products that taste amazing but that we can market to kids by color: this is the red one, this is the green one, this is the blue one. Kids respond to color. It's easy and fun for them.
In five years I'd love to see Noshi in every grocery store in the USA - and in the UK (where I'm originally from) and Europe, Australia, Japan… Everywhere. I'd like to think we can become known as a brand that kids immediately associate with fun, and their parents associate with health.
Revenue is going up every month, especially since our introduction into Walmart last year. Current sales are about $1200 per week in our 176 Walmart locations, plus we're about to launch our own online store powered by Shopify. As well as Food Paint we plan on selling apparel. The Noshi logo is made to go on T Shirts and Sweatshirts, both for adults AND kids.
And would I sell? Of course - whatever anyone says they all have a figure, set in stone in their mind, that they'd sell for in a heartbeat.
| Company Name: | Noshi for Kids |
| --- | --- |
| Founders: | Tomo Delaney |
Comments