Reverd is an anti-scam system created by Stan Zhekov. It automatically stops annoying scam phone calls you receive from unknown people.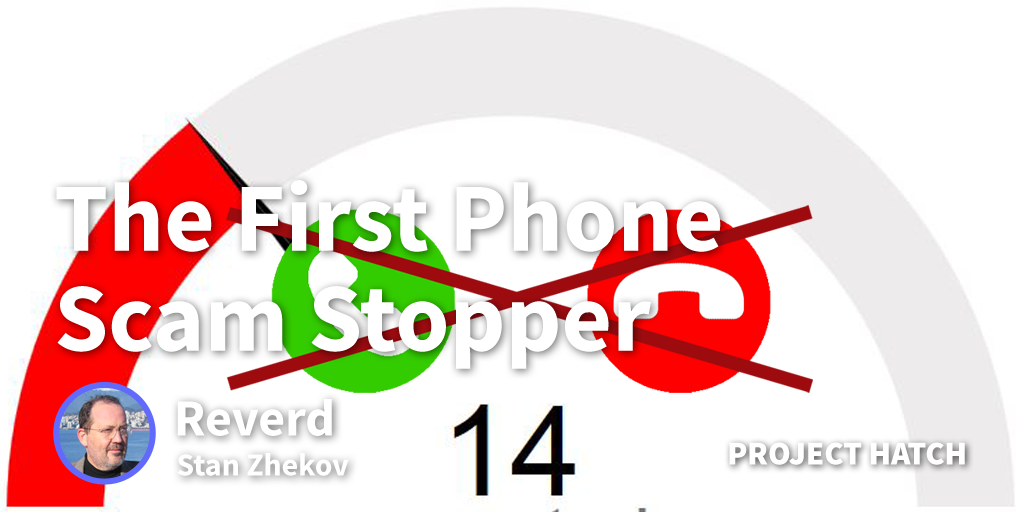 Registration at Reverd site is free. The app is free and fully functional.
Was it a gradual decision or lightbulb moment to start Reverd?
It was a gradual decision starting back in 2015. Scam calls hitting my phone triggered the initial app idea. I believe that the phone was invented with a purpose to connect people with family and friends, and to help business, not to annoy people. Unwanted scam calls must be eliminated.
None of the available apps on the market provided the level of comfort users desired: instant automatic elimination of harassing calls. I didn't have experience with app development at this time. My friend encouraged me to try. I read a few articles on how to create apps, some of those showing shiny full colour photos and explaining how easy it is to create an app in about a week… it triggered my decision. I decided to try developing an app because of the scale, the severity and the massive impact of the problem. I was unaware of the complexity and all sorts of challenges in the process. I looked at it as an opportunity since no one had done it right yet.
How did you validate the idea?
Hundreds of apps available on the market with similar functionality represented a strong proof and validation of the idea. My solution to the problem was different. I designed a unique system that meets users' expectations providing instant interception and total silence without the need of user's action. In a nutshell:

It is more than an app; it is a Global system.
Unlike other apps there are no Red & Green buttons to touch, so there are no interruptions.
No decisions to make whether to accept the call or not, you can stay focused on what you're doing.
Works everywhere regardless of geographic location, government or service provider.
Once installed no Internet access is required for protection.
Small file size makes it easy on the battery and resources.
Minimal user input. A get it and forget it kind of app.
Did you have any experience/expertise in the area? Have you raised any money? How much?
My experience with telecommunications from the army came in handy. Because of the human friendly, simple interface of the app, easy installation and use with minimal user input and high efficiency we had many organic downloads without spending money on advertising.
With a little financial help from my friends and family I was able to achieve what was considered impossible a few years ago. Read "The amazing story of the remarkable Reverd free spam call detector app" on Medium.
Who is your target demographic?
Our target audience is everyone in the world with a phone. We receive scam complaints from all over the world including USA, Canada, Brazil, Mexico, Argentina, France, Germany, Denmark, Russia, Egypt, Morocco etc. Scamming is a lucrative underground business targeting everybody, especially vulnerable groups of the community such as students, the elderly, sick people, war veterans and businesses.
Common myths: People tend to believe that someone else will take care of the problem for them such as the government or the service provider. Well the government's job is to create laws and regulations to be followed. The problem is that the scammers do not follow laws or regulations; they break the rules. On the other hand, service providers must follow the rules but their job is to connect calls, not to block them, so they may not be happy to do it or may charge for that.
Our goal is to provide a reliable service available to everybody with a phone in every country at the lowest possible price. Registration at our site is free. Our app is free and fully functional. Optional regular blacklist database updates for better protection are available at $0.99 per month – the lowest possible price on the Appstore.
We value simplicity, speed and security. Our website and apps are free of annoying commercial ads. We keep the user interface simple, clean and intuitive. We strive to provide straightforward, intelligent and efficient service for everyone.
User privacy is paramount for us. We never ask for personal information like a name or address. People can use a nickname if they wish. We utilize persistent identifiers that cannot be used to correlate user data.
What is the funniest/most strange customer request you've had?
We do receive some funny complaints too (not funny for the complainer though). For example, yesterday we received this complaint: (801) 471-8724 Provo, UT, USA – "This guy keeps breathing in the phone saying he is going to take my cats." - John Bowl - (also on Instagram).
How did you fund the idea initially?
My business was bootstrapped. I had to be very conscious how I use the limited funds I could set aside from my full-time employment pay check. The initial Reverd system was developed by freelancers located on 5 different continents. This required many hours of coordination, clear instructions, reviews, testing and sleepless nights. Last year we migrated the entire system to a modern Symfony framework using a fast Elastic Search database. This led to high performance with low latency. As a result, we can now handle real time verification requests in less than 1 second.
Did you run any companies prior? What motivated you to start your own business?
I did run my other companies in the past by building trust and friendly relationships with happy clients. The dominant motivation to start my own business was the desire to match and exceed the highest standards in what we do per my motto:
"Do it better than the best".
What were your family and friends first thoughts on your company?
My family and friends were always understanding, tolerant and consciously supportive.
What motivates you when things go wrong? What is the end goal?
Things can go wrong and they do because of a lack of information, lack of communication, misunderstanding or insufficient quality control. There is more risk for issues when working with remote teams. The goal is to bring and keep everybody on the same page with a clear understanding and uniform vision of the final expectations.
One of the lessons I learned when something goes wrong: First ask yourself – What did I do wrong? What mistake did I make? Often, I find that I assume other people (incl. developers) think the same way that I do. That's wrong because I do things my way and I do not follow the mainstream. I want to do things better, the way they should be. From my experience I drew 3 basic rules:
Rule #1: Don't act on assumptions.
Rule #2: Remind developers to ask questions (the more the better).
Rule #3: Test every feature yourself before release (they usually don't work as expected).
Do you have any advice for someone just starting out?
For those that are just starting I would say: Believe in yourself. It's your idea and no one else can bring it to life but you. Luckily, we live in the digital era with plenty of information available. Read. Educate yourself. Learn the rules. Be creative and keep going.
Do you have any trademarks/IP/patents?
We use proprietary technology to stop harassing phone calls on iPhones and iOS devices.
What are the top 3-5 apps your business could not run without? Why are they essential?
Essential tools for our remote work, coordination and collaboration include
Skype
TeamViewer
GitLab.com - a developers' platform
What are your favourite books? What are your favourite podcasts?
My favourite books are;
"The Lean Startup" by Eric Ries and
"Traction" by Gabriel Weinberg & Justin Mares.
My favourite quote is: "Most of the important things in the world have been accomplished by people who have kept on trying when there seemed to be no hope at all." ― Dale Carnegie
What are the next products you're working on? Are there any releases you can tell us about?
Our next product to be released is called Anti-scam Shield RC. It is an Add-on, integration for the RingCentral cloud-based PBX business phone system. We are currently in a testing/pre-release stage. We are also upgrading the Android version of the Reverd app per Google requirement for a 64-bit version that will be mandatory in 2021. Next in line is the development of a commercial grade End-To-End scam protection solution for service providers. After that we will work on a compact landline call blocker device for home phone protection.
Where do you see the company in 5 years?
Based on current achievements and our determination I believe there is a solid ground and a good chance for Reverd to become a scam protection authority in the next 5 years.
Would you ever sell?
We do not favour the idea of selling the business or any portion of it. We would rather partner and see growth and performance for the good of humanity. We will gladly share our experience with scam protection and easy comprehensive API access to our blacklist database. If you need a custom scam protection solution please feel free to contact us.
| Company Name: | Reverd |
| --- | --- |
| Founder: | Stan Zhekov |
Comments