Fermly is an independent lab launched in Denver and designed by former brewery owner Danny and chemist Emily Wang. Their lab exist for professional brewers that want to get extra edge in having consistent quality products with as few problems as possible along the way.
Was it a lightbulb moment or gradual moment to start Fermly?
Looking out to  the horizon after accepting that we would have to close the work of love, our original  brewery, we did the logical thing and imbibed  on craft beers  together over dinner. Some may call this a date, but it was really more liquid therapy.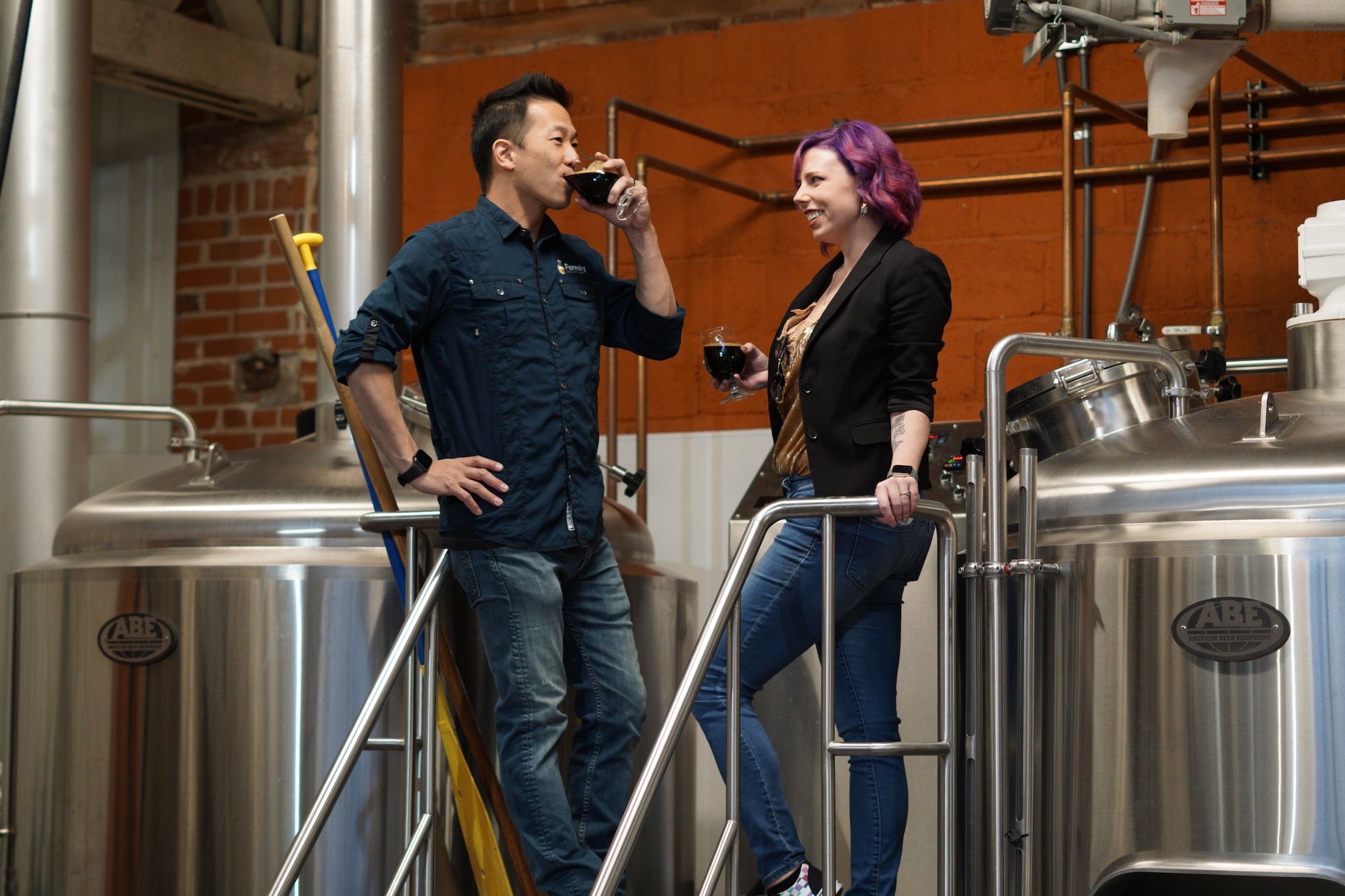 We got down to glasses laced with the remnants of earlier thoughts when we realized that the best way to use both of our talents was to create a brewery lab, but not a service-based one--a tech-based one! We proceeded to drink and flesh out the concept like a merry little dream.
How did you validate the idea?
The next morning, we both went back to our regular schedule but there was this nagging at the back of our heads: WHAT IF. The end of the day, we both realized we hadn't stopped thinking about it, so we evolved it further. It was something we wanted as brewers: a tech savvy lab, but it is financially not feasible for most but we could bring this concept to the brewers at less of a cost with data at their fingertips!
As we worked through the nitty gritty, we started talking to friends in the industry. We kept plodding away as we interviewed over 100 brewers and people in the industry to evaluate if this would be valuable to them, and a viable business for us.
Have you raised any money? How much?
We both came from small business backgrounds before we met that fateful afternoon in a brewery, so we knew that we would start off bootstrapped. What was the minimum we needed to get this off the ground? The magic number ended up being 150K for equipment and a MVP web app, which frankly is nothing for a start-up, but this was a completely new concept in a niche market that had barely been noticed. We knew we would have to prove this mattered before we could consider growing further.
We proved there is a market for data analytics with sophisticated lab and process consulting, and we want everyone to Fermly know their craft.
Who is your target demographic?
Our focus currently is on what we know best: brewing and fermentation science. We exist for the professional brewers that know what they are doing, but want to get that extra edge in having a consistent quality product with as few problems as possible along the way.
What is the funniest/most strange customer request you've had?
When working in an industry that is somewhat composed of the most intelligent but brilliantly blunt individuals, it tends to get pretty amusing quite quickly. When we were soft launching Fermly at a beer fest, one brewer balked at the name and joked "Fermly? What is that? Viagra for brewers?" This did not help people in seeing it as more than a concept (which some people still do), but as a legitimate opportunity for them to learn more about their beer. When we began working with the same brewer in our Fermly family it all looped back around to a laugh at that initial joke!
What motivated you to start your own business?
We were already business owners when Fermly formed and ended up being a pivot-from brewery owners-to start-up brewery lab founders. CAUTION: : Brewing Company was Denver's 10th microbrewery and was on the forefront of the brewing scene back in 2011. We watched the industry grow and change from flagship ales and lagers to an obsession with hazy IPAs and slushy fruit beers. It was a great run pouring close to a million  pints, but we were ready for a change in the conversation.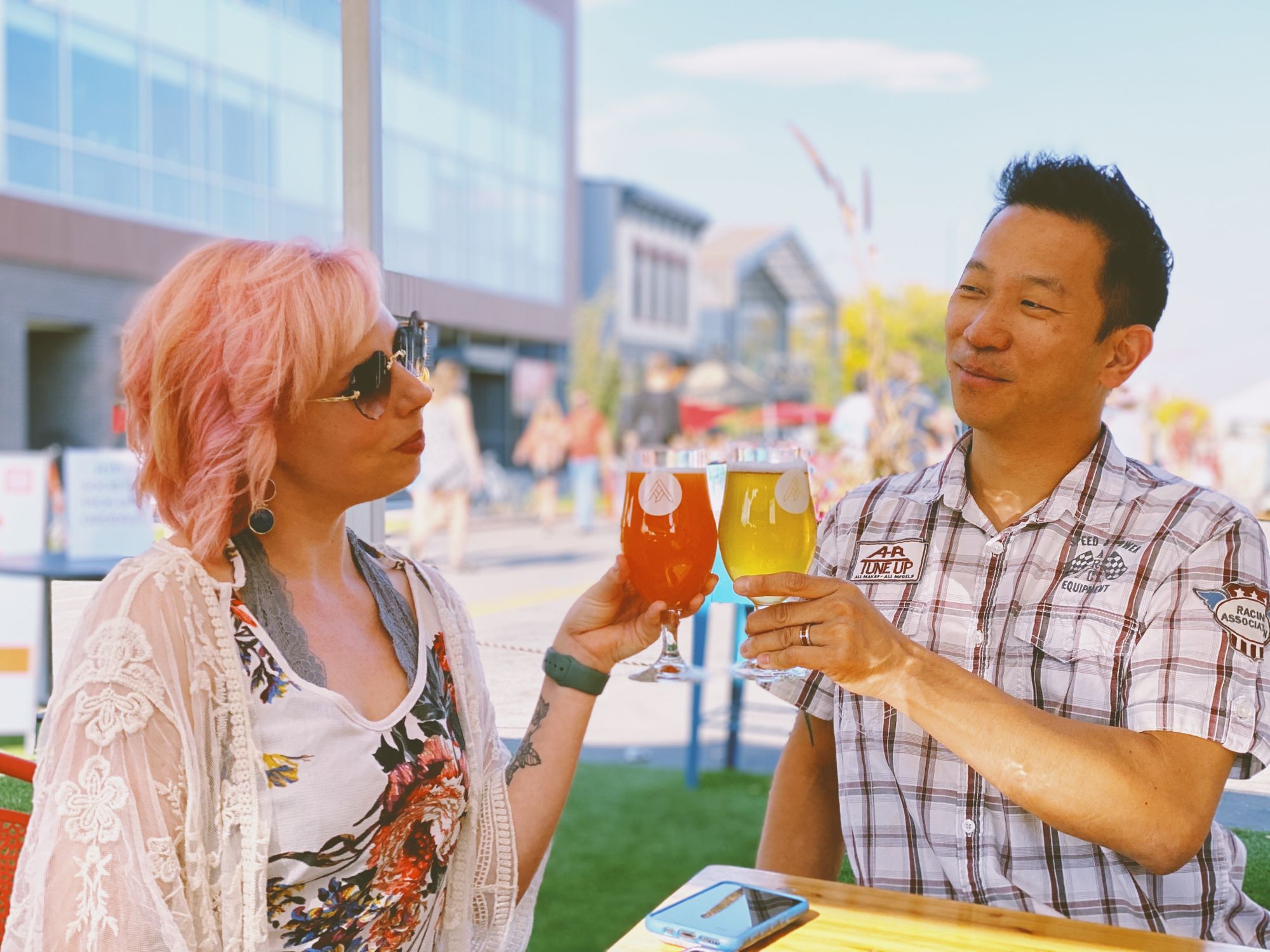 We enjoy great craft beer (and loved making it) and we want all of our Fermly family to continue doing so!
What motivates you when things go wrong? What is the end goal?
Delays happen. A delivery is missed. An order is forgotten. The power goes out for most of the day. Like most small businesses, we  have been through a great deal, but we keep focusing on getting to the next week.  We just have to keep moving forward because like a great spontaneously fermented beer, it gets better with time. We focus on helping our customers put out the best quality product they can, and it really brings us so much joy to see them up on stage accepting an award and knowing that we were part of that process.
Do you have any advice for someone just starting out?
We thought out everything before endeavoring to make Fermly a reality and because we did this, a lot of metaphorical beer bottles that came at us weren't that daunting. We would say that the planning process is probably one of the most crucial aspects of creating a successful business, especially when going into a niche market. It is easy to have an idea but it can be dreadfully hard to dig into all of the possibilities and hypotheticals to make a streamlined concept. It helps to have a beer on hand, but better with a 6-pack.
What is stopping you being 3x the size you are now?
Right now, we are just hitting our precipice where we know where we want to go, how to do it, but now we have to seriously consider if we want to pursue funding that goes beyond that initial 150K investment. Science, as it turns out, is not an inexpensive pursuit, much like opening a brewery.
How do you protect yourself from competition?
"Best to market is more important than first to market." This was our mantra. We KNEW we had a great product (possibly the best) because of our approach with creating a  data platform and providing the best services , but it was hard to maintain that attitude when watching competition in the space develop. It felt like we were sitting on our hands sometimes and not doing anything. We also know that we don't get to pick the timing, but we can make the best of the time we come in. When things got tough we just kept repeating that mantra to ourselves when dealing with competition. It keeps us calm, collected, and focused on our goal of helping the community with the best we can offer.
Do you have any trademarks/IP/patents?
The brewing community thrives  on the spirit of collaboration. Breweries often share ingredients, knowledge, equipment, etc. and we have a similar attitude when encountering other brewing lab businesses.
We work significantly with other labs that would be competition to most in a different industry, but to us they are friends and are a source of strength, knowledge and inspiration. It also is important to have drinking buddies that just honestly get what you are going through and that is an invaluable  resource.
What are the top 3-5 apps your business could not run without? Why are they essential?
Fermly Web Portal : We built  it. We love it. We couldn't do this without it. Streamlining ordering, payment, data, and protection has made what could be a drag of emails, invoices, PDFs, and nuance logistics non-issues.
Asana: We use Asana to keep us on task in meetings and following up on steps in larger projects and goals.
Slack: We use it for so much communication but really it is all about that /GIPHY  extension .
Google Calendar: We have so many meetings, pick-ups, lab hours, drop offs, phone calls, beer fests, etc. that we had to have a shared calendar. Creating a great beer is done with an understanding of timing, equipment, and ingredients and similarly we have to have the same attitude with how we run our day to day.
What are the next products you're working on?
We have a lot of fun stuff in the works to share with the brewing community and the lab one, but that enters into NDA territory. Sorry, but even drinking like it is Saturday on a Tuesday can't loosen our lips on these surprises!
Would you ever sell?
We had our first opportunity to confront the possibility of selling Fermly during quarantine. We don't believe we would sell at the end of the day. Our brand is based on  us. It is our passion and our dedication to the community that makes Fermly what it is. We hope that as we grow and evolve this company that it will stay independent.
| Company Name: | Fermly |
| --- | --- |
| Founder/s: | Danny Wang, Emily Wang |
Comments