Held up by personal story, Teddy Locks was perfectly placed for Kickstarter, where it was 200% funded. Gaining confidence after winning funding at a Santander/Columbia brand contest, Marine Biologist and wildlife TV producer Samantha Tollworthy had raised the necessary capital to launch the world's most sustainable sock company - Teddy Locks. Teddy Locks are the world's best eco-friendly socks. They are fighting climate change and the war on waste, while helping you to tread lightly.
Made in the USA from recycled plastic bottles & upcycled textiles, Teddy Locks has transformed more than 10,000 bottles and saved over 1,500lbs of waste from landfill. Teddy Locks are designed to help lower your footprint, traveling less than 250 miles in production from fiber to finishing. Featuring reinforced toe and heel pockets, stay-up tops, and invisible toe seam technology, they are moisture wicking, quick-drying and thermo-regulating - as well as luxuriously soft, longer lasting, and better for the planet!
Was it a lightbulb moment or gradual process of Teddy Locks?
I was working as a wildlife TV producer, traveling the world and living  in some of the most remote places on earth. I loved socks, but really, I loved our planet, and I was unfortunately witnessing first hand the impact we as consumers were having on it. After hitting peak eco-anxiety I decided I needed to do something about it, and set about researching the options.
Wanting to help as many people as possible to lower their footprints I set about building a brand that could make a difference, to people and the planet. Socks are worn daily by 70% of men, they are the most regularly replaced item in our wardrobes, and undoubtedly everybody's favorite gift - with socks I would be able to reach more people and have a bigger impact.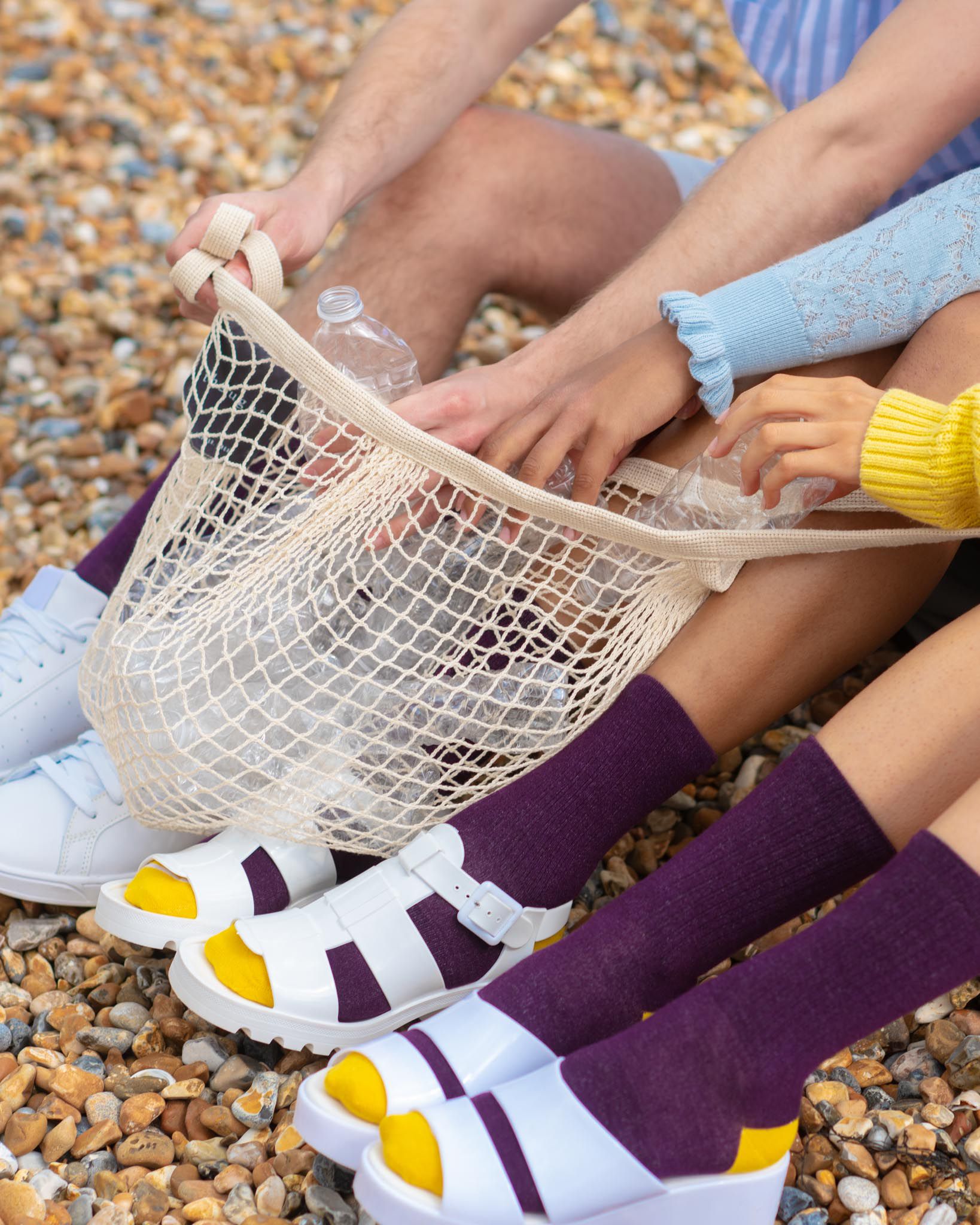 Once I knew that making the world's most sustainable socks was the goal, I undertook 404 days of research and development. In order for Teddy Locks to have a lasting impact they would need to be your favorite socks, for comfort and performance, as well as helping to fight the war on waste.
How did you validate the idea?
After I had finalized the product, I needed proof of concept. I cared about sustainable socks, but would consumers engage with that? So I decided to set-up a Kickstarter campaign. Developing socks from fiber to finishing, working with an entire supply chain and manufacturing your own product required financial support. By this point, I had had no income for over a year and consumed nearly all of the $10,000 I had saved to start the business.
But launching on Kickstarter was the best decision I made. I set a goal of raising $12,500. I had no marketing experience, no press coverage and only 21days to do it. In the first day I was 35% funded. My friends and family had seen all the time and effort I had put in and they were excited to support me and to finally get a pair of Teddy Locks. It was my direct network who had become my first customers.
But - a week into the campaign, when I was 60% funded. Kickstarter shared the project in its newsletter, within minutes the project exploded, people who didn't know me had helped Teddy Locks to become fully funded! That evening was incredible, adrenaline fueled, and even makes me well-up now.
By the time the project had completed Teddy Locks was 200% funded!! The people had spoken! There was real demand for socks that would save the planet! I now had customers.
Did you have any experience/expertise in the area?
The closest I had come to design and manufacturing was A Level Textiles. I had zero experience in production not to mention in marketing, advertising, tax, accounting, or coding. Instead, I had a story, a goal and a hell of a lot of determination.
I had no experience, and no connections either. But having flown film crews to some of the most remote places on earth, I wasn't afraid to work out how to do it, or to get it done. Building relationships was my primary focus, I needed my suppliers to trust me, but also to be willing to take on the task of making a product that had never been done before.
Three years in, I am still learning something new every day, and I hope this never changes.
How did you get your first three customers?
My first customers came from Kickstarter, and once Teddy Locks was officially live online they were my core customer base. New customers have since come from the wholesale arm of the business, and of course social media. With markets opening back up there is now also a new line of sales being built with face to face sales, and I hope that by the start of 2022 Teddy Locks will be appearing at trade show events.
How did you fund the idea initially?
Leaving behind my dream job was one of the most difficult decisions I have made. But the timing was right. Working freelance, contracts are rare over the holiday period. My contract was coming to an end in November and I decided this was a sign to take the leap. Giving myself 4 months, and $10,000 I had a chance to see if I could build a brand, but also determine if I wanted to be the founder of a start-up.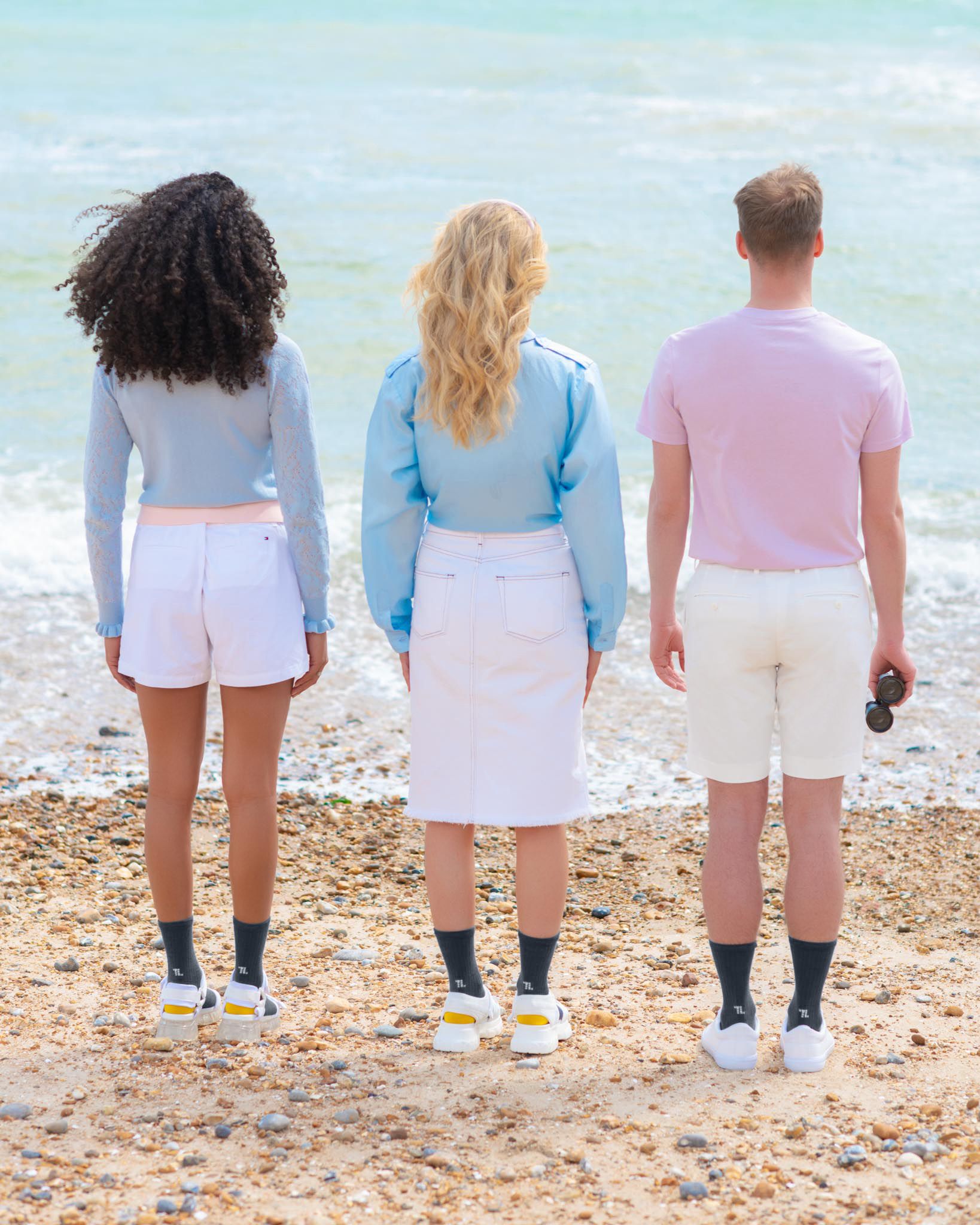 The answer was Yes! So, while still developing the product I entered a funding contest run by Santander and Columbia University. I wanted to pitch Teddy Locks and my story and see if I was working towards something worthwhile - It turns out I was, and I won $2500 - enough to cover the photo shoot I would need for the Kickstarter campaign I was now sure I would start.
Where did you meet your cofounder/founding team?
I run Teddy Locks on my own, 100% female founded and woman owned. I have had to teach myself Photoshop, Illustrator, e-commerce, marketing and much more, occasionally leaning on freelancers on platforms like Upwork when the work is too much for one person. But I wouldn't be able to do any of  it, if it weren't for my husband. He has supported myself and Teddy Locks from the beginning.
Outside of the day-to-day running, I work directly with my entire supply chain. All family and local run businesses in North Carolina. By doing this I am able to keep the footprint of the socks to a minimum. From fiber to finishing they travel less than 250miles in production.
What motivates you when things go wrong? What is the end goal?
Running your own business can be extremely difficult; especially when you launch it at the same time as becoming a first-time mom and entering a global pandemic. There are endless fires to put out, and never enough hours in the day. But for me, Teddy Locks is about making a difference. More than 10,000 bottles have already been recycled into socks, and 1,500lbs of waste saved from landfill. Knowing that my work matters is what keeps me going.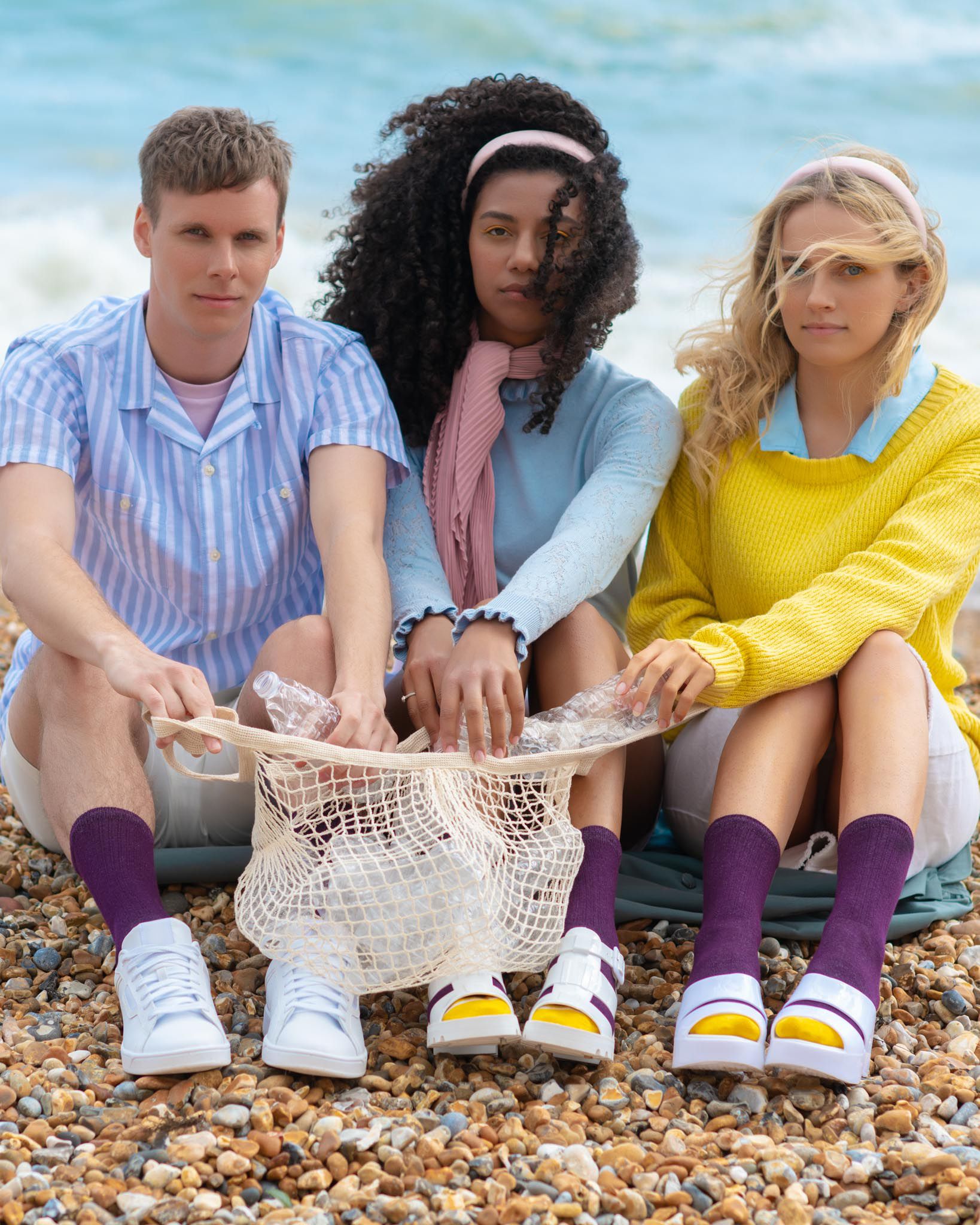 The goal isn't to become rich and famous, the goal is to have the greatest positive impact possible. So when something goes wrong I can still measure the success of Teddy Locks - and see that together, we are stamping-out single-use plastic, with socks that use 20% less water, 45% less energy, and emit 30% fewer greenhouse gases in production.
What is stopping you being 3x the size you are now?
Time and Money. The two most important variables for growth. With endless time, and endless money the only ceiling I see for Teddy Locks is that we run out of plastic to transform. Having built the entire company from the fiber up I am now ready to focus on gaining investment and a core team.
Do you have any advice for someone just starting out?
Be truly passionate. You will need to make sacrifices and face some challenging times, knowing that you believe in yourself and the business is the best way to remain determined and overcome the hard times.
Even better, build your business with a co-founder. Having somebody to bounce ideas with, keep you on schedule, and to share the load with will make you more efficient and help you grow quicker.
Who is your target demographic?
As a sock company this can be one the hardest parts of the business. Teddy Locks primarily focuses on 25-35 year olds, but is not exclusive. After all, these are socks that save the planet - and the more people we get stamping out single use plastic the better.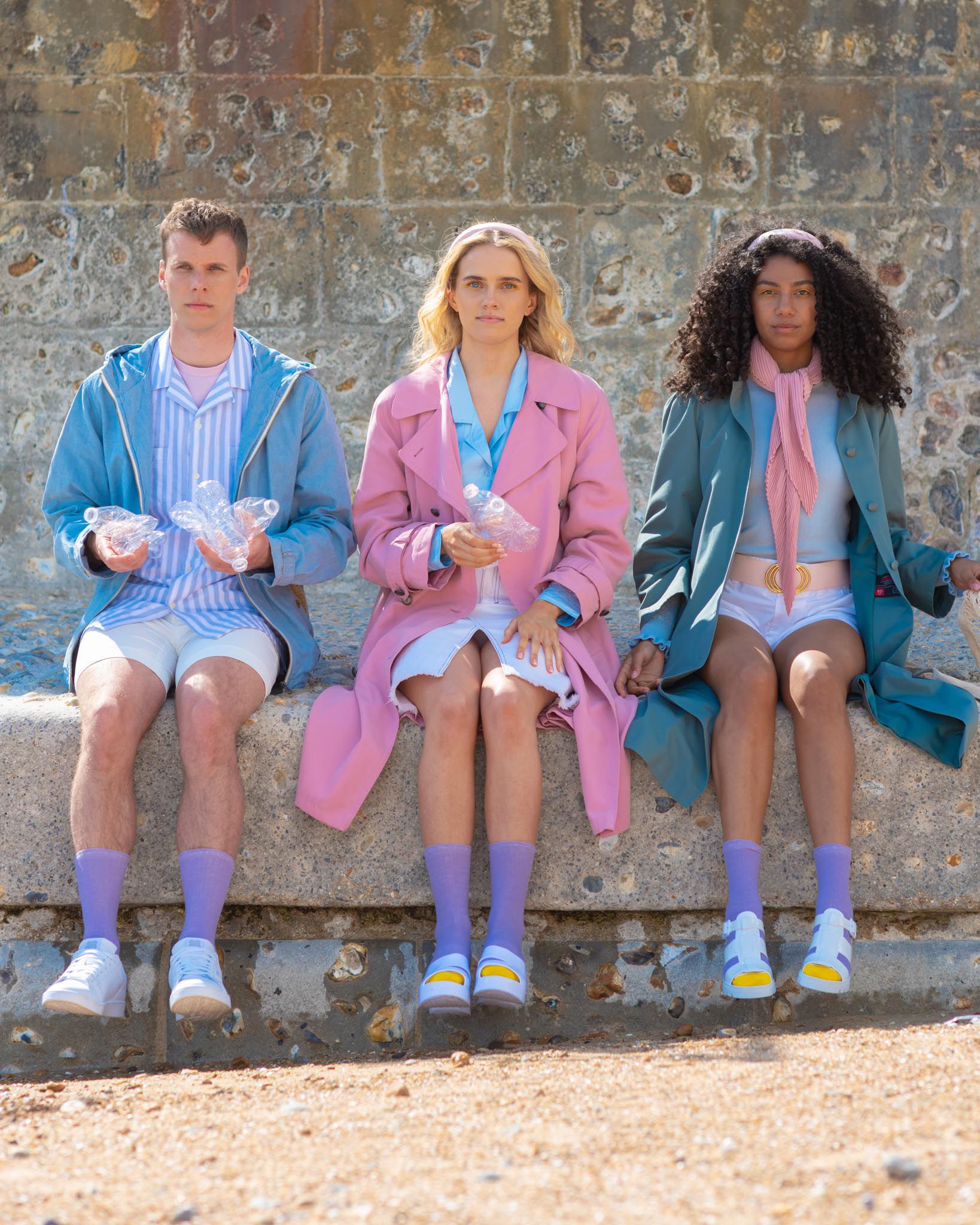 Teddy Locks makes almost exactly the same amount of sales from men and women. Perhaps this is because men are more likely to wear socks, while women demonstrate a keener interest in sustainability and often shop for their spouses.
What are the top 3-5 apps your business could not run without?
If you are having an issue, want to streamline your workload or need to outsource make sure you have a google - there is an app for almost everything.
Shopify App. Having my shop in the palm of my hands, and available 24/7 has been extremely helpful. Knowing that you can access the store and insights efficiently has allowed me to work on the go, even when I am supposed to be having time off.
Preview App. There are lots of different social planning apps available, but I find that I work best visually and Preview allows me to easily arrange my imagery. Even better, you can now schedule and automatically post your content via the app.
PageFly - An app for your ecommerce store, this page builder is easy to use, affordable and comes with excellent customer support. Building and updating your webpage can be time consuming, but Pagefly helps to simplify the process.
Klaviyo - Klaviyo is one of the leading email marketing providers. You can build templates, track campaign performance and set up automations. More expensive than some of its competitors, Klaviyo is better suited to companies with an established email list and stores already driving traffic.
What are the next products you're working on?
I want Teddy Locks to be loved by all soles, and so have been developing infant and children's socks. Kids will be able to stand proud as they tell their friends that their socks are made from recycled plastic bottles and upcycled textiles. I hope that we will be able to release these in the Winter.
Are there any releases you can tell us about?
Yes! We have 5 new socks coming out this Fall. To be the first to find out about them make sure that you sign up to our newsletter and follow us on Instagram.
Where do you see the company in 5 years?
I would like to have grown the company enough to be building bottle schools in partnership with Hug it Forward on a quarterly basis. I love donating Teddy Locks to organisations and shelters, but I also want to make sure that Teddy Locks is actively participating in additional clean-up operations and education programmes.
As well as having grown in social good, to have the most impact Teddy Locks needs to reach as many people as possible, so I would like the company to also be in Nordstrom, on billboards and working on collaborations with brands such as Veja, Tradlands and Backbeat Co.
I'd also love to see companies like Virgin Atlantic offsetting some of their impact and partnering with Teddy Locks on their inflight comforts - because flight socks shouldn't just be worn once.
Would you ever sell?
Never say never, but as the company grows I hope that I will personally be able to handle more of the environmental and social side of the business. Doing what I love, and helping to shape a sustainable future.
| Company Name: | Teddy Locks |
| --- | --- |
| Founder: | Samantha Tollworthy |
Comments