The Neon Lace Company uniquely incorporates romantic, whimsical style with bright and bold colors for a one-of-a-kind look when it comes to home decor. Specializing in bespoke table linens and kitchen accessories, this textile and dye company ensures sustainable, high-quality products by sourcing their materials from antique linen suppliers or handmade by artisans. Every piece is then carefully dyed by hand with non-toxic ingredients. Offering a variety of one-of-a-kind pieces as well as everyday products, Neon Lace Company is sure to provide the perfect finishing touch for your next soirée or dinner party!
Was it a lightbulb moment or gradual process of Neon Lace Company ?
Neon Lace Company was not part of my initial plans. In fact, it started very unexpectedly. When I first got the idea I was actually working in the beauty industry but I always loved antiques. One day, while I was shopping, I came across a stunning vintage napkin set.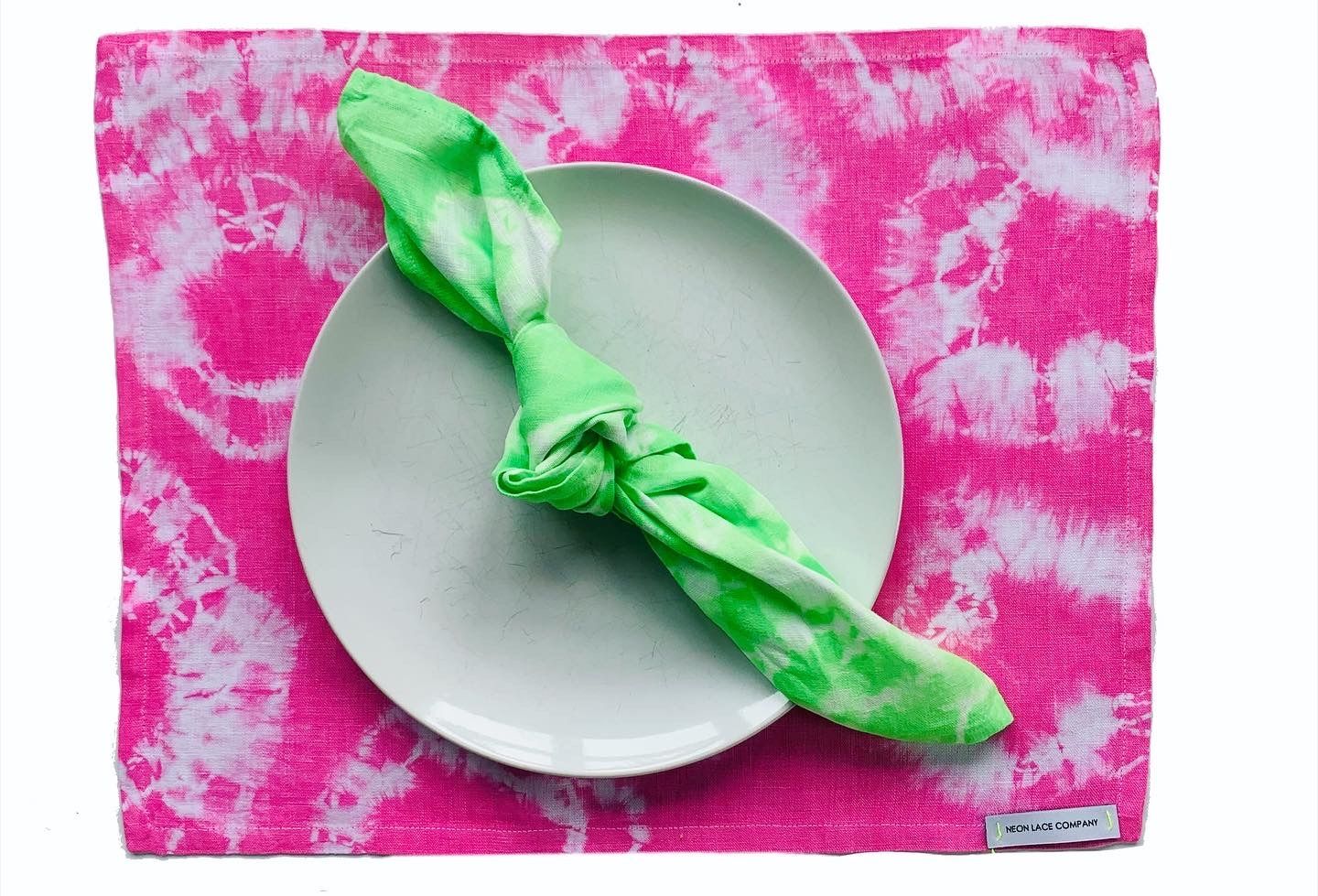 However, when I used it in my table décor for a dinner party, it came across as a bit boring. On a whim I decided to dye them neon green. It looked amazing! My husband suggested I should do this as a business. From that point forward I couldn't get his words out of my head. I started purchasing more linens and starting experimenting with dye techniques and colors.
Did you have any experience/expertise in the area?
I hadn't had experience working with textiles prior to this, but I have a fine art degree and have always worked with color. I knew I needed more knowledge of the craft so on a trip to Japan in 2019 I worked with a 4th generation dye master in Kyoto to study Shibori, a Japanese dye technique.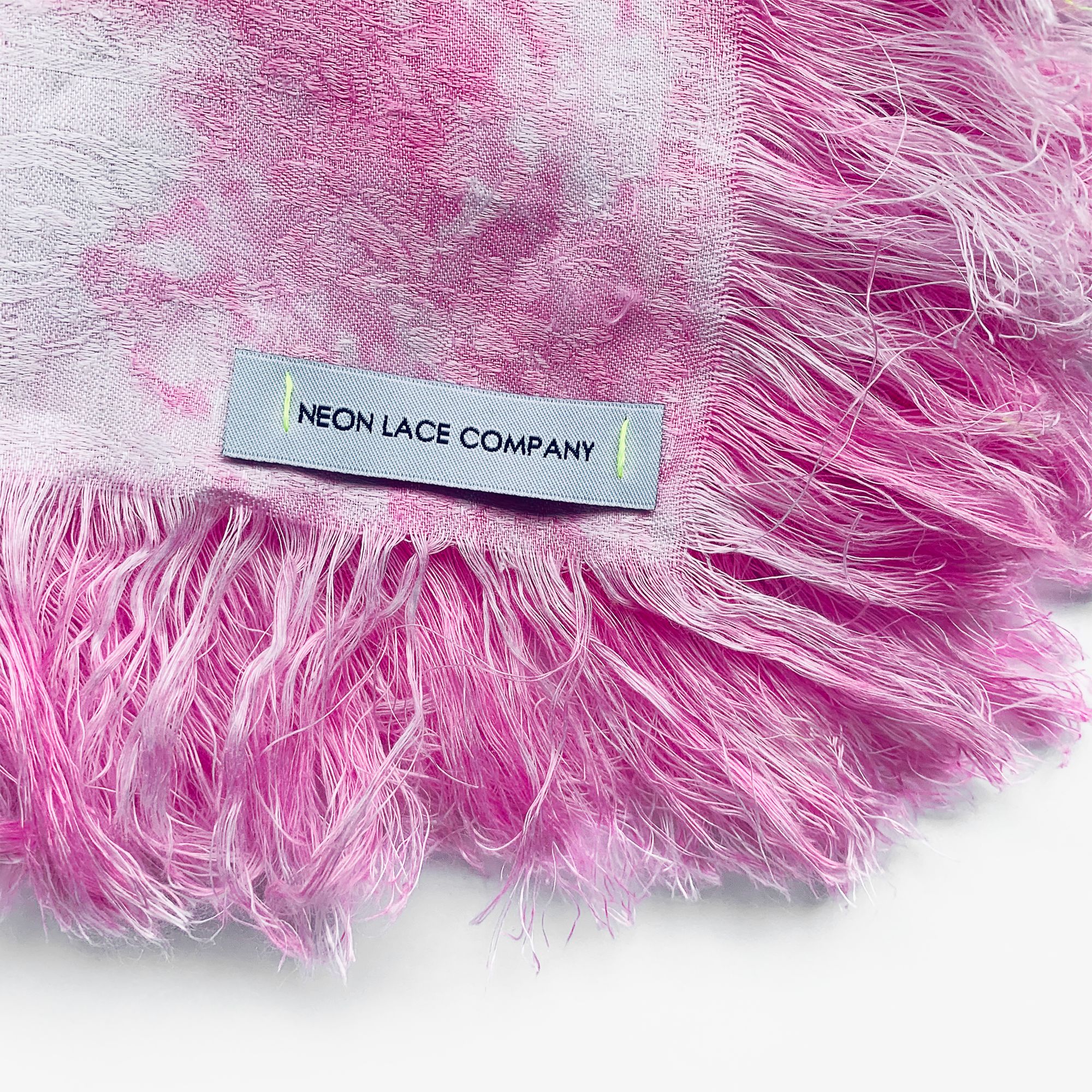 This gave me the confidence I needed to officially launch the brand in May 2019.
How did you get your first three customers?
My first customers were family and friends. I started by sending an email introducing the brand to every single person in my email rolodex- literally everyone! I couldn't believe the positive response and support I received in the beginning. Friends told friends and gave me shoutouts on Instagram which led to more customers. The support when I was just a teeny baby brand kept me motivated to keep going.
How did you fund the idea initially?
I started Neon Lace Company by bootstrapping it with $1,000 of my own money to purchase a linen lot at auction,  production materials, and a website. The company is completely owned and funded by me; I don't have any outside investors. All of the profits made are put directly back into the business.
Where did you meet your cofounder/founding team?
In the beginning, I did everything. I sourced the materials, produced the products, photographed the images, managed the website, packaged and shipped orders, sent marketing emails/ answered customer support, and managed the money. I still do most of this but have slowly been able to outsource parts of the business that aren't my strengths.
Any tips for finding first employees?
My best advice for finding your first employee is to look for someone whose strengths are your weaknesses to create a balance in the business-- and make sure you enjoy each other's company because it is a lot of time together! Also, be very clear and specific on your needs and expectations if they are important to you-- employees are not mind readers.
What motivated you to start your own business?
The motivation behind launching my own business was really the desire to be in control of my own daily schedule. I work a million times as much now but it is completely worth it because I am my own boss.
What were your family and friends first thoughts on your company?
My friends and family were extremely supportive from the beginning. I think the products were surprising and new so there was a lot of enthusiasm and curiosity.  My husband is my number one fan and cheerleader. He always offers advice and insight. I would never have been able to launch my business without his support.
What motivates you when things go wrong? What is the end goal?
I am a perfectionist and very hard on myself when things go wrong. I am also a solutions - based person and so I focus on how I can fix the problem and learn from it for the future.
Do you have any advice for someone just starting out?
When you are first starting out, take every opportunity that comes your way- don't be picky. These first opportunities are going to challenge you and teach you a lot! Also, always answer emails and texts promptly, and be on time! These details matter.
What has driven the most sales?
The majority of my customers are acquired through Instagram. This was an essential tool to drive sales, especially during the pandemic.
What is stopping you being 3x the size you are now?
Nothing is stopping Neon Lace Company from being the 3x the size we are now! Our rapid growth as a small brand is incredible and I am very proud of what we've accomplished and what is on the horizon!
How do you protect yourself from competition? Do you have any trademarks/IP/patents?
Competition is inevitable, but in the beginning I worked very hard on building a strong brand voice and reaching out to as many people as possible so I could have a recognizable product that was synonymous with my brand.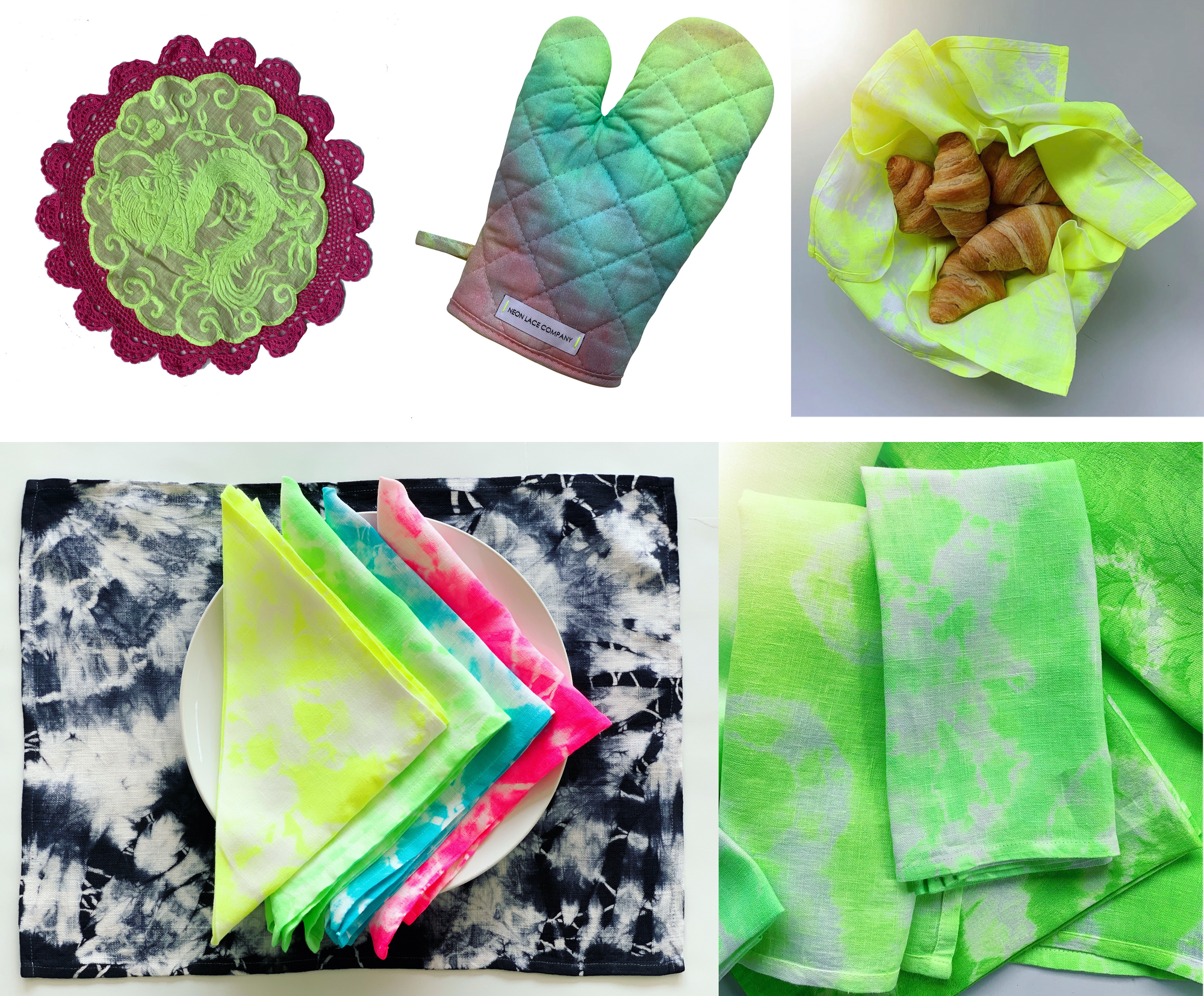 Once I was able to afford it, I hired a PR company to help take that recognizability to the next level.
What are the top 3-5 apps your business could not run without? Why are they essential?
Instagram, Squarespace, and Quickbooks. I need to engage with customers, receive purchase orders, and track my expenses!
What are your favourite books?
Conquering Your Fear of Water is a book my mother- in -law gifted me after she overcame a fear of deep water and learned how to swim at age 80 through the help of this book. The  focus is on swimming, but the steps used to overcome fear are universal and applicable to all aspects of life. It has offered me fantastic tools to overcome many of  my own fears in life and business.
What are your favourite podcasts
More Than One Thing by Athena Calderone is my favorite podcast. Athena Calderone's guests come from all different industries and share how they've arrived at their current career landing spot. Many of her guests wear multiple entrepreneurial hats which speaks to multi-hyphenates and out-of-the-box thinkers/creators. It is also a must listen for anyone who is changing careers or embarking on a new creative endeavor.
What are the next products you're working on? Are there any releases you can tell us about?
We are working on new colorways for the linen napkins and placemats, experimenting with new dye techniques, and sourcing incredible vintage. We have some very exciting collaborations in the pipeline as well- stay tuned!
| Company Name: | Neon Lace Company |
| --- | --- |
| Founder: | Imane Fiocchi |
Comments