After studying textiles at the Rhode Island School of Design, Amy Voloshin began her design career at URBN (Urban Outfitters, Free People and Anthropologie) where after watching her love for textiles expand, she decided to take her own leap and begin her own textile company.
Today, also known as fourteen years later, the designer and household founder has been able to share her designs with the apparel industry. In 2017, Amy and her husband Leo decided to launch Printfresh, a sleepwear and Stationery brand, which of course includes her prints.
Was it a lightbulb moment or gradual moment to start Printfresh?
Quite the opposite! Our prior business, Printfresh Studio, had been designing prints for the fashion industry for ten years before we launched our own product line. As our expertise in print, pattern, and color grew- and as we started to have a stronger understanding of managing a business- one of our business advisors gave us some tough love and said, 'You guys seem smart, you should do something else - there's no money in this business model."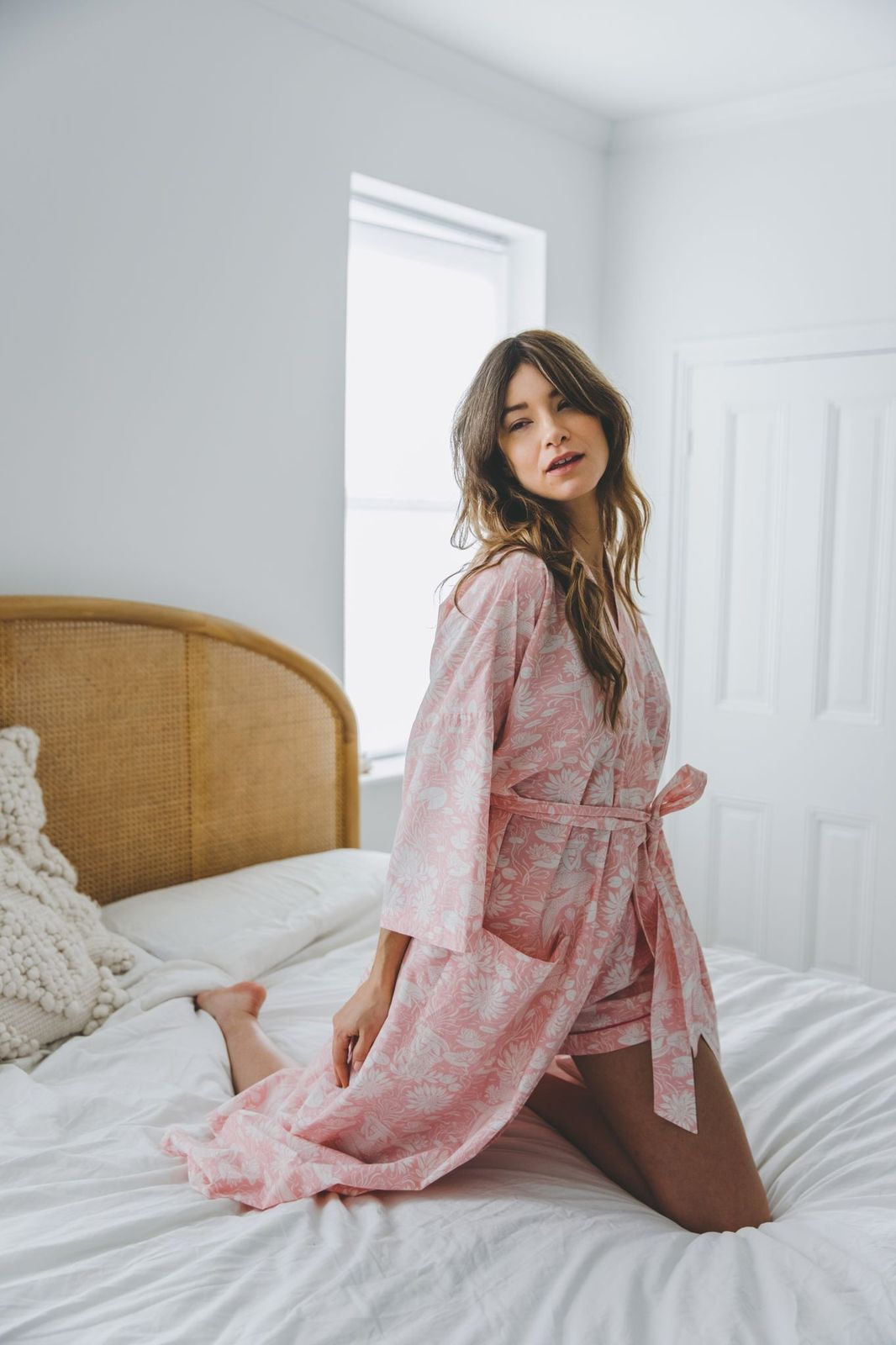 After letting that sit with us for a bit, we started to look for where there might be different opportunities for us to design and use prints. We decided to launch with stationery products, and now mostly focus on sleepwear that features our whimsical patterns.
How did you get your first three customers?
I signed up for the National Stationery Show, which is a huge stationery and gift trade show that takes place in NYC. We launched the brand there, which was both very exciting and a tremendous amount of work. Luckily, our booth display and product turned out well - after a year of developing the samples and the booth design, we finally saw results, and customers from top boutiques walked right up and placed orders. It was pretty hard to believe that it actually worked out. After our first 3 days, we had sold to over 30 boutiques and had secured an outside sales group to take on our national sales.
How did you validate the idea?
We felt like there weren't a lot of whimsical and bohemian options in the stationery market. A lot of what was out there was very minimalistic in style, so we thought we could use textiles and unique prints to set ourselves apart. We launched the brand with just stationery but knew right away that we wanted to explore other product categories - we just needed to get started first, and the cost of stationery was relatively low compared to other categories, like apparel.
Did you have any experience/expertise in the area?
Not really. I had worked in fashion design (for Urban Outfitters) right out of college, so I was familiar with the product development process, but not for that category of items. I was surprised to learn that stationery is complicated to develop - there is so much to account for that I'd never thought of, like the paper quality, page counts, types of bindings, humidity issues - there was a lot to figure out and test and refine.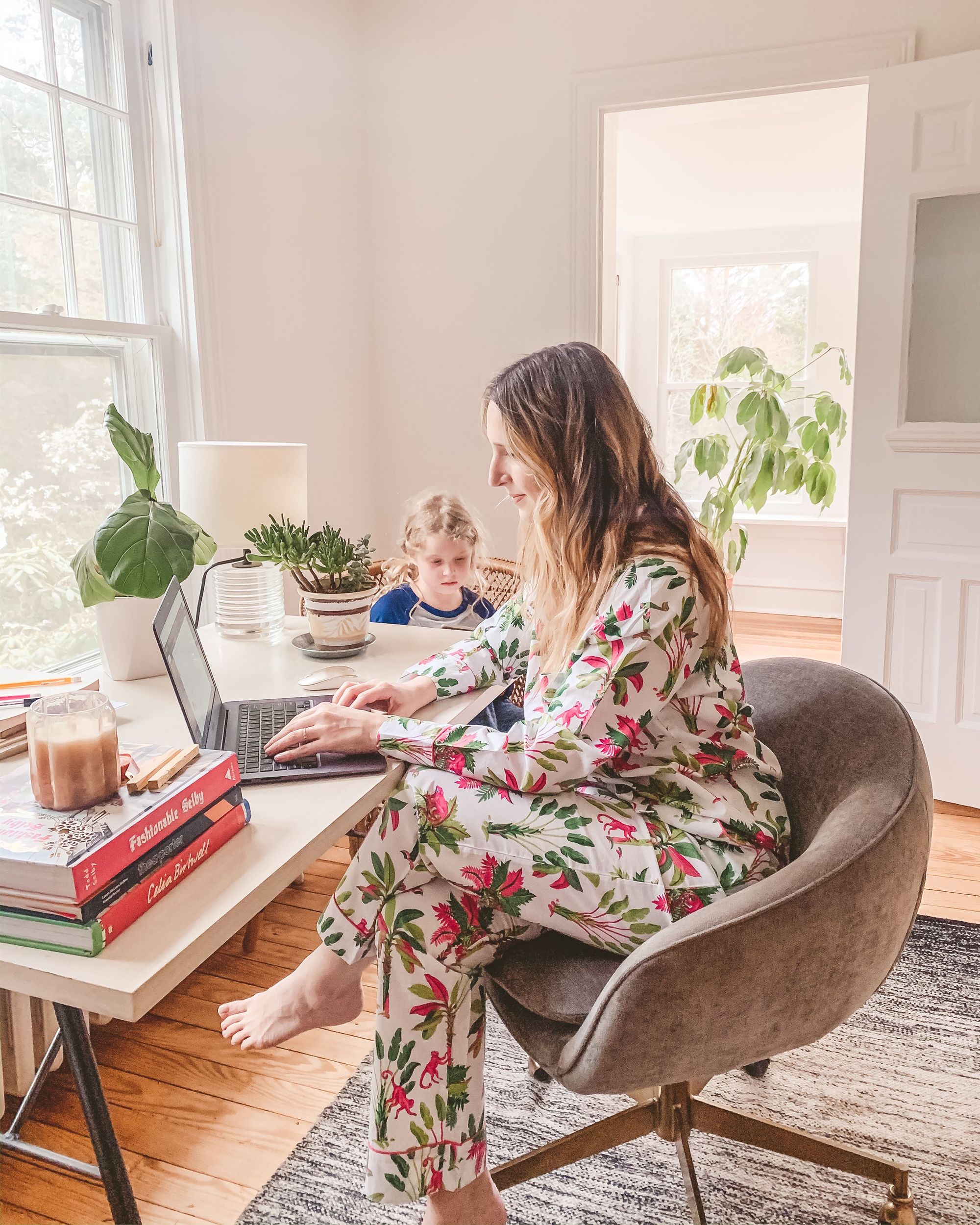 Once we started making pajamas, things started to click a little better - as I had more of a background and network for creating that sort of product - and had been concurrently running a fashion company (Voloshin) that I had started at the same time as Printfresh.
Have you raised any money? How much?
Everything was self-funded. We didn't feel comfortable looking for investors and still to this day continue to self-fund, use credit cards, and have credit lines with our bank. At some point fundraising might be something that we'd consider, but it would have to be the right fit for us - I wouldn't want an investor to limit our creative vision or push for sales channels or opportunities that might hinder the brand's long-term growth and aesthetics.
Who is your target demographic?
It's pretty broad - we were just revisiting this the other day in a team meeting. For the most part, we say that it's people who identify as women. Our customers have an appreciation for natural fibers and beautiful, whimsical patterns. Our pajamas are size-inclusive and are available in sizes 0-30. We are excited and pleased to be able to offer more sizes than most of our competitors offer.
How did you fund the idea initially?
We funded our development with a combination of personal savings, borrowing from family, and using credit cards. It was scary to use all of our personal finances - but we felt optimistic about the designs, and had a positive reaction early on, so we believed that if we could get the business up to scale, we would be able to quickly start moving into a positive cash flow.
Where did you meet your co-founder/founding team?
I run the business with my husband, Leo. This is the 4th company we've founded together, so I felt pretty comfortable working with him (and knew what I was getting into!). The majority of our staff has also been with me for many years - and had been originally hired for our other companies- we are very fortunate to have such an experienced group, and even luckier to be working with employees that we know so well.
Any tips for finding first employees?
For this type of business, I think it's all about bringing in people that have very developed skill sets in areas that are different from my own. As we are building our eCommerce business, bringing in the best and most experienced team members is critical to keeping up with the pace and goals that we have set. Since this is a fairly small and fairly new company- and also a family run company - I really look for people that are easy to communicate with, and who are comfortable with working through the unknown.
Did you run any companies prior?
Yes, I ran a t-shirt business, a textile design studio, and a commercial studio building where we rent workspaces to creatives. My parents also had a design firm, so I spent much of my early life in their design office.
What motivated you to start your own business?
I love the challenge of being an entrepreneur. It's very creative, you get to have control, and make change - it's so exciting to be able to really run with your ideas and create. I noticed a lot of issues with a lack of environmental and ethical concerns in the fashion industry and hoped to find a way to disrupt an old system that just didn't work. Through spending a lot of time in India and working in our factories there, I've been able to deepen my understanding of the industry and I'm trying to make decisions that flip the system (even if it's just the littlest bit) and set an example for other brands to learn from. I also wanted to provide more inclusion in the fashion space.

A lot of brands don't offer a range of sizes that suit the average-sized woman in the US. The average size is a 16 (which most brands don't service!). As soon as we got through our initial test round where we worked with 4 sizes, we began our plan for rolling out 10 sizes (XXS-4X). We are still testing and refining the fit, but it's been well received so far - and we are thrilled to be able to offer sizing for a broader spectrum of women.
What were your family and friends first thoughts on your company?
I think a lot of people were surprised that we chose sleepwear, but it really does make so much sense for our love of print. Now all of our friends are so excited when new collections come out and they get to see the new patterns first. I'm really grateful for everyone's support.
What motivates you when things go wrong? What is the end goal?
There are countless challenges, and running a business is a special form of torture on some days - but we love getting through it and finding a way to work through any setbacks. I love our product, and our customers are so kind and supportive.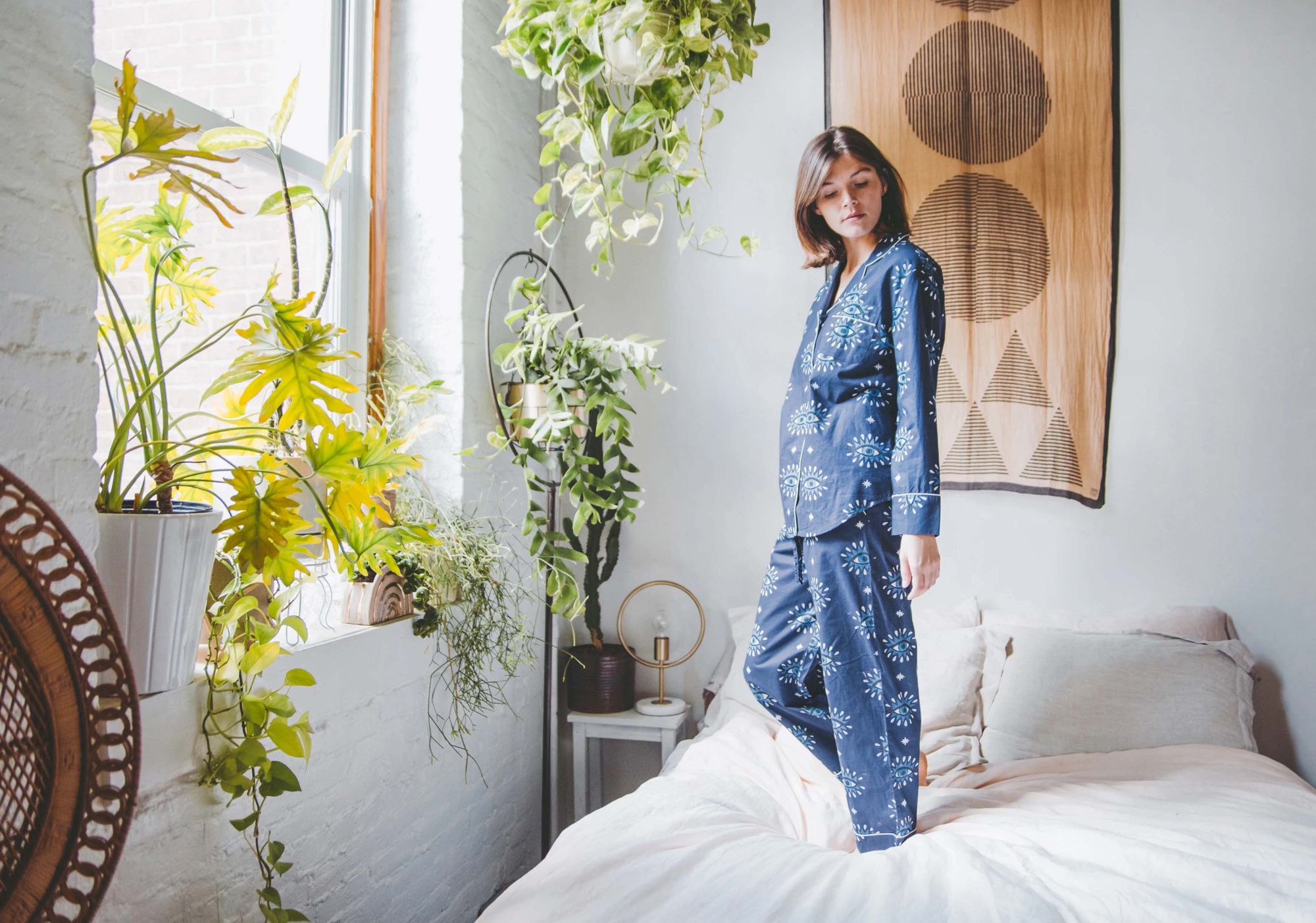 Even on the toughest days, when we get a positive review, or a customer sends us a photograph of themselves enjoying our pajamas, it makes our day and gives us that push to keep going.
Do you have any advice for someone just starting out?
I tend to make the mistake of going too big too soon. I think it's good practice, especially with manufacturing, to find ways to start out small, and really do your research- make sure that there is a market for what you're making, and that you have a plan for how you will sell your design or item. In hindsight, I wish that I had spent more time on really thinking through the business model for Printfresh. We started with low price, low margin items (stationery), and that was a really hard way to sell the item. There were things that we didn't think about, like the weight of the product and its effect on import and shipping costs, the wholesale and sales rep commissions, and the apprehension that customers can feel when buying a low price item that costs just as much for shipping as it does for the product. There is a lot of cost modeling, thinking, planning and strategizing to be done before starting a company.
What has driven the most sales?
Yes, we lean heavily on all of those social media platforms. Digital advertising has been incredibly helpful for us, our sleepwear lends itself well to that method and because we offer a broad range of sizing most people can find a fit and style that will work for them. Direct email is one of my favorite marketing methods, since once someone's signed up, we can really share our story in a deeper way.
What is stopping you being 3x the size you are now?
During COVID-19 quarantine we had to move our business operations to another location and were shipping our product ourselves (while homeschooling our children!). It was challenging to keep up with distributing our product ourselves. We are super excited that we just moved to a wonderful female-owned fulfillment center, which gives us some time back to focus on growing our business. Our biggest barriers at the moment are probably access to capital that we need to procure the amount of inventory we need for our holiday season, and the funds to pay for an increase in digital marketing.
How do you protect yourself from competition?
I don't think there is a way to shield ourselves from competition. We are pretty visible in the digital landscape, so there will certainly be people that want to copy our look or designs. I think the only thing we can do is develop a tone, voice, and look that is uniquely our own, and although there will be companies who try to copy us - we will always have our next collection to set us apart.

We copyright our patterns, so that companies can't copy our prints and use them as their own. We hand paint and embroider them in house, and work in a factory that hand-prints the designs. By creating our own fabrics, competitors wouldn't have access to them- they can't just go out and buy a bolt of Bagheera.
What are the top 3-5 apps your business could not run without?
GSuite (Google Docs, Slides, and Sheets) is absolutely critical to us for collaborating with the team, especially during quarantine. We use Asana for internal project management, and What'sApp for communication with our factory. I also like Evernote for helping with annotating photos for garment corrections - it's a quick and easy way to advise changes to the product when we can't travel to the factory.
What are your favourite podcasts?
I don't get a lot of time to listen to podcasts but when I do - I enjoy 2nd Life, Freakonomics Radio, and Everything Is Alive.
What are the next products you're working on?
We are expanding our product line with a few new silhouettes, and we are looking at different ways that our webstore might allow customers to build their pajama sets, so they can choose what top goes with what bottom. If all goes well there, they will also be able to choose different sizes for the top and the bottom (like what we see these days in the swimwear industry).
Are there any releases you can tell us about?
Our Fall collection is launching August 15th, and we can't wait to show our new patterns!
Where do you see the company in 5 years?
I hope to grow our revenue to 10 million, to increase our in-house team to 10 employees, and to be a leader in the fashion industry. I want to use that leadership position to encourage other fashion companies to focus on environmentalism and inclusivity.
What is current revenue? If you don't mind sharing..
We hope to achieve 3 million in revenue this year.
Would you ever sell?
When we first started the brand, our plan was to create a business that we would be able to sell someday. Our past ventures didn't lend themselves to that, and we wanted this to be different. By now, though, we deeply love this business and it really seems to click for us - so no, probably not anytime soon. It's possible that much further down the road, it could grow to a point where someone else might be better suited to run it. My husband and I have skills that are usually best utilized in a smaller organization during the startup stage.
| Company Name: | Printfresh |
| --- | --- |
| Founder: | Amy Voloshin |
Comments