After 15 years searching for fulfillment through careers in finance and start-ups in NYC, in 2018 Elizabeth detached from city life and spent a year traveling Bali spending time meditating and healing which lead her to embrace a new way of living. On that foundation, she created Baloo Living which launched their first product, the 15 and 20 lb weighted blankets, in 2018. The company grossed $72k in it's first two months. After restocking, Baloo is on track to gross $250k by end of year.
Baloo Living aims to deliver transformative, natural self-care with its home product line, starting with its signature product, the Baloo Blanket, a weighted blanket that is mindfully made with the best materials and designed with intention to deepen one's connection with oneself and provide you with better sleep. Since the launch of the blanket, Baloo has introduced Linen Duvets, pillow cases and their Sleep Stone Mask. The company is only continuing to grow with a strong founder behind it all.
Was it a lightbulb moment or gradual moment to start Baloo Living?
Starting Baloo came as a result of many decisions, starting with quitting my corporate job in 2017 to take a sabbatical to Bali. When I returned to the city after three months away, I was shocked by the reverse culture shock. It was a turning point for me, and I had to choose between going back to my fast-paced way of life, or something new and unknown. I chose to return to Bali, even with very little savings, because I believe that we make our best decisions when we feel strong and supported rather than scared or unhappy, and Bali for me has been the place where I feel the most peace. It was back there that I tried a weighted blanket for the first time, and that experience was a profound shift for me. I felt so incredibly calm using it, that I slipped into a deep, unexpected sleep in the middle of the day. I was awe-struck, inspired and excited to share that experience with other people, and do it by improving on the products I saw in the market.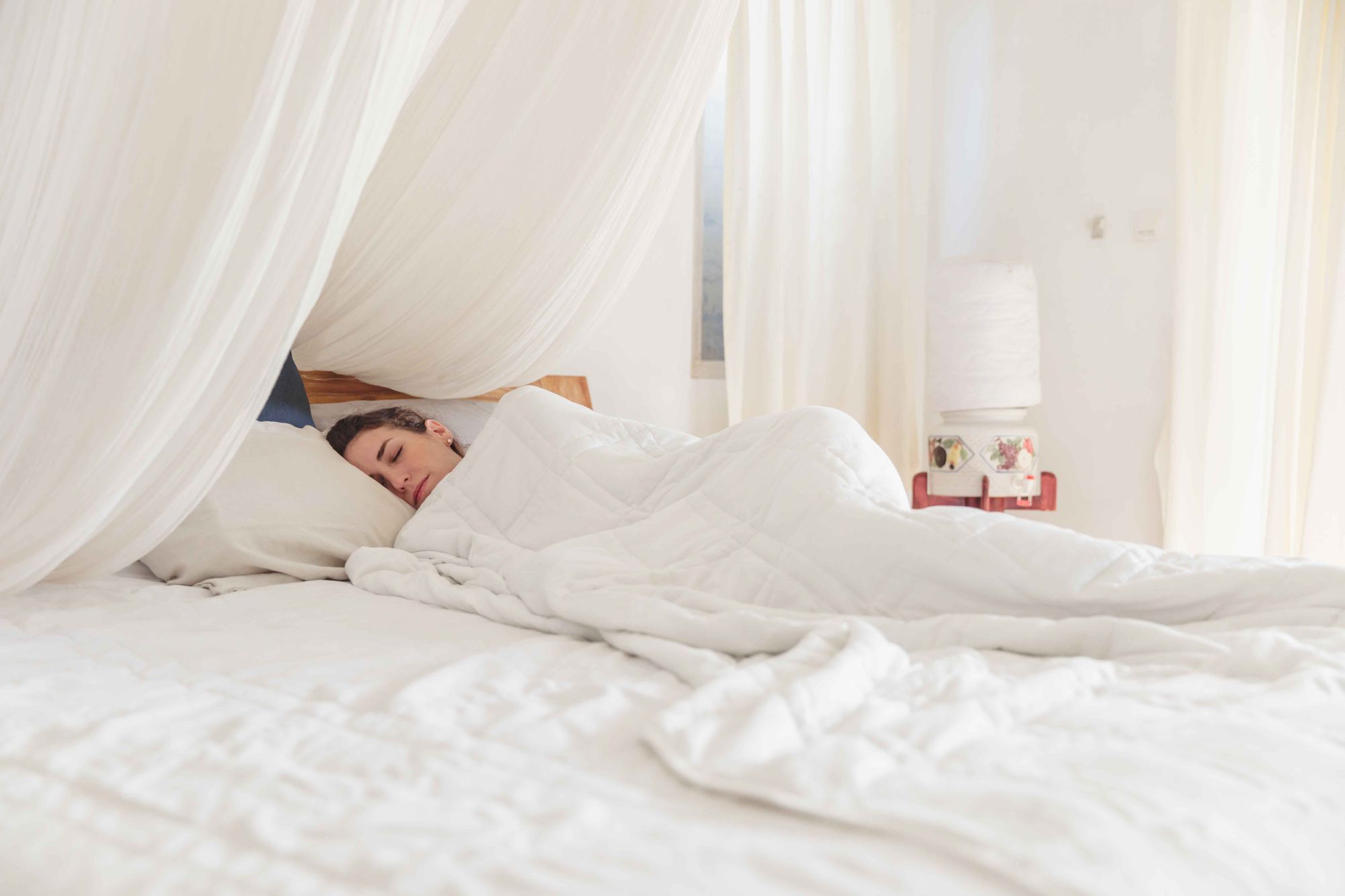 When I looked around, I saw a sea of sameness; low-quality and synthetic fabrics and blankets filled with plastic beads. Baloo's weighted blankets are the only quilted weighted blanket made with 100% pure natural materials, soft and breathable cotton, glass beads, and no polyester filler or liners.
How did you validate the idea?
Since I was living in Bali at the time, I was in the perfect place to product test. I felt it was very important that our blankets would be breathable and cool enough to use year-round. These are a sleep tool, and good sleep is not seasonal! I had several samples brought in, and almost right away, a long line of friends waiting to borrow a blanket overnight. The feedback was overwhelmingly positive, and proved that we could promote these blankets as a warmer weather solution since most people sleep without air conditioning in Bali.
How did you get your first three customers?
We launched the brand on Amazon to start, and began selling from day one without even running ads. Our website balooliving.com was live from the beginning, but sales were almost exclusively coming through Amazon. As we built out our brand through press, social media, email, and relationships we started to see that shift dramatically in favour of our website, which has always been our goal. Now we're adding additional channels like other online retail partners (Goop, Huckberry, and The Grommet) as well as hotels and boutiques.
Who is your target demographic?
I like to say that our products are for anybody that has a body  Sleep is so universal, and to feel at home in our bodies is something each of us is entitled to. Our marketing appeals more to women, we'll sometimes hear of partners who may be initially reluctant to try, but then become big fans once they do. We find that many of our customers approach this as a gift they can give to themselves, the feeling of being safe and comfy, just as often as a remedy for poor sleep. I'm very gratified to know that people recognize that self-soothing can be a worthwhile effort to make.
What is the funniest/most strange customer request you've had?
In December of 2018, our first holiday, we were published by a major outlet as the "Best Weighted Blanket to Gift," and we sold out of all inventory within two days. At the time I was the only full-time employee in the company, and I called my mom to ask her if she could stop what she was doing and help me answer customer emails! We had thousands of names on a waiting list. The funniest part came when a woman rang my front doorbell asking if there was any way she could get a blanket for her daughter for Christmas. She knew it was a home address and not an office because she lived two blocks away – but I was impressed by her tenacity!
How did you fund the idea initially?
I started with a small test order to launch, which was funded by a small family loan. I'm grateful that my family was in a position to give me that support, even though they didn't understand what I was doing. It was very humbling to receive that. Originally the loan came with a 10% interest rate but that's since been lowered to zero.
Any tips for finding first employees?
Defining the role for my first full time employee was difficult because I had been doing almost everything myself (with some freelancers) for nearly a year. The challenge I had was determining which parts of the business to delegate.
I've found that it works really well to start with a test project, something with a limited scope and a meaningful deliverable, to help both people see how work styles fit together. It's the dating before marriage approach to hiring. And yes, there is compensation for the project or deliverable.
Did you run any companies prior?
I had quite an eclectic resume prior to launching Baloo – I graduated with a degree in Marketing from UT Austin and spent time working in some excellent companies across many different industries: Advertising at BBDO in Chicago, lobbying on the Hill in DC, finance at Black Rock, and publishing at Scholastic. But the most educational and meaningful experience I had was two years as the executive assistant to the CEO of Casa Dragones Tequila, a start-up high-end spirits brand at the time, which has continued to grow and expand. I was able to observe how the company grew, through excellent PR and storytelling, watch how the team was assembled, and how product distribution, sales, and operations were developed. I learned so much there. I also saw what it was like to run a business as a founder.
What motivated you to start your own business?
I enjoy working hard and seeing the results, and I think the only question I should ask myself is why it took me so long to start my own business!!? I love the variety of my days, the challenges and problem solving, and the ability to work from wherever it is that I need to be, even though I work harder than I ever have before.
And I love how having a business brings me into contact with so many interesting and smart entrepreneurs and people who are out in the world doing what they love.
What were your family and friends first thoughts on your company?
At the time, I think my family was a bit confused by what I was doing – creating a direct to consumer brand was not really something that they could relate to, and I was doing it from Bali, so for my close friends and family it really seemed that I was out on a limb. Of course, now that we've been in business for more than two years and we're even beginning to build some name brand recognition, I think it's much easier for my friends and family to really understand what this is and obviously be so excited about everything that's happening.
What motivates you when things go wrong? What is the end goal?
I have had many, many challenging moments, but not yet one that caused me to question what I'm doing or why. I personally believe that I'm on my path, that building this business is the framework that I'm meant to grow through. I've noticed that each seeming 'crisis' has led to some unexpected but incredible surprise or upside, and always with major lessons for me that I'll never forget.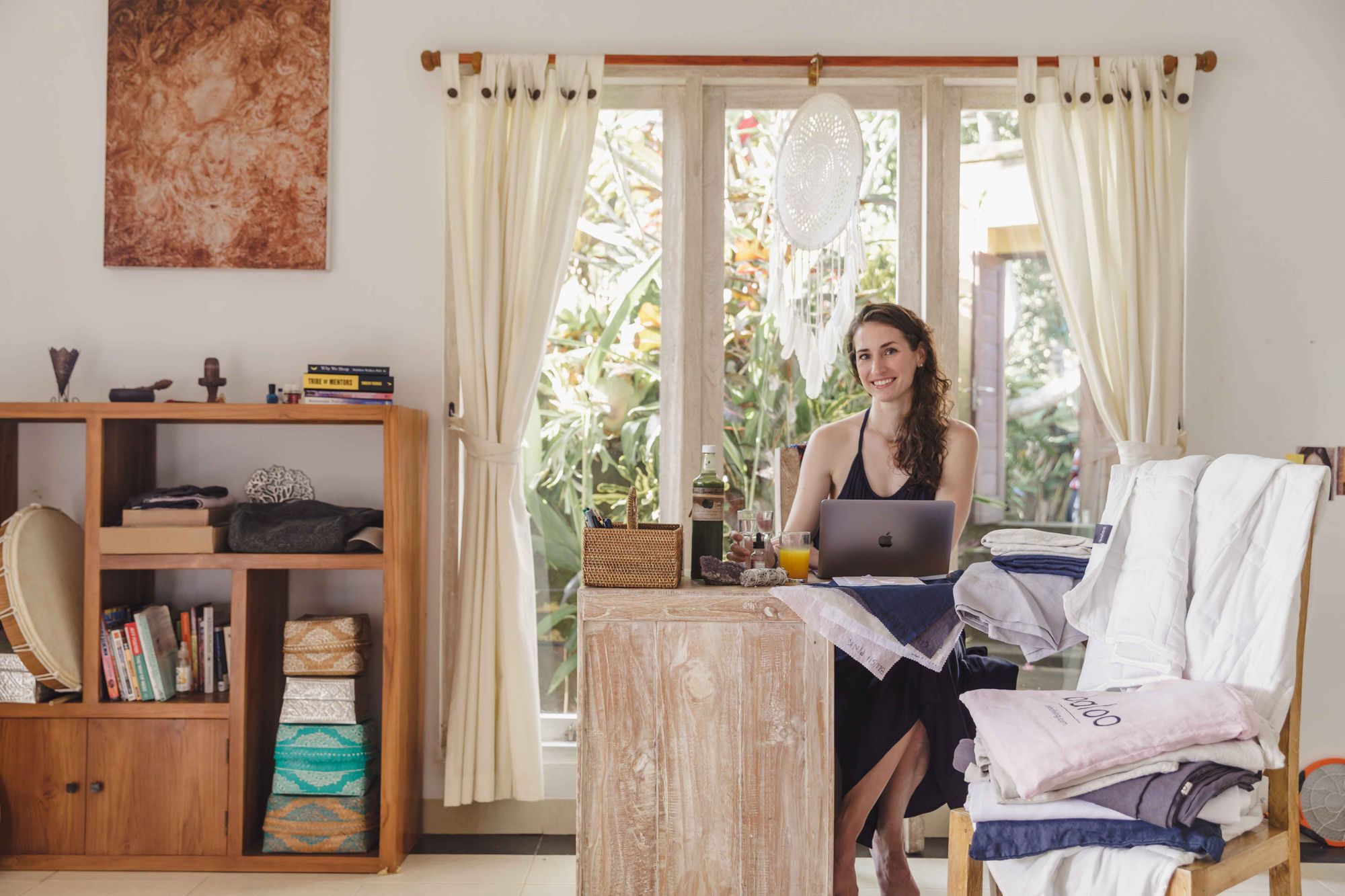 My reason for doing what I'm doing is to give a voice and a platform to the meaning and value of the ideas I was able to live in my time away, in the jungle and close to nature. The power of reconnecting with the heart through taking time for rest and quiet; respect for the wisdom of our bodies, and how elegantly they're designed to be able to self-heal, and feel really good when given what they need to be supported. The mission and idea of this company is much bigger for me than the products we sell – rather I see our products as the channel through which we can connect with people and share these ideas and experiences.
Do you have any advice for someone starting out?
When preparing to launch, it can be extremely hard to break out of the planning mode, and into execution. A friend challenged me to create a listing for something, anything! And put it up for sale as an exercise to help me go through the motions of bringing a brand and product to market. The five small items I sold (rose quartz bracelets from the silver district in Ubud) were hands down the most thrilling sales, but they were also invaluable in giving me confidence to keep taking steps forward. That was worth more than the thousands I could have spent on a theoretical online course.
Secondly, I would say always listen to your instincts, but also back them up with data. There needs to be some way to measure the success you plan for based on demand, interest, relevant searches, or some other metric, that supports your hypothesis.
What has driven the most sales?
Our early sales were driven by press, specifically affiliate press, which we earned from top publications based on their objective reviews of our product. The second greatest driver of revenue has been our paid media (Facebook, Instagram, and Google) which works extremely well when we run seasonal discounts. We saw 78X ROAS during holiday 2019 which was incredible and definitely helped us make the most of the season.
We do find that we have a strong word of mouth and organic business, too, which is really exciting and heart-warming. People are excited to share these products which make such a huge difference in their sleep and quality of life!
What are the top 3-5 apps your business could not run without? Why are they essential?
As I write this, I'm listening to Brain.fm, which is an app that I use to improve focus. Brain.fm holds patents on key processes for creating functional music which help the brain engage in coordinated activity.
Another tool I use is a pair of n.o.w. Tone Therapy Speakers by solu. These are two mediation speakers which create a unique sound with each 3-minute session, taking the brain into a deeply relaxed state. We often start our workday by playing a session, because they help to ground and clear you so quickly. Our team loves them so much in fact that we started selling them on our website! The founders and creators have a beautiful story as well, and we feel that our brands are really well-matched partners.
We just implemented an online knowledge base for our team to store information and processes, called Guru. I love it because it's easy to search by keyword, integrates with slack and has a Chrome extension.
What are your favourite podcasts?
The Hustle's My First Million podcast which brings new ways to look at the world for opportunity, and also really genuine value-add insights, plus great guests.
The Founder Podcast by Kyle Kalloway, goes deeper into the thought process of entrepreneurs as they launch and grow, his thoughtful questions help you get more context than you might otherwise get with a quicker format, but that can make all the difference.
Messenger Mastermind for really specific, thoughtful and tactical recommendations to maximize CRO and increase AOV for ecommerce stores.
What are the next products you're working on? Are there any releases you can tell us about?
We're launching a new weighted comforter just next month (September)! Most weighted blankets, ours included, are sized to fit the top of a bed. The reason is that when weighted end to end and hanging off the side of the bed, the blanket can become heavy and fall down to the floor. Our comforter is the size of a standard comforter, but weighted only in the area that covers the top of the mattress. This means couples can now more easily share, and our comforter can be used in place of your regular comforter.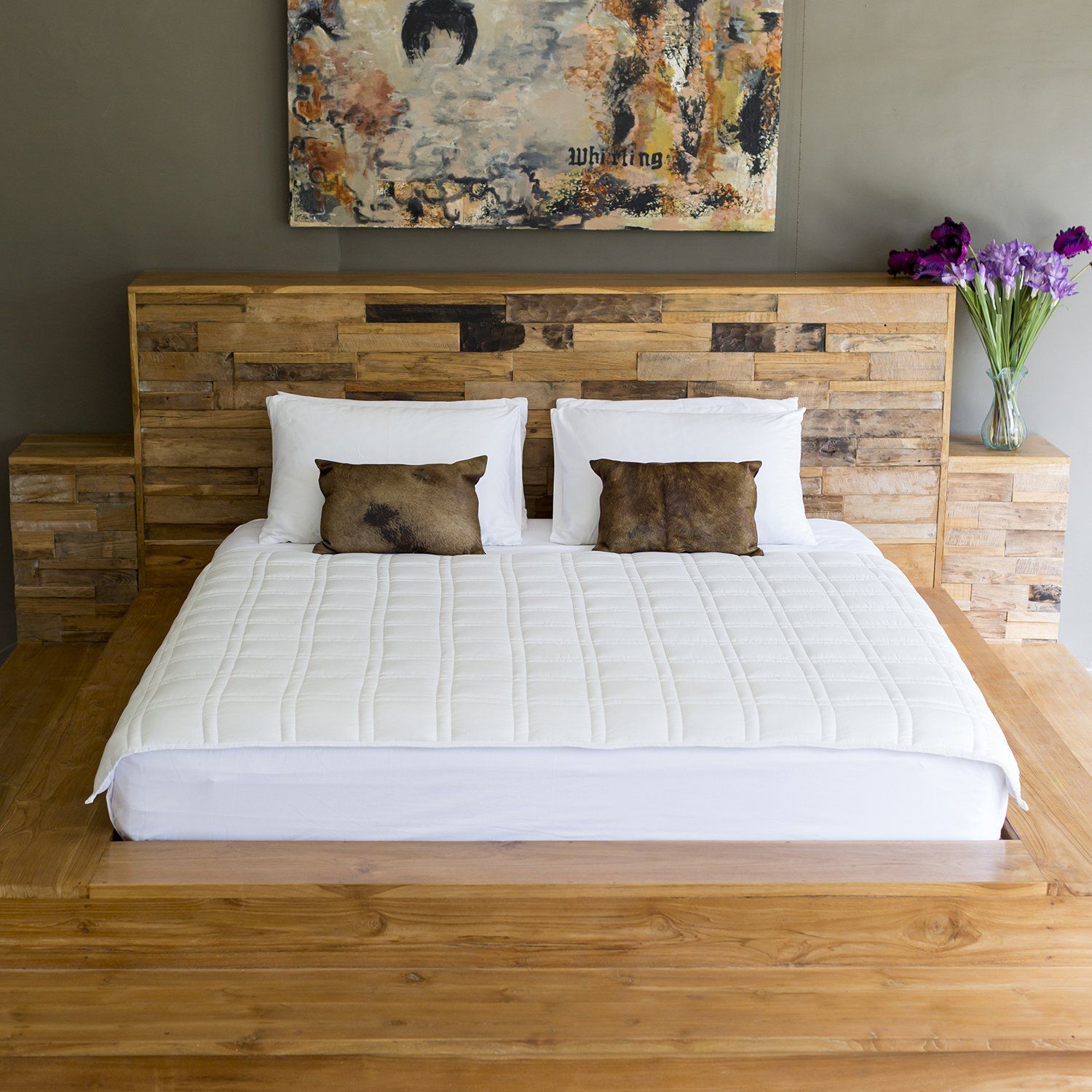 Our new weighted comforter will come in two sizes, Full/Queen and King, as well as three weights: 15 lbs, 20 lbs, and 25 lbs. We'll also be offering our French linen duvets to match, which are made of this incredibly high quality, luxurious French linen.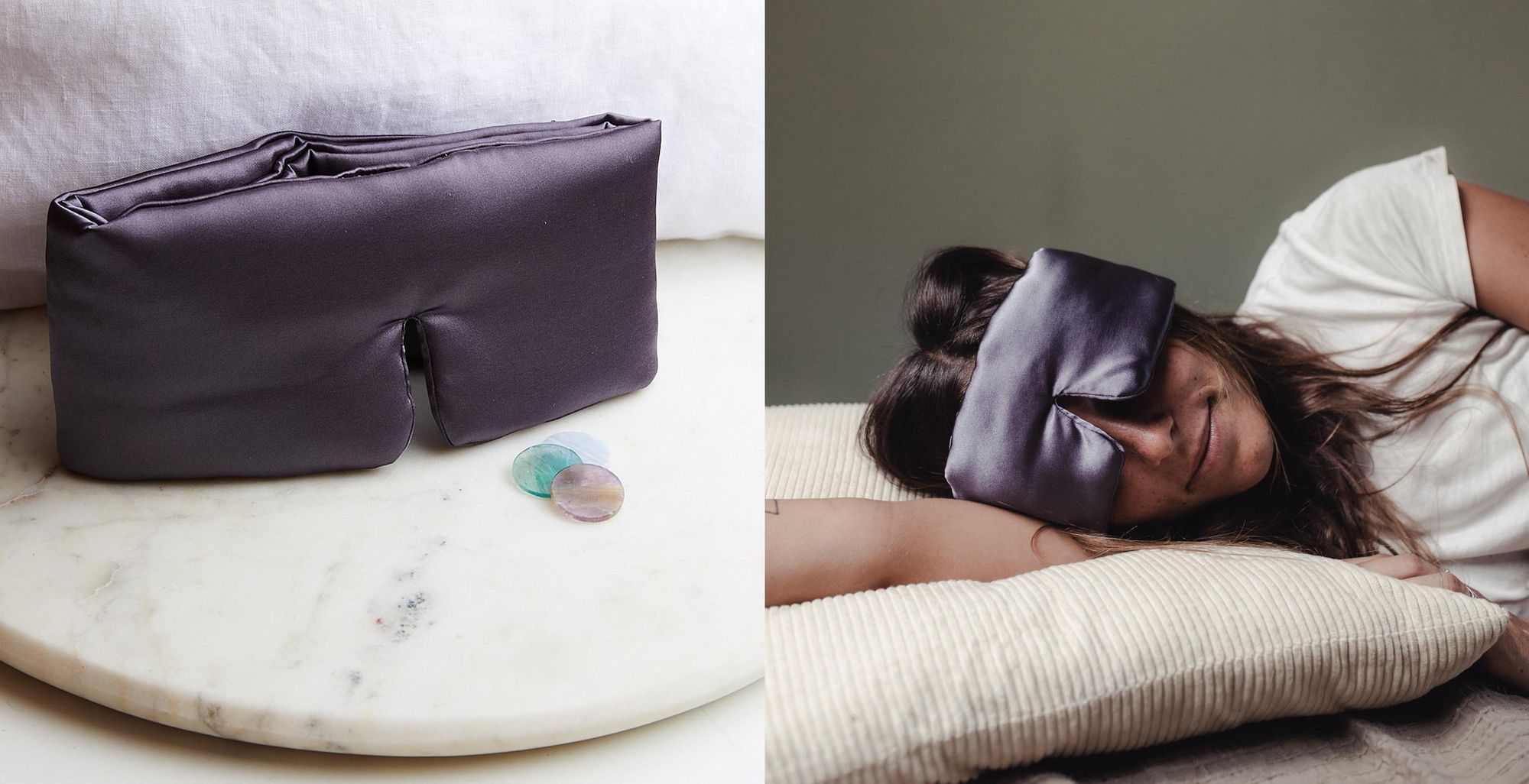 We recently launched our Sleep Stone Mask, which is a supremely comfortable sleep mask which blocks out all light and wraps around your ears, but also includes a hidden pocket to hold a crystal over the third eye chakra. Each mask comes with your choice from four crystals: rose quartz, amethyst, purple fluorite, or blue lace agate.
Where do you see the company in 5 years?
We've tripled in size each year since 2018, so five years feels difficult to picture, however my intention is that Baloo remains an independent brand offering people thoughtful, high-quality and natural sleep and mindfulness tools and support. I would love to be able to go deeper into offering personal experiences, through retreats for instance. We're also expanding our channels and footprint to be able to serve more markets - I'd like to be able to distribute through Asia and Europe.
Something that's near to my heart is our giveback to the grassroots non-profit Pajama Program, which serves children and caregivers with tools they need to create reassuring bedtime routines. As we grow, I'm looking forward to being able to provide more support and awareness to their mission.
Would you ever sell?
Baloo has something special and unique in our space, and that's an authentic brand story. Everything we do is in alignment, from offering high quality products, to amazing customer service, to our givebacks to community and environmental partners and other non-profits we support. We've defined ourselves as more than a weighted blanket company, with the addition of our Sleep Stone Mask, and the Tone Therapy meditation speakers, and I believe the opportunity that we have now is to continue to nurture this brand and help it grow into something of meaning and value, that uplifts the conversations that we're having around productivity, achievement, and self-worth.
The more we continue to succeed in this, coincidentally, the more value and potential there will be for our company to scale. I would be open to selling to a partner, when the time is right, who is aligned with not only the financial opportunity, but also the opportunity of the brand to be something of consequence. I can't imagine not being involved in the company, so I would look for an opportunity to retain a share of equity and a role in continuing to build the business and grow.
What is current revenue? If you don't mind sharing
We've tripled revenue each year, now heading into our third year, without putting downward pressure on the profit margin. By running lean and bootstrapped, we're forced to make the most with what we have and prioritize profitability. There are certainly trade-offs to this, but overall I'm happy with the way it forces us to focus on the greatest value-add opportunities.
| Company Name: | Baloo Living |
| --- | --- |
| Founder: | Elizabeth Grojean |
Comments