Bridget Levine created and founded Frenchie, an uber-successful pet accessory brand for small-to-medium sized dogs. She has built a community of loyal millennial fans that engage with their social channels and eagerly anticipate the launch of new products and updated designs. In addition to offering an online social community, she takes the connection offline via Frenchie Bulldog international in-person meetups with dog owners and their furry friends.
At the heart of Frenchie Bulldog is a deeply instilled company culture of making a paw-sitive difference, and each month the team selects a charity to support such as French Bulldog Rescue Network, Road Dogs Rescue, ASPCA, among others.
Was it a lightbulb moment or gradual moment to start Frenchie Bulldog?
The idea of starting Frenchie was definitely a lightbulb moment. The idea was in my gut and I couldn't get it out of my head so I knew I had to act on it. At the time I started the business there was nothing on the market that fit French Bulldogs or really any medium sized dog. Not only were there no options that fit small dogs, but there were definitely no options as far as fun prints and colors went.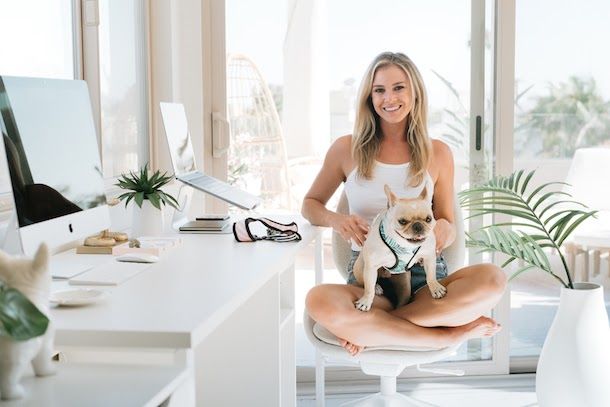 We started by creating our first few products that we were confident would be a hit, and we gave them to our first few customers for free, or with a very steep discount. After the first customers saw the difference in our products, they were hooked for life and have been supporting our brand ever since.
How did you validate the idea?
Dog owners, especially French Bulldog owners, are crazy for their fur babies and want the best of the best for them, so I knew that it would be successful right off the bat. Also, in creating the first ever dog harness that fit this breed, it was across the board that every French Bulldog needed a harness that fit them right because it didn't exist yet, so I was confident that the demand would be high once people found out about us.
Who is your target demographic?
Our target demographic are 20-40 year old dog owners. While our brand name is Frenchie, our harnesses
and accessories work for most small to medium sized dogs so we see our products on all different breeds and varieties!
How did you fund the idea initially?
Initially I spent a couple hundred dollars on samples and then I got a bank loan of $5k for the first round of production. While I was building Frenchie I didn't really have an income, so I was living off credit cards and putting everything back into the business. I didn't get a paycheck until about 2 yrs or so after working day and night. I knew it would be worth all the hard work - I was so confident that it would eventually pay off, which it has.
How did you build your team?
I met my current business partner years ago through a friend of a friend. When I was building the brand I would research dogs in my area by looking at the location of where Instagram dog accounts were posting from and I would plan photoshoots with those dogs. We ended up hiring one of the people I did a photoshoot with a year or so later. It was meant to be and just worked so easily.
Where did you meet your co-founder/founding team? Any tips for finding first employees?
Finding employees is not easy. My advice would be to try your family, friends, or friends of friends who are HUNGRY, and overachieve - people that you don't need to manage and will go the extra mile. You want someone that actually CARES about the brand, their work, and their career. Another idea is to think of people you knew who were very into their sports growing up and later in life have the mindset of going the extra mile, willing to put in dedicated hard work, and are competitive with themselves.
Did you run any companies prior?
Prior to starting Frenchie, I had no experience running a company so this was definitely new territory for me.
What motivated you to start your own business?
What gave me the initial motivation to start something of my own was that I was in a relationship where I was only supporting my partner's dreams and was choosing to support someone else before myself. The breakup really made me look at my values, and how I valued myself. Reflecting on this is what motivated me to do my own thing and put my energy into something that was my own, that I could grow and was passionate about. It was all about asking myself the question, "What do I want?". I still have a difficult time asking myself this question, but I have learned through many experiences it is so important.
What were your family and friends first thoughts on your company?
I actually didn't really tell any of my friends, and I was very casual about telling any of my family members… i think some of my family thought it was a great idea and others didn't understand it… some of them still don't.
What motivates you when things go wrong? What is the end goal?
I've learned a lot over the past few years, and my mentality has always been that things are challenging for a reason. I don't believe that things go "wrong" but rather see everything as an experience that I am supposed to learn from. So my motivation when I feel friction or feel like something isn't aligned or is too challenging is to find the lesson and learn from the situation.. The end goal is always to grow and become a better person, nothing else.
What is your advice for someone starting out?
My advice for people who want to start a business but feel like they aren't ready is to take the plunge. Don't go halfway in, DIVE IN and believe in yourself. The hardest part is just doing the first step. It's like the hardest part of working out is going to the gym.
How do you protect yourself from competition?
We have trademarks and patents for many of our products, but most importantly we have very loyal customers that stand up for our brand. They continually support us even if they see imitators. Building a community that will stand behind you is so valuable, so we really value our customer relationships and consider them part of our Frenchie family.
What are the top 3-5 apps your business could not run without?
Instagram, Shopify, Google Hangouts, Zoom, Illustrator, and Skype are our go-to apps we use on a daily basis. These services help in terms of communication with our team, designing the patterns, and marketing to our customers. We use Google Hangouts a lot to share screens during team meetings and when we have multiple people on a call. Illustrator is where we create all of our designs and tech packs.
Do you have any books or podcasts that have helped you in your business?
Definitely! I highly recommend the book The Four Agreements. It has so many amazing life lessons in it. It's a book that you want to reread every 4 months or so for a refresher - I find myself coming back to it constantly and always taking away something new from it.
As far as podcasts go, Tim Ferris and Tony Robbins are my favorites at the moment. I love podcasts that focus on business and health - two of my passions that I'm really interested in.
What are the next products you're working on? Are there any releases you can tell us about?
We're working on some super exciting projects that I wish I could share but we have to keep them a secret for now… only because brands are constantly imitating everything we do.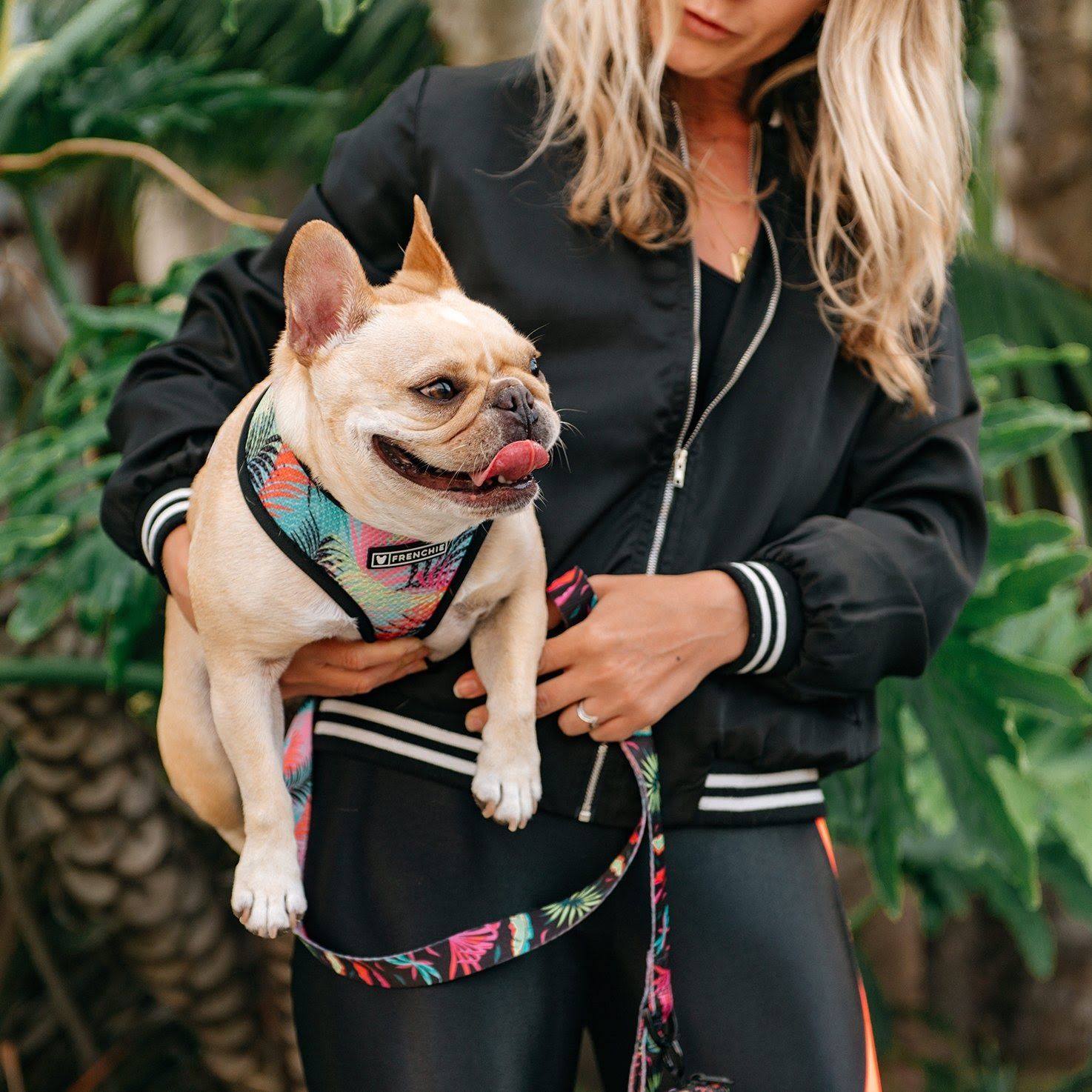 We are always working towards the next best thing and things our customers would love.
Where do you see the company in 5 years?
5 years from now, we really envision Frenchie being a household name for most dog owners as the best dog brand. We want to expand our international sales and see Frenchie being work on all breeds. We have big and exciting things planned for the brand and can't wait to see where it goes!
| Company Name: | FRENCHIE |
| --- | --- |
| Founder: | Bridget Levine |
Comments