Wishroute is a personal text message-based accountability service that is taking a radically different approach to helping people make and sustain healthy habits. Our unique methodology was inspired by my family's experience with lifestyle change when my brother was diagnosed with juvenile diabetes. In order to help him live a healthier life, we started experimenting with small, incremental changes, including walking after dinner, sneaking veggies in smoothies and drinking water instead of juice. I recognized the value that these changes had over time and am now leveraging behavioral science and a team of real people through Wishroute to hold others accountable in a positive way as they seek to make impactful changes in their own lives.
In order to validate the idea, we first conducted customer discovery interviews with 50 people asking about times they've tried to make a change and what specifically worked and what didn't. What we realized was accountability was key in all of the success stories. We then did 10 iterations with 50+ people using the service and spent weekends gathering feedback from beta users on their overall experience. With this information and feedback, we continued to tweak and refine the service until it became what it is today.
Wishroute gained its very first customers through personal trainers who wanted to help keep their clients on track in between sessions. Since then, we've continued to partner with a range of fitness services and gyms such as Lynx Fitness Club, Club High-Rise and AMP Fitness. Over the past year, we've created tracks to hold users accountable for their exercise goals and healthy eating habits and goals, including meal prepping, reducing sugar intake, eating more veggies, and opting for healthy snacks.
We also just launched a new program to help people stay mindful, moving and motivated from home despite the challenges of social distancing! As a text message-based service, we're uniquely positioned to help people navigate this situation and continue to offer support so that everyone feels connected and encouraged remotely. As a result, sign-ups have accelerated substantially and we saw 5 times more in March than we did in February!
Did you have any experience/expertise in the area?
When my brother was diagnosed with juvenile diabetes over 20 years ago, my mother quit her job and devoted all of her time to researching treatment options. Through her research, she found that small lifestyle changes were the only sustainable way to improve health.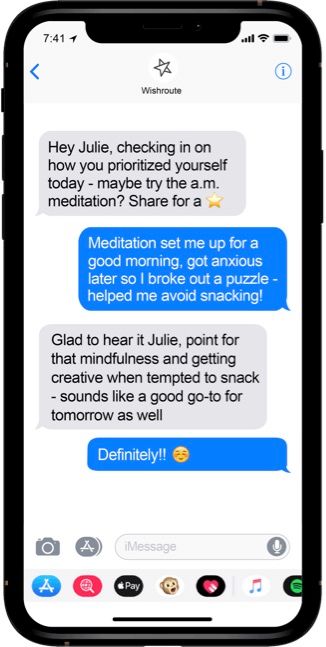 In addition to my early exposure to wellness, my experience as a PwC forensic consultant taught me how to dig deep to uncover peoples' blockers and the truth of an issue. I've now channeled these investigative talents towards figuring out how to help people achieve their wellness goals.
Who is your target demographic?
Wishroute appeals to anyone wanting to make lifestyle changes and benefit from external accountability. Take Gretchen Rubin's "Four Tendencies" quiz which categorizes and describes how we respond to expectations. If you're an "Obliger" or someone who identifies with the statement below, you'll love Wishroute!
"I do what I have to do. I don't want to let others down, but I may let myself down."
How did you fund the idea initially?
In the early stages of Wishroute, I relied on a lot of volunteers and advisors and my hard earned money to make the idea a reality and to get enough traction and stellar user feedback to catch investors' attention. We were fortunate to have then raised an undisclosed amount in an angel round which included prominent Boston angel investors and allowed us to bring on our CTO so we could build a scalable platform. It took us a total of 18 months of development and every day has been worth the journey!
My best tip for anyone looking to find their first employees is to talk to everyone you can about what you're working on and realize everyone has a different definition of what's valuable. People are willing to work hard when they believe in the vision and purpose even if there isn't a lot of money! Gaining experience working in a start-up or business in a field of interest is also valuable to people so it means you can move the company's vision forward, even with limited funds.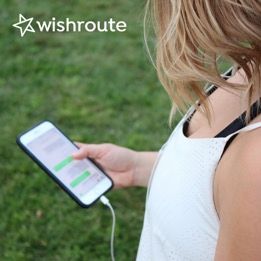 As a business leader, you also have to be flexible and pull in people's strengths with the time they're willing to contribute. Our own "wish guides" are trained with our specialized coaching methodology, but come from a range of backgrounds. Some are personal trainers, nutritionists, or even stay at home parents, but all are passionate about helping others stay motivated and feel supported!
What motivates you when things go wrong? What is the end goal?
Our Wishrouters keep me motivated; hearing how much we're helping them prioritize their health and stay on track and feel less alone is everything! Many tell us they've never felt more energized and happy with themselves and their health. We want to make personal support accessible to everyone and help people take advantage of all the resources they already have around them. We know that people can't be accountable to a robot and that's why many of our users have been with us 10+ months. In comparison, wellness apps and services that are driven by AI have a drop-off rate of 80% after the first week. Whenever I feel down, I peek at our users' correspondences with our real guides and immediately feel the validation I need to keep going.
Do you have any advice for someone just starting out?
Yes, Start! Do something small, even if it's just talking and getting feedback from people about your idea. Try a tiny tiny test, see if you enjoy what it takes to do the test and then try something slightly larger - incremental progress with business (and lifestyle changes) is key!
| Company Name: | Wishroute |
| --- | --- |
| Founder: | Jess Lynch |
Comments