Andre Williams is a former NFL player who got his introduction into fashion in 2015 when he met Eamon Walsh in New York, owner of Oneground Footwear. Under Eamon's guidance Andre created the Runningman shoe, an ultra-lowtop leather sneaker, a casual shoe built for the young professional.
He also founded two denim brands, All Weather Workers & Travelers(AW) & World of D.K. Shin(D.K. Shin).
Was it a lightbulb moment or gradual moment to start DKShin&Co ?
Before there was D.K. Shin&Co there was the Runningman shoe. The shoe was a very fortunate opp. brought to me by my marketing team at the time. I couldn't turn down the chance for a pro Runningback to make his own shoe. After I completed the Runningman Red Herring, it dawned on me that I'd stopped wearing jeans back in college because there was no modern fit for an athletic build like myself. After researching further, I decided this was a niche in the market.
How did you get your first three customers?
My very first customer was my longtime teammate and schoolmate Kevin Pierre-Louis. I did a little advertising on social media with the first product shots & lifestyle photos I'd taken. KPL bought the first pair to show support. Many of my first few customers were from people I knew or worked with.
How did you validate the idea?
Close to 500,000 young athletes compete in NCAA sports in the US. every year and almost 20% of the population engages in sport or exercise each day. The athletically built population of the world numbers 500 million+There is a large portion of the population that can benefit from a new 'athletic' fit.
Did you have any experience/expertise in the area?
I didn't have any experience in apparel manufacture, fashion design, or marketing when I started. I met, collaborated with and hired people who did.
Have you raised any money? How much?
My apparel companies were self-funded. I took some money I had sitting around in an ETF portfolio and i decided to invest in myself and my interests and created AW Selvedge and DKShin. In order to start some intial work with my agency and my production team I put about $200,000.
What regulatory approvals did you have to go through?
None, really. Production for the brands take place overseas in Japan, China, Spain, and possibly Portugal next year. I suppose the only regulations I deal with at this point have to do with customs/duty when my product comes in.
Who is your target demographic?
My target demographic is the young professional or the person that wants the look of a 'young professional'. Washes are both classic & artisan.
Denim is very high end, Japanese Selvedge. Cut is athletic, or skinny fit with the right kind of stretch to fit an athletic build. Shoes are sporty, casual, accented leather. My demographic spends money on clothing as a personal aesthetic pursuit and as a necessity, not as a fashion trend. They aren't necessarily waiting for the newest season to drop, so long as their favorite seasons are still available.
What is the funniest/most strange customer request you've had?
One customer sent me a picture and asked if the back pocket was supposed to be sitting so far down his backside.
How did you fund the idea initially?
I self funded the idea. I used money I set aside in an ETF portfolio my 1st year in the NFL. It was around half of my signing bonus.
Where did you meet your co-founder/founding team?
New Jersey and New York were my stomping grounds between 2014-2016. I met all of my team members at that time. Some we run with to this day and some fell off early.
Any tips for finding first employees?
Test everybody. You never know the value of your network until you do. Some people want to support you, some want to invest in you, some want other things. Test everyone.
Did you run any companies prior?
I am 27 as I'm writing this. I don't have any prior experience in business. Since college I've been playing pro sports. I started all of these brands while playing ball but I've only just now got organized enough to coordinate a unified launch.
What motivated you to start your own business?
I was always motivated to run a business for several reasons. I'm very creative, I love to tinker. So much so, that I built a fragrance lab in my townhouse in 2015 to make soaps, candles and other homemade smell goods in my spare time. I told myself that I would continue to practice until hobby became artistry & then I would figure out how to turn it into a business. Long before that happened I found my first mentor and he picked me up and threw me in the water. I learned to swim in an unpredictable business current.
What were your family and friends first thoughts on your company?
I never gave much thought to what my family or friends thought about my company or my brands so I never really asked. I get good reviews about my clothes all the time, friend or stranger because I have a good product.
What motivates you when things go wrong? What is the end goal?
When things go wrong, what motivates me to keep going is, all the years of work previously put in up to this point. All of the relationships formed, all the developments created, the learning moments. I'm motivated by the people around me. My closest advisor told me, "Every problem has a solution. If there's no solution, there's no problem, so change your perspective." That always comes to me in hard times.
Do you have any advice for someone just starting out?
My advice to those just starting out is, start with a good product that you can convince yourself to buy.
What has driven the most sales?
I think word of mouth is the most powerful driver of sales but also, the product sells itself, so return customers have actually been the biggest driver of sales.
What is stopping you being 3x the size you are now?
To begin with, the American consumer is miseducated and misinformed about the potential quality of Chinese made goods. There is a reason that China is the manufacturing capital of the world. My factories in China aren't small. I'm not using a chop shop. In fact, some of the most iconic international apparel brands are accounts held by my factory group. Next, the trade war really put a damper on things when I finally got ready to make big moves. Samples started getting held up at customs. China's government started cutting down the volume of US accounts held by their factories. Many, many factories have shut down there. China is restructuring their economy as well as their relationship with the US. It is painful. It was a mess and it still is. Now, coronavirus is locking down stores and choking out retail.
How do you protect yourself from competition?
Filing trademarks for your logo is first. If you do it yourself, it is much cheaper than hiring an attorney. I have tried it both ways. Next is just creating a product that is hard for my competition to match.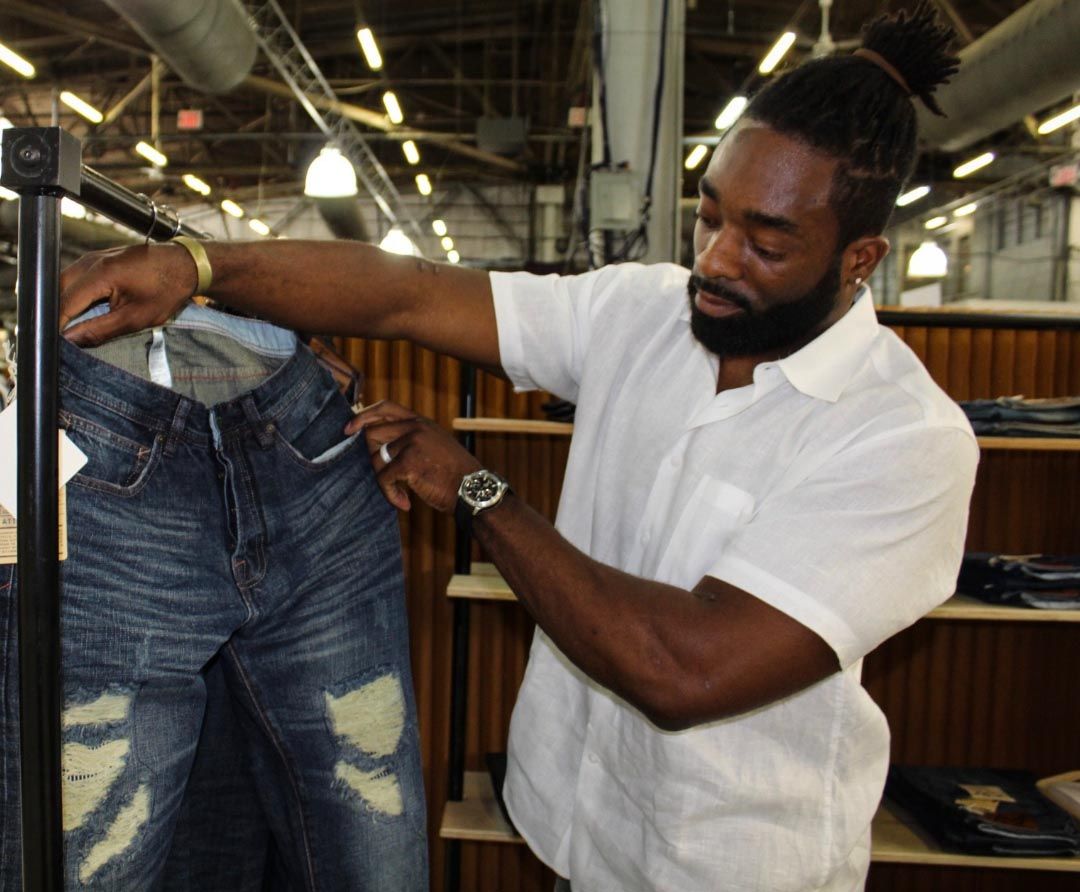 My agency is amazing because we have access to things most small companies do not, in terms of fabric. My fabrics aren't just special, their proprietary.
Do you have any trademarks/IP/patents?
Yes, I have several registered trademarks for my various brand names & companies.
What are the top 3-5 apps your business could not run without?
Instagram is really our main wave right now as far as marketing goes. Shopify is a great app for direct to consumer sales. Third would be the various banking apps that I use to manage money. Social media is a powerful tool for getting your product in front of people but so much of this business is content creation. In order to create content, you need to stage photo shoots for product shots and lifestyle photography. You have to hire photographers as well as models. You need publicists to link you in with media outlets. You have to interact with people through so many mediums that it's hard to pinpoint the top 5. Like I said, I hire those with more know how than me. I'm just interested in the result, which is good content and sales.
What are your favourite books? What are your favourite podcasts?
The Fountainhead by Ayn Rand. I don't listen to any podcasts at the moment.
What are the next products you're working on? Are there any releases you can tell us about?
The next products I'm working on are black and white denim for the fall season. I'm considering new selvedge colors as well. There are many, many developments that have been designed including tops but I'm waiting for the right timing.
Where do you see the company in 5 years?
5 years time, I see (AW) All Weather Workers & Travelers having it's own stores in the states and abroad. Right now we are considering how brick and mortar retail might evolve in the near future and trying to respond accordingly.
What is current revenue? If you don't mind sharing..
Current revenue stands at about half of what was put into the business so far, so while it's great to see sales, I would love to build some momentum and make a full rotation of the money that was put in. Then we'd be cooking with gas. I'm a very patient person. D.K. Shin & Co. is really a very futuristic idea.
Would you ever sell?
I think there is so much potential for growth right now that I couldn't think about selling anytime soon. But I'd never say never. I do have higher goals in life that running a successful denim company. If I was offered the right sum of money to achieve a higher goal, I probably wouldn't turn it down.
| Company Name: | DAE K. SHIN & CO. |
| --- | --- |
| Founder: | Andre Williams |
Comments