Matt Vincent, the first-ever head brewer and now co-owner at Ska Brewing also founded Ska Fabricating Company which has now employs 50+ people, manufacturing and selling depalletizers, conveyors and packaging line equipment to businesses around the world.
Last year, Matt also co-founded Oh Hi Beverages, a cannabis-infused seltzer company based in Durango, Colorado where he resides with his family. Matt is a true packaging genius, and a well-respected thought leader in the craft beverage industry.
Was it a gradual decision or lightbulb moment to start Ska Fab?
Necessity is the mother of invention. The first business that I was (and still am) involved in is Ska Brewing Company. We were one of the early adopters of the craft canning revolution. We started canning back in 2003 before it was a big thing in the craft brewing world. Back then, it was 2 cans at a time, loaded and filled by hand through all hours of the night for nearly 5 YEARS! Needless to say, I had a lot of time to think of better ways to do this. Filling two cans by hand was a tedious, time consuming and very labor-intensive process, especially for a brewery that is trying to grow.
How did you get your first three customers?
We got into a new facility in 2008 and were able to upgrade our canning system to be more automated. While the new filling system was an improvement in our process, the system to get the cans to the filler was still a very manual and wasteful endeavor. We needed a better way to get cans from a pallet to the filler without them spilling everywhere. My first go-to was the internet to look for a solution, and I learned that what we needed was a Can Depalletizer. I found some solutions that were out there but they were far bigger and far, far more expensive than what we needed or could afford. At that time, a common speed for canning lines at breweries was 600-2500 CPM (Cans Per Minute). We were running at 30.
How did you validate the idea?
The companies that I called looking for information on their depalletizers laughed at me when I told them what speed we were running at. I needed something that was smaller, cheaper and dumber than what they could provide.
Did you have any experience/expertise in the area?
Being the self taught engineer that I am, I took it upon myself to build one out of whatever parts that I could find around the brewery and scrapped something together. The first one was built out of a used pallet rack, some garage door track, and a custom motorized lifting system. It wasn't pretty but it was very functional. We reduced our can spillage significantly and the guy with the broomstick that was pushing cans into the filler (me), got to find something better to do with his time.
Who is your target demographic?
Our audience began as primarily craft beer makers - people who had beer and wanted to get it from their kegs or taprooms into cans to expand their market reach. That included brewers who were using mobile canners who wanted to build their own in-house system, bigger breweries who wanted to maintain/grow their production, and even the mobile canners themselves who wanted a convenient, small-footprint depalletizer to put on the beginning of their micro canning lines. These days we have expanded to many different industries, from kombucha and coffee to pharma and food.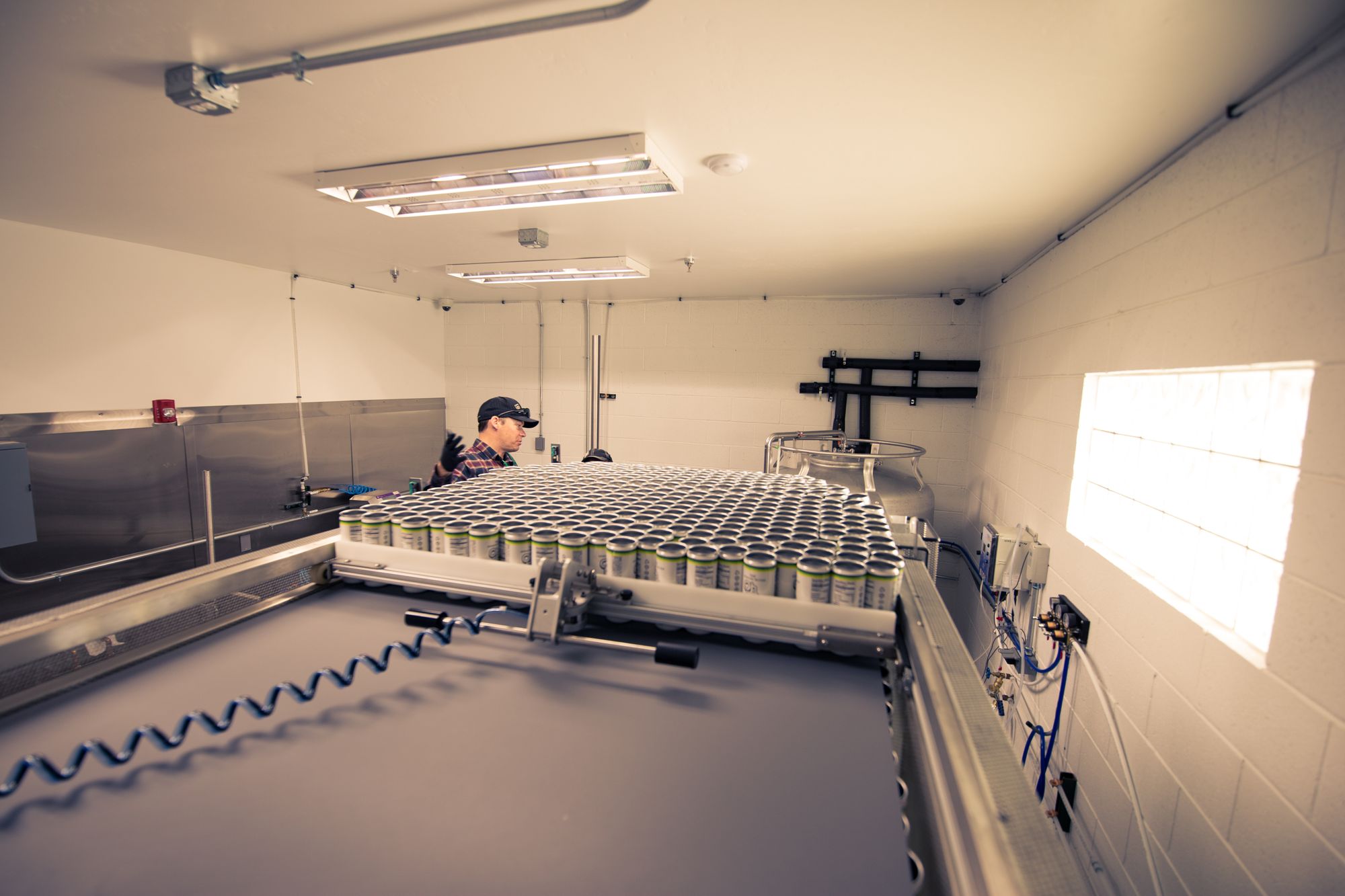 We have solutions that suit the needs of businesses that are running lines from 10 - 600 CPM and can move heavier materials, bottles, jars, and many other containers. Really the only container we don't work with is anything made of PET/plastic. It's just our small contribution to helping society turn away from the proliferation of single-use plastics.
What is the funniest/most strange customer request you've had?
We pride ourselves on being able to tend to customer needs of all kinds and have a kick-ass engineering team, so we are almost always working on something out of our comfort zone to suit the needs of our clients. Most of the time, if one person needs it, more people will - so some of the "strange" requests we get actually turn out to be a part of our official product catalog.
How did you fund the idea initially?
I hadn't really thought anything about turning this into a business at the time. We had some visitors from Austin Beerworks come through for a tour of our facility in 2012 - they had just recently started canning and were experiencing the same problems we were having in our early days. Once they saw that mousetrap I had built, they offered to pay me to build them one. Of course, I said yes. We negotiated a down payment and some other loosely constructed terms over a beer and that was our first official order. Ska Fabricating was officially born. We cleaned up the design of the machine, added more basic automation and named it the Can-I-Bus Can Depalletizer. We got the deposit check on June 6, 2012 and installed the first machine at ABW on July 5th, 2012. I took a video of the machine in operation, added some Ska music to it and posted it on a brewers forum. In the post, I asked if anyone else would be interested in one. I got five orders from other breweries within the first month of posting the video. Bear in mind, these machines were selling for roughly $25k per machine and typical payment structures for machinery are 50% down and 50% prior to delivery. I was able to fund the entire business from customer deposits with no additional capital needed.
Where did you meet your co-founder/founding team?
Once I knew this was going to turn into something bigger than I had planned, I reached out to a small machine shop to make some parts for me. I met the owner, Dan Morris and we instantly hit it off. He had a lot of experience in the printing industry and building and repairing printing machinery for previous employers. He was very interested in the project and wanted to be involved.
Prior to meeting Dan, my first shop was at a friend's garage that was 30 miles outside of town in the country, without internet and without cell service. It was not an optimal place to run a business so I located a building in Durango. Once I signed the lease, Dan and I negotiated a deal where he could move his machine shop into the new building and I would bring him on as a partner to the business. He had the right fabrication machinery and know-how and I had orders for machines that I needed to start building ASAP.
To date of writing this article, we have built nearly 800 machines covering all 50 states and around the world to 27 different countries. We have expanded our offerings to several different types of machinery and services to help make canning easier for smaller producers. We have sold depalletizing systems to many other industries outside of the beer industry to include coffea, tee, kombucha, spice jars, food products, cannabis, pharmaceutical products, and virtually almost anything else that is packaged on a smaller scale. We are projected to hit $16mm in sales in 2020, up from $13.5mm in 2019.
Did you run any companies prior? What motivated you to start your own business?
I was the first official employee of Ska Brewing Company in 1996. I ended up using some unused college funds (meaning that I dropped out) and invested in that business as an equal operating partner. As it worked out, I ended up taking on the role of self-titled Plant Engineer, Accountant and HR person. I learned so much in these different roles that it played well into my knowledge base to start other businesses. I had been through the early stages of a startup business and knew what gambling on business was like. Starting Ska Fabricating was an easy task, it was running it and growing it has been the hard part.
What were your family and friends first thoughts on your company?
My family has been very supportive of the venture. My wife currently plays a very active role in the company and helps me and most everyone else at Ska Fab stay organized. She has been there from the beginning and grown with the company, taking on nearly every administrative role at some point in time throughout the life of the company. My friends think I'm crazy because they don't really understand what we do. They are happy as long as the beer gets in the can.
What motivates you when things go wrong?
What motivates me when things go wrong? Getting to the root cause of the problem and them solving it. The end goal is to make sure that the customer is happy and they tell other people how happy they are. That translates to more customers. Word of mouth is the most powerful sales tool out there.
How do you protect yourself from competition? Do you have any trademarks/IP/patents?
We have several competitors out there. We were first to market with a small scale depalletizer, so they have copied a lot of the unpatentable design aspects of our machine. I spoke to a patent attorney at the very beginning of this and he said it would be hard to protect so rather than waste a bunch of money trying to patent it, just be the best one out there. Since then, we have patented certain pieces and designs to protect ourselves, but we still pride ourselves on being the best provider in the market.
What are the next products you're working on? Are there any upcoming releases you can tell us about?
Ska Fabricating is constantly working on developing new products, primarily at the request of our customers. The scope of our company is expanding and we are starting to target larger companies that operate at higher speeds. We recently released an upgraded version of our Can-I-Bus that we have dubbed the Magic Bus. It has significantly more automation and functionality to compete against the bigger players in the industry.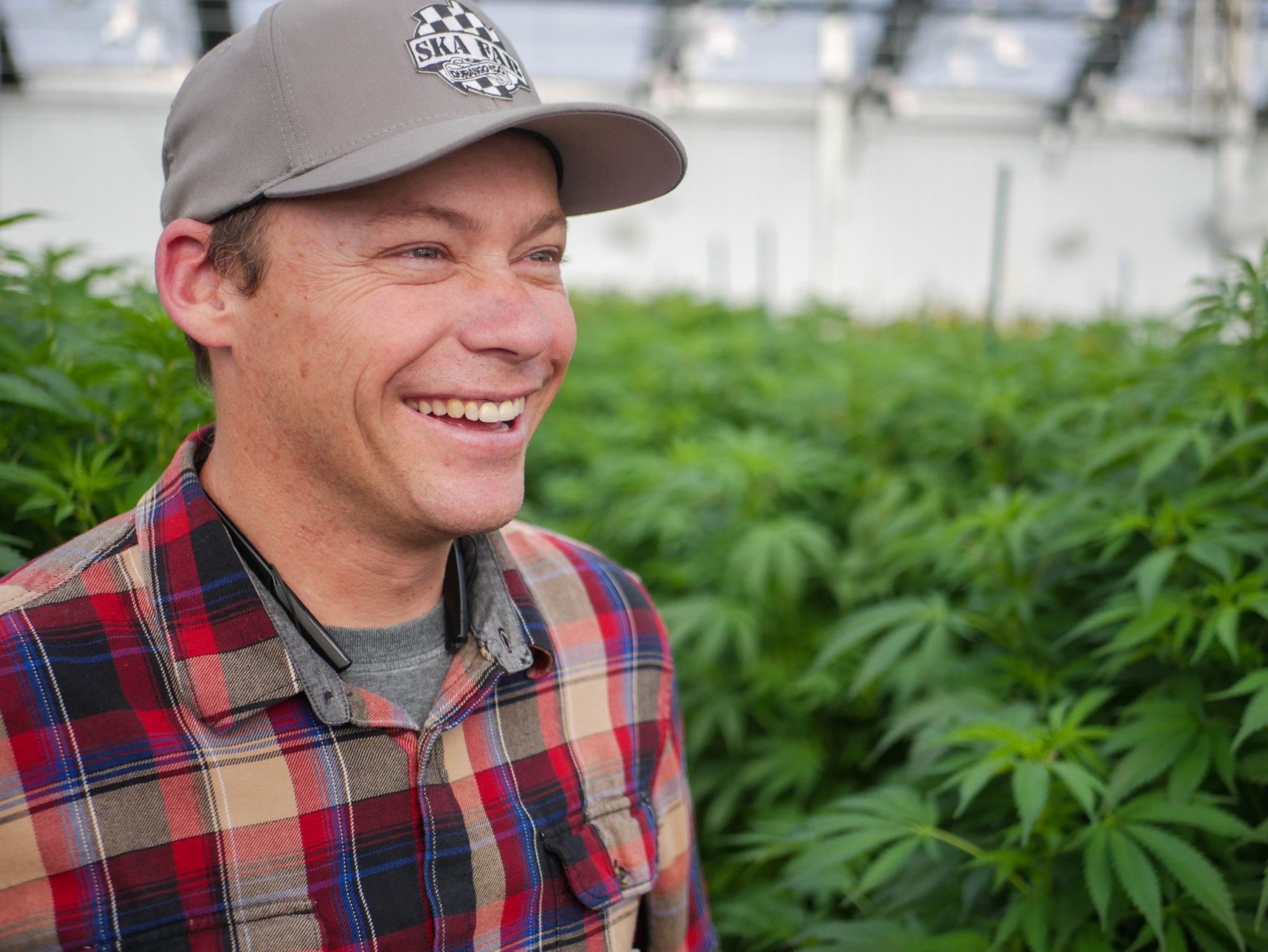 I launched another project in the cannabis industry called Oh Hi Beverages in 2019. We make CBD and THC infused beverages. I was approached by some buddies that own a chain of dispensaries, Durango Organics, and they wanted to make cannabis-infused beverages. I was able to use my knowledge of the brewing industry and the machinery side to help get this business off the ground. We sell our THC infused beverages around the state of Colorado and will soon be selling our CBD beverages around the country.
| Company Name: | Ska Fabricating |
| --- | --- |
| Founder: | Matt Vincent |
Comments