It was a very gradual decision validated through several years of operating an online business closely aligned with what Partake Brewing is today and receiving feedback from real customers who wanted the products that Partake Brewing now makes.
Our first Partake Brewing customers came from the customer base we established through our online store selling other brands of non-alcoholic beer, wines, cider, and spirits (yes non-alcoholic spirits are a thing). By the time Partake Brewing launched we had over 5,000 customers. Our Kickstarter campaign launched in March 2017 and reached its $10,000 goal in less than 3 hours.
The idea was validated over a 3-year period from 2013 through 2016 operating an online business selling related products, building a customer base, and listening to the needs of our customers to pivot towards creating our own brand. Launching our own brand was something I would have liked to have done from day 1 but in retrospect, I was fortunate to learn many aspects of the business more incrementally and make smaller mistakes with lower risk. I think if I would have pursued my own brand back in 2013 I would have failed.
Did you have any experience/expertise in the area?
Not at the start but I naively thought anyone can run an eCommerce store. I quickly learned it is much harder than it sounds especially for food items, heavy items, and fragile items all of which describe our non-alcoholic beer. But by the time I launched Partake I had learned many hard lessons and was the undisputed thought leader in the category in North America.
I bootstrapped the business for 6 years (going back to the start of the eComm store) and have recently surpassed $3M in trailing 12-month sales. This has put me in an advantageous position to raise capital that I expect to close in April 2020.
Who is your target demographic?
I started with the thesis that our product would appeal to an older demographic. This has quickly changed as more Millenials and GenZs look at use occasions for alcohol much more judiciously and socialize more often in sober-friendly settings. Being sober in social situations is much more acceptable than it was just 5 years ago across all demographics.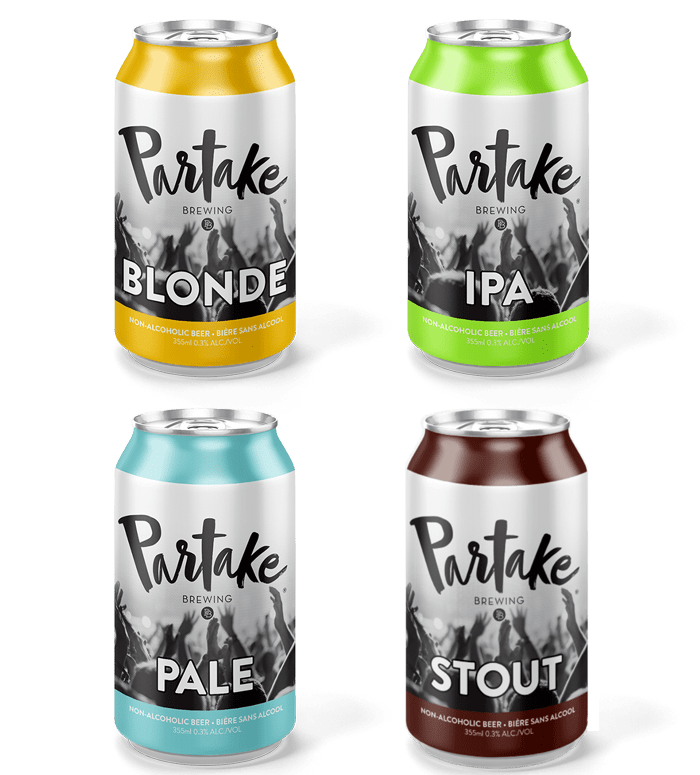 We sometimes receive requests to make our packaging blander so people don't get asked what they are drinking and feel the need to explain that it is non-alcoholic beer in social situations. This comes from some of the social pressure to drink alcohol or appear to be drinking alcohol. We think our unique packaging, great taste, and low calories are all great reasons to drink our beer and those conversations will help change social acceptance of choosing to not drink alcohol.
Any tips for finding the first employees?
My first employees helped me with very specific tasks that I could no longer do myself. In my case, it was sales reps. I hired someone who was young, keen, and affordable. He has been with us for several years and now manages some of our key accounts.
Did you run any companies prior?
My background is in Engineering and my first business was in renewable energy developing solar power plants. I completed a large project at the time I was actively looking for ways to help me give up alcohol and moved to solve that problem.
My family and friends were generally supportive and many became customers. I don't think any of them thought Partake Brewing would be where it is today.
What motivates you when things go wrong? What is the end goal?
Ultimately, I am in this business with a genuine desire to make things better for people who choose not to drink and want to be accepted for that choice. My goal is to be able to walk into a bar in a small town in rural America and be able to order a Partake craft non-alcoholic beer.
Do you have any advice for someone just starting out?
Figure out how to test your idea at a low cost and create a learning environment. If you can be a few years ahead of a trend then you will be well prepared to take advantage. To do this you must have true conviction in your idea because there will be many nay-sayers along the way.
Emails have driven most of the sales because it is something we have cultivated for many years and keeps us connected to our customers.
Nothing stops us from being 3x the size we are now - we are on track for that this year.
How do you protect yourself from the competition?
We offer the best in class product considering taste, ingredients, calories and the authentic story behind our brand. We also have trademarks/IP/patents.
What are the top 3-5 apps your business could not run without?
Gmail suite, LinkedIn, QuickBooks. They are essential for communications.
What are your favorite books and podcasts?
Books: Shoe Dog, Ramping Your Brand
Podcasts: Taste Radio Insider, Under the Influence, Revisionist History
What are your next steps for Partake Brewing?
We are working on our next product, Seasonal beers like a Radler.
In 5 years, we are ubiquitous in the non-alcoholic beer category. Widely available in the US and Canada. Our current revenue is $3M LTM.
Would I ever sell? Yes, if it contributed and expedited my goal of being able to walk into a bar in a small town in rural America and be able to order a Partake craft non-alcoholic beer.
| Company Name: | Partake Brewing |
| --- | --- |
| Founder: | Ted Fleming |
Comments