Helen Hall, a plant-forward health enthusiast and CEO of Blender Bombs, the nation's only nutrient-dense smoothie boosters. Hall started her company out of her kitchen with a $300 budget and built a company that is now worth $10 million dollars, all in just 3 short years.
Blender Bombs were born out of Hall's need to curb late night cravings and satisfy her sweet tooth, while keeping her health in mind. 3 years and many product tests later, you can now find Blender Bombs in Whole Foods, World Markets, Erewhon Markets, and Thrive Markets! Hall has taken the United States, and the boardroom, by storm, and plans to continue to help others reach their health goals through nutrition!
Was it a lightbulb moment or gradual moment to start Blender Bombs?
The creation of Blender Bombs was gradual, and very organic. After months of combining multiple ingredients into my smoothie every morning, and making smoothies for my clients, a lightbulb went off. I thought to myself, this would be SO much easier if all of these ingredients were just rolled up into a premade ball to pop in the smoothie!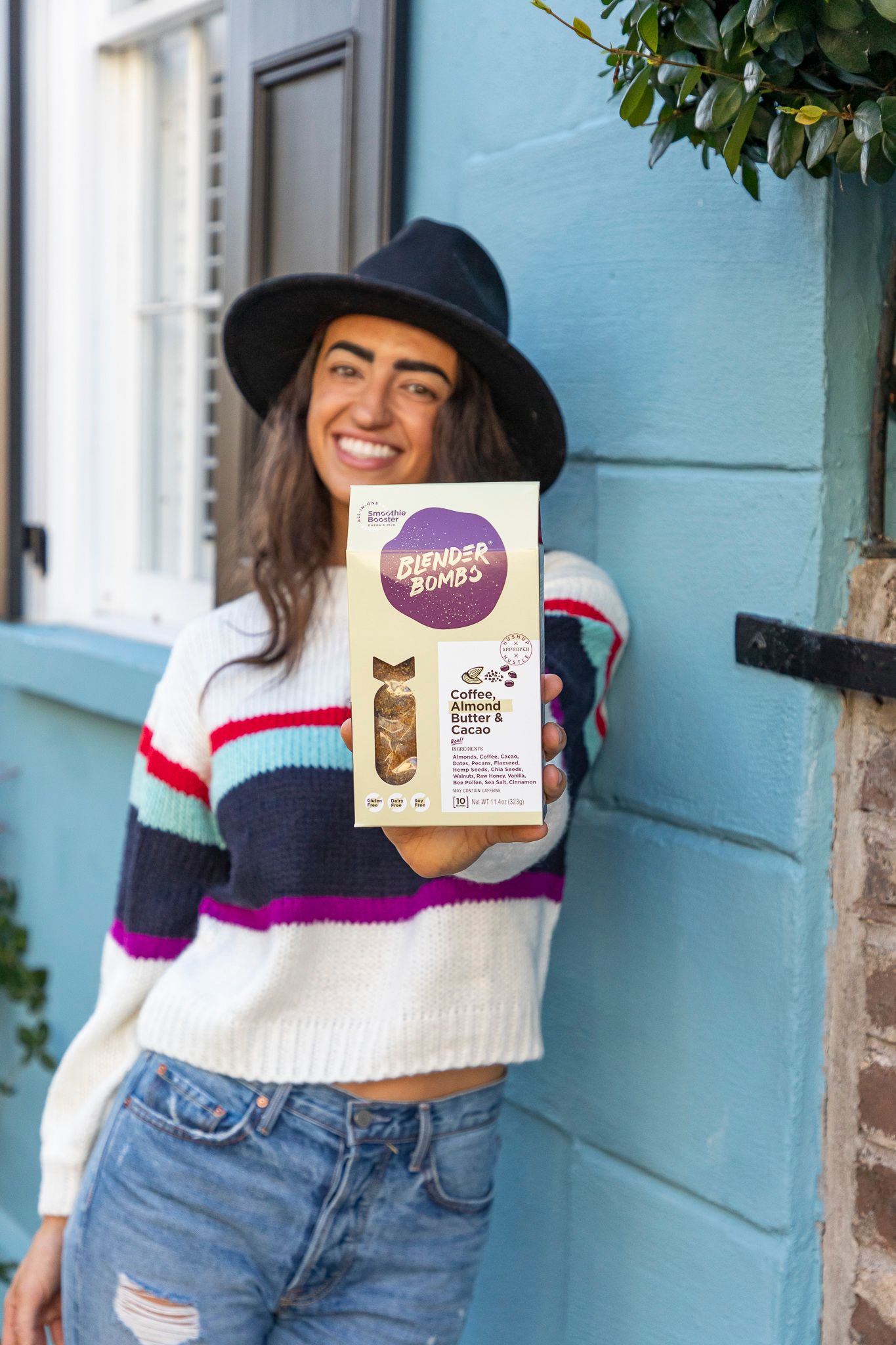 My smoothie prep went from a daily chore to a quick fix, my clients were hooked, and in that moment, I knew I was on to something.
How did you get your first three customers?
My first customers were acquired from my personal training clientele! I knew that to optimize their results, it would take more than just regularly exercising. That's where a Blender Bomb smoothie a day came into play!
How did you validate the idea?
After seeing my clients' results and hearing them rave about how delicious and filling their smoothies were with the Blender Bombs, I knew it was something I could turn into a business. I found so much encouragement and validation through their collective testimonies. Just from their word of mouth marketing, requests for Blender Bombs were flowing in.
Did you have any experience/expertise in the area?
When Blender Bombs was founded I was a personal trainer, so I was naturally interested and invested in the health and wellness industry. However, other than working out I didn't have much experience in this space. From there I began to take a deeper dive into the nutritional aspect of wellness. This is when I started to become fascinated with not only working out, but pairing fitness with properly fueling my body.
Have you raised any money? How much?
I am very proud, and fortunate, to say that we have never had to raise any capital! To date, my only investment is a $300 Costco trip to purchase bulk ingredients. We have been profitable ever since.
What regulatory approvals did you have to go through?
Oh goodness! There was a ton of approvals and red tape in the food distribution industry. From co-packer certifications, Non-GMO certifications, and distributors (UNFI and KEHE), we have gone through intense regulations and protocol over the years. One of the many reasons I love my fiancé Scott, who is a partner in the business, is that he handles most of this stuff. Our brains work very differently so I am thankful for his guidance on these kinds of things!
Who is your target demographic?
Blender Bombs are for anyone at almost any age. However, I would say our primary target demographic is women ages 20-55. We also have a great customer base of men ages 40-55.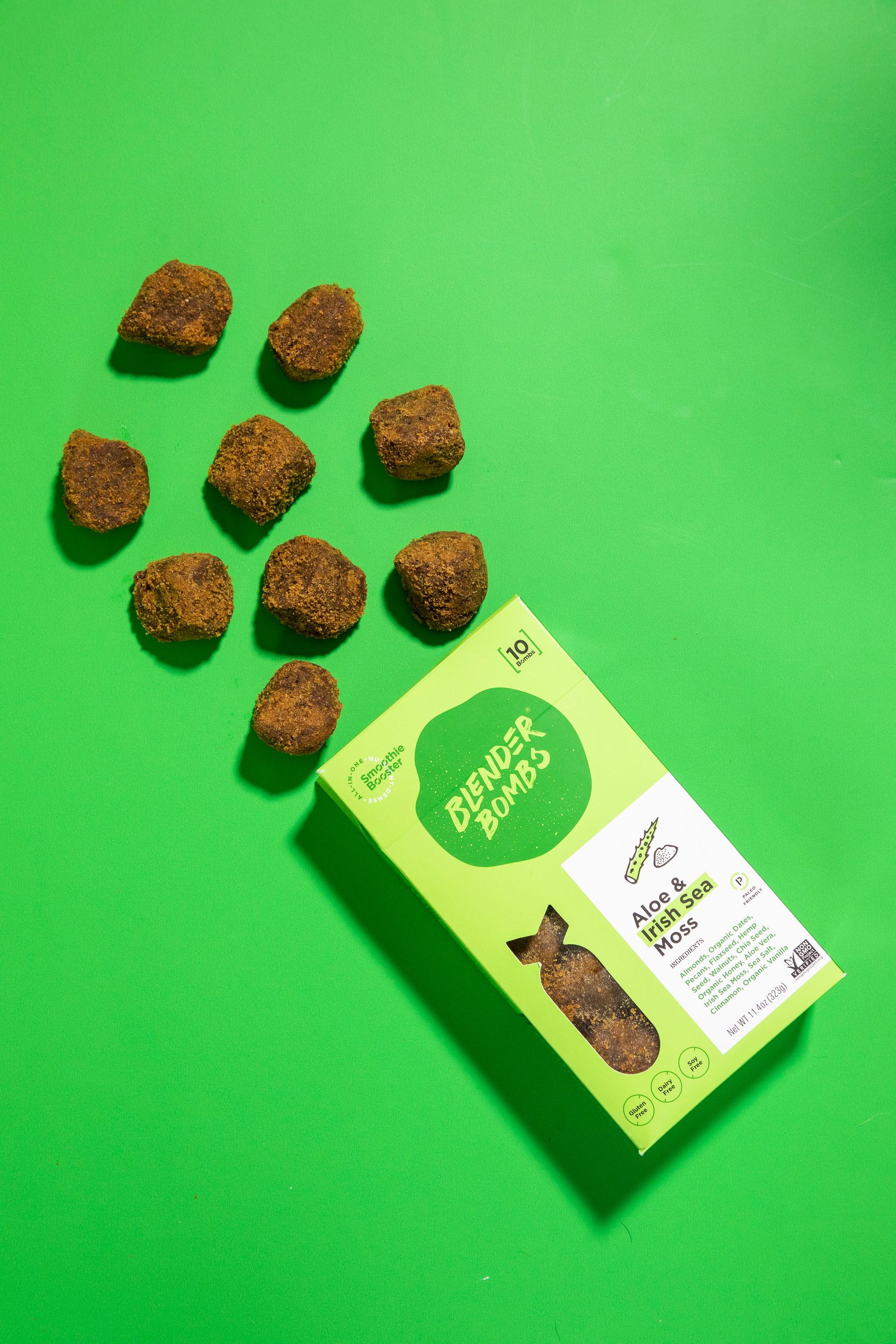 Our audience values their health, and takes the time to research the quality of the foods they put into their body. We encourage clean ingredients, and most of our clients really appreciate the high quality of the mostly organic ingredients in our products!
What is the funniest/most strange customer request you've had?
This is a hard one! We get so many messages and questions through social media - which we LOVE - bring them on! But I'd have to say one customer interaction that stands out in my mind was when we had someone ask if the Blender Bombs contained "meat" in them. We of course thought they were joking, but in fact, they were not…
How did you fund the idea initially?
My parents took me to Costco, and gave me $300 to purchase bulk ingredients to make my first round of Blender Bombs. Other than that little kickstart, I was able to invest the money I was making back into the business to continue making the Blender Bombs to fulfill more orders.
Where did you meet your co-founder/founding team?
Fortunately, I knew my entire team before hiring them! I had a personal relationship with each of them, which is something that I think is so important. Since I spend about 80% of my time with my team, communication and trust is key.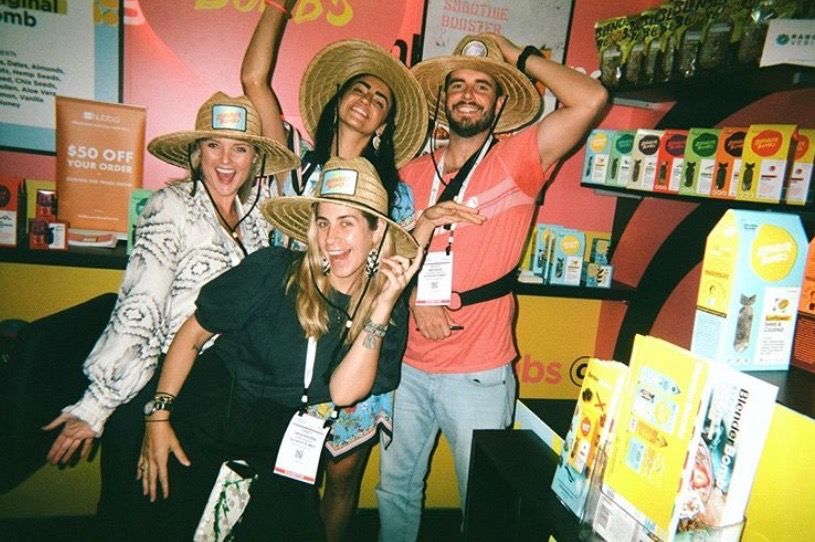 I'll admit, so many people warned me not to hire my friends, and especially my fiancé, but I could not be happier and more sure of this decision.
Any tips for finding first employees?
I was lucky to have hired people I already knew and trusted which, for me personally, was the best thing I could have done for my business. I couldn't recommend it enough. However, if this isn't a viable option for you, trust your instincts and ability to connect with and read the people you're considering hiring.
Did you run any companies prior?
Nope! I was only out of college for a few years when I dove head first into entrepreneurship.
What motivated you to start your own business?
The product and the lives I was changing truly drove my motivation to continue to foster and grow Blender Bombs. I wanted to be able to share my products with everyone I knew, and beyond!
What were your family and friends first thoughts on your company?
My friends and family were super supportive from the beginning. I don't think anyone thought I was going to be able to make this a full time gig at first, but it just kept growing and growing.
What motivates you when things go wrong? What is the end goal?
The end goal is to make a nutritious meal readily available for everyone. I want to educate our consumers about the benefits of eating a plant based diet and truly caring about their health. My dream would be to have all of our customers rockin' the 80x20 lifestyle, which is 80% whole foods/plant-based and 20% whatever they like!
Do you have any advice for someone just starting out?
If you have questions or don't know how to do something, just ask! Use your resources, make relationships with people, and don't stop looking until you find the answer. Keep up that hustle!
What has driven the most sales?
We would not be where we are today without the power of Instagram and word of mouth. It's our lifeblood. Additionally, our email marketing has been a major sales driver.
What is stopping you being 3x the size you are now?
That's an easy answer, but not as easy of a solution - ha! Industry experience and capital is what's stopping us.
How do you protect yourself from competition?
Honestly, we aren't too worried about competition. We truly just try to focus on our own business and product launches!
Do you have any trademarks/IP/patents?
Yes, our Blender Bombs are all trademarked. We don't have any patents.
What are the top 3-5 apps your business could not run without? Why are they essential?
Instagram - is our biggest platform for driving sales, raising awareness, and building close relationships with our customers. We love making our customers feel like they are talking to a friend. Having a platform like Instagram to communicate and connect with them is so essential.
Facebook - isn't as big as Instagram for us, but we still use it on a daily basis. It is crucial for interacting with customers, along with targeting our older demographic.
Canva - is an online platform that allows us to create content, design logos, etc. the beauty of Canva is you don't have to be an expert in graphic design, yet you can still create some killer content!
Shopify - is the platform we use to sell our products and track all of our data. We love how user friendly it is!
What are your favourite books?
I LOVE to read and listen to audiobooks! Some of my favorites are:
Magic of Thinking Big
Big Magic
Crushing It.
What are your favourite podcasts
I am a podcast FANATIC.
How I Built This
Heather Mcmahan's Absolutely Not (for a good giggle)
The Skinny Confidential
Oprah's SuperSoul Sunday are a few favorites!
What are the next products you're working on?
We are currently working on Bomb Bars and a vegan option for our Blender Bombs. The Bomb Bars are meant to be a quick and easy snack on the go! They will be made with similar ingredients as the Blender Bombs, and we are SO excited about them. The bars have been our most highly requested product, so we are excited to finally be able to make this happen for our customers.
Are there any releases you can tell us about?
Same answer as the question above! We'll be releasing Bomb Bars and a Vegan Blender Bomb.
Where do you see the company in 5 years?
In the next five years, we would love to have more products developed, and of course to experience exponential growth. We're currently working on gaining more awareness on the West Coast, which is one of our biggest goals!
What is current revenue? If you don't mind sharing
That's a secret I'll never tell. XOXO ;)
Would you ever sell?
Y-E-S! We would absolutely sell. If there was someone who could grow Blender Bombs and expand the company even more than we can, we'd love to chat!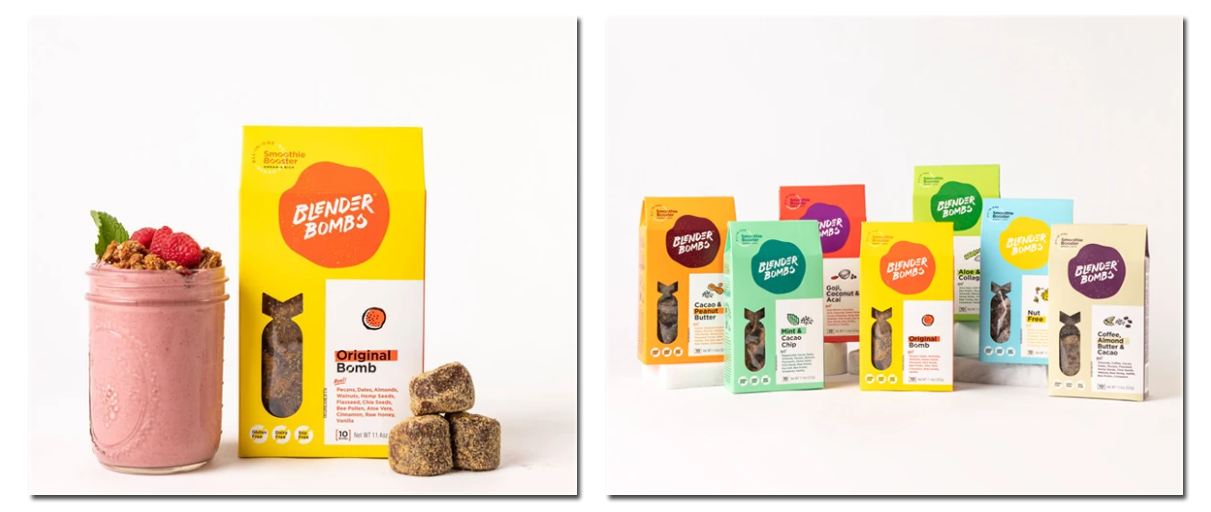 Our ultimate goal is to have as many people implementing one Blender Bombs smoothie a day into their diet. We truly have seen lives changed by Blender Bombs. If this goal is attainable through someone else taking over, that would make us just as happy.
| Company Name: | Blender Bombs |
| --- | --- |
| Founder: | Helen Hall |
Comments