Magna Imperio Systems (MI Systems) was founded after I made an accidental scientific discovery. I grew up with a profound passion to find a safer approach to electroplate cars and other materials. What I ended up finding instead was a process to efficiently desalinate water. Once I was accepted into the Naval Academy as a mechanical engineer, I presented my research to a senior officer who was incredibly intrigued and thus, allowed me to utilize the Naval research labs in Washington, D.C. This eventually led to my patented technology, known today as Electrochemical Nano Diffusion, or END®.
We had to conduct a large amount of testing for free, as well as install pilots for free, all while guaranteeing results. Due to being extremely well-funded, we were fortunate to get past most of the barriers large companies established.
Hard work to say the least. The water industry is the most stagnant market in the world. It's very hard to sell a (Hardware) product that is new and patented, when the last true hardware was patented in 1966.
We have raised over $22 million dollars after completing a Series B round last year. MI Systems is currently valued at $115 Million.
Who is your target demographic?
We can provide our services to a variety of industries: oil and gas, food and beverage, and the power industry – to name a few. We've also partnered with nonprofits to aid in the ongoing global water crisis, with efforts to provide clean drinking water for regions throughout Africa.
I wouldn't say funniest, but what's definitely remarkable is some of the newest things we have been able to prove such as lithium concentration, boric acid production, and silica removal.
Where did you meet your cofounder/founding team?
I was incredibly lucky to obtain such a strong team from the very beginning. My current COO, Dr. Chad Unrau, was an investor and an advisor when MI Systems first launched. I knew immediately I could trust and heavily rely on Chad to keep the business moving forward. My CFO, who also currently serves on the Board of Directors, Troy Toner, was another crucial piece in getting the company off the ground, as well as Justin Salon, our Corporate Board Secretary, and head of legal counsel.
Any tips for finding first employees?
Find people who are just as passionate about the business and industry than you are and invest significant amounts of their own money. When you're first starting, it's exciting to see people expose interest, but it's important to be concise about who you share information with. Make sure your starting employees share the same values and believe in the same business philosophies. If you employ the right people from the start, they'll most likely stick with you in the future. Be careful of anyone who wants a high salary or a significant amount of stock up front.
Did you run any companies prior?
Magna Imperio Systems was my first large business, but I did run a small drop shipping company for one year prior.
I felt that my "accidental discovery" was no accident at all. I was persistent enough in my research to find something life changing, so I knew I needed to move forward with this idea for the greater good of the world. I was deeply motivated to get MI Systems off the ground as the water crisis is getting worse by the minute. I knew my company had a chance to make an impact that most do not have.
My family and friends were ecstatic and supportive! My inner circle knew how important it was for me to find a calling worthwhile, so when I made my discovery and moved forward with patenting this technology, they believed I found something unique and beneficial. To this day, I am incredibly lucky to remain in that inner circle, as I get to share my successes with them knowing they are incredibly happy to see MI Systems get this far!
What motivates you when things go wrong? What is the end goal?
When running and operating a business, things WILL go wrong. It's inevitable and unavoidable. What motivates me through the tough times is knowing that they are common. I muster through while I focus on my end goal, which is to solve the earth's water crisis. Knowing the impact MI Systems can, and have made, I can't stop now, no matter what life throws at me. The desire to change the future for the next generation is all the motivation I need to keep me harrowing through the tough times.
Do you have any advice for someone just starting out?
Absolutely! First and foremost, know the inner workings of the industry and know as much about it as you can before immersing yourself fully. Know the people you get involved in the company well and trust them completely. Lastly, create a team of top-notch accountants and lawyers. An amazing idea will never flourish if you don't have the proper representation and protection.
What has driven the most sales of Magna Imperio Systems?
Believe it or not, going door to door and being in front of potential customers has garnered the most sales for MI Systems so far.
We are happy to say we've already made drastic strides in our company's growth and have scaled in every way to keep the momentum going!
How do you protect yourself from competition?
Continue to stay as far as head of them as you can with technology and continuing to invest in manufacturing. We have over 435 patents and spend millions on patents every year.
What are the top 3-5 apps your business could not run without?
Quick books, T-Sheets, Bill.com, Fishbowl. They are essential to constantly track where funds are being spent and to do so in a timely manner.
What are the next products you're working on?
We are expanding our oil and gas operations in Texas to have over 100,000 barrels per day of production. We will also be building a large desalination plant in Latin America in the coming months. Lots of exciting new opportunities!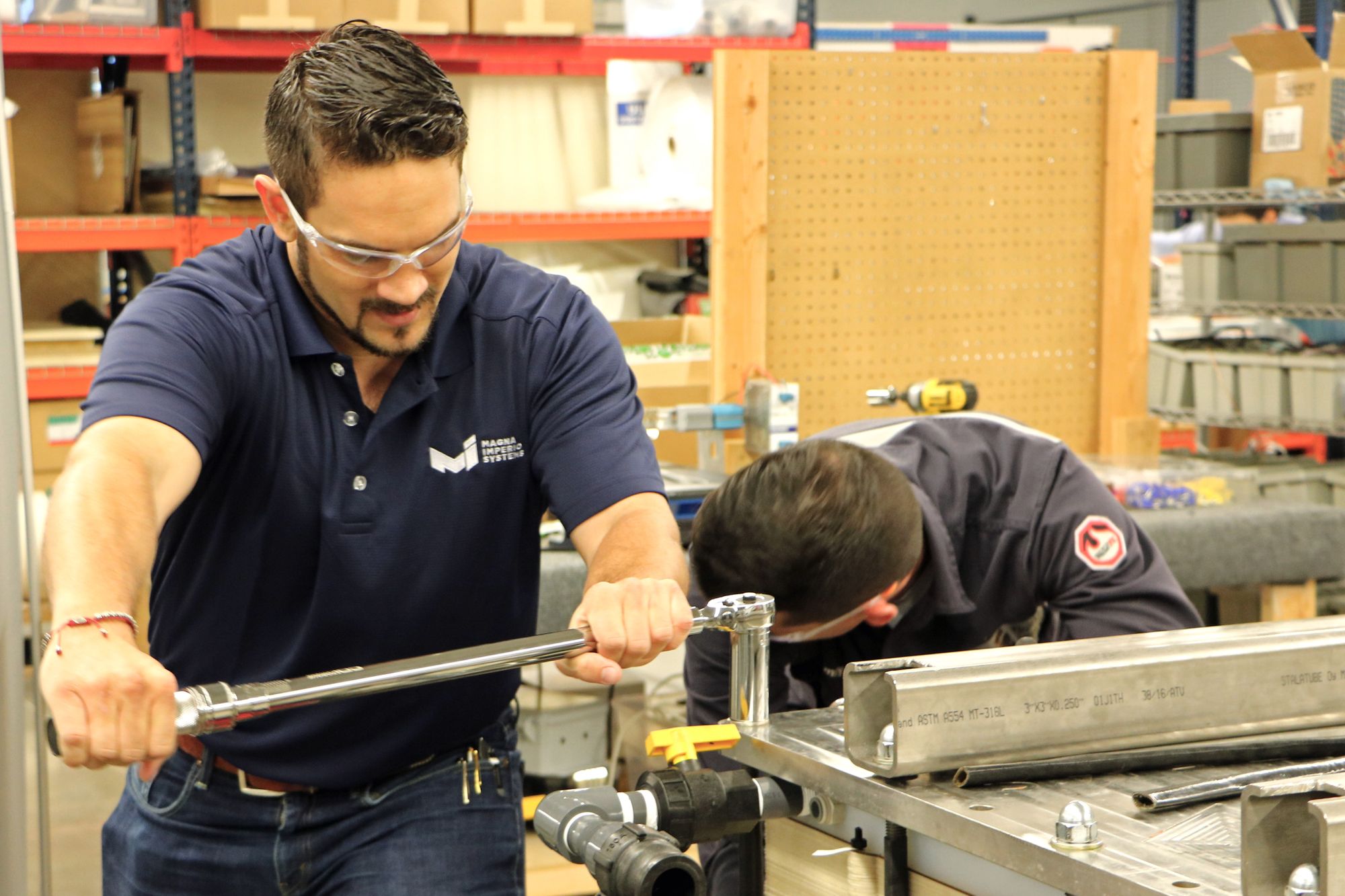 In five years, we hope to have made a dramatic impact on the current water crisis, by providing water to at least 100 Million people. We plan to provide clean, safe drinking water for the United States, as well as branching out to other parts of the world including Latin America and the Middle East.
What is current revenue? If you don't mind sharing.
We already have over 30 customers and $10MM revenue. We expect to triple that this year. If the sale price made every employee that has helped get us here will get enough money I would consider selling.
| Company Name: | Magna Imperio Systems |
| --- | --- |
| Founder: | Grant Page |
Comments