I first retired in 2003 after 30 years in management consulting providing services to health, nutrition and science verticals. But life throws us unexpected, unwelcome and unwanted curveballs. In 2016 my wife was diagnosed with Alzheimer's disease. The news hit us like a freight train. What did this mean? What could I expect to happen? How could I help? Receiving a life-altering diagnosis is never easy for an individual or the people who love them. Some people pray, some people scream, some crawl into a ball and hope it's just a bad dream. I did all of that and more. And then, when I was able to get my bearings, I did what comes naturally to me: I looked to science for a solution.
I was determined to find answers, and ultimately, l found a flicker of hope. Researchers at MIT were focusing on light therapy as a treatment for Alzheimer's—where flickering light shone into the eye induced healthy brain rhythm. They discovered that visual stimulation, given one hour a day for three to six weeks, had dramatic positive effects on brain function.
For me this was a eureka moment. Like so many others I was fighting against the clock with a loved one facing dementia. I called on some colleagues to help develop prototypes of safe, nurturing lamps just like the ones from the research. We immediately began using them at home.
The flickering lamps had notable positive effects on my wife. We saw a rejuvenation in her speech, strengthened memories and more. I found it remarkable and so did her doctors; they asked me where they could get more of them. Our experienced benefits combined with the market need led me to leave retirement. I founded HomeoLux™, a health and technology company that designs wellness products based on cutting-edge, scientific research to help families like mine who just can't wait.
We are a scrappy team of 5, mission-driven entrepreneurs with deep experience in investment, industrial design, engineering, product development, product innovation, and marketing. To date we've bootstrapped all of our work.
Who are your customers and what are they saying about HOMEOLUX™?
16 million people in the US are living with cognitive impairment - twice the population of New York City. It's unfortunate but true that Alzheimer's is called a family disease because the devastating effects of watching a loved on decline touches everyone. Primary care of dementia patients is typically provided by relatives totaling 18.5 B hours of unpaid care valued at $234 billion.Topping that, actual Alzheimer's costs in Americans are now at $277 billion a year and that number is expected to rise.
Since launching our Beta program we have been in contact with more than 800 early adopters. With a target market that feels desperate, each family story is personal and unique but they share a common thread:
We heard:
-I need something to do--something that will give us hope.
-I cannot wait. A 10-year trial for FDA drug approval is outside of my reality.
-I was in denial about this for so long--and now I'm scared it's too late. We're scared.
Since our market launch we've had great feedback with most customers telling us they're experiencing noted positive improvement with routine use .
One customer, Zia K., told us about the benefits. "I like the lights. And I've already noticed a difference, I feel the difference . My memory is much better. It's really improved. I fit the lights in my routine and will keep using them," Zia said.
Another customer, Janie W., said she noticed changes in her husband. "My husband is able to think more clearly and is becoming more of himself again. He plays poker again, laughs more," said Janie.
What happened in the early stages?
As I mentioned we have bootstrapped the project from the beginning. And that means that being scrappy, efficient and singularly focused has to be our mindset.
The thing that makes us able to push toward success is our shared mission--it's my personal story. And, I rely on the diverse and dedicated team that helped me launch the company. While each of us is unique, each has their own experiences caring for a loved one with dementia. Each of us brings a personal passion and strength to our work at HomeoLux™, whether we're working on engineering, business development or marketing. That caring, that compassion is palpable in the BEACON40™ lights and in every step of our users' experiences. You can't manufacture that anywhere else.
We were able to start and launch HomeoLux because of my personal story. Because I face the challenges every day of caring for my wife, I know first-hand what other families are going through. I know that they need help to get them through each day and to continue to have hope. I know that they need something that is safe and nurturing, that complements their doctor's prescribed therapies. I know that they need something that is backed by science and yet fits seamlessly into their home so as not to disrupt their daily routines. I know how hard it can be and I know what it feels like to share a good night's rest and to celebrate a rejuvenated memory.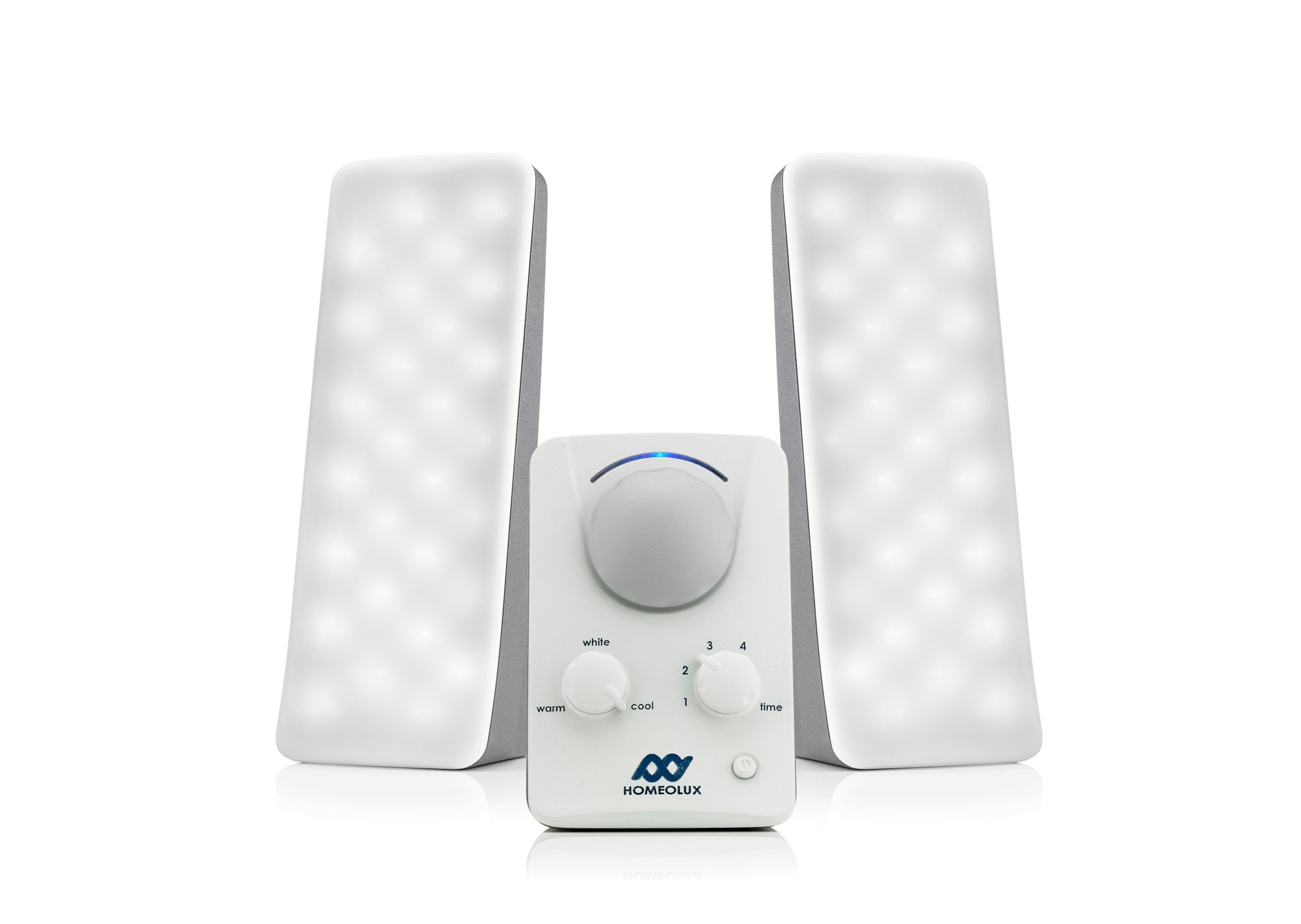 Our challenges are many and while our product is unique our startup hurdles are pretty familiar. First, we're launching a wellness product in the HealthTec space. Our target audience does not know who we are or that we exist. Unless they are scientists they don't have a working knowledge of the science or the research behind BEACON40™. So we like many others, have brand awareness and brand trust challenges.
Additionally,I was unprepared for the complications of industrial design and manufacturing and then the complications introduced by the impact manufacturing requirements have on design specifications. It's a huge and complex process to align all of the specifications. It takes an extraordinary amount of time and effort to design and manufacture a relatively simple product, especially if you require it to be safe and effective—as of course we do.
And because we're self-funded time and resources are crunched. Again we're lucky to have the dedicated team to work toward
What is your background?
Originally, I studied business and spent more than 30 years in management consulting providing services to health, nutrition and science verticals. I'm fascinated by business because it has tremendous potential to solve problems uniquely and specifically.
I never imagined that I would become an entrepreneur post-retirement, but once I was faced with the reality of dementia in my family, I couldn't ignore the problem. I turned to research and science for a solution and once I found it, created a prototype and tested it, I knew that I had to bring BEACON40™ lights to market.
Every 66 seconds someone in the US develops Alzheimer's. Everyone I know, everyone you know will be affected by this cruel disease, either as a patient or a caregiver. You're asking me what my family and friends first thought when I introduced them to HomeoLux™? They thought--"Thank goodness. Now there's hope...and help."
What have you learned?
The end goal is always helping families battling cognitive decline. When things go wrong I remind myself of the importance of having a clearly stated strategy statement. NOT just a mission statement. Successful organizations need a strategy statement that everybody can read and understand so that everybody truly knows the mission, the tactics, the target audience, the language and the tone we use. Once you have a familiar, clear strategy, individuals have autonomy to set and achieve their own goals, and teams can get back on track and work more effectively and efficiently together.
Do you have any advice for someone just starting out?
All leaders should know how to cultivate FLOW at work. Flow is generally understood as a mental state where a person is fully immersed in a feeling of energized focus, total involvement and enjoyment. Flow means being in a state in which optimal team performance and creativity are made possible.Some people also call this state of hyperfocus "being in the zone."In a business setting, Flow is linked to productivity, motivation and employee engagement and retention. Business leaders can facilitate conditions to get teams into flow. 1. Create space for uninterrupted focus with no distractions.2. Ensure that people are engaging in activities that are meaningful, challenging and achievable to them. 3. It's easier to get to the flow state if individuals have already practiced and built confidence around a skill. So be sure to allow for that skill development and ensure that the tasks are appropriately challenging, not too easy and not out of reach.
How do you protect yourself from competition?
Cognitive decline is a global health crisis affecting more than 16 million people in the US alone. Given the enormous potential market, the competitive landscape is relatively barren. It makes sense, as there are tremendous barriers to entry to bring a wellness product to market.
BEACON40™ stands out because we are first to market with a customer-centric approach to design. Our lights are easy to use. They are elegantly designed and fit into any home or office decor. And they fill the room with safe, nurturing lights, so families can use them while they go about their daily routines uninterrupted, in-impaired.
What apps/tools do you use?
Slack, Google Drive, and Hubspot. Especially now--we're all working remotely. It's critical that we are in touch with each other and that we have a pulse on our customers.
What are your favourite books?
Stealing Fire: How Silicon Valley, the Navy SEALs, and Maverick Scientists Are Revolutionizing the Way We Live and Work, by Steven Kotler and Jamie Wheal
Confronting Alzheimer's and Other Dementias NOW: An Evidenced-Based Holistic Guide by Barry Spiker. This is a carefully curated synthesis of holistic methods for treating dementia that are tested according to the highest scientific standards, collected into one protocol that includes holistic and lifestyle approaches as well as supplements.
The Brain That Changes Itself: Stories of Personal Triumph from the Frontiers of Brain Science by Norman Doidge, M.D.
Science meets self-help. The brain's superpower is neuroplasticity, its ability to change how its circuits are wired. This book not only tells some wild stories, but offers practical advice on how to use plasticity to improve your life.
What are your favourite podcasts?
TED Radio Hour and TED Talks Daily.
I have delivered 2 incredibly popular TED talks. "Ideas worth spreading" is an invaluable resource presenting concepts and actionable visions from the highest thinkers.
What are your next steps for HomeoLux™?
Our singular goal is to bring this valuable scientific advancement to all of those who are seeking to understand brain health—and simultaneously to bring hope and help to families who need it now. Cognitive decline is a slow, cruel and ruthless disease. Too many families need something safe, something practical right now.
We are in our first quarter of sales for the BEACON40™ product line. It's premature to talk about additional products at this point.
I hope that in 5 years we'll have created something of a legacy: A global awareness of the importance of brain health. Just as everyone commonly understands the importance of physical health, I want this generation to understand the wellness routines and lifestyle habits that lead to brain health.
| Company Name: | HomeoLux |
| --- | --- |
| Founder: | Terry Moore |
Comments