Starting the company was a moment that came almost out of necessity, so I guess you can call it a lightbulb moment. The company we had originally worked for was shutting its doors and laying everyone off, so Sean took it as an opportunity to turn a negative situation into a positive one. With the prior CEO's blessing, he had the idea to re-brand the company and take over the prior company's clients, using our abilities to finish outstanding projects and start new ones with a bootstrapped budget.
Our first three customers came from the clients that still needed projects finished when the company we previously worked for had to close its doors.
We knew that there was a significant demand for video, since we had both worked at the same production company for 2 years, churning out tons of video work for several clients. Whether it was content for sales demos, educational departments, or more commercial projects. Additionally, we have done a lot of research into online video growth which helped us feel more confident in the direction we wanted to go.
Did you have any experience/expertise in the area?
We haven't raised any money, we use our own money and bootstrapping. We have experience/expertise in the area and that's one of the reasons we've been able to bootstrap so effectively. Both of us have had years of experience working as animators/video producers, so we can take on several projects ourselves, saving costs.
Our target demographic is enterprise businesses needing video for their sales teams and LMS training services.
How did you fund the idea initially?
Sean and I worked at the same company prior to founding Render Pilots. We were fortunate to already have a client base when we started our company. As a service-based company, our overhead mostly pertains to the hours and software required to complete projects. Since we both are capable of animating and producing videos, we were able to complete enough projects ourselves to fund the company and work toward bringing in additional clients.
In finding the first employees, ask around and get referrals. Some of the best employees that we've had came from referrals.
What motivated you to start your own business?
Austin: Our previous company was closing its doors and it was sort of a "now or never" moment.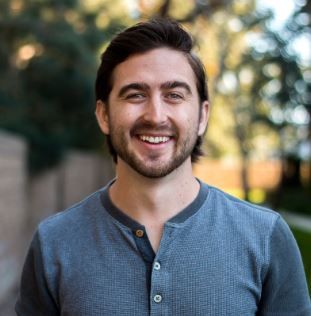 Sean: I have always wanted to run my own company and had thought about it for years. When this opportunity presented itself, I decided it was a risk worth taking. Like Austin said, "now or never."
What were your family and friends first thoughts on your company?
Some were skeptical, but most were positive and encouraging. It is important to surround yourself with people that are willing to ask tough questions. They probably have a different viewpoint on a given situation and can help you see things from an outside, and often more level-headed, perspective.
What motivates you when things go wrong? What is the end goal?
Things always go wrong. It's an emotional roller coaster running a business. The important thing is to maintain perspective and to not get too high or too low. Things are rarely as bad (or as good) as they seem. When times get rough, remember why you started the company. Evaluate what went wrong and take steps to fix it.
For those who are just starting out, don't partner with "yes-men." Find people with the same goals, but different backgrounds. You'll need people to challenge you and your ideas to bring out the best that you have to offer. Be humble and teachable.
What has driven most of the sales?
Honestly, most sales have been driven from teaming up with other agencies and companies. As a bootstrapped business we've had to be creative with how we drive sales. We have agreements with larger companies who sell software or marketing services, where they send us clients they work with who need video and we give them a commission for those projects. We bring in other clients via PPC campaigns, networking events, etc, but working with larger companies in a mutually beneficial agreement has been a way for us to indirectly have a sales team.
What is stopping you being 3x the size you are now?
Getting more awareness for our services. People need video and we're ready for them… it's just a matter of increasing awareness and letting people know we're here to help them out.
How do you protect yourself from competition?
There are a lot of video production companies out there. Our differentiation is in our customer experience. We strive to make thevideo process as smooth and efficient as possible. We get that every company/organization we work with has their own crazy schedules to attend to, so they don't always have the time to focus on video content, even though they need it. We handle everything from concept to delivery–a one-stop shop–so our clients can pass along their project with the comfort of knowing it's being handled while they focus on other responsibilities.
What are the top 3-5 apps that Render Pilots could not run without?
Every project we work on uses at least a couple of programs in the Adobe Creative Suite. Whether it's After Effects, Premiere, Photoshop, Audition, or Illustrator, the Creative Suite offers us the flexibility to tackle any projects that come our way. Because our team is remote, Slack and Zoom help us coordinate and communicate. The Dropbox desktop app makes sharing files and collaborating just as easy as if we were in the same office exchanging project files.
What are your favourite books?
Austin: I'm a big fan of the Compound Effect by Darren Hardy. It talks about how small, consistent efforts eventually lead to impressive results that seem almost impossible at first glance.
Sean: I love "Make Your Bed" - Admiral William H. McRaven. It encourages you to meet challenges head-on with discipline, determination and hard work. Don't get overwhelmed with EVERYthing that you need to do. Take it one step at a time and take care of the things that are in your control.
What are the next products you're working on?
We're currently working to help schools and universities convert their text-based curriculum into video content that their students can view and study on their own time. With rising generations becoming increasingly more accustomed to visual-based entertainment, we want to help educational platforms connect with students through a medium that resonates with them best.
In 5 years, we want to grow to at least 10 employees and have specialized divisions for LMS and educational content. We want to be the go-to company for universities looking to update their curriculum and use video as a supplemental teaching resource.
What is current revenue? If you don't mind sharing
$300k/year, 150+ videos created for clients
Would you ever sell?
Depends on the purchase price, but I couldn't stop working. If we sell this company, we'd probably go start another one.
| Company Name: | Render Pilots |
| --- | --- |
| Founders: | Sean Nerdin + Austin DeLaMare |
Comments