Heart Blaster is a children's brand with a mission to bring awareness, communication, and consciousness to social issues that create barriers for all of us in the world today. By breaking down the barriers we make true connections, celebrating one race - the human race. Many of these stories, Heart Blaster tells with children and families. In a changing world we need your help to bring visual representation of friendship, love, and equality to be there to support all people regardless of gender, culture, and ethnicity.
Was it a lightbulb moment or gradual process to start Heart Blaster?
Heart Blaster was a gradual lightbulb moment. Janelle drew the logo when she was just 6 years old. Her dad thought it was amazing and adorable and had to share it with his followers. Not knowing the name Heart Blaster would eventually serve a greater purpose he showed that people were paying attention.
How did you get your first three customers?
Gilbert (Berner) created an Instagram account for Janelle @heartblaster and asked his followers to support her new venture with her dad. They sold 75 t-shirts in 2 days. Janelle was so excited that she and her dad did something so special. At this point Gilbert was also thinking about his late mother who passed from cancer when Janelle was two. He was very close to his mom and he always talks about how much he learned from her growing up. Jodi was hard working, independent , and people loved her free spirit. She eventually had her own successful recruiting company. Heart Blaster is a family company with strong values.
I think it is important to pass on knowledge to our kids that will support their confidence and views of the world. I want to raise change makers. Kids who know they are capable, supported and find importance in uplifting others through their own knowledge.
How did you validate the idea?
Fast forward 4 years later to 2017 and I am in downtown Santa Cruz with my daughters at our first Women's March. We are marching for gender and racial equality and I look around and I think to myself "how do we keep moving together". When you are walking in a sea of people who believe in the same rights for people it is empowering and visible and necessary. At that moment it became very apparent to me that Heart Blaster could be a vessel, a union, and an effort to nurture the world. Combating racial and gender inequality is something that resonates with me and my family being people of color. We are a mixed family of Mexican, Spanish, Filipino, Native, Italian, Irish roots. This is our fight too and at that moment it felt like a responsibility to create something we could share with the world.
Did you have any experience/expertise in the area?
With no experience, other than cutting and sewing for my Barbies when I was a kid, I had a calling. I always loved clothes because I wore hand-me-downs as a kid, but I love art, patterns and  texture and I was on a mission. I had no idea what this area of profession would look like.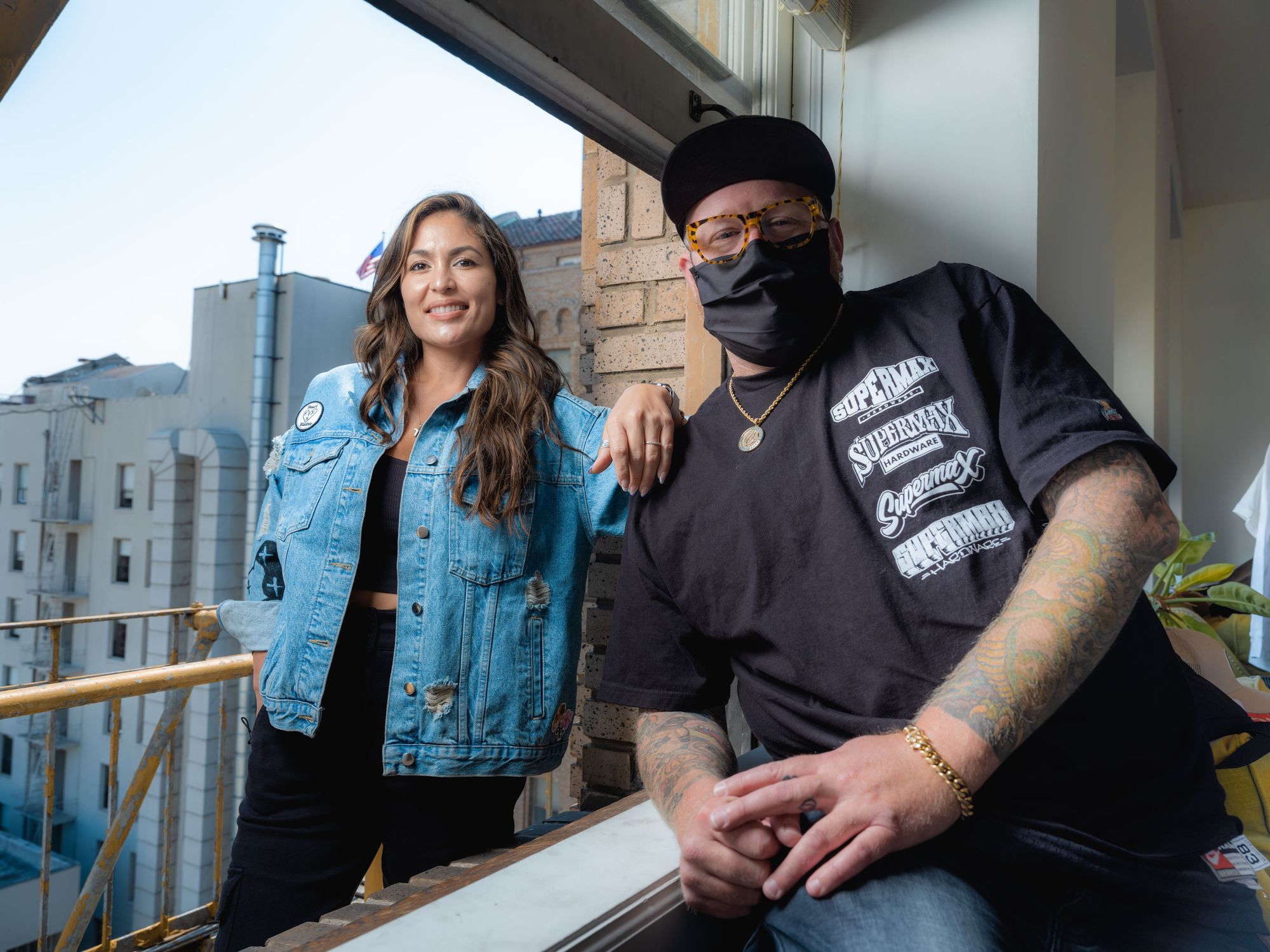 We created a small team with myself, Gilbert, and Chris Grunge. Chris has been a long time friend and partner in the business with Gil. We agreed that I would lead the team, and Chris and Gilbert have mentored me over the last 5 years teaching me everything there is to know about the business and the industry. It was not always hands on. I have watched Gilbert build his brand since the beginning of Cookies and I understood the process, hard work, and dedication it takes to build something you are truly passionate about. I learned a lot along the way. I have had to teach myself everything from programs, to margins, to spreadsheets, patterns, areas of tech, etc. I am still learning and there is always more to learn but there is not a challenge that I am not up for to elevate our brand and most importantly our mission. Although I did not have an education in fashion, my passion for people, my education in human services, and many attributes that have accumulated through experience has led me on this journey. The most important influence I have had is being a mother, and a nurturer. When I think about myself and my path in life, I have had to fight to change toxic generational cycles in my own family. I feel the same compassion for the world.
Have you raised any money? How much?
Giving back to the community is always important  for Heart Blaster. We have held fundraisers through our own campaigns for organizations that we love to support, such as Together we Rise $1,213 supporting Foster Youth in the Bay Area, Mixed Roots Foundation donating $1,275 for foster youth to go to a SF Giants game, as well as collaborative t-shirt sales for this event, Know your Rights Camp $1,500 supporting the advancement of black and brown communities, We have done a bone marrow drive with Be the Match for a young girl named Maddie who was battling cancer, We held a free movie event for the youth to see "RBG On the basis of sex" and had free T-shirts and treats. We worked with the Mid-Peninsula Boys and Girls Keystone Teen Club over the summer during Covid. We hosted a graphic design workshop and created Upstanders.  If we see a place for us to be able to give back, we do. Afterall, it is about all of the small acts we choose in our daily lives to support each other that make the biggest impact. The youth are  important and if we invest in the value they bring to this world they will keep leading the shift this world needs.
What regulatory approvals did you have to go through?
I personally make sure we are in compliance when providing details about our product on our website and tags. It is important for us to manufacture with companies who can provide important information required by the FTC.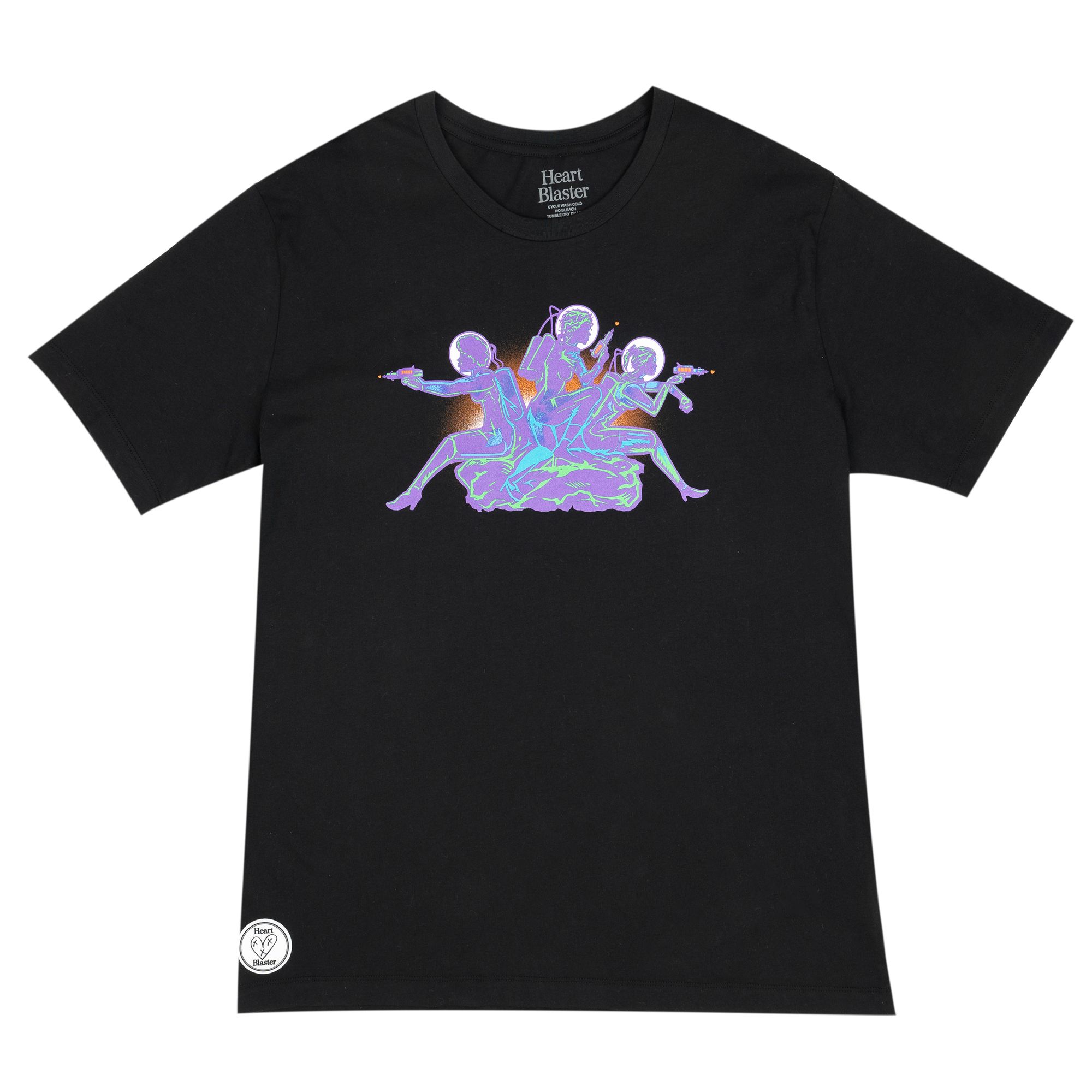 Our new Heart Blaster round eco pvc clothing tags have a full report on eliminated toxins and manufacturing info. I am a very thorough person in every aspect of life and sometimes it can be my struggle, but when you are building something so important, compliance is something you take seriously.
Who is your target demographic?
Heart Blaster - Made by good people for good people. No Labels. Our brand does not identify with any particular gender. In the new era of generations I feel that fashion is breaking boundaries that were set to divide us to begin with. Wear what you want. My kids have been my biggest inspiration for free expression. I feel this is so important when you are raising young leaders.
What is the funniest/most strange customer request you've had?
Not so funny or strange but a common request for baby onesies and toddler tees. Our mission is felt by people of all ages and genders. Creating toddler clothes was not something we had not thought about to begin with but I feel that it only feels right to extend our heart to everyone. Heartblasterclothing.com was solely based on the younger youth to begin with. Our company has grown with Janelle and now that we are launching heartblaster.com for the young adult we have shifted Heartblasterclothing.com to heartblasterkids.com and that feels really good. My plan is to keep working on heartblasterkids.com and to add on some logo toddler tees and onesies for the baby Heart Blaster Kids. I have a lot of plans for Heart Blaster Kids.
How did you fund the idea initially?
Little by little, with my small team of believers, and a lot of our own funds. We are not a big corporation with a lot of funding. We started very small and we built on it over time. We are constantly investing in our company strategically.
Where did you meet your co founder/founding team?
My daughter is our founder and her Dad is co-founder of Heart Blaster.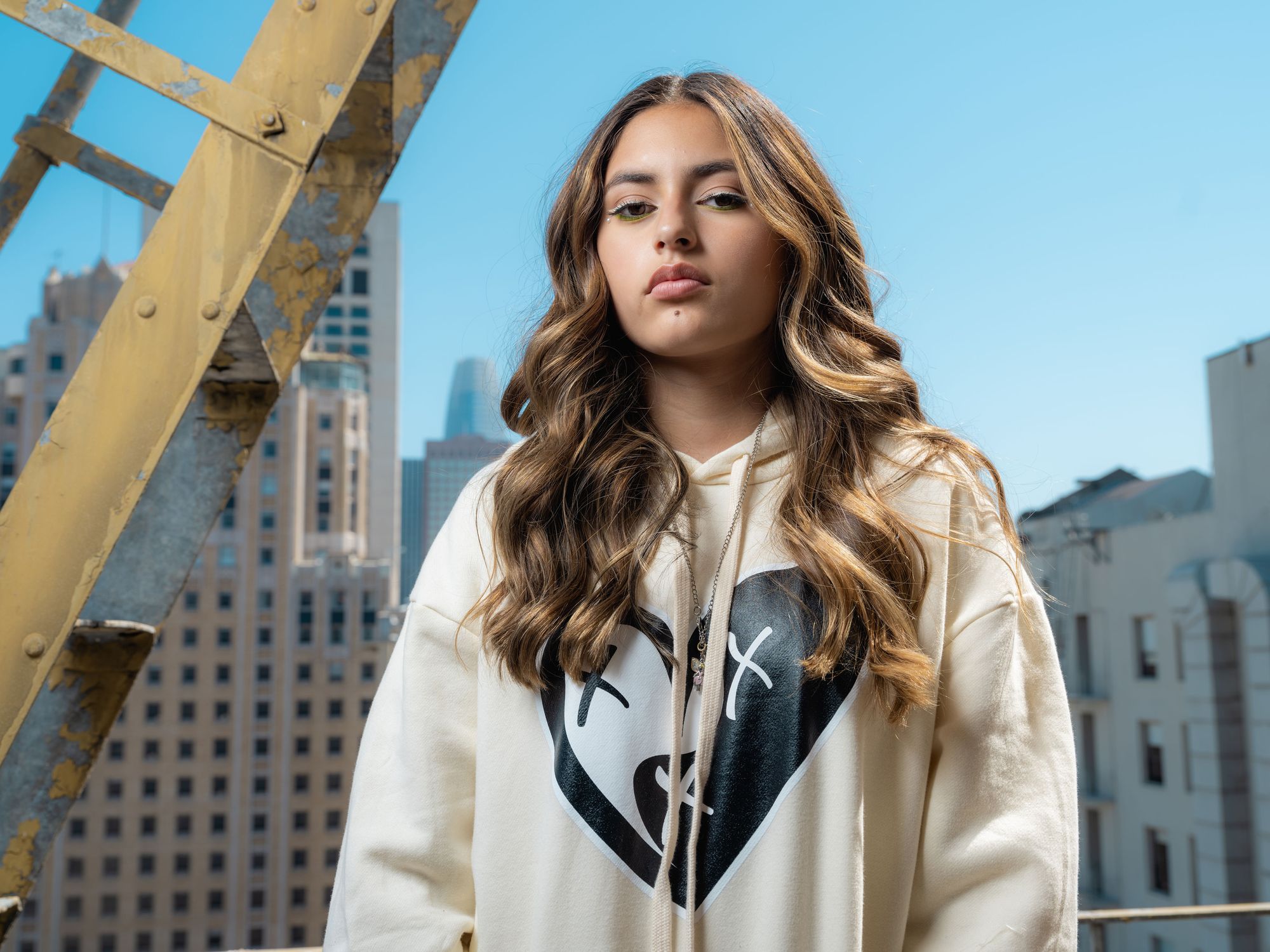 The love and lessons between them  founded this company. I have elevated this company with my small team we put together. Myself, Chris Grunge and Gil. I worked on extending our brand this past year with my daughters Janelle, and Yasmeen.
Any tips for finding first employees?
We hire a lot of freelance employees to do different things all the time. It gives you flexibility in your work and the time and space to figure out who you enjoy working with. When you are in a creative field of work vibes are everything and your visions change.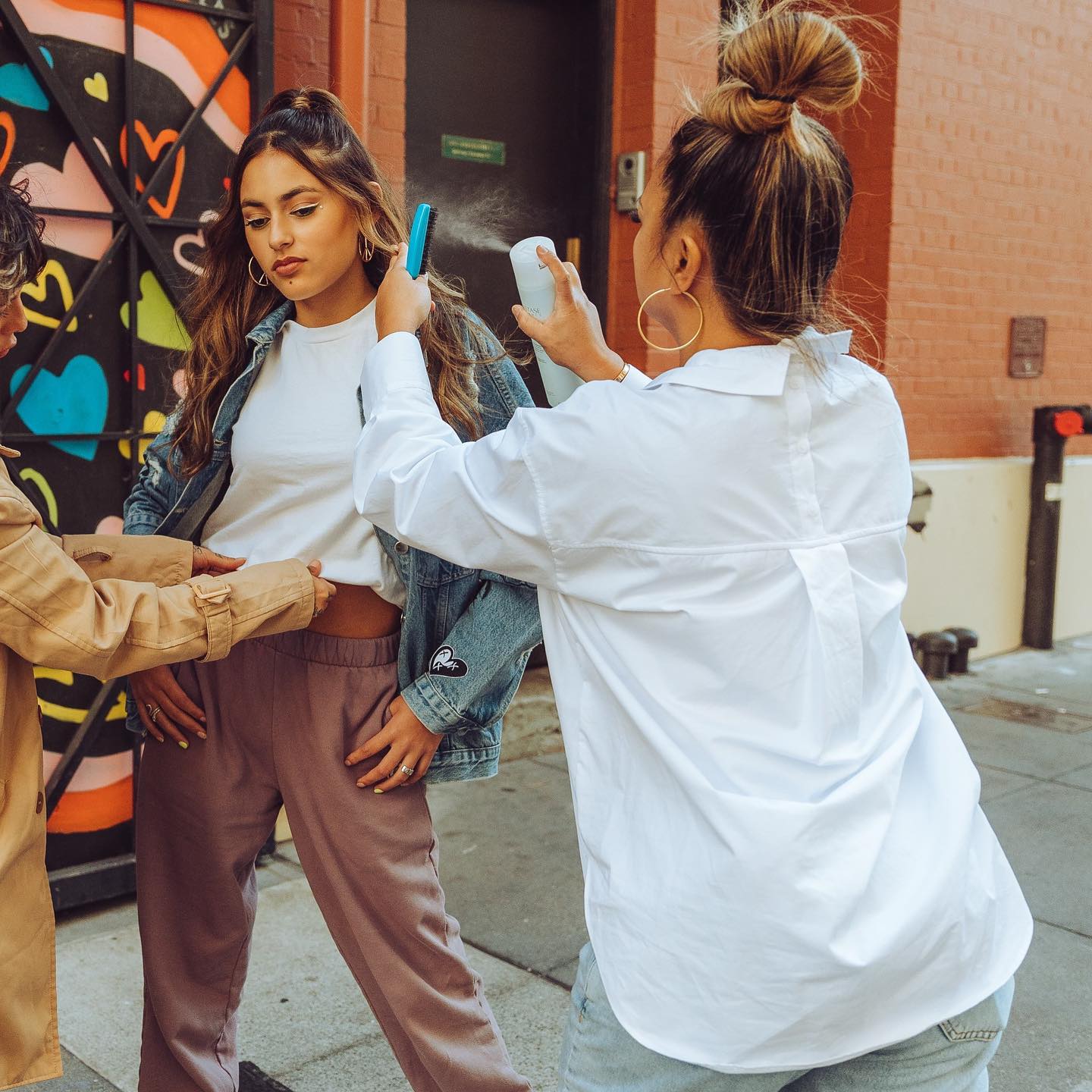 The most important part of finding the right people to work with is making sure that they align with our mission. This is a sensitive topic for us. It's truly understanding the why. "It is not about wearing a t-shirt with a cute heart on it. It is about nurturing the world through a pure intention to be inclusive." Make sure you have a contract. In any business unfortunately  some things you learn by default. You can have a good heart but you also have to protect your business.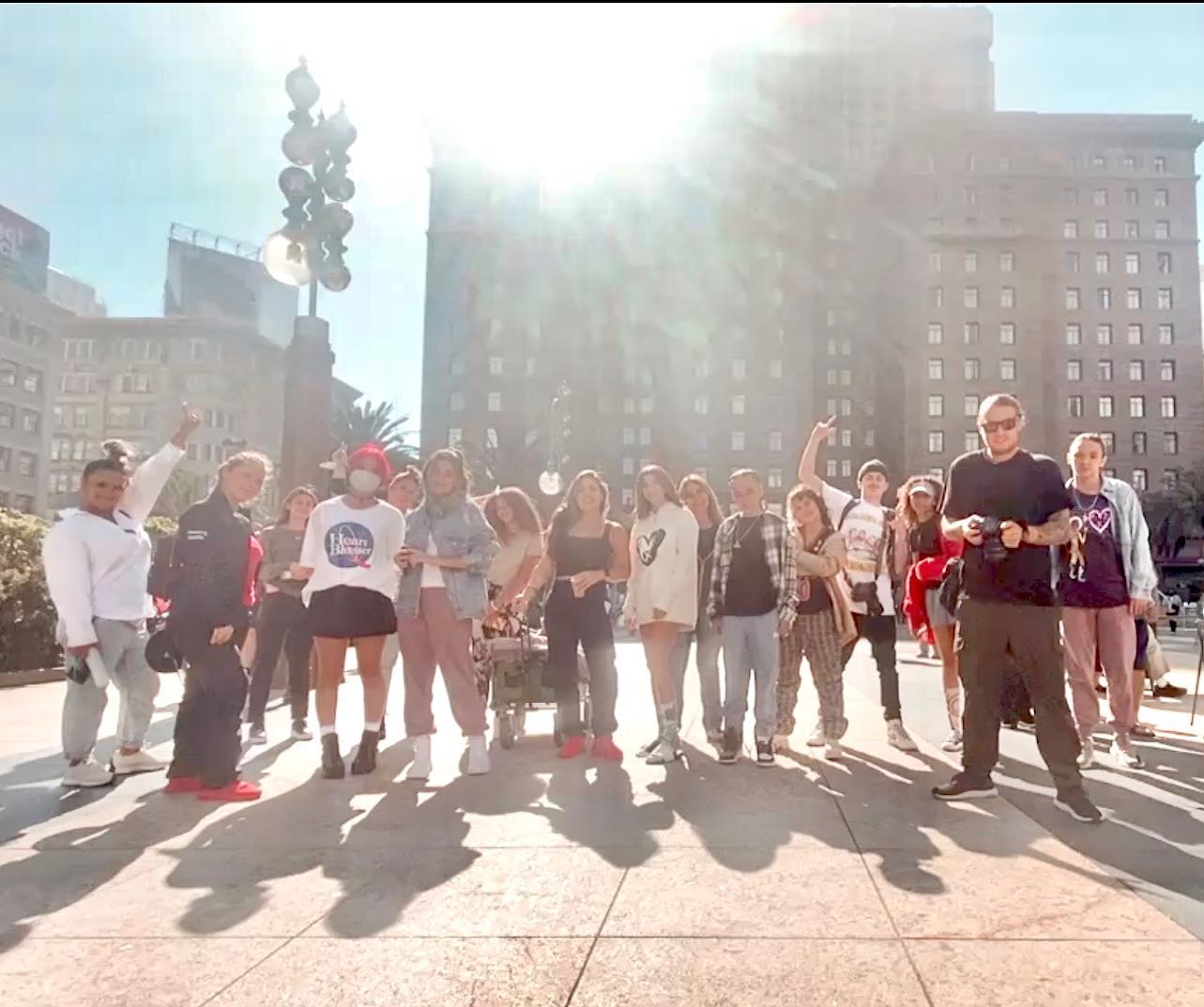 In our latest photoshoot we worked with Phil Emerson Photography and Ms Lee. @philemerson @msleedesigns wafflehowse.com ,we met them through my partner Chris. They have also worked with Chris on his other brand ABC Kids and with Cookies.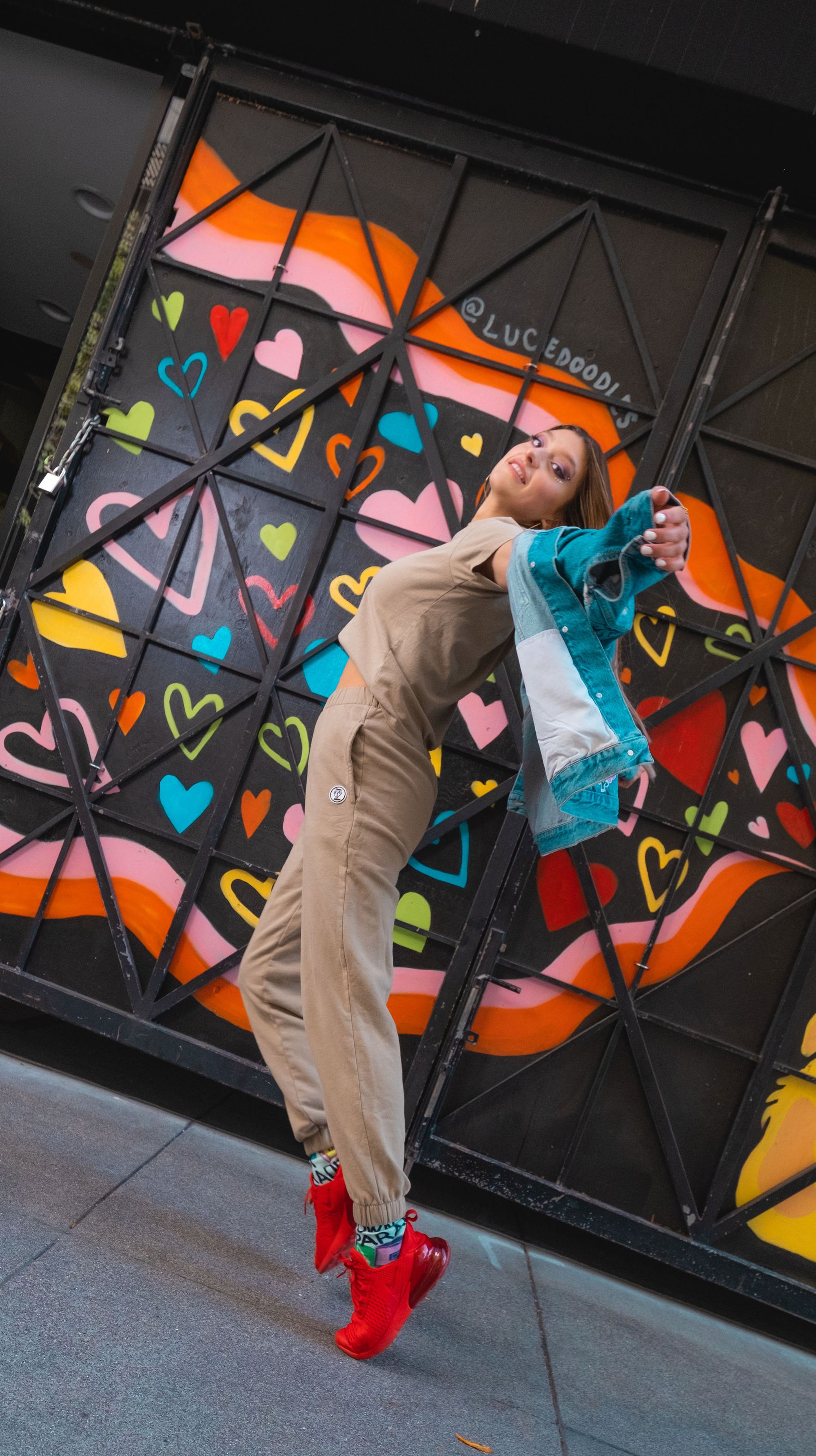 The imagery is beautiful but the energy and passion for our work together to support our mission is valuable. We have an extended family of creators that we thrive with from the Bay Area but we are always open to working with new people. It is important to spread the love and opportunities we can create and to further diversify our team.
Did you run any companies prior?
A lot of things helped prepare me for this journey. Being a mom of 4 has always felt like running the most important company of my life. This is an extension of that.
What motivated you to start your own business?
I believe it was meant to be in our path. It felt right. My daughter was given a platform at a very young age. I knew that it was meant for something meaningful and important. It was the idea that we nurture the world the same way we nurture anything in our lives that we want to be better at. Give those things attention and make a commitment. I made a commitment.
What motivates you when things go wrong? What is the end goal?
I have struggled a lot in my life. I felt the weight of so many problems  from a very young age. I was a teen mom and I found motivation in my first born son and still my kids are always my motivation. I wont settle and I always tell my family that there is always a way to move forward. I do not like sitting in a negative space over any issue for too long.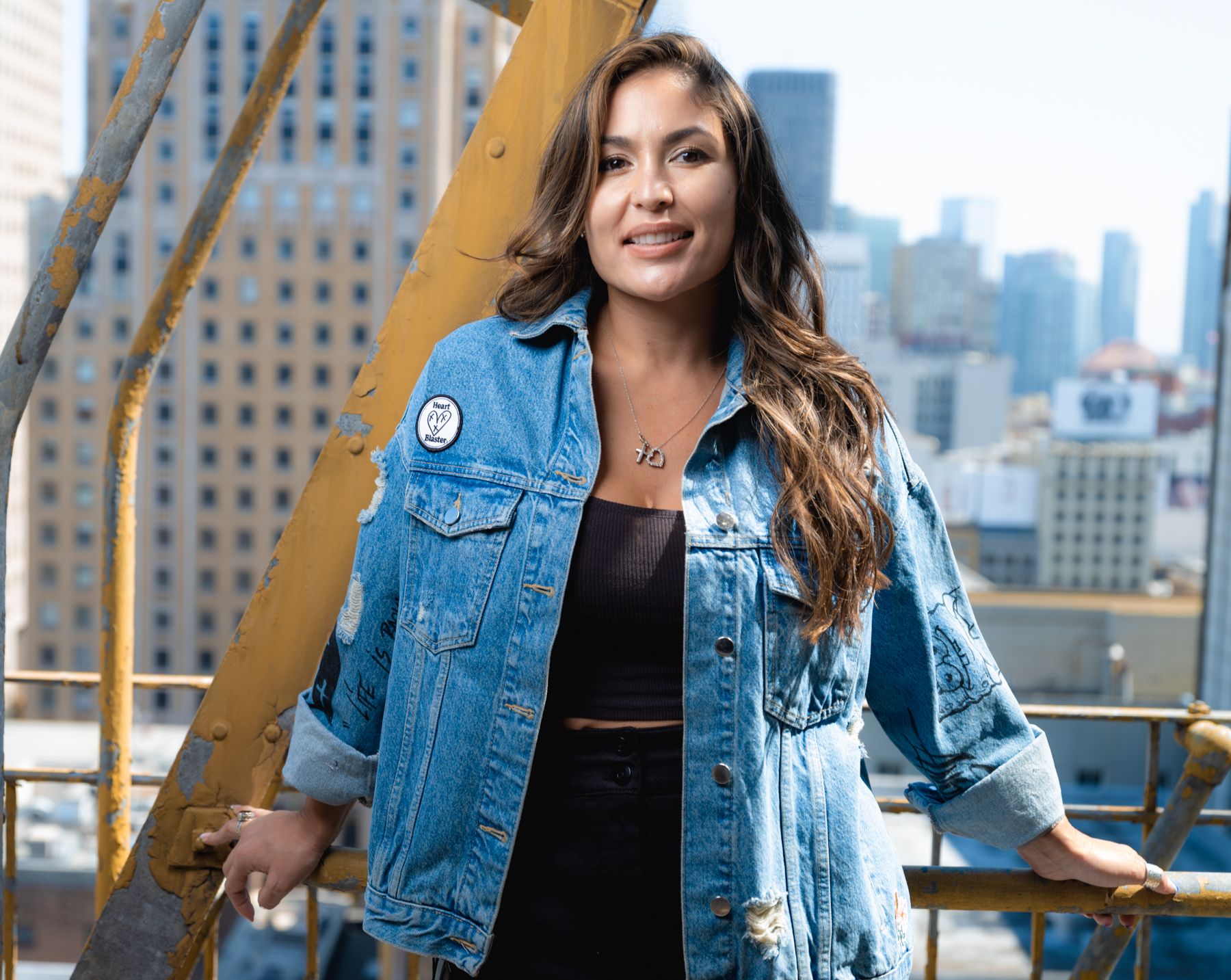 My motto is to always find a solution and/or move on. I will always find a way to stay on task. I feel that because I have been through alot in my life I am very protective of the things I put my energy into and that is also motivating. The end goal is to always gain a full understanding about what the issue is exactly, so that I can avoid future discrepancies. It is important to take accountability when anything goes wrong in my family life and in business.
Do you have any advice for someone just starting out?
Take your time, Stay true to your vision, enjoy the process, let it challenge you, and you do not have to do things the way everyone else does. Literally.
What has driven the most sales?
Social media, Email. Brand awareness is something I feel that I can not rush. I feel that it is important for people to not just buy a cool T-shirt but to understand the commitment attached.
What is stopping you being 3x the size you are now?
We are just organically allowing Heart Blaster to go where it needs to go and enjoying the journey. What is the rush.
How do you protect yourself from competition?
I feel that when you create something so authentic that there is no way anyone can really take that from you. Trends are temporary, its cultures that last forever. It is a lifestyle.
Do you have any trademarks/IP/patents?
Heart Blaster is Trademarked for 2 logos and our third HB Logo is almost complete.
What are your favourite books?
You're not Lost - Maxie McCoy , I read this book at a time when I was learning to trust myself more than the people around me. This book supported parts of my growth that helped me accomplish many of the goals I had for Heart Blaster.
Shaun King - Make Change - it's important to keep learning from professionals and advocates who have dedicated their lives to continue to make change.
What are your favourite podcasts?
Reframe - Jenna Zoe - I started really turning inward spiritually over the last couple of  years. Knowing yourself and  your soul can elevate you in all areas of your life. It has been life changing for me and I have not even gotten to the good stuff yet.
What are the next products you're working on?
Right now I am preparing to  launch our new website Heartblaster.com 10/22/21 . We have basics, graphic tees and hoodies , and really cool accessories. This is a new space for us in young adult sizes so everything is new.
Are there any releases you can tell us about?
It is the first time we will be releasing slides. These come in three different sizes and three different black and white colorways. My favorite are the mix match slides. I like contrast and these are my faves. I wear them all the time.
Where do you see the company in 5 years?
I am enjoying the growth and the good people we connect with. I see us being a brand we can all trust and share for always. We'd like to do some cool collaborations. Levi's is a company that I have major love for. The quality in their brand awareness, the clothes and their progressive efforts. I think Heart Blaster would look good on Levi's.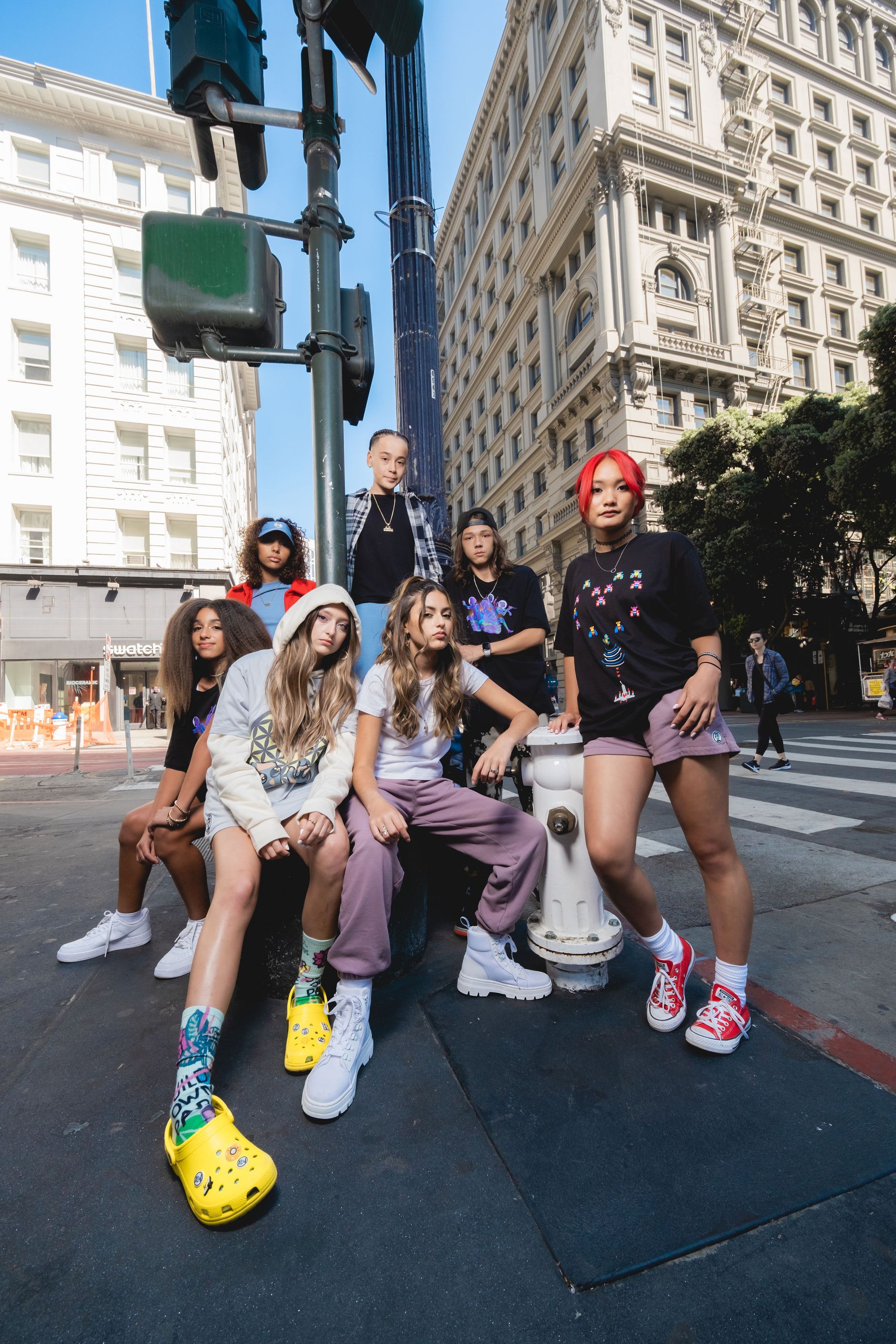 Heartblaster, Inc. is official. I started a nonprofit because my passion is always with the youth. The struggles that our youth are faced with are not talked about and supported enough. There are never enough resources out there. My goal is to bring resources, inclusivity, and friendship to a common space where kids can learn, support each other, and get the support they need to build confidence and thrive. I am working on this little by little. I see us giving back on a much larger scale in 5 years. This has always been my number one goal from the beginning.
| Company Name: | Heart Blaster |
| --- | --- |
| Founders: | Janelle Milam, Gilbert Anthony Milam, Jr |
Comments