We are on a mission to inspire teams to do their best work, together. We believe that workplaces are made up of kind, hardworking people that want to do their best work. We believe that those individuals, as part of a team, can achieve extraordinary things together. We believe that the work week is f***ing awesome!
Our sister company, Museum Hack, was best known for its renegade museum tours like Badass Bitches of The Getty and Game of Thrones inspired tour of The Met. It also ran corporate events and team building activities for clients like Google, Facebook, Etsy, Spotify, Adobe, KPMG, Lego and Chipotle.
We knew these clients would be interested in other team building activities that we had percolating, but those ideas weren't all museum-related. To maintain the integrity of the Museum Hack brand, while also capturing a thirsty team building market looking for innovative events, we launched teambuilding.com. Today we have 50 remote employees and operate in 16+ US cities and an infinite number of Zoom rooms.
What types of team building events do you offer?
The first products we launched at teambuilding.com were all virtual events. For teams looking to get competitive, we created virtual team building activities like Online Office Games. An online version of Office Olympics, this 90-minute virtual event was designed to be equal parts friendship creating and skill building. Remote workers form teams, craft slogans, compete in typing speed races, build spreadsheet pixel-art, get hydrated, fold origami, do optional burpees and more. At the end, we tally the points and assign medals to the winners, and medals for the non-winners too because everyone is awesome.
We also knew that some teams are more zen...or at least are looking to be more zen. So we created Tea vs. Coffee. This experience is focused on mindfulness, exploration and the art of enjoying tea and coffee. Before the date of the event, we send each remote team member a care package that includes four exotic beverages from eco-friendly farms and Fair Trade chocolate. A senior facilitator from teambuilding.com then takes them through friendly icebreakers, guided meditation and a tasting ceremony. While the team enjoys drinks like mushroom coffee and turmeric tea, we share stories about their origins and what exactly is happening with the health benefits and flavor compounds.
For teams looking to get their kumbaya on, we created tiny campfire. This experience starts with camp-style icebreaker questions and trivia, followed by historic ghost stories and a real s'more making event. A week or so before a tiny campfire, we mail a care package that includes a candle, matches, s'more ingredients and team colors. Then, on camp day we bring everyone together on a 90 minute video call to play, sing and enjoy time together around the remote team building campfire. Super fun and you don't even need mosquito repellent.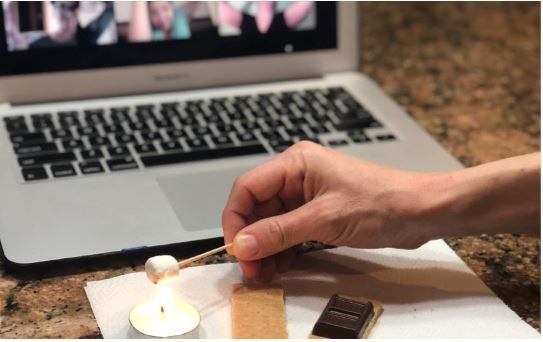 With those events and a few others in place, we went live. Within hours, we started getting inbound leads. That was exciting for us. Confirming our hunch was correct was the ultimate motivation to keep this new endeavor moving. We have a bunch more ideas for virtual team building too.
Who is your target demographic?
Teambuilding.com's target market are companies looking to do team building events for 5-300 employees. While that range is significant, it's the reality as we are presently running only virtual events and scale is more attainable than in-person.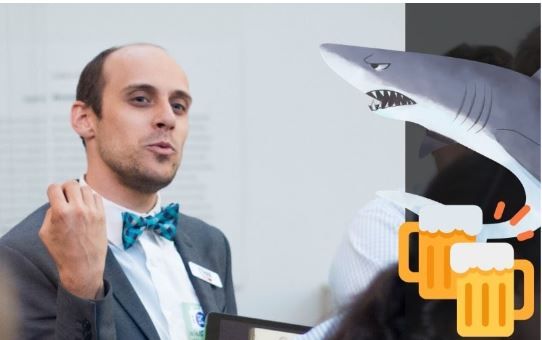 One of the coolest things we've had happen is with our Nerd Talks™ product. We basically put it out there that we could lead a "Nerd Talk" on any topic that the client wanted. It's been super interesting to hear what topics companies want to nerd-talk about. The best part is we've been able to source an expert in every topic requested so far through our network of experienced guides and facilitators. Our most recent Nerd Talks have been on "Beer + Sharks" and "The Library of Alexandria & Cuttlefish"!
How did you fund the idea initially?
Startup costs were relatively low as we mostly needed to create the website and gauge interest. We already had the backgrounds in creating dynamic, out-of-the-box team building events through our experience with our sister company, Museum Hack, so that was a huge head start too.
When inbound leads started flooding in two weeks ago, we realized we needed to hire a remote sales director and full time remote sales rep. Our go to hiring platform is JazzHR. We love their automations and workflows to filter candidates. It has allowed us to focus our attention on the best candidates-- especially in a busy time where we need to devote most energy to converting business, not sifting through applications.
For reference, we are receiving as many corporate leads in a day as we used to receive in a week!
What motivates you when things go wrong? What is the end goal?
Our goal at teambuilding.com is to be the authority on workplace wellness. We spend most of our day at work, and yet many of us are unhappy or unsatisfied. We really want to change that, and we believe we can.
What's currently stopping us from being 3xs the size we are now is our sales team's bandwidth. We have more leads coming in than we can handle, which is a great problem to have, but still a challenge. The leadership team is dedicated to building out processes and streamlining our systems to allow our sales people to focus on converting clients, and we're automating and outsourcing the admin and customer service tasks as quick as we can. We're already seeing deal flow speed up as a result.
What are the top 3-5 apps your business could not run without?
Project Management Tool: TRELLO
Trello is a solid, free project management tool which allows users to create boards, lists, and cards to organize and prioritize projects. We use this as a way to show where projects are in the pipeline. When a team member moves a project to the next stage, they can drag the project across the screen, visually showing themselves and their team that the project is advancing as planned. It's also great on mobile.
Communication Tool: SLACK
Slack offers a free version for small teams trying out Slack for an unlimited period of time. It includes access to 10,000 of your team's most recent messages, 10 integrations with other apps like Google Drive, Office 365 and many more, and 1:1 voice and video calls between teammates. Our favorite Slack App is called Donut. It automatically pairs team members together on a regular basis to have a chat, get to know each other, and just connect. This is paid time at our company and the only rule is: No talking about work!

Automation Tool: ZAPIER
The number one way we've used technology to improve team productivity is with automation. We use Zapier and other platforms to automate simple tasks like data processing and notifications. For example, we taught our sales reps how to automate lead qualification and other repetitive tasks which resulted in about 10 hours per week of time savings. With this extra time, this rep can now spend more time on the phone with potential clients, which is a win for the company and also a win for them as their compensation is commission-based. In total, we automate about 14,000 tasks per month which has proved to be an incredible time-saver and allows us to compete with companies with ten times the number of employees.

Productivity Tool: WEBSITE BLOCKER
When you work in-front of a computer all day, it's easy to click over to Facebook or Twitter or Youtube or a news site. This isn't necessarily trying to avoid work, it's just habit. To help prevent the habit from taking over your workday, install a browser extension that allows you to selectively block sites. Every major browser, including Chrome, Firefox and Safari have these add-ons and they are 100% free.
What are your favourite books and podcasts?
Extreme Revenue Growth is a business book that can help align everyone on your team. I've found one of the challenges with team building and alignment is that people have different ideas about goals, priorities, and even how to define things like revenue or profit. Extreme Revenue Growth will help you get crystal clear on all of the above, and give your team a great chance at succeeding together. The book is also relatively short, so is an easy commitment for a book club or other internal effort.
Fierce Conversations: Achieving Success at Work and in Life One Conversation at a Time by Susan Scott is also great. It's about having hard conversations, faster; which is critical for advancing projects on a tight deadline. The key premise is that our work, our relationships, and our lives succeed or fail one conversation at a time.
Anything written by Isaac Asimov is gold.
Podcast-wise, we love Noah Kagan Presents. He's a super business savvy guy who asks great questions and has guests that share some pretty valuable information they've learned over the years.
What are your next steps for teambuilding.com?
In addition to Online Office Games, Tea vs. Coffee, tiny campfire and Nerd Talks we have also launched a few new products including virtual storytelling workshops, virtual improv games, and trainings like "How to Manage Remote Teams".
One project we have in development that we're very excited about is called petri❤️. It's not a virtual team building event, but rather an entire virtual team building platform. Imagine if Zoom, LinkedIn, your Gym Class and Happy Hour all had a baby. That's petri.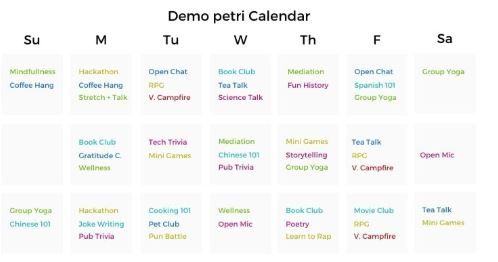 Each week, petri schedules a variety of online team building games, training seminars and fun virtual meetings. Each experience is led by an engaging host that makes sure all guests can participate and make connections in a way that feels good to them. Example events include pub trivia, guided meditation, language classes, coffee hangs, beat-box harmony and more. The goal is to give your people a fun and relaxing way to connect with remote work peers.
One of the major benefits of petri is that scheduling is off your hands. With virtual events already on the calendar, you don't have to worry about time-zones, who may or may not attend and what everyone is interested in. Instead, team members can self-organize and choose activities that work with their interests and schedules. Your colleagues can join as a team to build stronger relationships or individually and meet new friends and business contacts.
Any advice for founders just starting out and assembling their team?
A key part of motivation is recognition--both public and private. One small and very powerful public recognition tool we use is a Slack channel called #you-are-awesome. This channel is the central place where all praise and congratulations are posted from managers to their team members. During reviews, our employees almost always mention the #you-are-awesome channel as either a goal or a highlight of theirs. In addition to public praise, we also send an Amazon Gift card to those who are mentioned in the #you-are-awesome channel to show them that not only do we see them, we are thankful for the value they are creating for the business. These are small, yet intentional recognition tools that have more than paid for themselves in employee happiness, motivation, and retention. At teambuilding.com we like to say "Happy workplaces don't usually happen by accident". Developing systems for motivation, recognition, training and retention early on will set you up for success for years to come.
| Company Name: | teambuilding.com |
| --- | --- |
| Founder: | Michael Alexis |
Comments