The idea of creating an AI-powered product for young learners came about my many conversations with parents whom I met during focus studies that we conducted in the past. I noticed many parents like the idea of technologies such as their phones or tablets assisting them in engaging children in educational activities, but also, they didn't like the bright screens, adverts that appear regularly, and the one-size-fits-all approach to most of the apps available online. Unfortunately, in early childhood education, which is a critical time of a child's growth, you don't see products or tools to utilize technologies like AI to help children based on their abilities. So that's how I came up with the idea of Roybi Robot.
It wasn't easy in the beginning to show people why ROYBI Robot is the next big move in the education sector, but after presenting facts, numbers, and trends, a lot of people got interested in our robot and that is how we got our first customers. We were also excited when we raised $4.2M financing in our seed round in July 2019 to bring our idea to life.
Who is your target demographic?
Our little robot is built specifically for children aged 3–7. I love working with that age group because these early years are foundation years that are not only essential for childhood development but also for raising lifelong learners with strong social-emotional skills.
Where did you meet your cofounder/founding team?
I met my cofounder through a mutual friend who recognized our shared passion. Then, together, we started building our team. A few of our engineers had worked with us in my previous company, which formed our core technical team. I pay a lot of attention to the talents I bring into my team. When I'm interviewing potential candidates, I make sure not only their skills match our company's needs, but also that their personalities fit our team and the nature of our company.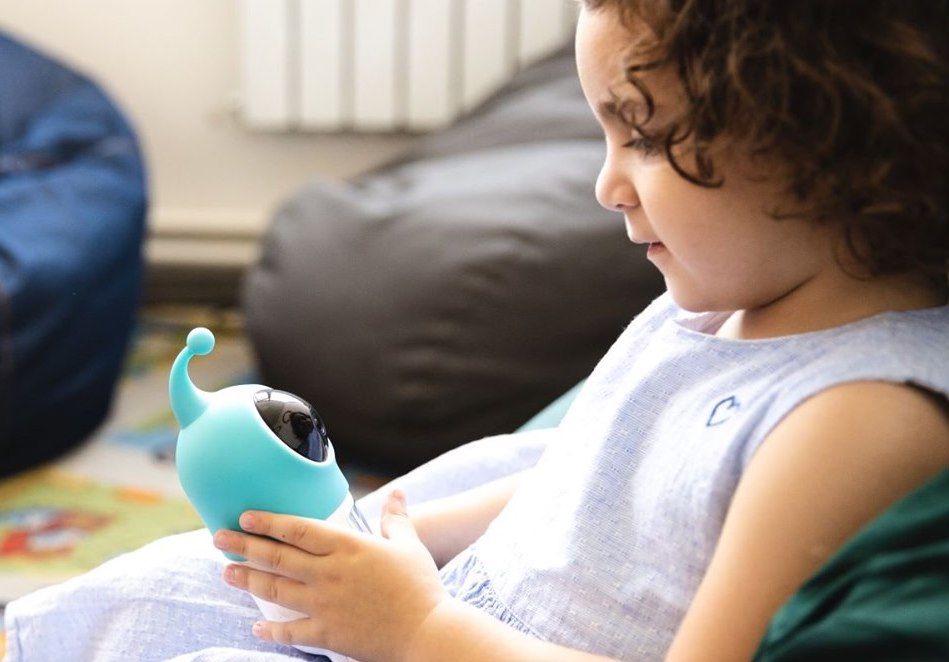 You see, we're a very international team, with most members working remotely in their respected towns and countries. That's why I have to make sure my team members are responsible individuals who take pride and ownership in their expertise and skills. I pay special attention to bringing talented team members who are passionate about education and believe in getting involved in coming up with solutions that can help our educators and parents, so together we can transform education for children around the world.
Did you run any companies prior?
I have had several small and large business ventures in the past. I came from a family of entrepreneurs and small business owners, so the excitement of building a venture from zero and raising it to a successful stage has been something that I aspired to from a young age.
When things go wrong, I try to stay calm and keep myself busy with other things until we get the problem resolved. I also talk with my team continuously with transparency so they know the difficulties as well as the achievements.
How do you protect yourself from competition?
Like most other companies these days we also have competitors. Of course, we continuously file patents and trademarks as we expand into regions. However, innovation and creativity are in our company's genes. We always stay up to date with what's happening in the tech and education world, then work on creating solutions that solve major problems. We also focus very much on the user experience by listening to our customers.
What are the top 3-5 apps your business could not run without?
Zoom, Trello, Google Drive, Skype
These are really essential to our business especially because many of our team members work remotely. These keep us connected and organized so that we ensure making the best use of our time and skills.
Have any books/podcasts helped you in the business?
I can't say if any specific book or podcast helped because there are so many talented writers or podcasters out there and have influenced me. I read and listen to short subjects in business, self-help, education, and technology. I like to read quickly and take quick notes that I can refer to later. So normally I try to watch YouTube videos less than 15 mins when I am in bed. That is the only time I can do anything other than work :)
What are your next steps for Roybi Robot?
We recently acquired a leading technology company, KidSense-AI, that was in the forefront of children's voice recognition technology and on-device automatic speech recognition. What this means is that now ROYBI can become even more accurate in recognizing children's voices, and also eventually offer all of our content without the need for WiFi. You see, our focus is children, and we like to invest in and develop tools that are made with children specifically in mind. Because we believe that in order to create an effective product for children, you have to start with them in mind the moment you put down the first building blocks of your company and continue to do so with every investment along the way. That's why we were very excited with our acquisition of KidSense-AI. With these new technological tools, we can reach more children around the globe and provide lessons in language learning even to areas that don't have the internet.
| Company Name: | Roybi Robot |
| --- | --- |
| Founder: | Elnaz Sarraf |
Comments