Repair and Run opened its doors in Toronto, Canada, on May 8th, 2021, to provide Canadians safe, professional and reliable bike, E-­bike and E-scooter repairs. Their goal is to encourage active travel and the use of E-mobility vehicles. With the arrangement of an undeniable degree of administration and utilizing their expertise, they will urge more Canadians to select greener methods of transport.
Was it a lightbulb moment or gradual process of Repair and Run?
The journey in starting Repair and Run was very gradual, but the idea of creating a chain for professional bike repairs was a lightbulb moment for me. As one of the founding members of Mobile Klinik and being approached with this opportunity, the similar business model and the same team was what first solidified and validated this business venture for me. With the combination of Mobile Klinik's rapid success and the great demand for bicycles and bicycle repairs due to the pandemic, I knew that this business model would make us stand out in the industry.
Did you have any experience/expertise in the area?
Bikes and e-mobility vehicles had always interested me as a hobby, but I did not have any professional experience in bike repairs.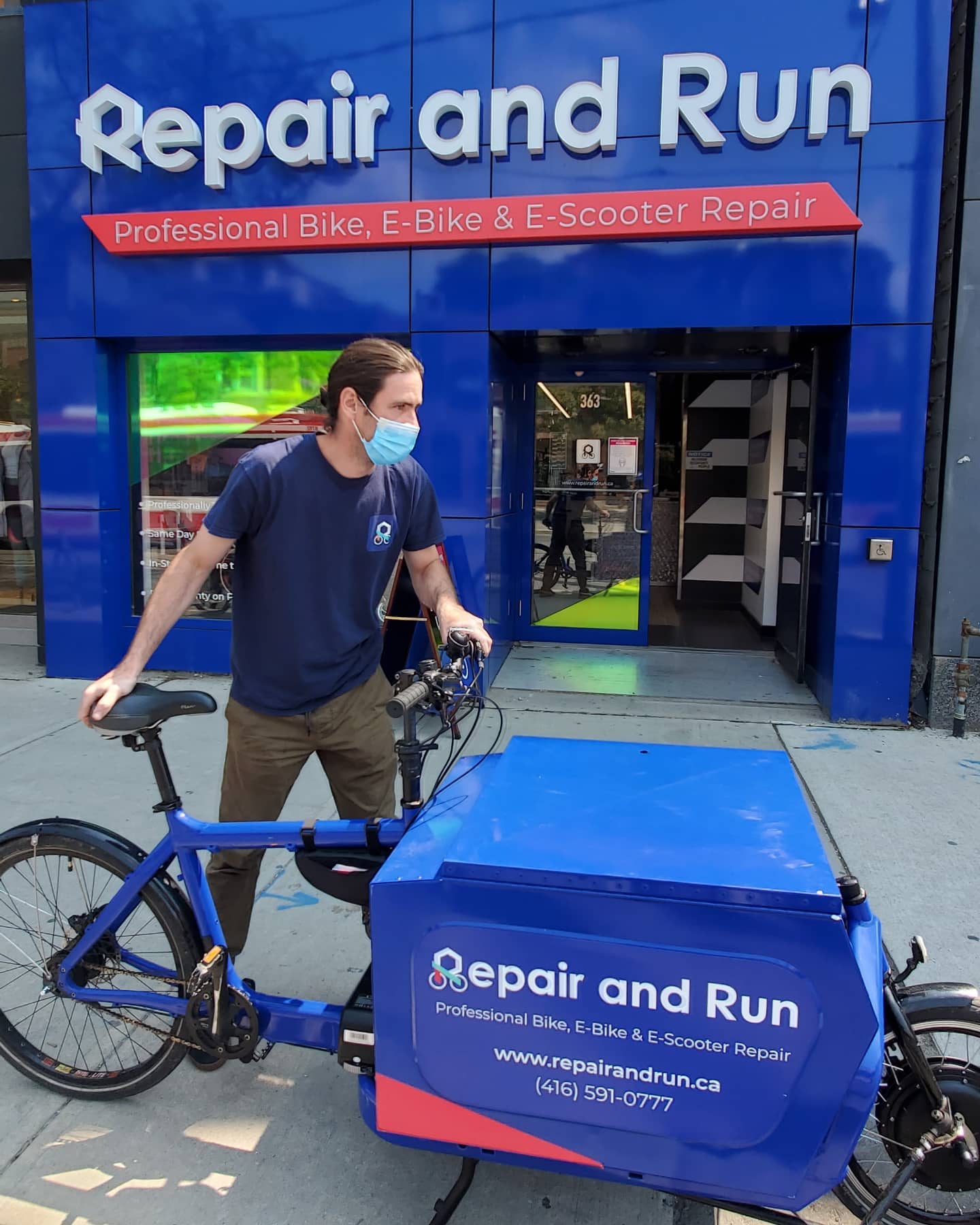 Luckily, one of my business partners Remy Dunoyer has had years of experience repairing bikes and growing Repair and Run for five years as a leading bike repair business in France.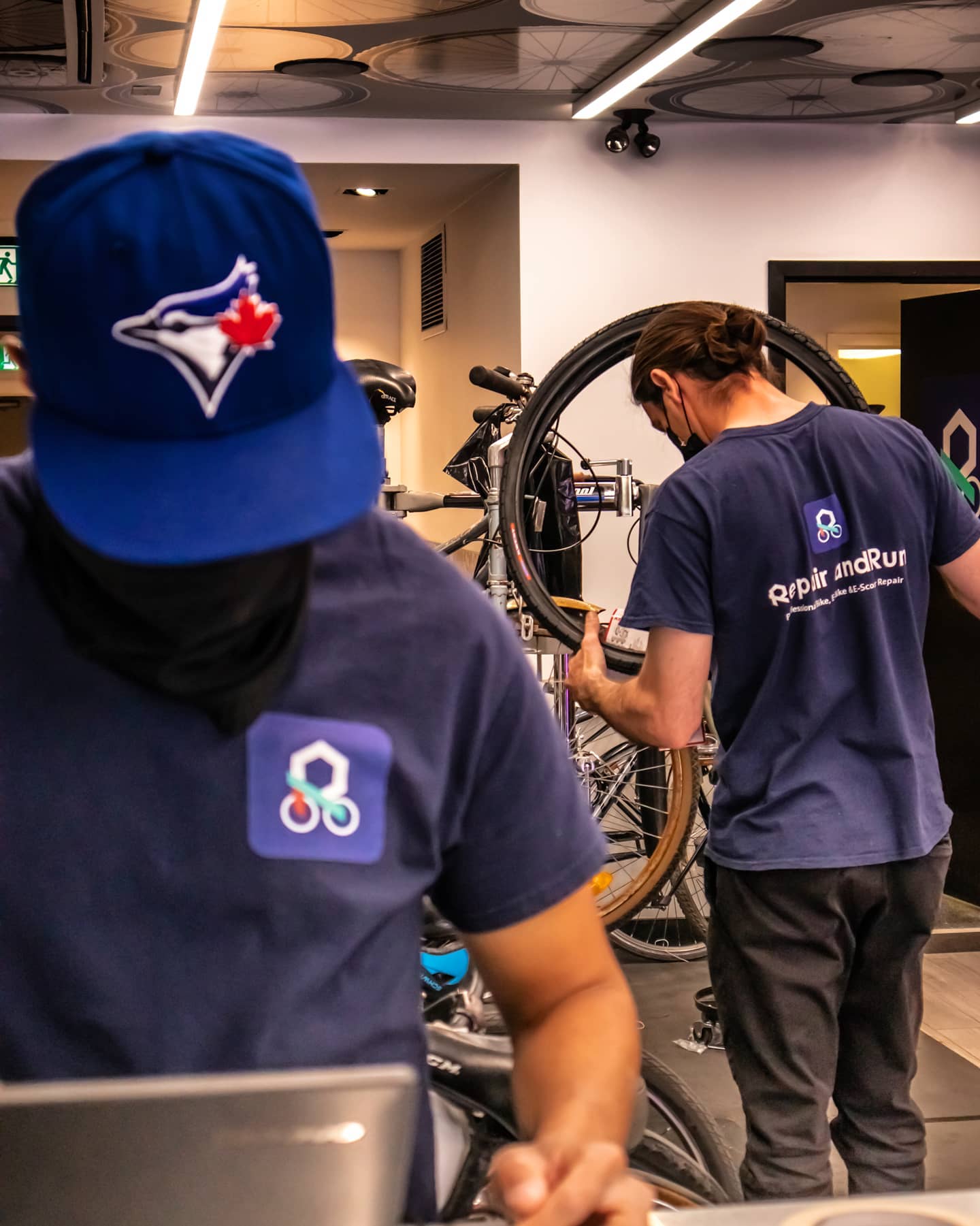 On the other hand, I had years of experience with mobile repairs, customer service, and growing a repair business quickly. I was able to take those skills from growing Mobile Klinik to launching Repair and Run in Canada.
How did you get your first three customers?
We were able to get our first customers through referrals and walk-ins as our store is located in the heart of Toronto on Queen Street West. I believe the appearance and the atmosphere of the store attracted the majority of our customers, which inclined many of them to recommend our services to those in their community. This opportunity to join hands with Remy, the founders of Mobile Klinik, and the rest of the team from France came at an optimal time during the pandemic. I recognized that people need a lifestyle change, and the bike and e-mobility industry is a catalyst for that change.
Who is your target demographic?
We are primarily targeting the average rider who commutes to work, uses bikes for leisure, etc. Repair and Run is not a shop that specializes in repairing for pro-athletes; however, we can do those repairs as well.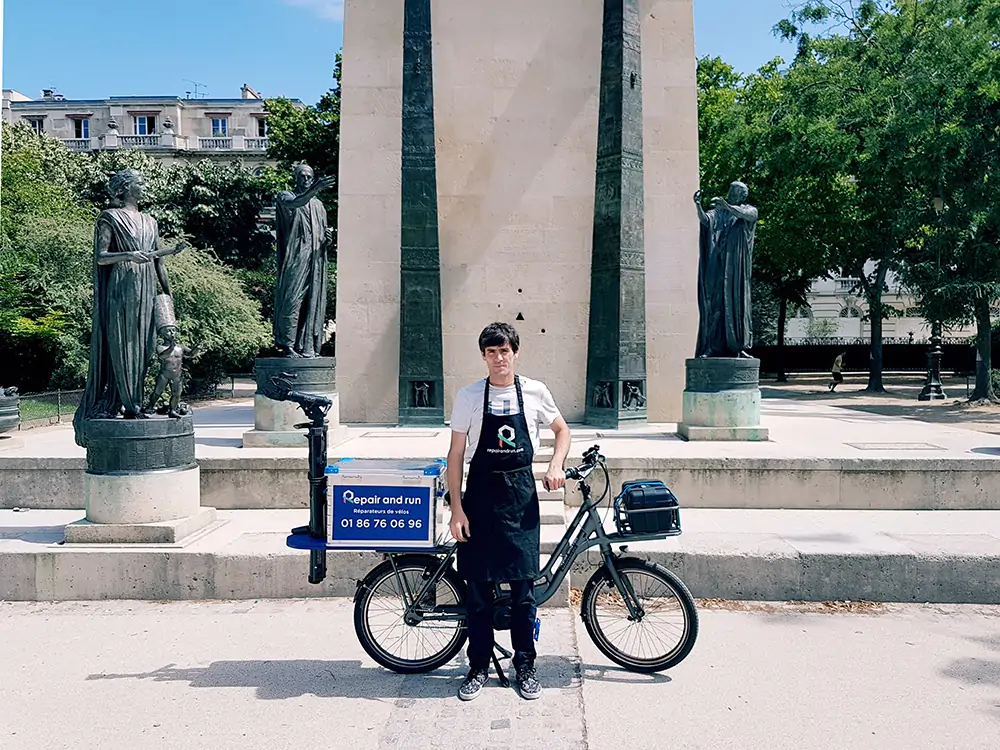 We want to ensure that we are brand-agnostic, meaning that if our team can do the repair, we will accept the bike in the shop. Therefore, we would rarely decline a repair.
How did you fund the idea initially and where did you meet your cofounder/founding team?
The founding team of Repair and Run Canada comprises people that I had worked with previously that founded Mobile Klinik, who later introduced me to the team at Repair and Run France to launch our current team. When we initially started, everyone contributed money to help grow this business in North America.
Any tips for finding first employees?
When looking for your first set of employees, it is always a great idea to find people with relevant experience. On the other hand, I would also recommend hiring those that make you feel comfortable and have excellent people skills. Hiring good people is central to having a successful business, as your employees need to be professional and personable. When I was hiring my current team, I prioritized the candidates with good people skills as I could always teach these employees the skills required to repair bikes.
Did you run any companies prior?
Before starting Repair and Run, I was Mobile Klinik's first employee. For the first year and a half of beginning Mobile Klinik, I ran the operations and was responsible for the training and developing of new employees. I was also part of the team to help grow Mobile Klinik as a business by assisting them in opening 80 new stores across Canada in 5 years. Before helping launch Mobile Klinik, I was responsible for running the operations at Freedom Mobile for about three years, which has allowed me to gain a lot of experience in running and building a new business.
What motivated you to start your own business?
I had always wanted to start and own my own business. The opportunity to start Repair and Run came at a perfect time, as I had been part of the team to help with the TELUS acquisition of Mobile Klinik, and it was an excellent time to let the new team run the chain. In addition, I had also rediscovered my love and passion for cycling at the time, and the research and development of my hobby have encouraged me to join the Repair and Run team. Combining my interests and the new circumstances of Mobile Klinik, it was a good time for me to leave my previous role and jump into this business venture. It was a now or never type of situation, and I am excited about where that led me.
What were your family and friends first thoughts on your company?
My previous role at Mobile Klinik was very stable, and it was difficult to leave. Starting Repair and Run was a huge financial risk since I had just bought my first real estate property and am getting married next year. However, everyone I spoke to about this opportunity was very encouraging, and I knew it was an opportunity that I couldn't pass up. The opportunity came at a perfect time. It was an industry that I am interested in and in high demand, and I can bring something valuable to the business, which concluded my reasoning for joining the Repair and Run team.
The circumstances of the pandemic and how it has affected my family have also been part of why I wanted to start Repair and Run. My father owns two hair salons, and they both had to close down due to the pandemic. I soon realized that many small businesses don't have access to the same information on keeping a business afloat when unexpected situations arise. I want to be an inspiration to other business owners to succeed on their own.
What motivates you when things go wrong? What is the end goal?
I have learned over time that things go wrong all the time. It is more of a matter of how you deal with the situation, and the amount of experience you have does play into how you handle issues. Remember to have faith in the bigger picture and don't sweat the small stuff. When an issue arises, I always ask myself if it is a five-cent problem or a five-dollar problem. Understanding the size of the problem is essential before you figure out the solution. There might be periods of stress and anxiety, but it is so important to find a way to switch gears into solution mode. The end goal is always to find a solution, learn from those issues, and carry those lessons to get back on the right path. Although sometimes it might not be the predicted path, the point is to keep moving forward in either the same direction or speed.
What has driven the most sales?
As we started to gain more traction, we noticed that most of our sales came from walk-ins, online reviews, and word of mouth. After understanding this, we encourage our customers to leave Google Reviews as people are more likely to come and see them. Over time, we have learned that businesses will for sure get negative reviews once in a while, but it is important to learn from them.
Do you have any advice for someone just starting out?
One big tip for someone starting as a new business owner would be to have a business plan. Just because you love an idea does not always mean it will be successful because you must hit specific criteria. If possible, work in a field that you are interested in or in one you love because when things go wrong, what keeps you going is what you enjoy doing. It is tough to continue on the same trajectory if you are not interested in your field or don't enjoy what you are doing. In addition, it is always a good idea to do what you are good at and play to your strengths. A lot of the time, business owners want to do everything themselves, but sometimes it is better to partner and work with people who can help contribute. Finally, make sure that the industry you are working in has a demand for it. If society doesn't need the specific service you are providing, you will not grow or make money. Therefore, it is essential to keep possible consumers in mind and cast a net as wide as possible.
How do you protect yourself from competition?
Competition is always a good sign because if someone is competing with us, we are doing something right. We never like to bash competition but instead sell to customers, one reason we are different and makes us stand out from the rest of the industry. It is essential to focus on the customer and experience and ensure that they are the center of the focus. We always keep an eye on the competition and market trends to make sure that they are competitive. In our case, we don't have a lot of competition because many bike shops are more focused on the sale of products rather than repair services.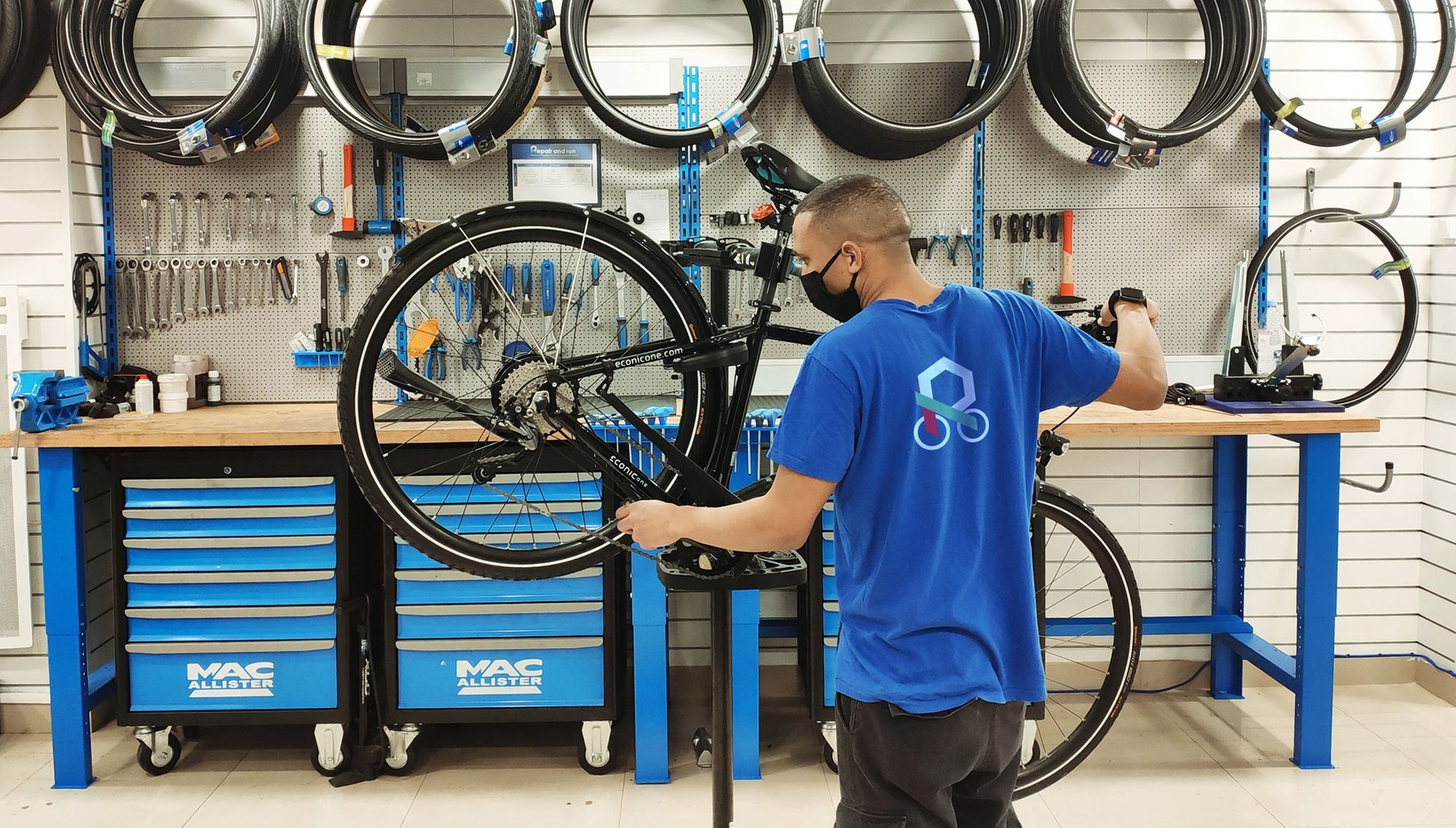 Our shop looks very different from surrounding bike shops, which makes us stand apart from competitors in our industry.
What are the top 3-5 apps your business could not run without? Why are they essential?
Our business primarily uses tools provided by Google as it is cost-effective, business-friendly, and many of our other business partners use these tools as well. We also use accounting software to manage our finances. Finally, for our store, we use the When I Work scheduling app that digitizes the store schedule to make it easier for our employees to access it on the go.
What are your favourite books?
A few of my favourite books that are business-focused are:
How to Win Friends and Influence People by Dale Carnegie
Think and Grow Rich by Napoleon Hill
The One Minute Manager by Kenneth Blanchard
Who Moved My Cheese by Spencer Johnson
What are your favourite podcasts?
A few of my business podcast that shaped my way of thinking are:
Freakonomics, which is a podcast that got popular after the book got popular
The Hidden Brain, which is a podcast that focuses on social psychology
Radio Lab
Life Skills That Matter: Create Work that Works For You
Where do you see the company in 5 years?
In five years, the plan for Repair and Run is to expand across Canada and the United States to be the leading bike repair chain in North America. We envision opening at least 50 locations within the next five years, which is possible since we saw the same success with Mobile Klinik.
Would you ever sell?
We have not thought about selling yet since we just opened our first store in Toronto earlier this year, and our current goal is to grow the company into a sizable business first. I personally like this industry, and I want to run this business for the foreseeable future before thinking about company acquisitions.
| Company Name: | Repair and Run |
| --- | --- |
| Founder: | Youssef Botros |
Comments