Maestra started out as a college hackathon project when one of our co-founders was trying to watch a youtube video in a language that he couldn't understand. He came home late one night from studying and wasn't able to keep his eyes open, but still wanted to hear the video. Since he was too tired to see the subtitles, he thought to himself "what if I could press a button and hear this video in any language I want?" That's where Maestra was born! We entered Maestra into Binghamton University's hackathon project and won the award of "Most Viable Business." After that we thought to ourselves: "maybe we should give this a go!" As soon as we graduated, instead of looking for jobs, we decided to build Maestra full time.
Our editing software consists of three parts: automatically transcribing audio to text, automatically subtitling videos and translating those subtitles to 50+ languages, and automatically voicing over videos to 20+ languages by transcribing, translating, then voicing over those subtitles using a computer generated voice.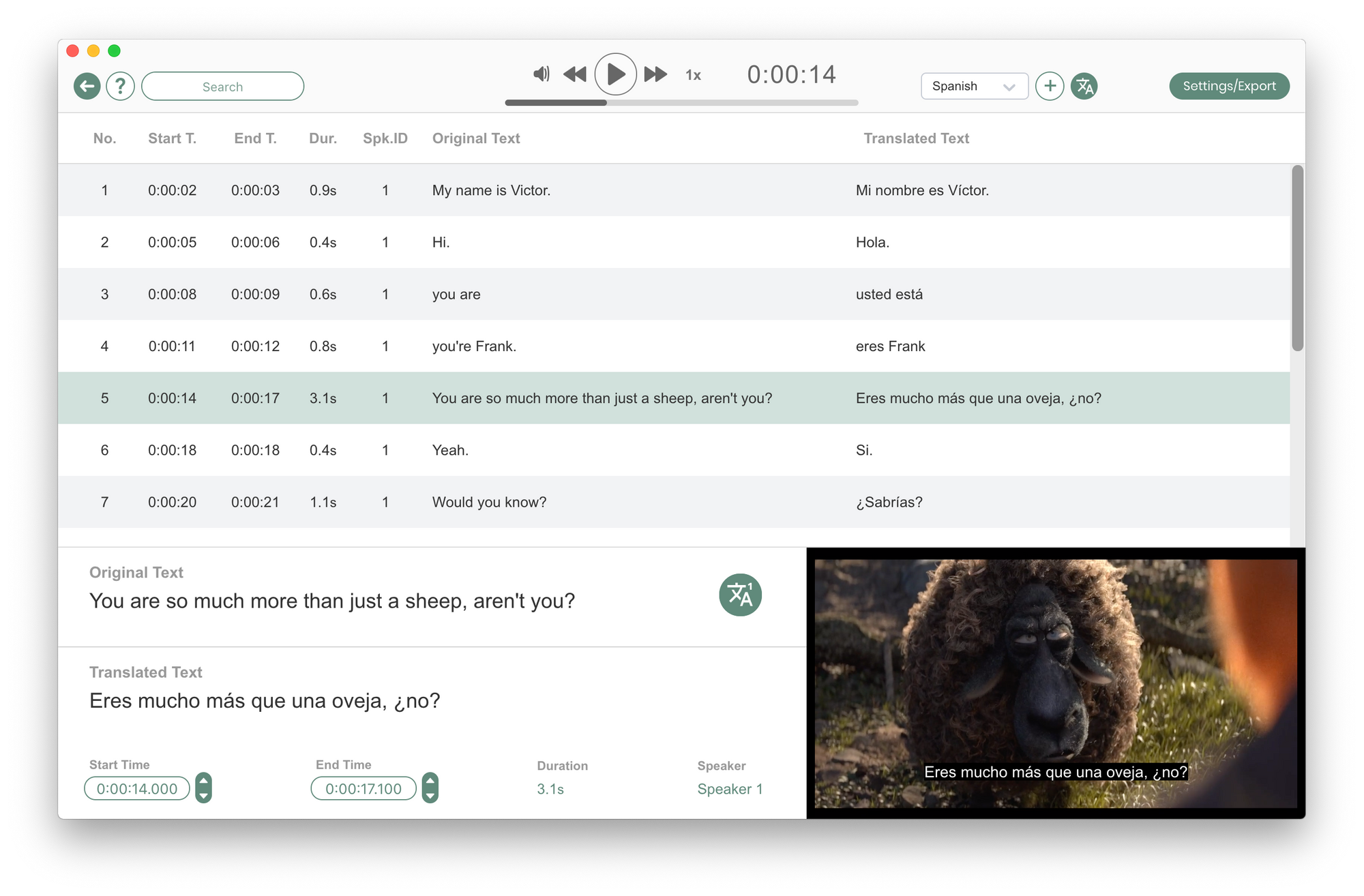 Our advice for someone starting out is to validate your idea as much as you can. Reach out to people and ask them what they think. I hear too many people tell me that they're starting a company but don't want to share their idea because someone might steal it. What makes or breaks a company is how you execute your idea, and not the idea itself. It's better to ask people for their opinions then it is to spend a year building something that not many people want. Creating a roadmap and understanding how much money you have, and how you plan on marketing your idea is also crucial. When I ask people about how they plan on marketing their idea, they don't usually have an answer. "If you build it, they will come" is unfortunately a theme I hear a lot.
A good example that shows the importance of execution, is the "videotape war" between Betamax and VHS in the 70's and 80's. Betamax offered a more superior video recording system but JVC, the company behind VHS, was able to better execute its strategy, which is why most people have used a "VHS" but very few people have used, or even heard of a "Betamax."
We've found that a lot of customers come from online ads such as google, as well as from posting on websites like Quora. As more people started using our software, they began sharing our service with their colleagues, as well as emailing their transcripts using our "share" feature.
The main thing stopping us from being 3x the size we are now is that as a small company there's a lot that needs to be done, and not a lot of people to do it. That's why it's so important to budget time wisely!
How do you protect yourself from competition?
Competition to us isn't something that we find scary, but we look at it more as a challenge. Our goal is to build the best product that we can offer. Competition is something that pushes us to grow and build better products.
We don't have any patents. We've coded pretty complex algorithms, but we felt that the best use of our time is to focus on building a great product. Getting a patent can cost upwards of $10,000 and can take a lot of time and energy for an early stage company.
What are the top 3-5 apps your business could not run without?
The apps that have been helpful to us are:
- Stripe: Makes it really easy to process payments.
- Gsuite: for email and easily creating and sharing documents with each other.
- Mixpanel: Seeing what path users take and what we can improve on.
- Zendesk: Letting customers chat with us in real time.
- Sendgrid: We can send customers important emails about our service.
What are your favourite books?
Two of my favorite books are The Hard Thing About Hard Things by Ben Horowitz, and Bad Blood(not the Taylor Swift song) by John Carreyrou.
Hard Things discusses how things can go wrong when creating a startup, and how things most likely will go wrong when creating a startup. We often like to think about success and achieving it, but reading about failure is something we try to avoid because it can be troubling. It's important to understand failure and the difficulties in creating a startup to be better equipped to avoid it.
Bad Blood is a cautionary story about a startup that had an amazing idea, but whose founder became so obsessed with success that she acted unethically by doing whatever it took to convince investors and the public that the company was successful. They had well known politicians, powerful CEOs, and famous lawyers on their board, as well as multiple billionaires investing in the company. Theranos has since been shut down, and it's founder indicted. Success is important, but we need to realize that acting ethically and responsibly is more important, as well as the right thing to do.
What are your next steps for Maestra?
We're currently working on releasing a web application so users can transcribe, caption, and voiceover their media files online instead of having to download software. We hope to have the webapp up and running in the next month or two.
In the next 5 years, we'd like to have our software be available for all parts of the video making/distribution process. So a customer could theoretically upload their video and be able to make any necessary changes to the software using our platform. From editing the subtitles, to cutting segments, and touching up videos, as well as to being able to automatically release videos to the social platforms of their choice through our software. Our focus right now is on continuing to build our software and grow!
| Company Name: | Maestra |
| --- | --- |
| Founder: | Akiva Aranoff |
Comments