In a local sense, Branch came together in a matter of weeks, but in another sense it was the culmination of a process of exploration that lasted almost two years.
I spent my early career incubating new products and business lines at a real estate startup called Redfin. But I've always wanted to build a business of my own. Beyond the financial upside, I'm fascinated by the process of bringing something new into the world, and the freedom of answering to customers as your only boss.
I'm also fascinated by organizational design. If the first act of a strong executive team is building a product or service that customers love, the second act is building the culture, processes, and team that enable sustained excellence in executing on that mission. Building a high-performing culture is the only competitive advantage that lasts, and it seemed like an exciting challenge.
It took a while to develop the conviction to do something on my own, but in the summer of 2016, my risk tolerance and experience intersected to convince me the time was right to strike out on my own. So I left my job without knowing quite what I wanted to build...and embarked on a literal and figurative journey to figure it out.
I spent a year traveling, consulting on growth for a variety of startups to make money and learn about different markets, exploring a few different ideas and even starting an incubator. Then I ended up as an entrepreneur-in-residence at a small venture firm in NYC. My now co-founder Greg and I met largely by coincidence; a colleague at the fund had worked with Greg before, knew we were both interested in real estate tech, and encouraged us to meet and share ideas.
Greg had dreamed up the idea for Branch over the previous year. At the time, he ran real estate operations for a flexible office space company, and had encountered the issues with buying office furniture firsthand: cheap "fast furniture" solutions like Ikea, which were affordable but lacked service (try getting your task rabbit to negotiate with your landlord about insurance requirements), or legacy "contract furniture" companies that made beautiful products but sold through middlemen, requiring months of lead time and charging exorbitant prices.
When Greg shared the opportunity to define a 21st-century experience within a huge market, I was ready to learn more. Two months later, in September 2018, we incorporated the company, and a few months after that we brought on our third co-founder Verity. None of us had experience with furniture, but all of us had experienced the problem from the real estate or customer perspective.
In the year and a half since, we've raised nearly $2.5M from institutional investors, built a full-time team of twelve, and furnished hundreds of teams and thousands of people with Branch.
Who is your target demographic?
We sell primarily to enterprises, and our core market is growing companies between 25 and 300 people, though we certainly work with customers both smaller and much larger. That's a fairly broad range, so when considering acquisition channels, messaging and sales cycles we segment that larger market into a few corporate personas. For example, the "WeWork Graduate" is a 25 person startup, probably venture-backed but potentially bootstrapped, that is currently operating in a flexible or shared space but ready to invest in an office of their own.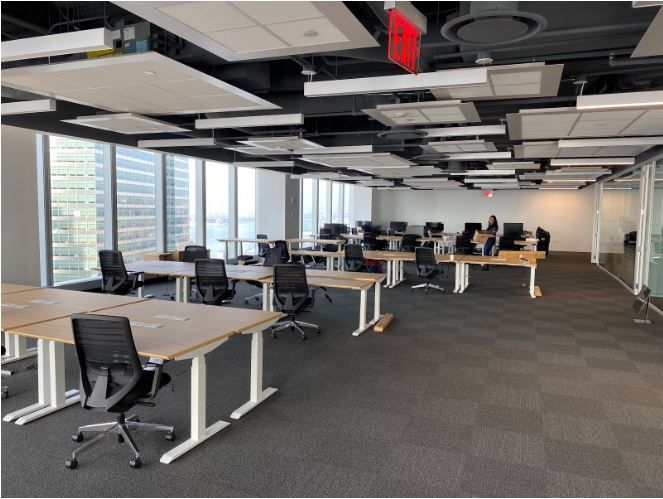 Within each segment, we identify a decision-maker (usually a C-level executive at a smaller company, but a facilities manager at a larger company). Our clients often spend tens of thousands of dollars with us, so understanding their needs both as businesses and individuals is key to driving successful outreach and conversion.
So far, our customer satisfaction rating (which we track using the Net Promoter Score metric) is over 60, equal to the highest in the industry. But we still learn from every customer we serve, and constantly refine our personas and assessment of their key needs to drive our major customer acquisition and product decisions.
How did you fund the idea initially?
Right after starting the business, we raised a small pre-seed round from friends, family and a few angels. We needed the funding to develop our first furniture products; if you're building a software business, you probably don't need to raise right away.
We initially thought that we could manufacture in the US, but soon realized that our small quantities would make domestic manufacturing prohibitively expensive for the time being. We ultimately settled on China due to its high quality; most of our high-end competitors manufacture in China as well.
In the fall of 2018, Greg flew to China, hired a translator, and began visiting factories. We were fortunate to find high-end manufacturing partners that typically work with much larger partners who were willing to take a risk and produce a test run of furniture for us. We ended up kicking off with a standing desk, office desk, team benching, and an ergonomic office chair, striking the balance between a complete solution and minimizing inventory costs while we validated demand.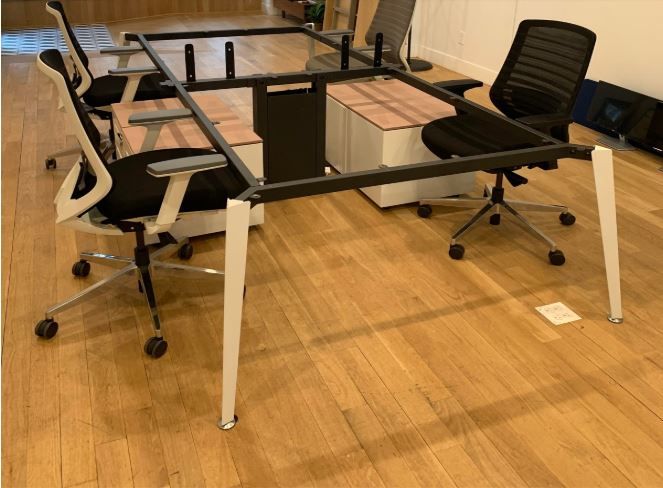 While Greg was selecting our furniture partners, I was building our digital presence. We launched on Shopify because of its robust infrastructure and selection of apps, found an off-the-shelf theme and customized it to our needs. Once we received our samples, we hired a photographer and took our first photos. In February 2019, we officially launched.
In physics, there's a concept of "static friction" and "rolling friction;" every phase of starting a business is hard, but the very beginning is hardest. The two of us and our third co-founder Verity were paying ourselves little to nothing, and facing new questions every day on everything from international freight forwarding to furniture design. We ultimately sold out of our first run of inventory about a month after launch, and built on that traction to raise our seed round.
How do you protect yourself from competition?
We do our best to stick to Paul Graham's classicadvice, which is that worrying about competition will kill you faster than the competition itself. We're playing in a vast market with plenty of room to go around. With that said, we're happy to take inspiration from other innovators in our space.
What are your favourite books and podcasts?
I like First Round Review for tactical advice from proven operators. AVC, The Generalist, Elad Gil and Torin's Newsletter are a few of my favorite VC blogs, addressing everything from tactical advice to commentary on the state of startups today.
Managing my personal productivity is important to me, and Superorganizers is a blog that shares tips and advice from great entrepreneurs; I've really enjoyed it!
For what it's worth, I rarely read business non-fiction; most of the books on my Kindle are fiction. But I believe startups and novels share a surprising amount of core DNA. One of the best parts of being an entrepreneur is building an inspiring vision of how the world should be different. One work of fiction I've enjoyed recently is Ted Chiang's Exhalation, a collection of short stories that paint vivid visions of how technology can change our lives in interesting ways.
What are your next steps for Branch?
Our goal is making Branch the one-stop-shop for office furniture through a company's entire lifecycle. This means launching new markets (we currently serve 30 metros in the United States and Ontario in Canada), adding more furniture to our line, growing the team and building software and tools for our customers to manage their furniture during and after their transaction with us.
Stay tuned for exciting announcements on new products; on the horizon is our line of lounge furniture for casual spaces in the office.
In the world we want to create, your physical environment at work will configure itself seamlessly to your needs so you and your team can be productive, healthy and happy. For those with a technical bent, imagine the "API for office furniture," where your furniture, floor plan and accessories shift according to hiring, expansion and the changing needs of your business.
| Company Name: | Branch |
| --- | --- |
| Founder: | Sib Mahapatra |
Comments