Katie Roering co-founded Fontana Candle Co. along with her Eric Roering. They weren't "candle people," but after they discovered the toxic truth about conventional candles, this lead them to research candles. Eric became a hobbiest candle maker, crafting a pure wax blend of beeswax and coconut oil with a wooden wick.
Friends and family loved their natural candles, and in January 2018, Fontana Candle Co. was born. In a span of two years, Katie works full time at catapulting the brand from their basement workshop to a six figure business with even bigger goals on the horizon.
Was it a gradual decision or lightbulb moment to start Fontana Candle Co.?
We both grew up in families of small business owners and I think that led to our dreams of being entrepreneurs. Fontana was not our first business venture. Before we got married, I was a co-founder and partner of a dog boarding, daycare, and grooming center. Eric was the partner of a start up beverage company. We always knew we wanted to own a business together, but we didn't know what that would be.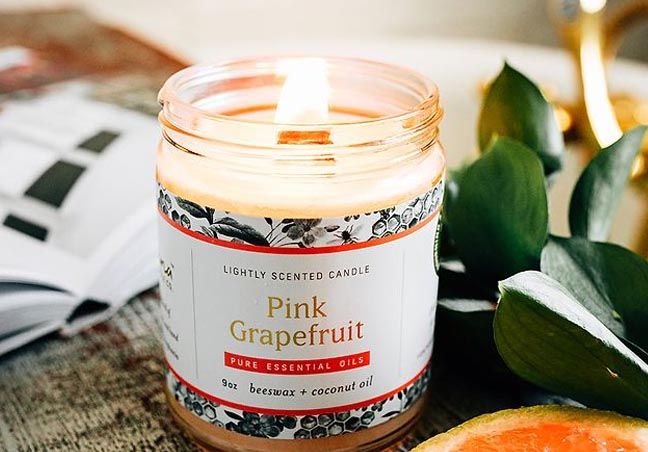 We never imagined it would be a candle company. We started candle making as a hobby, but once friends and family started asking to purchase them, the light bulb went off that maybe this could be the business that we would own together.
How did you get your first three customers?
Our first customers came from a local Maker's Market. We set up a stand for the weekend and were blown away when we sold close to $1000 in a day and a half. We noted that approximately 90% of the people who stopped to smell our candles ended up buying one. That's when we knew we had a product worth pursuing seriously, and gave us the confidence to invest our savings into starting Fontana.
How did you validate the idea?
Our first year of business was spent validating the idea and refining the product. We participated in as many Maker's Markets as we could, so we could get in front of as many potential customers as possible. We used the feedback from these customers as an informal focus group. We were able to continue to refine the candle and our marketing approach based upon the feedback we received during this time.
Did you have any experience/expertise in the area?
We knew absolutely nothing about the candle industry when we started. We dug in and learned as we went! However, my experience of having been self employed since graduating college and partnering in and founding four companies in the last decade, has been invaluable. I've applied every lesson I've learned from mistakes made in the previous companies. Growing this company has been much more painless than those that preceded it.
Who is your target demographic?
Our customer is passionate about health and wellness and bettering the life of her family. 90% of our customers are women, and these women want to make better choices about the products she brings into her home. She wants to be empowered and educated about product ingredients and appreciates transparency when it comes to ingredients.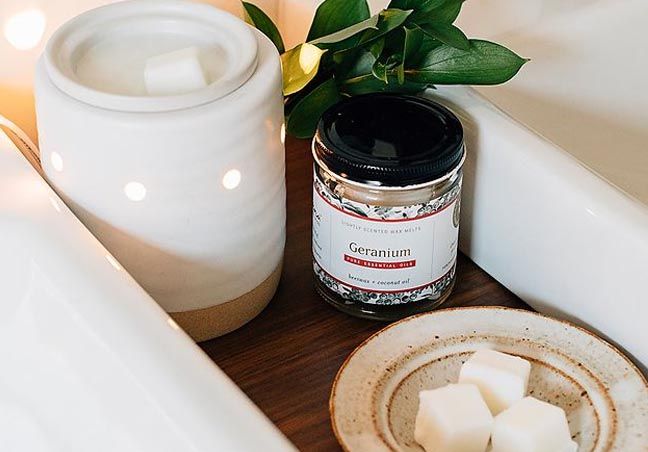 The best part is that I am passionate about connecting with our target demographic, because I am the target demographic! Much like BeautyCounter is for cosmetics, and BranchBasics is for cleaning products, it is not just about selling candles for us. We are educating and inspiring our customers to create a healthy, happy lifestyle and this is what gets me excited to wake up every morning and get to work!
How did you fund the idea initially?
The business has been self funded entirely by our savings and our family. We currently have $45,000 invested in the company.
Where did you meet your co-founder/founding team?
My co-founder is my husband, so I guess you want to know where I met him? We met at a polo match in 2016. He had the cutest little puppy, so I stopped to talk to him.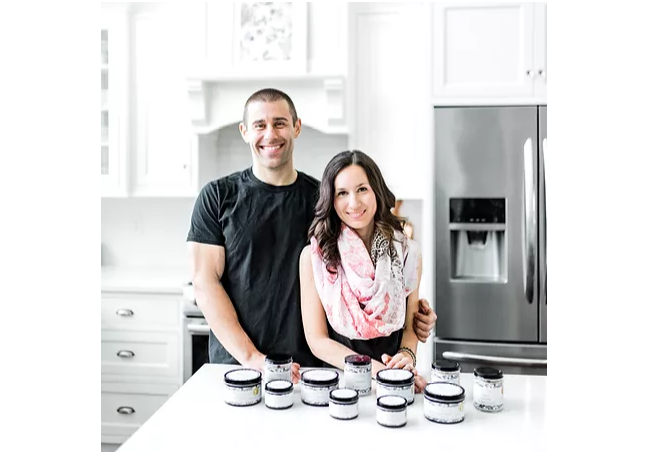 I owned my canine center at the time, so I thought I could get him signed up for our latest round of puppy classes!
Any tips for finding first employees?
When you are hiring for a startup, it is imperative to find employees that are passionate about your mission and about growing the company. When you are not able to offer them the most competitive pay and benefits, they have to see an opportunity to grow with the company and be excited for the journey.
Did you run any companies prior?
When I was in college I founded a quarterly pet publication. From running this company I stumbled across an important phenomenon that led to the founding of my canine center: the local groomers and boarding kennels were so busy that they did not need to advertise or market. The failure of the publication led to one of my greatest successes as an entrepreneur.
Through running the canine center and Fontana, I learned that I have a natural aptitude and immense passion for marketing and branding. I also noted that many of the artisans and artists at the Maker's Market needed help with their marketing, but could not afford the large agencies. From this, Brand Builder Marketing & Consulting was founded.
What motivated you to start your own business?
I have always craved the flexibility and power of creating my own future that entrepreneurship provides. Being able to wake up and do what I love every day is very fulfilling, especially because I have so much pride in our product and our mission.
What motivates you when things go wrong? What is the end goal?
Our WHY, our mission, is what gives me the motivation to keep going. If I was just selling candles to sell candles, I would have stopped by now. Besides consumer education and focusing on transparency, we also make it part of our mission to give back to the community. In 2019 we donated a portion of our sales to the Leukemia & Lymphoma Society in honor of my late father who we unexpectedly lost in January 2019. We are continuing this mission and are partnering with For Pete's Sake Cancer Respite Foundation in 2020. This foundation provides cancer patients, their families, and caregivers with care boxes to help get them through the difficult time. We are proud to provide them with truly non toxic candles.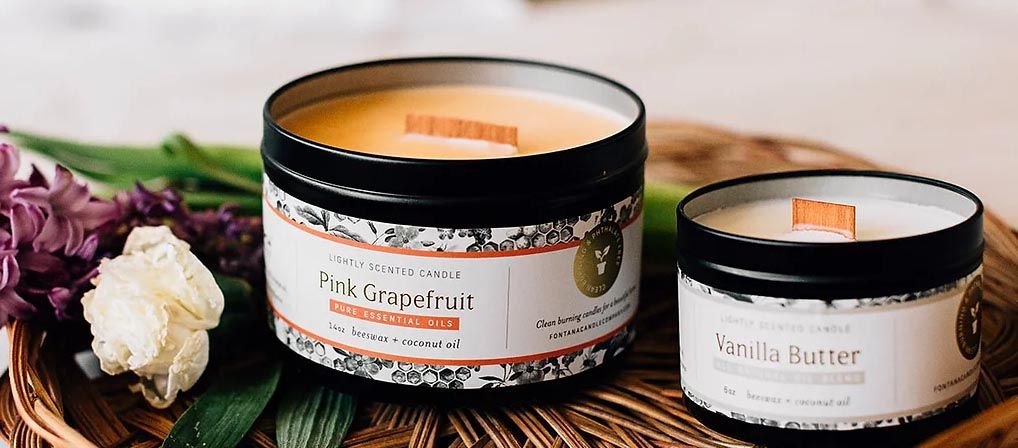 Our goal is to become a national brand and top of mind when it comes to a truly natural and nontoxic candle. We hope to help spur the candle industry to change to a transparent industry, with legislation changing to require candle manufacturers to list their ingredients on the label.Now it is nearly impossible for a consumer to find out what is really in a candle, and we believe that is unacceptable.
It is important for us to have Fontana achieve these goals while staying a financially self-sustaining business, that can employ both my husband and I full time, and support the local economy by creating jobs. In our minds, that is what makes a business a success.
Do you have any advice for someone just starting out?
Here are the 5 things I wish someone would have told me before I started:
Be careful who you partner with. This is crucial. Make sure your vision for your business aligns with your partners' visions, and make sure you agree on financial management.
Overestimate the amount of working capital you will need. You will always need more than you think you will, so if you overestimate this amount, you might actually be accurate.
Underestimate the amount of sales you will make. We all think we have the best product or service in the world, and we are going to set the world on fire with sales! What do you REALISTICALLY think you will sell? This is what should go in your forecast.
Ask your customer's opinion/feedback. Frequently! You can guess all you want about how your customers' view your business or think about your product. Why don't you stop wasting your time guessing, and just ask them?
Marketing, Marketing, Marketing. Professional branding is MUST if you want your business to be taken seriously. There are thousands of candle businesses that are started every year. Why did Fontana face early success, when others just flounder? We used professional marketing and branding that made us look like a much larger company than we actually were. We clearly articulated our mission and what made us different from all of the other candles on the market. We got so many incredible opportunities as a result. We were too tiny to take advantage of some of the opportunities, but we gained many contacts to use in the future.
What has driven the most sales?
Social media, especially Instagram has been the instrument in which we communicated our mission with our customers. When we learned something new about fragrance and product ingredients, we shared it on our Social Media. We did Instagram Stories comparing Safety Data Sheets of traditional chemical fragrances versus natural essential oils. We believed that consumers had the right to see that the fragrances being used in candles were respiratory irritants and should not be inhaled. We also allow our customers a window into our daily lives and show the nontoxic products we use on a daily basis, as well as our exercise and wellness routines. We want our customers to see that we are just as passionate about health and wellness as they are! We walk the walk in our daily life and customers appreciate seeing that we practice what we preach.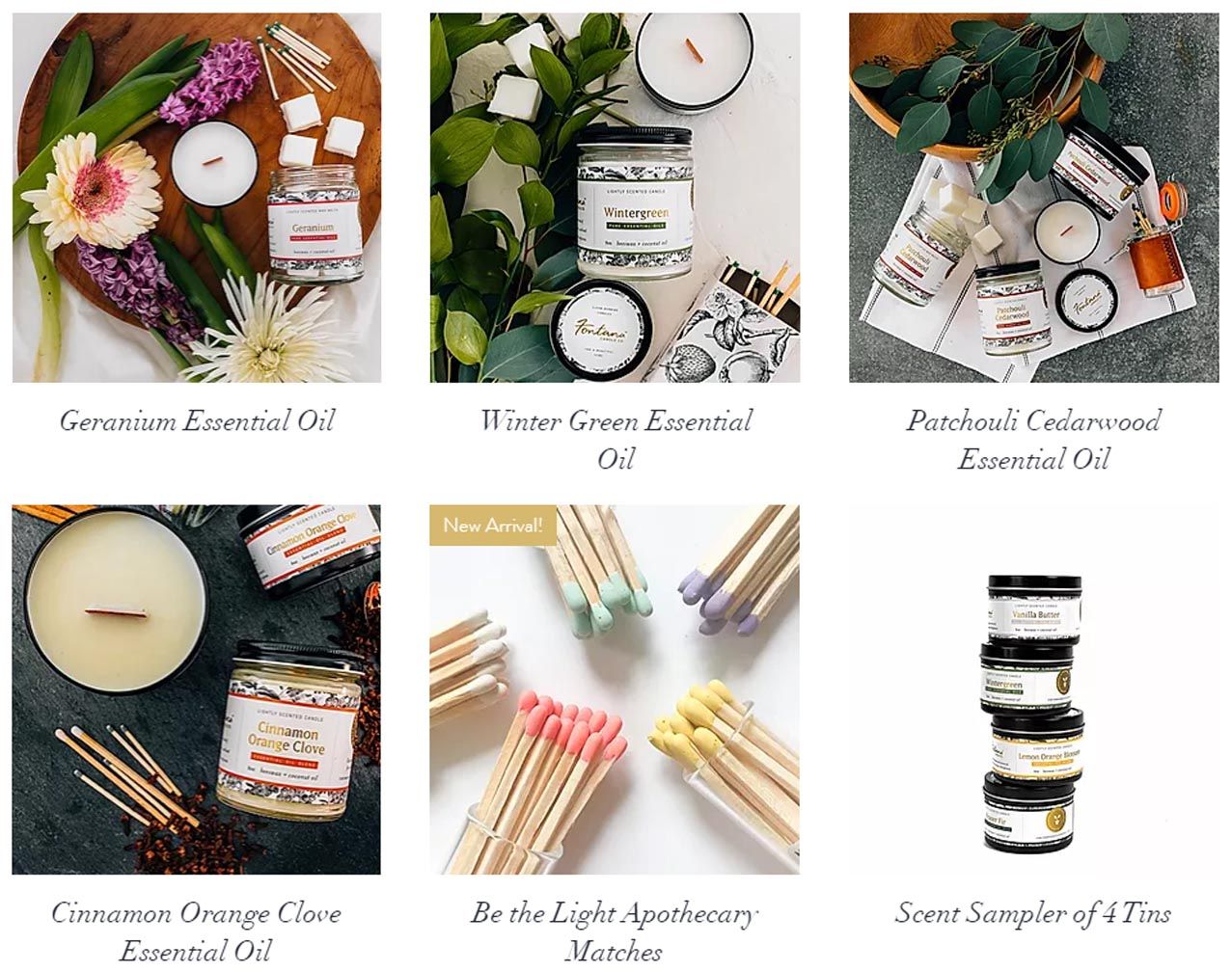 Our customers began sending us message after message thanking us for our transparency and our commitment to completely clean candles! Fontana's followers became even more loyal than before. We also began reaching out to wellness influencers such as well known MDs, licensed naturopathic doctors, hormone practitioners, and certified nutritionists, further spreading the word to their combined 590k+ followers. In the past month, we have really focused on building our Pinterest following and have seen great success. In the last 30 days, we have boosted a handful of pins to test the robustness of Pinterest advertising. To date, we spent $168 on ads that received 100k impressions, and 1.1k clicks. To compare, this is a $0.15 CPC versus the $1.39 CPC we received in our latest Facebook Ad Campaign. With these results, we will be shifting our marketing strategy to hit Pinterest even harder.
Year to date, 62% of our website traffic is direct, 15.2% is from organic search, 13.7% is from social media, and 6.56% is referral. To break this down further, 46.3% of our social traffic came from Instagram, 23.86% from Instagram Stories, 16.05% from Pinterest, and 6.56 is from referrals.
What is stopping you being 3x the size you are now?
Manufacturing the candles is our current bottleneck to growth. The ingredients we use are notoriously difficult to work with, and we do want to hand our formulas over to a co-man. Our formulas are a trade secret, and as a result, are not capable of being protected with a patent. Because of this, we must remain in control over our manufacturing process.
What are the top 3-5 apps your business could not run without?
Slack- this is how I communicate with our fulfillment team. Being able to be in constant communication in real time has been crucial to providing exceptional customer service.
Wix/Shopify-Ecommerce sales through our website accounts for 76% of our sales YTD, so having immediate access to our backend is essential. We started on Wix, and are transitioning to Shopify to handle our larger volume of transactions.
Instagram- Social Media is our direct line of communication with our customers. Being able to communicate with them, and being able to see what is being shared about our brand is invaluable.
What are your favourite books and Podcast?
The E Myth by Michael Gerber
Start With Why by Simon Sinek
The Startup Story Podcast
What are the next products you're working on?
We were toying with the idea of expanding our product line to include beeswax and coconut oil soaps, lotions, and lip balms. Before we thought too seriously about the idea, we surveyed our best customers and the majority clearly told us to stay in our lane.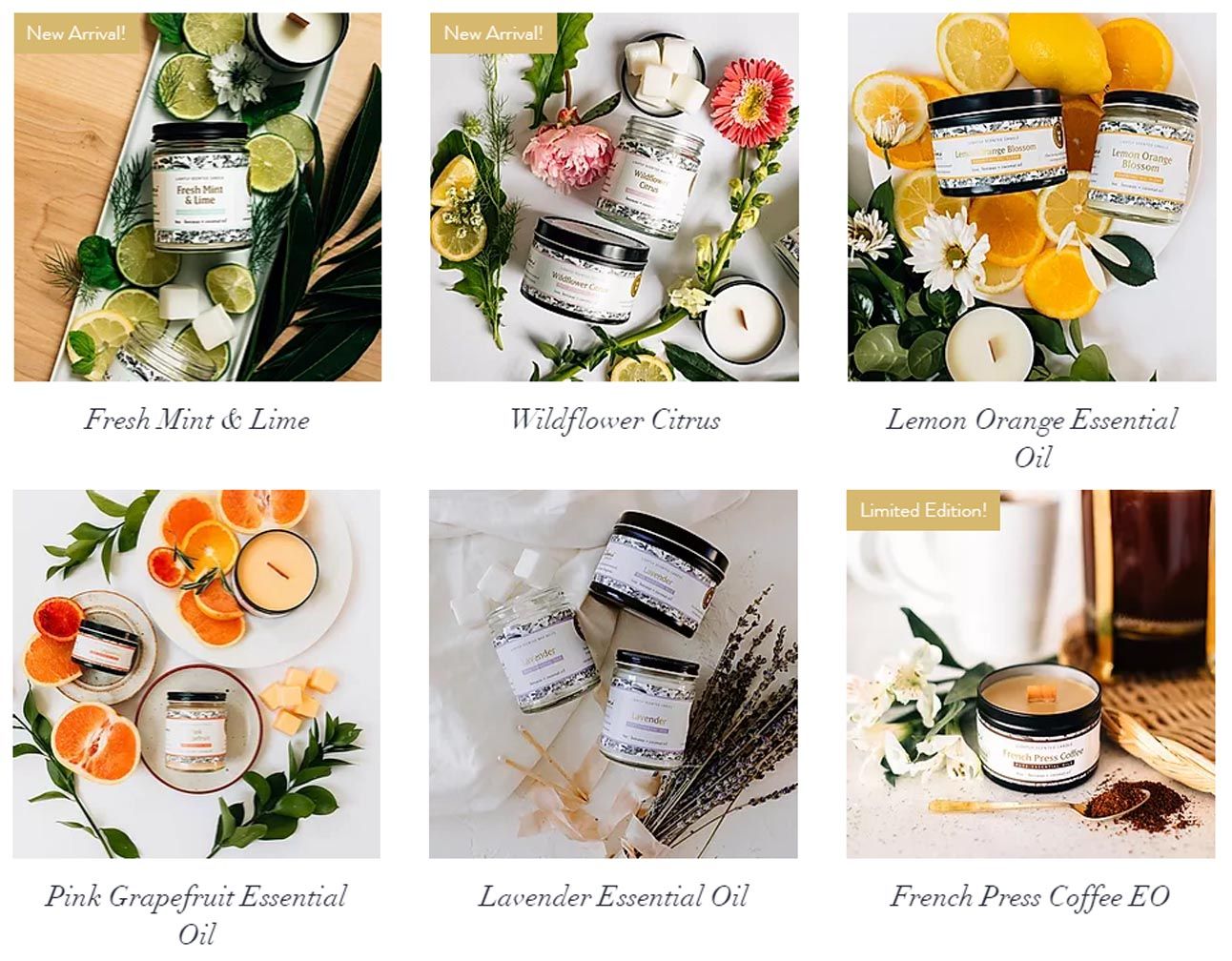 They wanted us to stick with what we are good at, which is candles. They asked for more scents and a variety of sizes and vessels. We are currently working on adding some scents for summer like Eucalyptus and Lime.
Where do you see the company in 5 years?
We have big dreams of being the next natural company to become a mainstream brand. Think of Schmidts Natural Deodorant, Beauty Counter, Burts Bees, etc. We want to be the mainstream natural candle company. We will continue direct to consumer sales as our main sales channel, but hope to increase our wholesale reach to large "healthy" channels like Whole Foods, Sprouts Farmers Markets, VitaCost, Thrive Market, and Grove Collaborative. We hope to have a local team of employees handling our manufacturing, and continue to grow our marketing, PR, and procurement team.
What is current revenue? If you don't mind sharing
We have doubled our revenue from 2018 to 2019, and are forecasted to more than double revenue again in 2020. We hit our first five figure month in February, and have sold more candles in Q1 of this year, than we sold for the entire year of 2019.
Would you ever sell?
We do not know what the future holds, but we would consider selling if certain conditions were met. Most important to us, the buyer would have to be committed to maintaining our vision and mission. My worst nightmare would be for a big company to buy Fontana, add stabilizers and other chemicals to the formula, and sell it to our customers that have grown to trust the company and the product. I would rather close the company than have our customers be deceived.
| Company Name: | Fontana Candle Co. |
| --- | --- |
| Founder: | Katie Roering |
Comments