JJwinks is a loungewear brand founded by two friends Lisa Loyd and Kelly Morrissey. It was created out of necessity by women who were frustrated by the lack of comfortable, cute, bra-free loungewear on the market.
Everything either needs a tight sports bra underneath it or lets the girls "fly free." They developed their signature Light Hug™, which allows women to feel like their braless, but keeps the girls "contained."
Was it a lightbulb moment or gradual moment to start JJwinks?
JJwinks was founded because of a desire that almost all women have… to remove your bra at the end of the day and put on cute sleep or loungewear that doesn't include a bra or bulky insert. We had a conversation one night about how frustrated we were with current pajama styles. Everything was either sexy lingerie (that's not designed for lounging) or oversized flannels that are completely unflattering. While there's plenty of loungewear options available, most either require a bra or sports bra or have built-in pads that aren't comfortable enough to sleep in. We knew our friends and family had no desire to see our headlights. We simply wanted modesty around our family members yet to feel attractive and stylish for our husbands or unexpected guests. That conversation was our lightbulb moment and when JJwinks was born.
What problem were you trying to solve?
The idea of not wearing a bra is really simple. But, it's not always possible when there are kids around or you have friends or neighbors popping in. When men ask us about it, we turn the tables and ask if they would want to lay around the house in a jock strap. Of course they say, "no". Well, that's what wearing a bra is like for women! And, since there weren't options for us, we would end up wearing baggy tops and bottoms to cover our headlights and be comfy. But we realized we weren't alone in wanting a better option. We believed that women should be able to feel comfy and confident!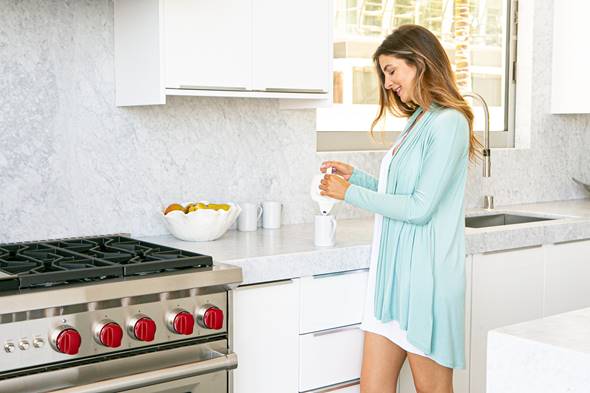 And, in addition to wanting to be braless, we wanted to be chicly styled with better features in our pajamas. Like robes that didn't have unflattering belts and baggy sleeves that would get wet in the sink. Or bottoms that actually flattered us. We decided to design a loungewear/sleepwear line that reinvented the traditional styles that were available.
It took us a few years to complete our designs and finally be ready to go to market. We launched our website, JJwinks.com in January 2018 and have stayed exclusively as an ecommerce brand since then.
How did you get your first three customers?
Our first few customers were friends. Since we had so many girlfriends encouraging us to follow through on our original idea, it made sense that they were the first to step up and buy JJs.
How did you validate the idea?
We started gaining traction through social media paid ads and doing a few home shows/pop ups at friends' houses that helped us spread the word locally. The feedback was consistently positive. Like, "OMG where have you been all my life" kind of feedback. We started realizing pretty quickly that we weren't the only women we knew dying to be braless in front of company.
Did you have any experience/expertise in the area?
Lisa had some experience working with a fashion brand but it had been many years prior. However, she knew a woman from that past life who was still in the business who agreed to meet with us to share some tips on how to get started. Kelly had no experience in apparel, but did have marketing knowledge that paid off once we got started. Neither of us had any experience in ecommerce.
What regulatory approvals did you have to go through?
Other than our basic business license, we got our garment manufacturing license thinking we were going to have to manage the making of our garments. But, we were able to hook up with an LA manufacturer that has allowed us to not have to manage sewers yet.
Who is your target demographic?
We began targeting an upscale female audience between the ages of 30-55. But, we are seeing customers both much younger and older than that. Moms buy it for their college-age daughters who want a little modesty in the dorms or their highschooler who just wants cute PJs for a sleepover. And, we now have many customers 60+ as well.
What is the funniest/most strange customer request you've had?
We don't get crazy requests, but we get funny comments every single day. It's always, "are you sure this will cover my nipples even if I'm really cold". Or, "I can't wait to rip my bra off and put on my JJs the second I get home!" Our customers are so fun and are just so happy to share how comfy they are in their JJs in some really funny ways. We get comments either in email or social media that make us giggle everyday.
How did you fund the idea initially?
We just started paying for everything ourselves being as thrifty as we could. We have always been very conservative. Many on our team now would say we are too conservative. We have run out of product too many times to count. Each time it happens, we regret not having invested more, but it's really hard when you are worried about losing your savings and retirement.
Where did you meet your co-founder/founding team?
We are neighbors. Our boys grew up going to the same schools and we spent a lot of days on the basketball court together watching their games.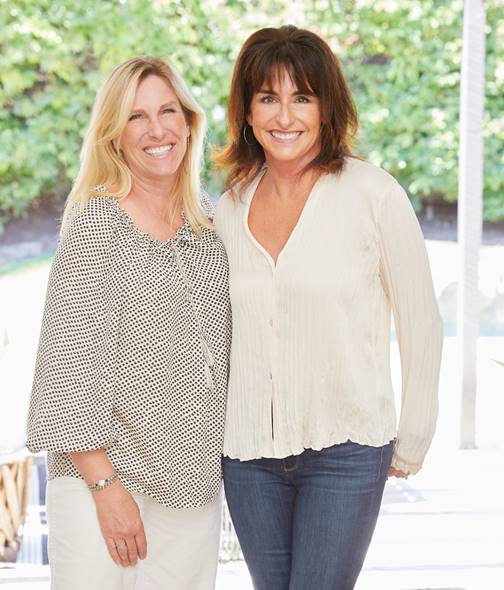 We also bonded from our many neighborhood girls' nights drinking wine.
Any tips for finding first employees?
While many will say not to work with family or friends, that's all we've done. Our first employees have been both. So far so good. Fingers crossed! But, at the end of the day, it's who we trust. And, in these early days of building a business we have really benefited from surrounding ourselves with people who have our best interests at heart. We aren't sure strangers would do that. But, friends and family? For sure!
Did you run any companies prior?
Neither of us had run a businesses prior to this. The entrepreneur life was completely new to us. We had faith in each other because we knew we were both hard workers.
What motivated you to start your own business?
At one of our girls' nights, we discovered our commonality of wanting to start a business. After that we would get together and brainstorm ideas of what kind of a company we could create. We wanted to develop something that could solve a problem. We would talk about things that bugged us and how there should be products for them. When we had that conversation one night about how sick we both were with our ugly excuse for PJs that we wore just so that our families and kids' friends couldn't tell that we were braless. We knew we were on to something. We had a huge problem to solve and thought that maybe other women felt like we did.
What were your family and friends first thoughts on your company?
Believe it or not, our family and friends were supportive. Our husbands just kind of said, "we think you're onto something". And, our friends were like "yes, please". We have never been more grateful for great friends than during this start-up experience. Our friends couldn't wait to help us, encourage us and to be our first customers. Maybe they didn't have the heart to tell us we were crazy or they just really thought we could do it. We'd like to think it was the latter.
What motivates you when things go wrong? What is the end goal?
It's all about learning from our mistakes. With no prior real knowledge in manufacturing and ecommerce, it is not will we make a mistake but when. We just take each (and there have been many) as they come and tell each other they won't happen again.
Do you have any advice for someone just starting out?
Get a partner. We can't imagine doing this alone. It would be such a struggle to us to not always have one another to turn to and bounce ideas off of and to tackle obstacles with. And, meet with everyone you can that has any knowledge to impart about your business. We've asked friends to introduce us to people who we know have expertise in certain businesses or had successfully done a start up of their own. Each one has imparted knowledge to us that has been invaluable. You would be surprised how many successful and impressive people will take a meeting with you if you just ask. We have been grateful for how many of them want to pay it forward by helping us out.
What has driven the most sales?
Facebokk/Instagram advertising for sure has been our biggest driver. We found a team of young guys that started scaling us pretty quickly with their ads. Next would be emails.
What is stopping you being 3x the size you are now?
We actually saw an almost 150% increase since the beginning of the Covid-19 quarantine. We are most proud of the fact that we have been helping women work from home, homeschool their kids and all that has changed in their lives during this pandemic by making them feel cozy, chic and beautiful during these really uncomfortable times.
Moving forward, the biggest concern we foresee in our way is going to be if we can continue to ramp up our production. There is so much uncertainty ahead in this pandemic environment. Another LA shut down could really impact our momentum. And, of course, the economic environment is so volatile that we worry about how that will influence our customer's spending habits in the future. How do you protect yourself from competition? Branding. We are in a frantic hurry to build our brand so that customers will know how unique our fabrics, designs, quality and customer service are.
Do you have any trademarks/IP/patents?
Yes. We trademarked our name, JJwinks, our tagline "Get your JJs On" and most important product feature, our "Light Hug®".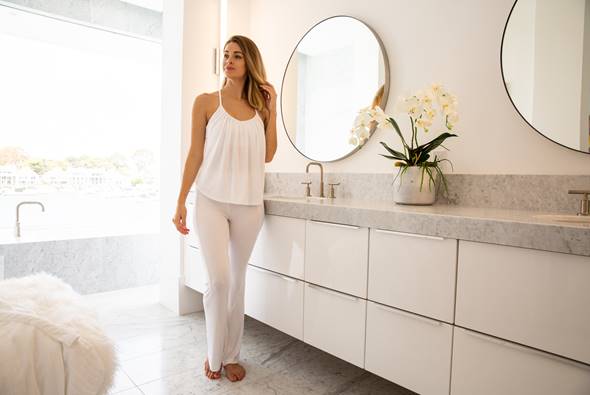 We are also in the process of getting a design patent for our signature top. We are constantly finding more ways to secure our brand.
What are the top 3-5 apps your business could not run without? Why are they essential?
For Shopify, the platform that our website is on, it would be the "Back in Stock" app. Since we have had such a hard time keeping up with the demand and producing enough product, especially due to Covid-19 and the LA shutdown, it was the "Back in Stock" app that allowed customers to ask to be notified when our product was replenished. And, we could not live without the Gorgias platform for our customer service. We call ourselves "the Nordstrom of the loungewear business" because taking care of our customers is so important to us. This platform allows us to bring all of our customer issues together so that we can all see the status of each, who is handling what, etc. Before then, keeping our arms around customer service was becoming a nightmare. It integrates with Shopify.
What are your favourite podcasts?
"Second Life", "How I Built This", "From Scratch", "Problem Solvers", "Shopify Masters", "The Playbook" and "The Jordan Harbinger Show" are a few of our faves. It's crazy how much we have built our business on things we have learned from listening to podcasts!
What are the next products you're working on? Are there any releases you can tell us about?
We have just introduced JJwedding. It targets the bridal loungewear business and repurposes our products to a different audience.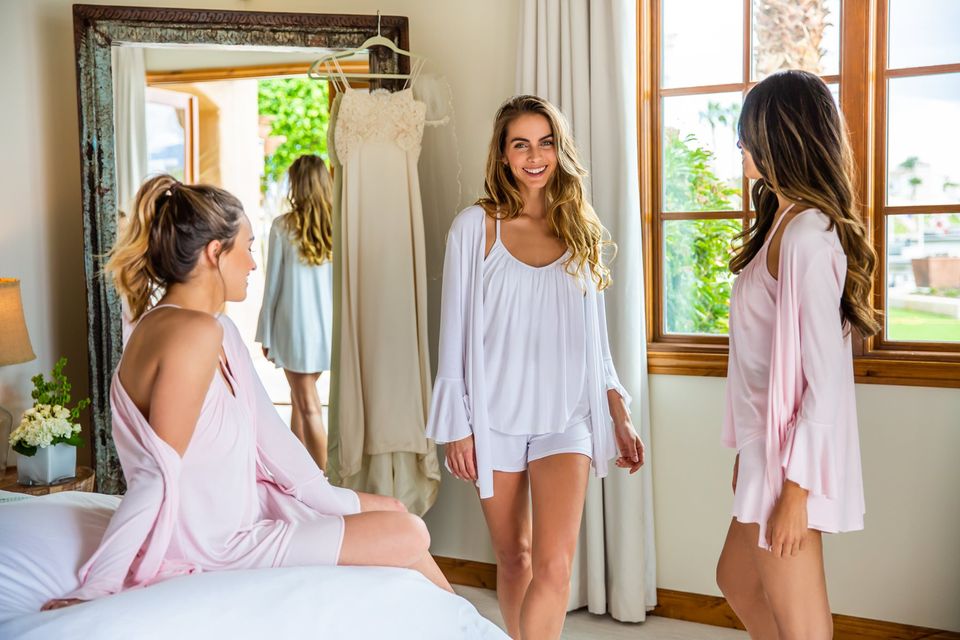 We are introducing some new styles and colors in early fall that we are really excited about.
Where do you see the company in 5 years?
Booming! We have huge goals and are trying to surround ourselves with the right people and consultants who we think can help get us there.
What is current revenue? Would you ever sell?
We will just say that we grew 150% year over year. Never say never.
Comments